All of the time, people ask me what I would do if I were them. Well, even though everyone's situation is different, I guess the best way to explain what I believe makes a great all around trailer is to simply show you my latest one. Here goes...
Craig's personal trailer.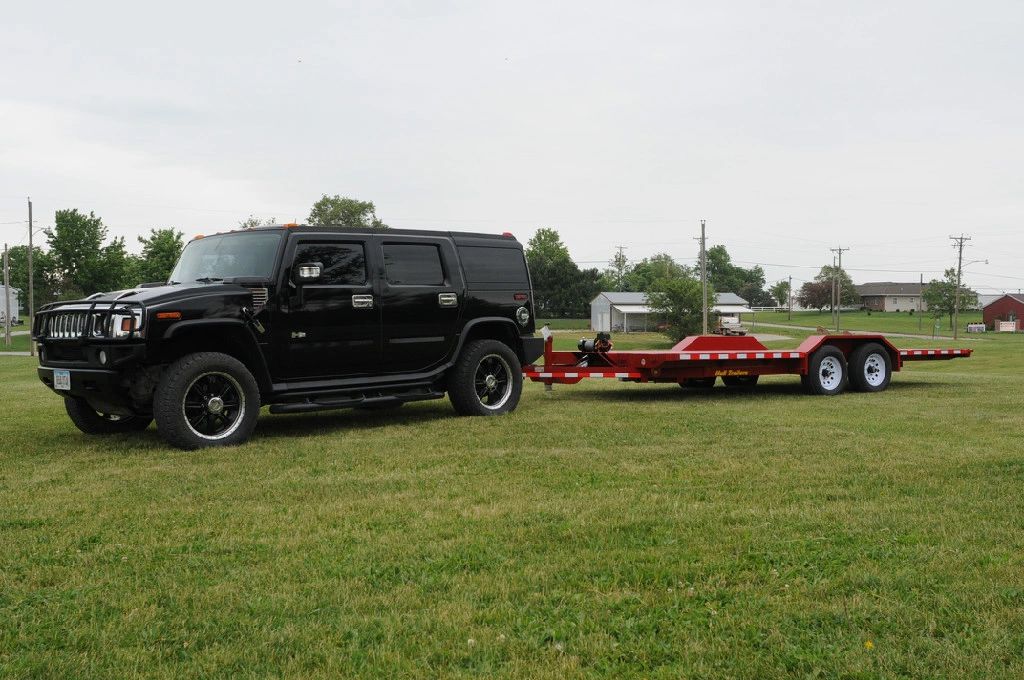 What we have here is a 20' bed length E/T tilt Speedhauler with a pile of options and goodies that I personally love.
First and foremost, it's an E/T tilt, which means you simply press a button and the bed power tilts up and down!
No ramps, no pumping up a hydraulic jack. Just press the button and it's up in about 5 seconds! Very Sweet!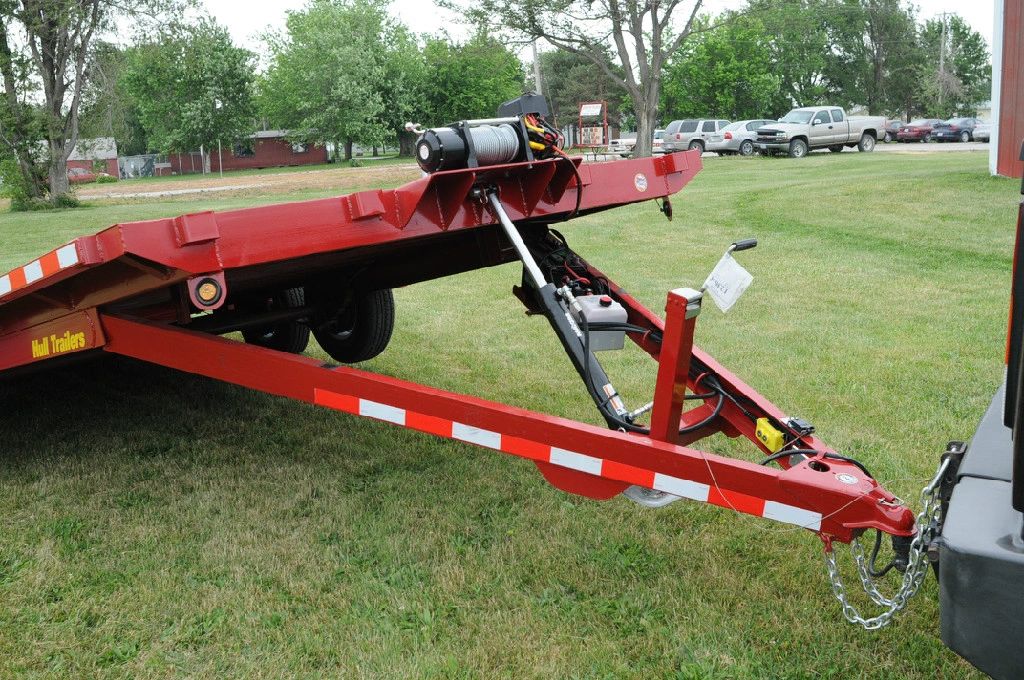 See the yellow push button remote hidden up in the tongue? That's what operates the powered hydraulic lift system, which we hide back under the bed, along with the included deep cycle battery. That cylinder on the front of the trailer can push up over 3 tons at the very front edge of the deck, which means, it pretty well lifts anything this trailer should ever carry.
This shot shows FIVE options... first, the 10,000lb electric winch on it's own custom bed front mount, pre-wired to the E/T tilts battery pack, the 7,000lb drop leg jack set back in the tongue that comes with the 9,990lb GVWR package, the optional 4 bed front stake pockets instead of a headache rack, the all steel floor option and our $200 optional red paint color.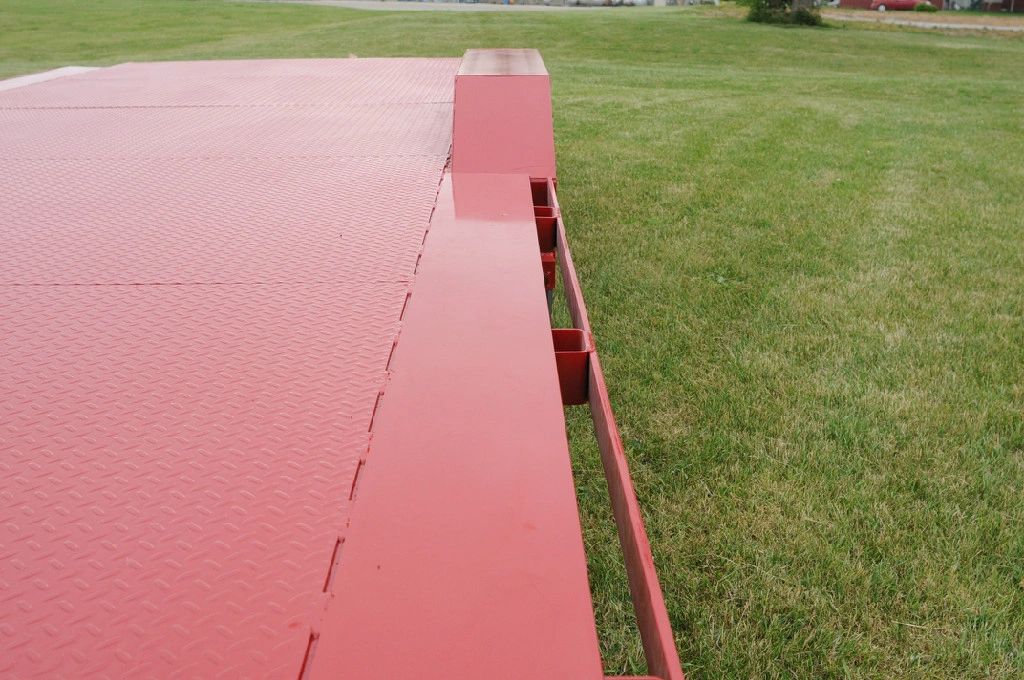 This shot better shows the $45 per running foot steel floor option, plus is shows off our 102" deck width floor option. This converts any fender sided channel frame trailer we offer to a full 102" wide floor, out to the edge of the fenders. You can have this option added onto any tilt or no tilt channel frame trailer for $45 per foot of bed length ($900 on this 20' trailer) and the rub rails on stake pockets is included in that price. This also shows off the $300 channel steel fender option which is a GREAT tie in to the fender width floor. When you order both, our custom shop takes the time to blend in an weld the fenders and the fender width floor into one continuous unit, which really smooths up the look of the trailer and only serves to make it stronger.
So what does all that money for the fender width floor and channel steel fenders get you? a WHOLE lotta strength! Check out my Escalade EXT perched on top of the fender. This is NOT a light truck and as you can see, the fenders could care less. If you want a truly tough trailer, get these fenders, regardless of whether you want the wide floor or not!
NOTE!!!! I haven't shot my latest version which comes with the newest thinline LED tail lights, but here is a shot of the new tail light system below for reference.
This trailer is a customers version that I completed recently... no wide floor, no steel floor, no drive over fenders, but he is the newest thinline LED tail light pack that comes on a 9,990lb GVWR package trailer, just for reference.
Click here to see what YOUR new tail lights will look like!
Granted, there may be bigger trucks out there, but a 2007 Cadillac Escalade EXT with the factory 22" wheel option is a pretty bulky machine. But, even it can fit in between the 84" of floor width between fenders that all of our flatbed car trailers and Speedhaulers come with std.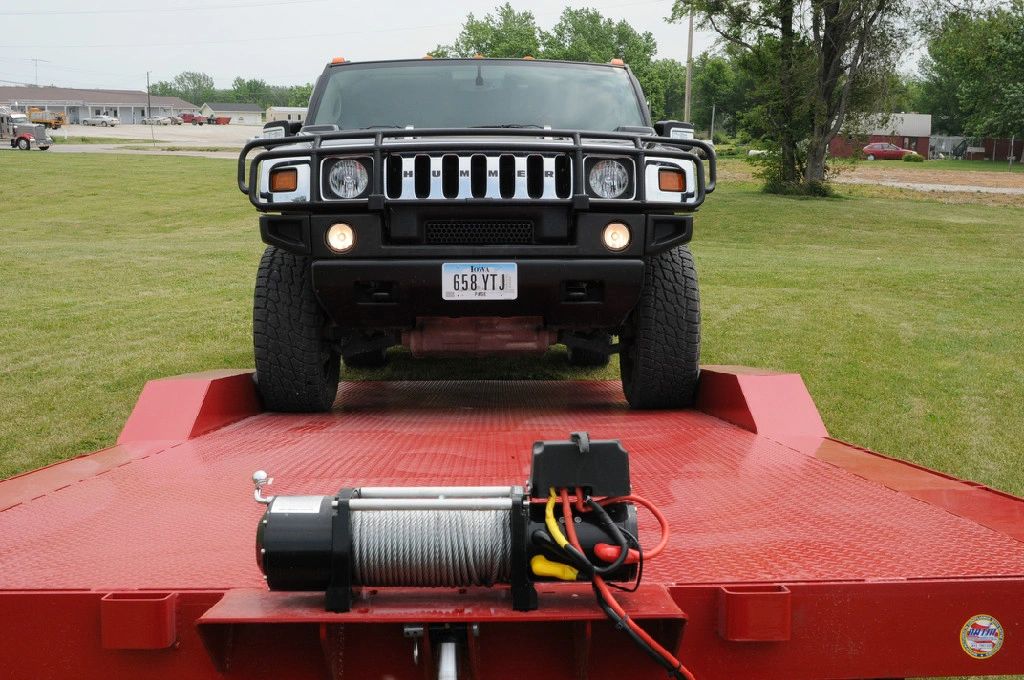 Short of a full on H1 Humvee or a truck with 44" super swampers, the LT305/55R-20 Nitto Terra Grapplers on Momma's H2 pretty well are the limit of what you can easily drive in between the fenders on our 84" wide decks... granted, that's a lot of tire on a lot of truck, but they still squeaked through (literally... i heard the rubber going squeeeak as i pulled on the trailer.)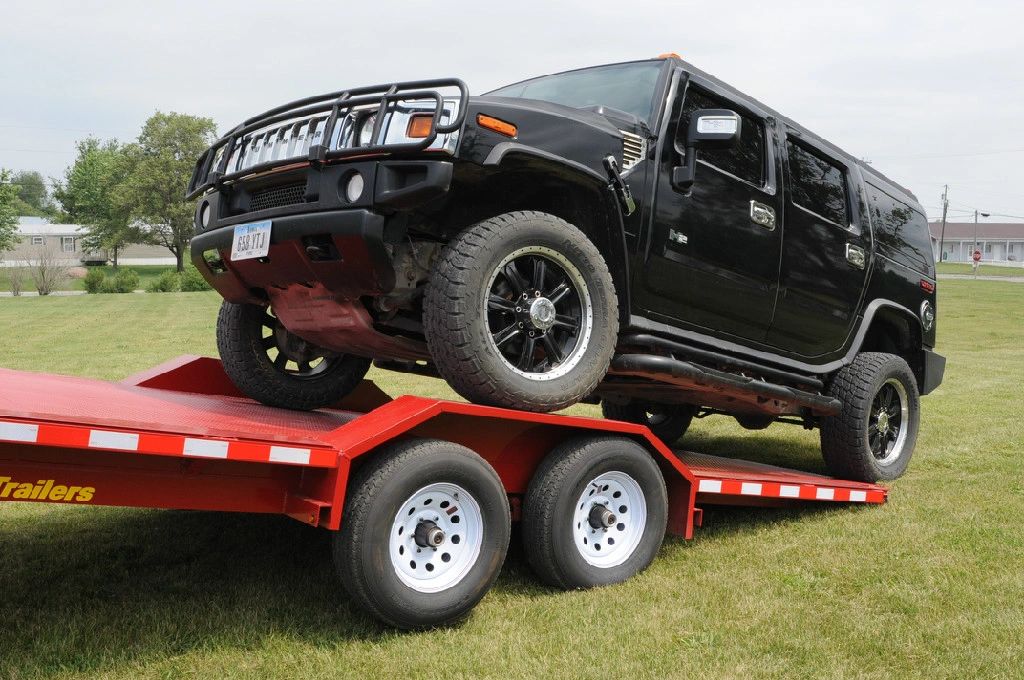 But, that's why I always love having a trailer with at least 20 feet of deck length, at least 9,990lb GVWR rating and the fender width floor with drive over fenders... truck a little too big to fit in between the fenders? Just drive one wheel OVER the fender and load up in a hurry!
Don't panic here.... the Escalade has this nifty factory air leveling rear suspension and within a minute the truck was sitting level again. But it is about all you would want to tow behind a 1/2 ton truck anyway. That's about 2500lbs of trailer and 7,000lbs of Hummer on there. Notice how the 20' deck gives you the luxury of backing up your truck on the deck and putting more load on the axles instead of the tongue? That's why I always get at least a 20' length model for my personal use.
Even with the longer Caddy on the deck, you still have lots of room to pull forward or rearward and the entire trailer is pretty well prepared to handle anything you might want to tow quickly, easily and safely for a lot of years to come.
Update! Sure static photos are cool enough, but here is a video I shot of this trailer loading a project 57 Chevy 2 door that I bought. When I arrived, the front wheels were completely locked up... so I just hooked up the winch and drug it on. Try that with a come along or a puny manual winch on a ramp type trailer!
Want your own version of Craig's trailer?
Email office@pullhp.com
for more info.
Give us a call at 712 589 3100
Go back to the top of this page.
See our entire catalog with prices.
Go back to the HP Trailers Home Page.