Photos of our trailers loaded and working for a living! Got one of our trailers? Send in a photo along with your business and we'll put it on and give you a bump for FREE!
Newest Photos First! Scroll down for more daily!
18' HD Flatbed trailer.
Full model availability, options and ALL prices here.
2014 model 18' E/T Push button electric tilt trailer in std 7,000lb GVWR rating with optional full LED lighting, full under runner braced steel floor and 10,000lb electric winch mounted and wired to the onboard battery, plus 4 button wireless remote option for a customer in Chicago.
Watch a video of our wireless remote running the trailer here.
Get full pricing on and options on this model by clicking here.

Want the size to handle nearly anything, the low deck height of a car hauler and the powerful capacity of a gooseneck trailer with 14,000lb suspension underneath it.. THEN make it incredibly useful and tough by adding on our double braced steel floor option, fender width floor and drive over fenders. AND THEN.... make it a power tilting GT model with onboard 12,000lb winch and a 4 button wireless remote?
Now you've got a 28' long tow truck that just happens to look like a trailer.
Complete feature, pricing and options can be found here on this model.

Bill, from up in Northern Iowa wanted something that could haul anything he might run into. This 25' plus 5' dovetail 20,000lb tandem dual gooseneck fits the bill perfectly. He said it may be the nicest thing he ever bought.
Click here for full pricing on this model with options.
Custom 20' GT tilt for a customer who drove in from the State of Oregon. 9,990lb GVWR pack, fender width floor, drive over fenders and a matching spare on the neck.
Fender width floor, drive over fenders and a nice low load angle make these the ultimate hauler.
Kerry Lukenbill of Kansas City is one of those neighbors you would like to have. He has this nifty John Deere tractor to help till neighbors gardens, mow brush, move snow and other tasks and he has been gathering up his money to get himself a REAL trailer to haul it on. Here it is all 'Deered' up. It's a complete 18 E/T push button electric tilt trailer with 225 radial tire upgrade and the nicer 7,000lb drop leg jack set back in the tongue. He spent a day and made those nifty side boards out of 2x4 uprights and 2x8 plank sides. Looking good, Kerry! Want an exact copy of this extremely useful and cool trailer? (Less custom side boards, of course!)
Let's have this page do two things at once... here is my personal favorite. The M/T tilt Speedhauler in the 20' length model. A simple 7,000lb capacity unit with my two favorite options... the 7k dropleg jack option, because it is strong, cheap and let's you drop your tow vehicle's tailgate without fear of contact. And it has the removable fender option, which is probably the best single item you can put on a trailer... and I am about to show why.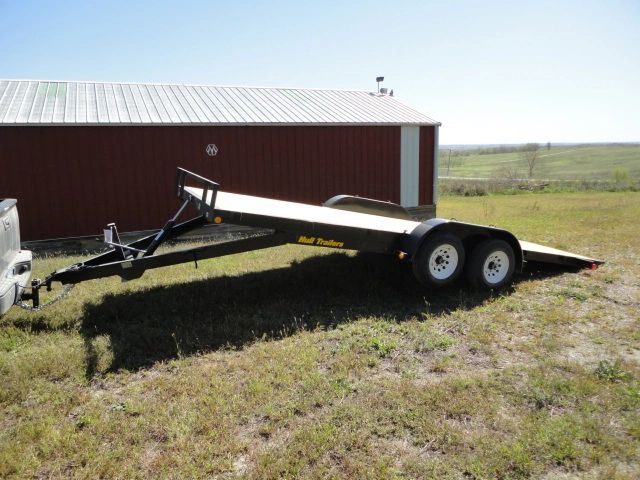 I was by myself when i shot these photos, so i didn't get a shot of me actually working the jack, but this new double acting 8 ton jack is QUICK! I timed it in my head and do believe that from start to finish, it took me all of 35 seconds to tilt this trailer up where it is in this photo. Neat!
Now, i popped the fenders off... because, A: I didn't have a spotter to keep me from running into them while loading. And B: because I usually don't have a spotter... just like you when i am loading. Then, I stole Mom's SS Chevy truck and drove it on the bed....
The truck in question, a 2003 Chevy SS pickup truck is not huge, but it IS a full size chevy pickup and probably all this trailer should be carrying over any serious distance. Plus it takes up a lot of bed with the fat 20" wheels and tires. One last shot, then I jumped in, eyeballed the left side of the bed of the trailer from the steering wheel and simply drove... it.... on.
and it's loaded....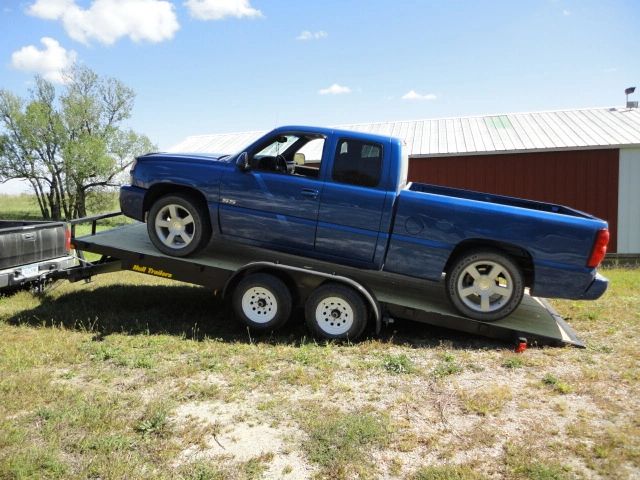 I popped the fenders back on... took all of 30 seconds for both sides.... and then...
Then i let the bed down and tripped the tongue latches.
So, yes, you can load a complete full sized, 4x4 chevy truck on a speedloader all by yourself without a lick of damage to the truck or the trailer in under 3 minutes. Seriously... now i have to go make a full feature for this somewhere else on this site. But.. you get the idea!
66x10 SS Utility Carrying a GSXR1000 and a GSXR1300 Suzuki. Two bikes, no problem, even on our narrow floor model!
We threw this one in for perspective. This is a 76x12 RS model single axle behind it's new owners Toyota Truck.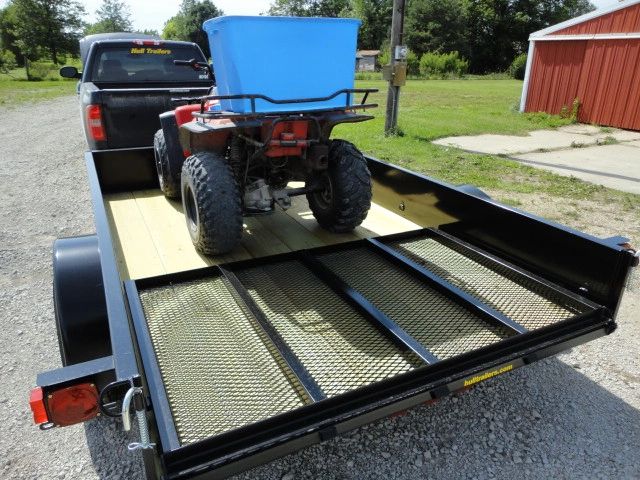 Sure, you may not need a 12' long trailer, but if you get the deck long enough, you can drop the gate for no wind drag towing, even while hauling a full size ATV.
300 Bayou parked on the ramp gate for relative angle. It's an easy ride on back it off kind of set up.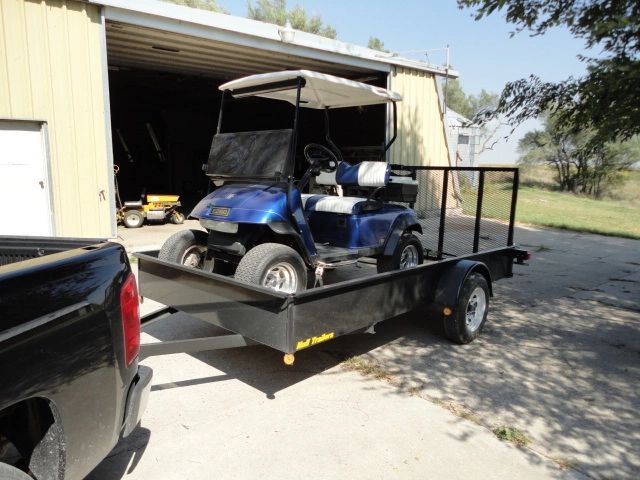 Lifted golf cart has a TON of room on this 76x12 trailer.
Walker Lawnmower on at 76x12 SS single axle.
Load testing our new dump box trailer with a LOT of rock. It picked it up and dumped it without a problem.
New 18' 9,990lb GVWR M/T Speedhauler getting homecoming parade duty in Northern Iowa, fall of 2011.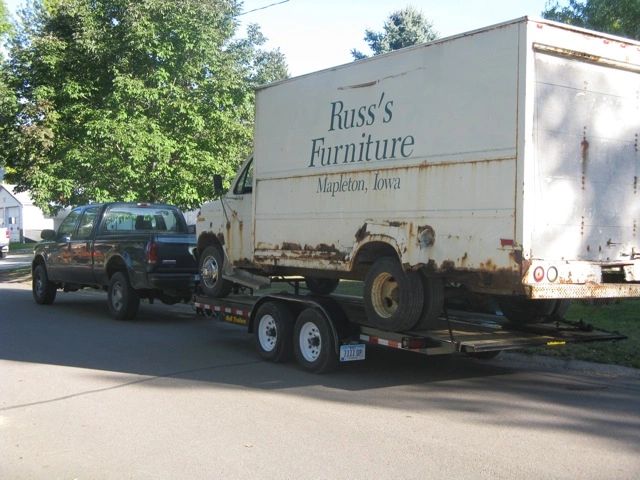 Now THAT is why you want a 9,990lb GVWR trailer... because you never know when you can buy a scrap truck that pays for the entire trailer with one trip to the steel yard!
Our new dump box trailer getting fitted for a T300 bobcat... and yes, our std dump hauls this with ease.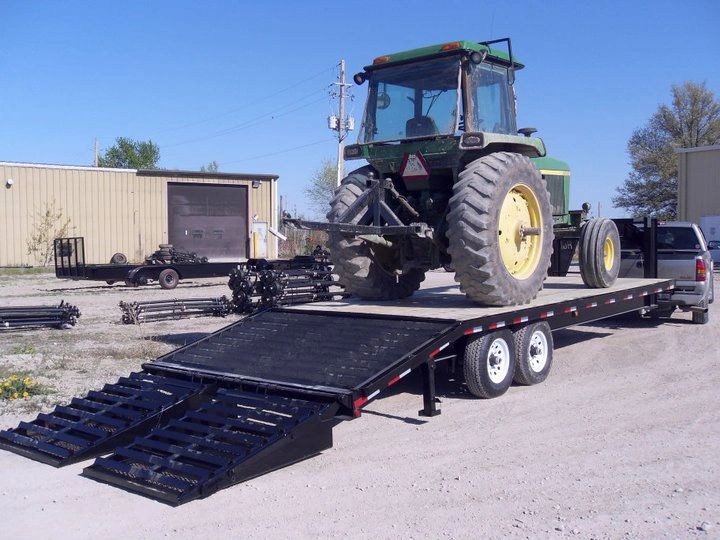 Testing a 20 plus 5' dovetail hi deck with a definitely full size John Deere Tractor.
GT Tilt Speedhauler Gooseneck test loading with a Ford Expedition.
Waaaaay back in 1995! One of the very first tilt speedhauler designs ever built and we tested with a big block Camaro for our photo shoot.