(Speedhauler Tilt bed in background compared to an 18' dovetail ramp trailer.... hmmmm.... which do you want?)
I answer this question for people about 50 times a day and thought i would write a quick note on the front page of the site to help speed things up. The short answer is.... get whichever one makes you comfortable.
Seriously!
If I thought that either one were inferior, I wouldn't sell it. The real question is whether you don't mind picking up and carrying ramps around to load and unload trailers or if you don't mind standing at the front of the trailer and pumping up the hydraulic lift on a tilt trailer for about 45 seconds.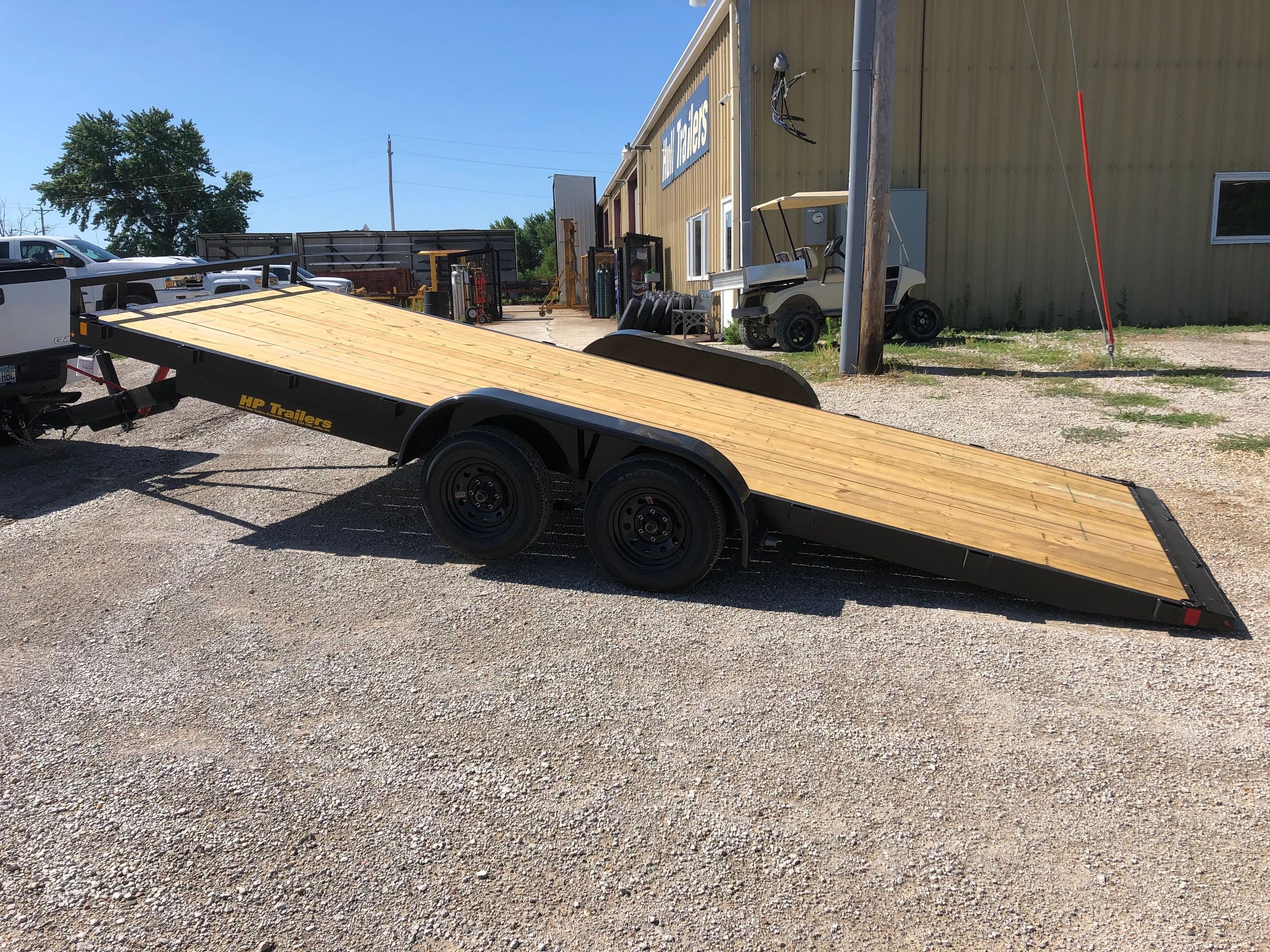 (M/T Tilt Speedhauler in up position)
Both trailers do the job they are intended to do and I just personally like the fact that i don't have to worry about losing anything with a tilt trailer. Ramp type trailers have two loose ramps that store under the deck. That means that they can be lost or stolen.. and that can really stink after you've driven 150 miles to the race track, a show or the job site.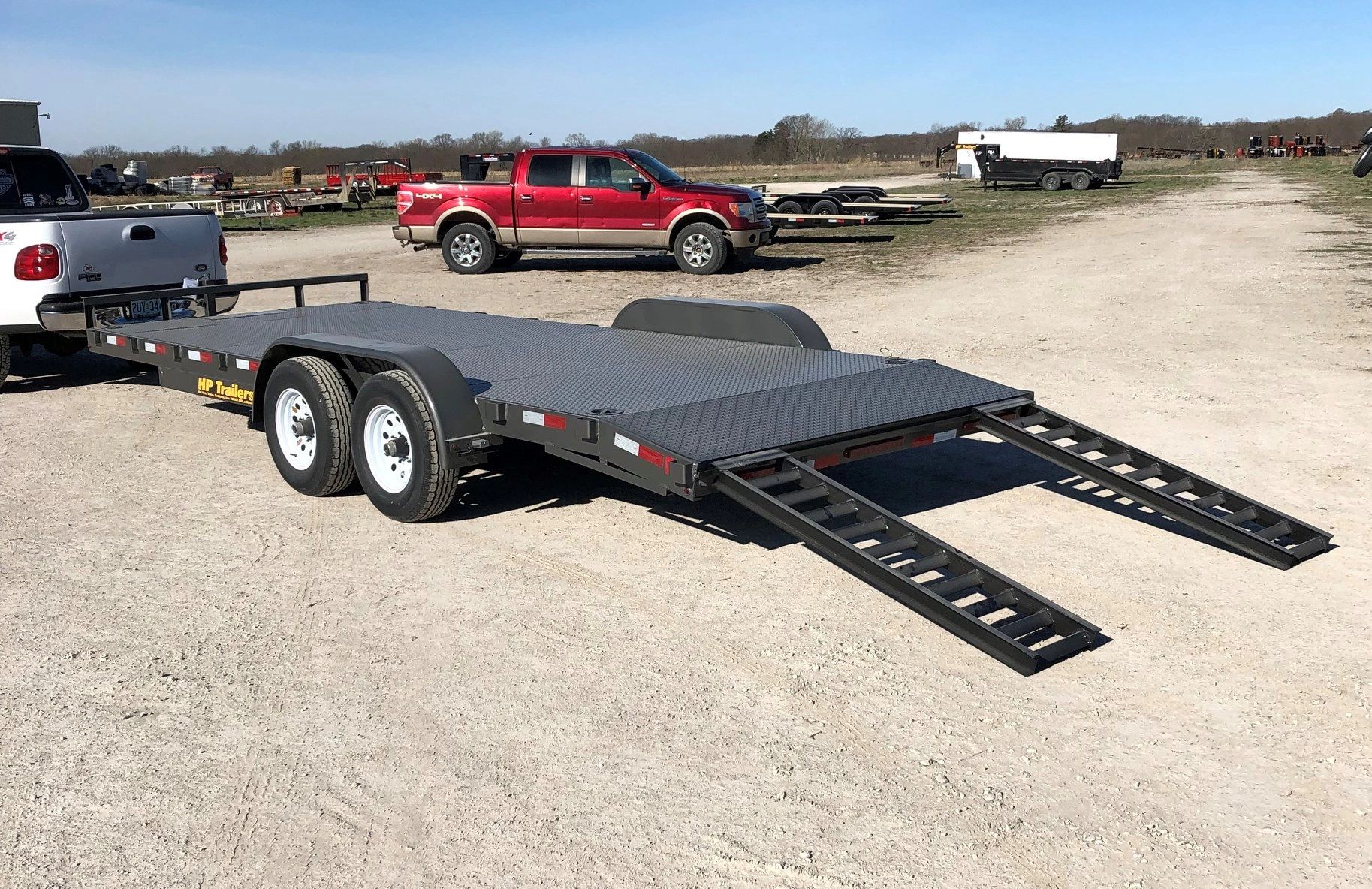 (18' dovetail trailer with ramps in place)
On the other hand, yes... the tilt trailer stays in the tilted position when you are loading, which means that your vehicle must stay stationary on a slope for the 20 or 30 seconds it takes to get out, jump off the bed and let the tilt cylinder down. If you don't have a good parking brake or whatever you are hauling can't sit on a 10% slope in gear for up to a minute, then maybe you need to get a ramp type trailer... or you need to fix your machinery, but that's a personal choice I guess.
One from 1995... one of the very first tilts Curtis ever built being tested with a big block Camaro. We've sold about 50,000 of them since this one and they all seem to work perfect!
I have loaded thousands of things on both trailers in the last 20 years and I have grown to love the tilt trailer the best. Why? Because I love the fact that i have the entire bed to aim for when loading and I have the entire width of the trailer at ground level behind me when I am unloading something. Nothing is more terrifying than backing off of a trailer and KNOWING for that one sickening instant that your left rear wheel just fell off of the ramp... crash, crunch, ouch.On a tilt trailer that cannot happen and that makes it a winner in my book.
"But Craig, I haul junk cars and most of them don't run!"
Ok... if you are serious about hauling junk cars, spend $300 on this sweet removable 2,500lb rated 2 speed mechanical winch with 35' long steel cable and once again, a Speedhauler trailer is your best scrap car choice. At that price we even have it built on an easy to use removable mount, so you can remove the winch and store it in your shop when not using it. Suddenly, hauling non running vehicles is not a problem on either unit!
So... we're back to the circular beginning of the question. Should you invest your very hardly earned money on a Speedhauler or fall back on the old style ramp type trailer.
Once again... the choice is completely yours in my opinion.
Hope I helped you think it over a little, though.
Craig