So.... you've REALLY got stuff to haul? We've got a trailer for that.
Check out the 25+5 20k tandem dually we just built!
Feature put in 2/23/12


Click above and watch a VIDEO of how our cool dovetail and ramps work!
This trailer is going to go to work in the oil fields of North Dakota for a young company of hard working guys. They knew what they had to had and we got it for them, just like you see here, for well UNDER $10,000. If you have priced big capacity long bed gooseneck trailers, you know that the pricing we are speaking of is MORE than reasonable. Now, read along on what that reasonable price gets you, at Stateline Trailers.
Starting up front, the unit has a super duty, double pinned adjustable height gooseneck coupler with a full 25,000lb capacity. You can also see the battery break breakaway pull tether, the dual load rated safety chains and the drop down neck design built into this unit.
Standard on all 20,000lb Tandem dual models are these dual spring loaded drop foot 12k jacks. It makes for a very solid landing gear system and assures you that you can dolly down even loaded and not have an issue. The heavy steel formed neck gussets come std on all models and on the tandem dual units, all of the main frame is hi tensile 19lb per foot 12" I beam, which is monster strong.
We use the lower neck gusset as a step on either side for easy step up access to the bed.
And we add on these neat hand grabs on either side so your stepping up is effortless.
Spindle is shown in the top photo, stake pocket in the lower photo... check out the thickness used on the rub rail... super strong.
When you need even more secure storage, these perfect Buyers brand dual locking under bed boxes are our choice. $300 for 36" models installed and $400 for the 48" units shown here. This unit was built with one on either side of the bed.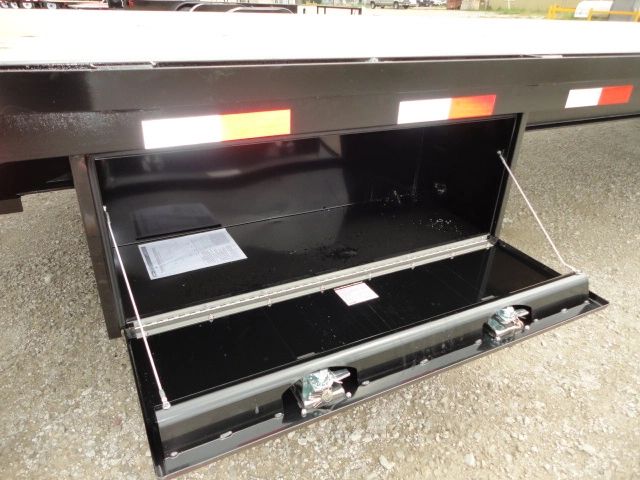 That's a whole lot of secure, lockable, weather tight storage for the money!
All Hull Hi Deck Trailers come standard with full LED lights, including corner markers, side running lights, redundant tail lights and more.
And THIS has to be one of the best dovetail designs in the industry. Anytime you order a Hi Deck from us, this is the dovetail that comes with it. No more jacking around with complicated flip up center panels or worthless additional pieces. This system uses two massively wide heavy service ramps with DOUBLE spring assists that can be laid forward to create a full length flat floor, stored vertically to give you maximum space after loading wheeled vehicles and gently lays down to the ground via the dual spring assists to make loading and unloading anything on wheels a total breeze. Compare this to handling pull out ramps or fiddling with pop up dovetail panels and there is just NO comparison. You will LOVE this dovetail design!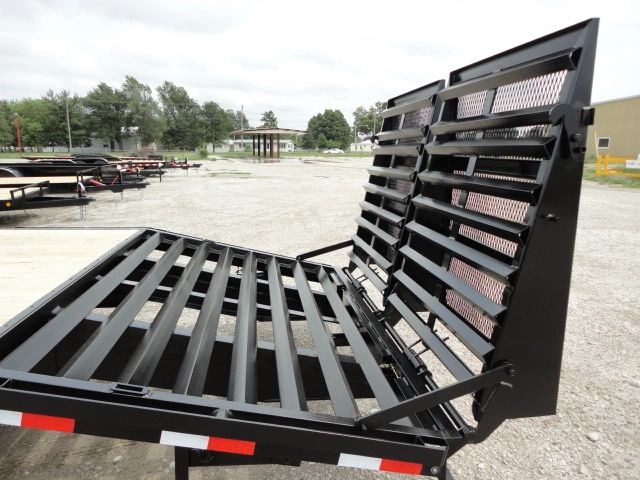 By using a full steel lattice system, the entire dovetail and both ramps are basically self cleaning, keeping you maximum traction while loading and unloading equipment.
Super strong solid cold rolled steel bars are the basis for the ramp pivot system and work in conjunction with CLFab hi definition plasma cut brackets to work each time, every time, just like you expect them to for years to come. Doubled up spring assists make flipping the ramps up and over a no stress chore as well. No more back strain!
With 10 full feet of combined ramp and dovetail to reach the 36" high deck, you have a nice, easy incline all the way up. To steal a phrase from Staples stores... now that IS easy.
The entire unit is a very well thought out design built by men who have been building trailers for well over 30 years. Their experience shows in every part of the design and you will really like all of the thought that they put into it, once you get it behind your truck and start using it. Shown here is our optional rear receiver hitch and lighting plug... if you have to tow something behind, it's a great addition for $200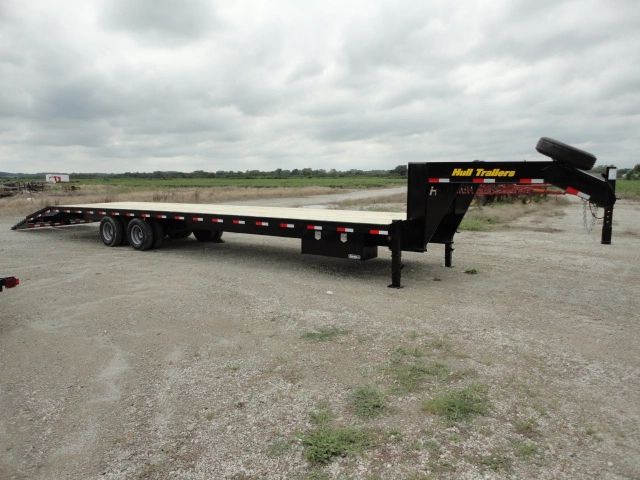 Tandem dual models are available in lengths from 15 foot no dovetail models all the way out to a full on 45+5' dovetail edition. The 35+5' dovetail model shown is just one of nearly 10,000 different combinations we can create for you. So, take a look at the pricing, then call us at 712 589 3100
Back to top of this page...
Back to Stateline Trailers Home Page
Email Us Now