The first part of the SS Tandem trailer we have to talk about is the body itself. Formed from Hi Tensile 12 gauge steel panels, it can withstand sheer pressures of 55,000lbs per square inch, compared to 36,000lbs per square inch rates you would find in normal standard steel. This Hi Tensile steel gives you more rigidity to begin with and then augments that by flexing more than normal steel before it would show any micro fractures. It's a new hybrid steel compound that was developed in the good ole USA by US Steel back in 2001 and it has changed a lot of things in a lot of industries.
After the panels are sheared to the exact length needed, they are run through CNC computerized press brakes to create 3 very precise and very strong bends, which form the top rail with 2 bends and a lower cross member joining platform and floor edge lip that's about 3" wide and runs the length of the panel.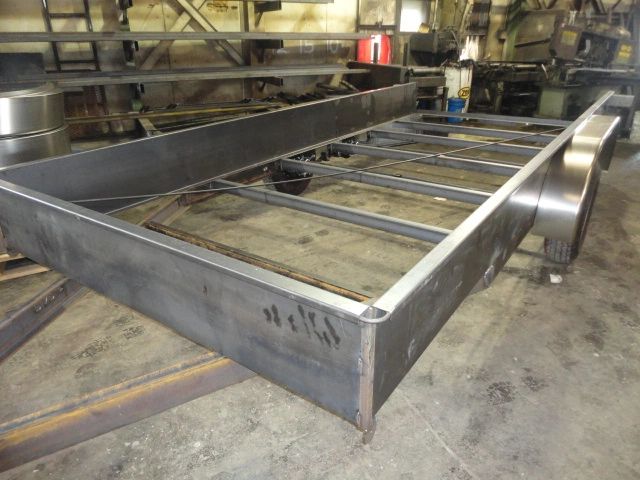 Then, the panels and all other frame components are assembled in a 3 dimensional fixture which holds the tire super structure in place while it is welded together. This assures that the trailer chassis lands on the ground square and flat and dimensional correct every time. Notice that we also add hot mill steel angles and channels throughout the body to add incredibly strong load points in the corners, where the tongue and suspension mount and anywhere else actual load forces will be entering the structure as it is used. This makes sure that these units can take extreme shock loads for years to come and still keep running without a problem. That's why we have no problem giving this trailer a full 10 year frame and tongue warranty... because we KNOW it can do that without a single complaint.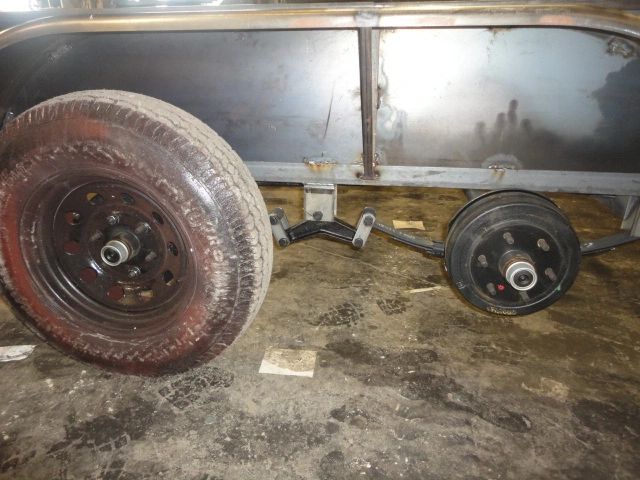 Notice that the suspension system doesn't mount directly to the body panels. We use a heavy gauge steel angle as a lower cap unit, which gives this trailer some incredible strength right where it will need it most. Also, the vertical and angular fender braces inside keep the fenders where they belong, even if you sit or stand on them. It really is a very solid and proven chassis design.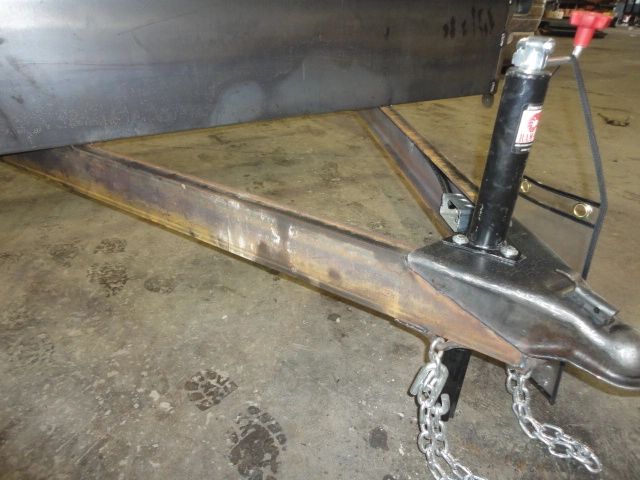 But a trailer is only as good as it's parts. That's why we use the same channel steel tongue design that you would find on our HD Flatbed or Speedhauler trailers on this unit as well. It's super strong and assures you that no matter what you do, it will keep on doing what you need.
When we talk about a full wrapped tongue, this is what we are speaking of. Some trailer manufacturers take the tongue back to a cross member and stop there. On our tandem axle SS utilities, we take another 5 feet or so of 5" channel and extend that tongue back along the side of the trailer until it meets the front of the actual suspension system. This does four things. 1. It makes the trailer tongue incredibly strong. 2. It eliminates harmonic flex of the chassis while towing down the highway (that 'bounce, bounce, bounce' feeling you've gotten sometimes while towing down the road... this lessons that effect dramatically) 3. It creates entire separate weight carrying structure under the chassis from the suspension system forward, where you need to carry the most weight the most often) and 4th, it assures both you and us that the tongue will say attached for as long as you own the trailer.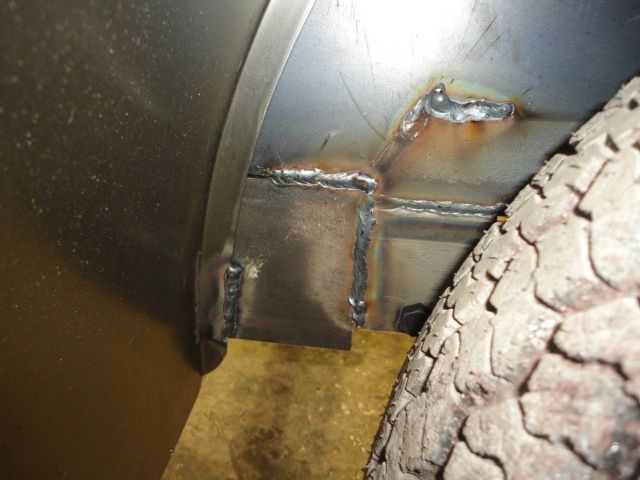 There lot of big welds at this one point because most of the work of a trailer while towing happens right in this area. You have the tongue wrap being welded to the very front suspension spring perch on both sides, the main suspension support system being attached to the SS body panel at this point as well as the fender being permanently welded to the chassis. By creating this one very strong convergence point, all load can be supported and spread throughout the frame structure. It's a lot of engineering in the background coming out in a very superior product on the road.
Suddenly, seeing a finished unit gives you a whole new perspective. After welding, we literally hand prep the trailer from one end to the other, smoothing and grinding and filing away at things until it looks pretty darn 'rubbed on', then it get's a full on ACID bath to remove any impurities, steam cleaned, then white iron phosphated to create a nice molecular bond for the top coats, covered with multiple coats of hybrid zinc steel primer then the top color coats are applied. Does it look good? Yep... will it last? Sure will.
While we are here, let's talk about the floor. All #1 grade hybrid southern yellow pine is first sent in and given a full ACQ wood treatment to keep pests or fungus from deteriorating it over the long haul. Then we hand fit each floor into each trailer, press it in place and fasten it down with about 70 different bolts in different locations to make sure that it not only stays put, but that the floor can actually add to the structural integrity of the trailer itself. Looks excellent, works excellent and lasts a long time! That's why we're not shy about giving you a 10 year no rot floor warranty on every unit.
Inside each unit, you'll find 6 of these neat little D rings. Don't be fooled by their miniscule size, I have personally seen just one of these rings pick up and hold 3,000lbs of steel off of the floor. They are tough and they are free with every unit. one in each corner and one centered on the side walls down each side. No charge... included in the price.
How did that old infomercial go? 'But wait! There's more!'... anyway. We also include these tough corner tie downs at the top of the side rails in all four corners of the trailer body. Just more places to secure items when you need to.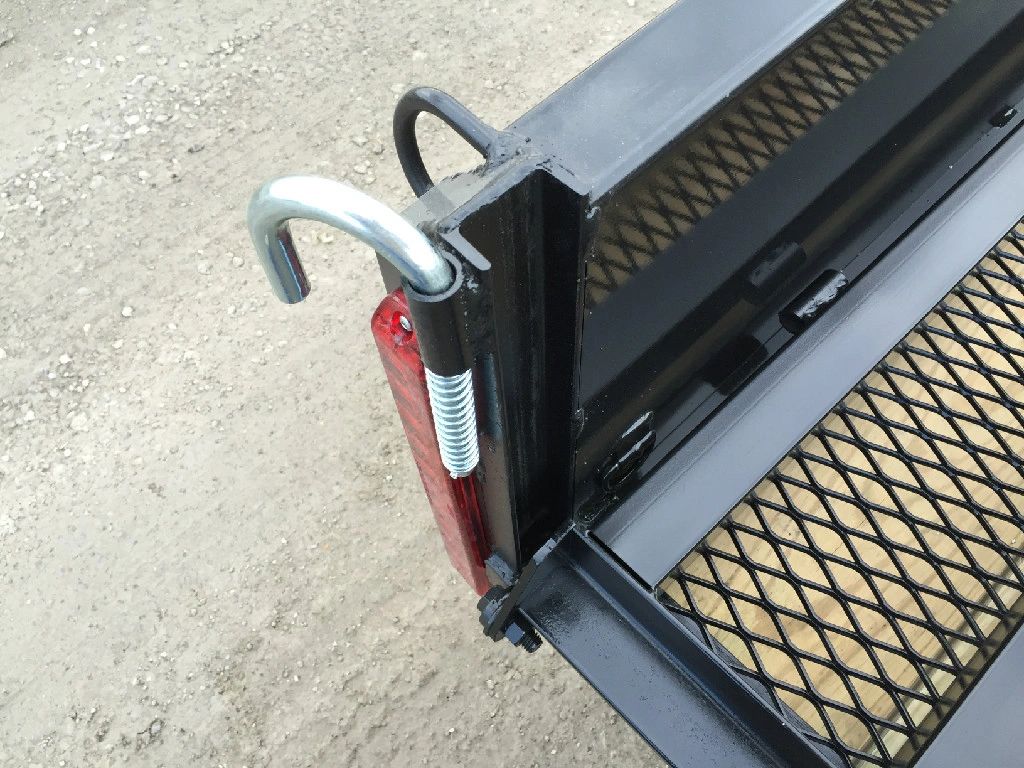 At the rear corners you see the back top corner tie loops, the spring assisted J hook latches that hold the ramp gate in the upright and locked position, the hi mounted tail lights (which keep errant rocks from doing damage while you tow and do your thing), plus the right side board gate slot.
A board gate WHAT? A board gate slot is what it is called. It actually serves two very important purposes, 1. It creates an extremely rigid tail structure at the back of the body to mount the gate holds, creates a nice area to add some really big strong welds down low to stiffen up the entire structure AND it allows YOU to cut a board and drop it in, if you ever need to haul dirt, sand, rock or any other loose items that you don't want scattered along the road while you are towing.
Yep.... a quick trip the lumber yard, a little measuring and a single cut on a 2x8, 10 or 12" board and you have a nifty solid 'trash gate' along the tail of your trailer.
And since it was designed to be there, you don't have to remove the gate or do any fancy operations to use it. This ability to create such a board gate is std on all Single and Tandem axle SS Utility trailers we offer.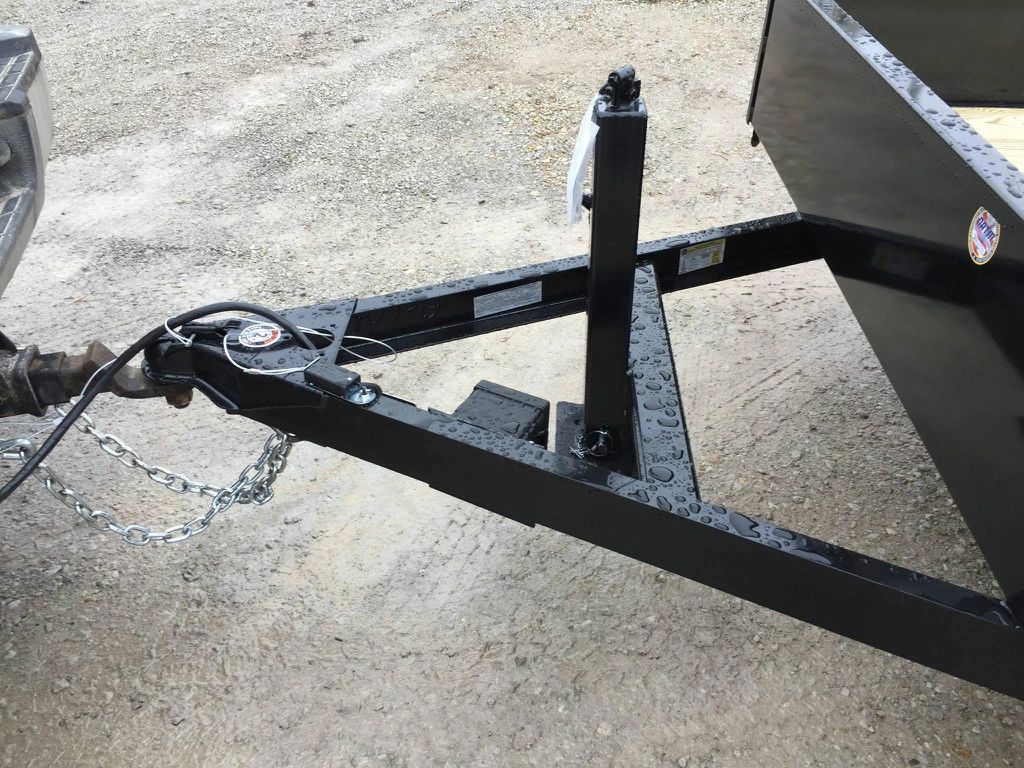 Back on the towing end of each Tandem Axle SS Utility, you'll find our standard ultra strong 2 5/16" ball coupler that is good for a total whopping 14,000lbs of load and 2,100lbs of tongue weight. Long story short... it's a strong, safe and easy to operate coupler. You can also see the 8,000lb drop leg jack set back in the tongue tail gate clearance. (400% more load rating than most competitors jacks), which is strong enough to allow you to unhook your trailer LOADED and not worry about damaging the jack. Plus, you can see the dual plated extra long safety chains with std positive latching S hooks (now required by federal law on all units built since 2009), the battery brake breakaway system with battery and built in charger, plus the trailer attachment plug, which is the std 7 spade bargman RV style plug.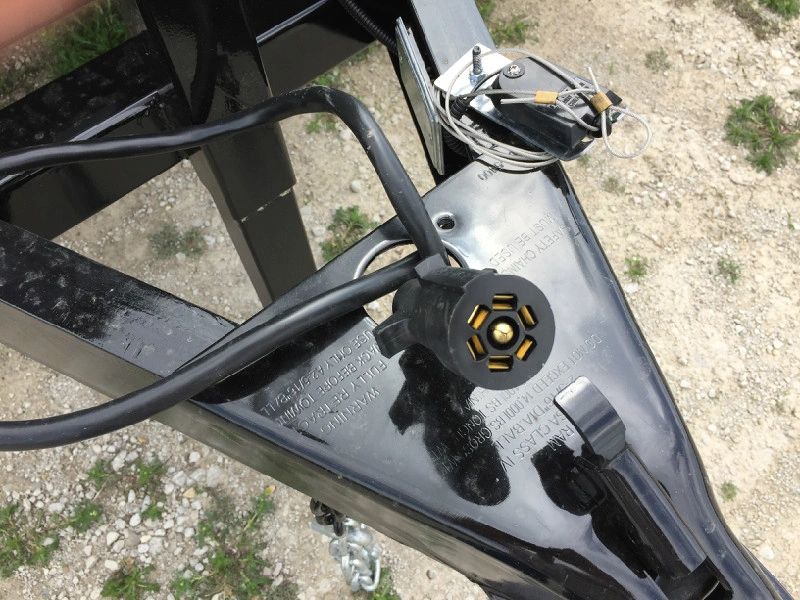 Yes... it fits nearly any new truck with a tow package automatically... no wiring worries for you or us.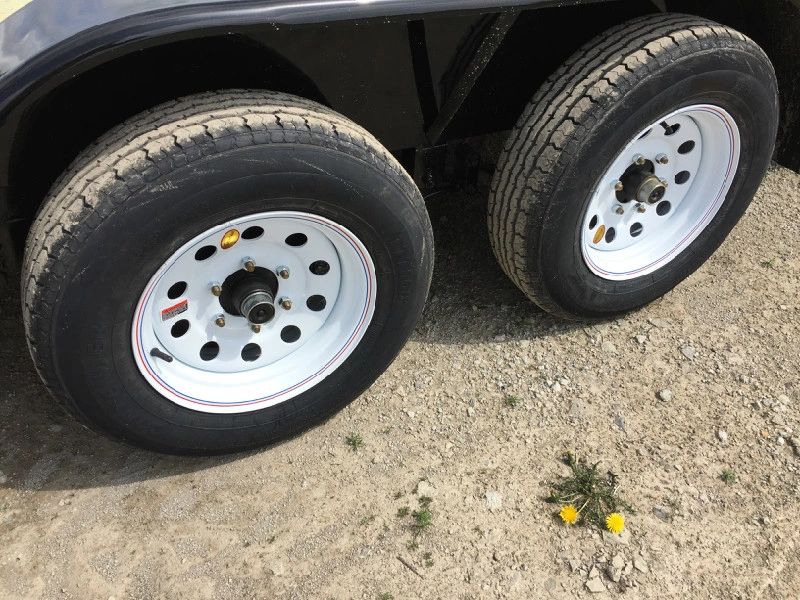 FEATURING TASKMASTER BRAND WHEELS AND TIRES WITH 2 YEAR WARRANTY!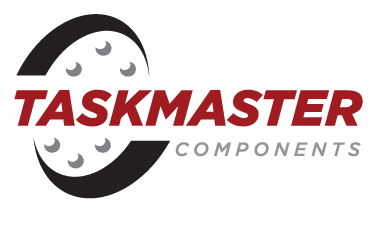 On back, you'll find a pair of steel braced fenders topping brand new tandem 3,500lb suspension axles with 6 bolt hubs, 4 wheel electric brakes (you'll need a brake controller in your truck to run them of course),
EZ lube spindles
, new 6 bolt wheels and NOW Standard new 205-15" RADIAL tires! Plus, note the marker lights... there are a total of 11 of them on each unit to keep you seen at night and to be completely legal for commercial use in all 50 states plus Canada. Like we said, it's a complete, ready to use, legal trailer.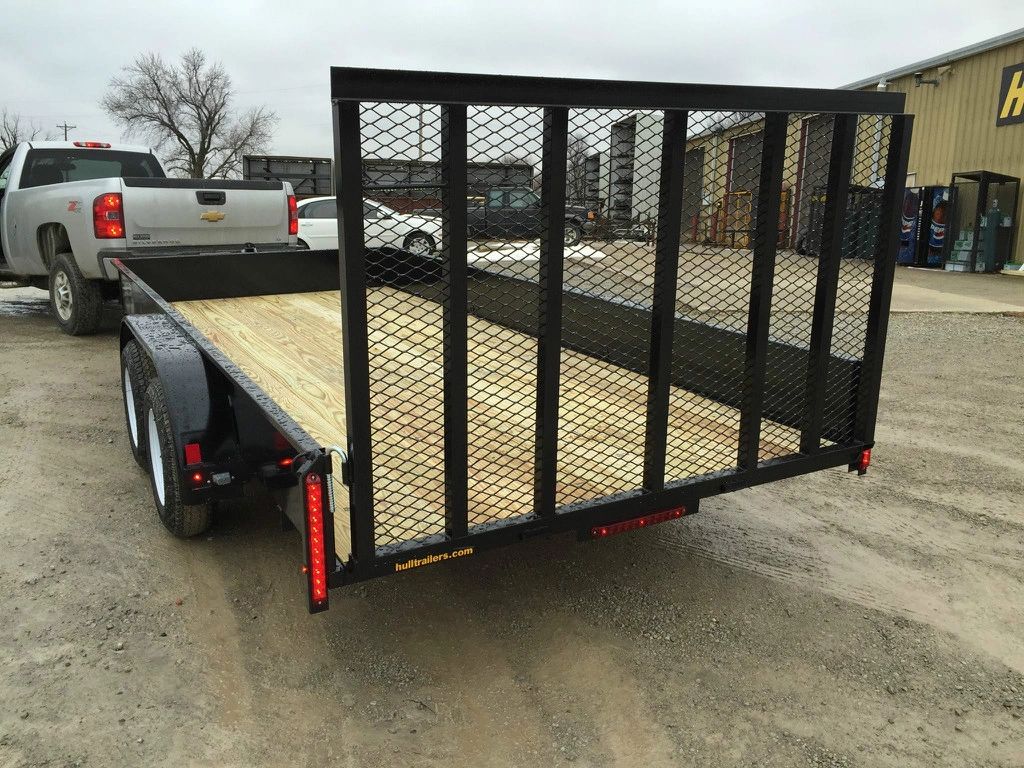 And finally, the ramp gate. So much engineering and design went into this gate so long ago that we sometimes forget to mention it all. The unit is good to handle a ton on it at any time, which pretty well means that even the biggest ATV's, mowers or mini trenchers will climb it with ease. Plus, with it's neat 3 way design, you can lay it forward in the floor for no wind drag while towing, stand it up as shown to maximize bed space while loaded and anytime you need to load anything, just drop it on the ground for easy loading and unloading. It's a very simple, durable and strong as can be design.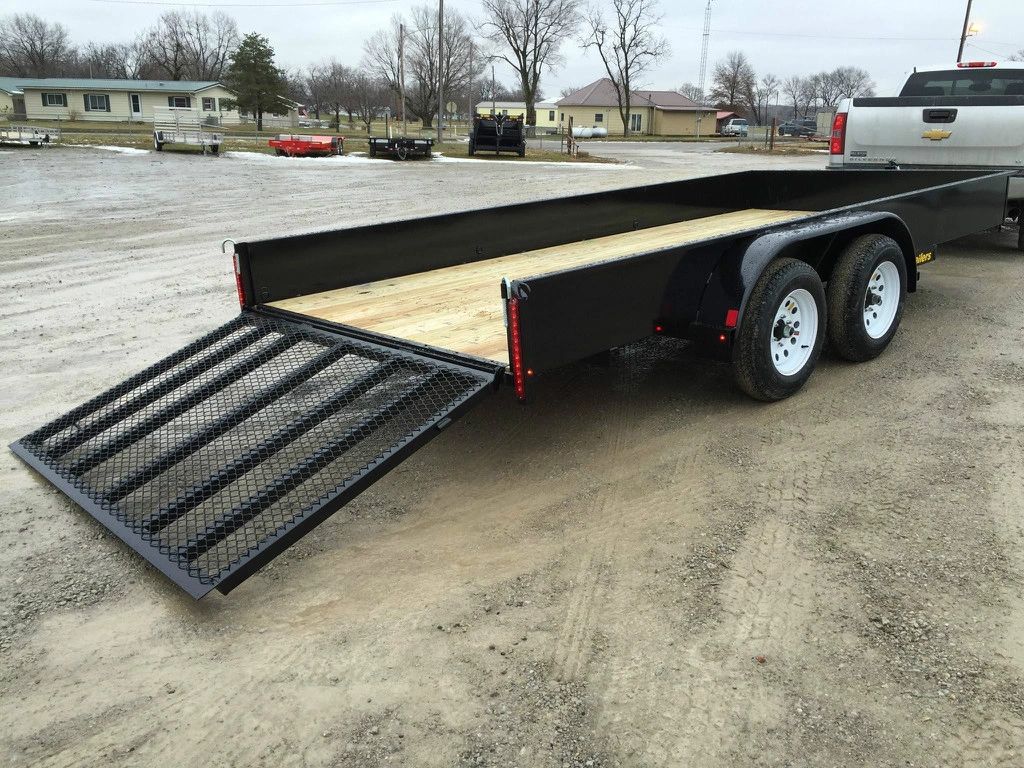 Here's the gate in the down position for loading....
And here's the nifty part... you can also take gate and simply lay it forward in the floor, when you have an empty deck or room in the rear. This really cuts down wind drag while towing and it's a standard feature.
Check out the standard LED lights that come on all units! (Yes! I know that this is a single axle, but this night time shot shows the lighting at it's finest... looks cool!)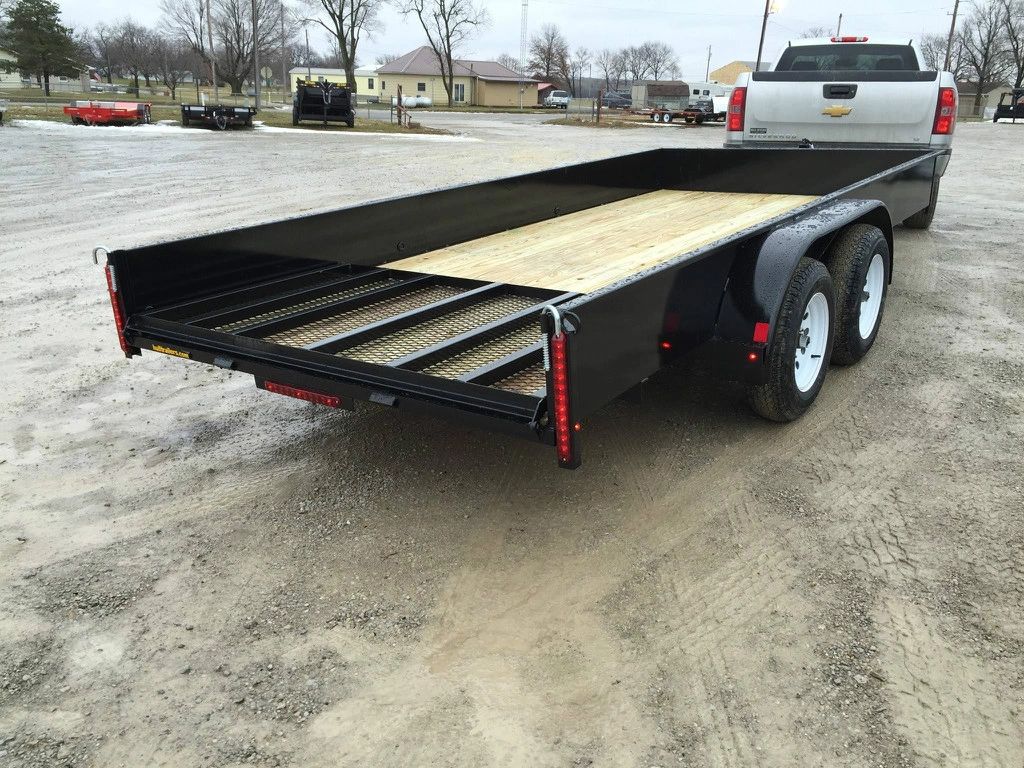 With all of the mid-year 2016 updates, we will go out on a limb and say that you just can't find a better built, more nicely finished, tougher and more useful design for the money from any other company. Maybe that is why we stay sold ahead on these girls! Call us at 712 589 3100 and let's talk about what you need in your new tandem SS utility!
Want it in a custom color? We can do that! We have a pretty wide choice of colors for only $200 more. Call us at 712 589 3100 and we'll discuss what you want in a color choice.