So, you have a REALLY big Bobcat or Skid loader that you need to move around, but the thought of handling a massive Hi Deck design trailer doesn't really suit you? How about this nifty twist on a skid loader unit? A full on 21,000lb GVWR capacity skid loader trailer. Read on.... we do this stuff all the time.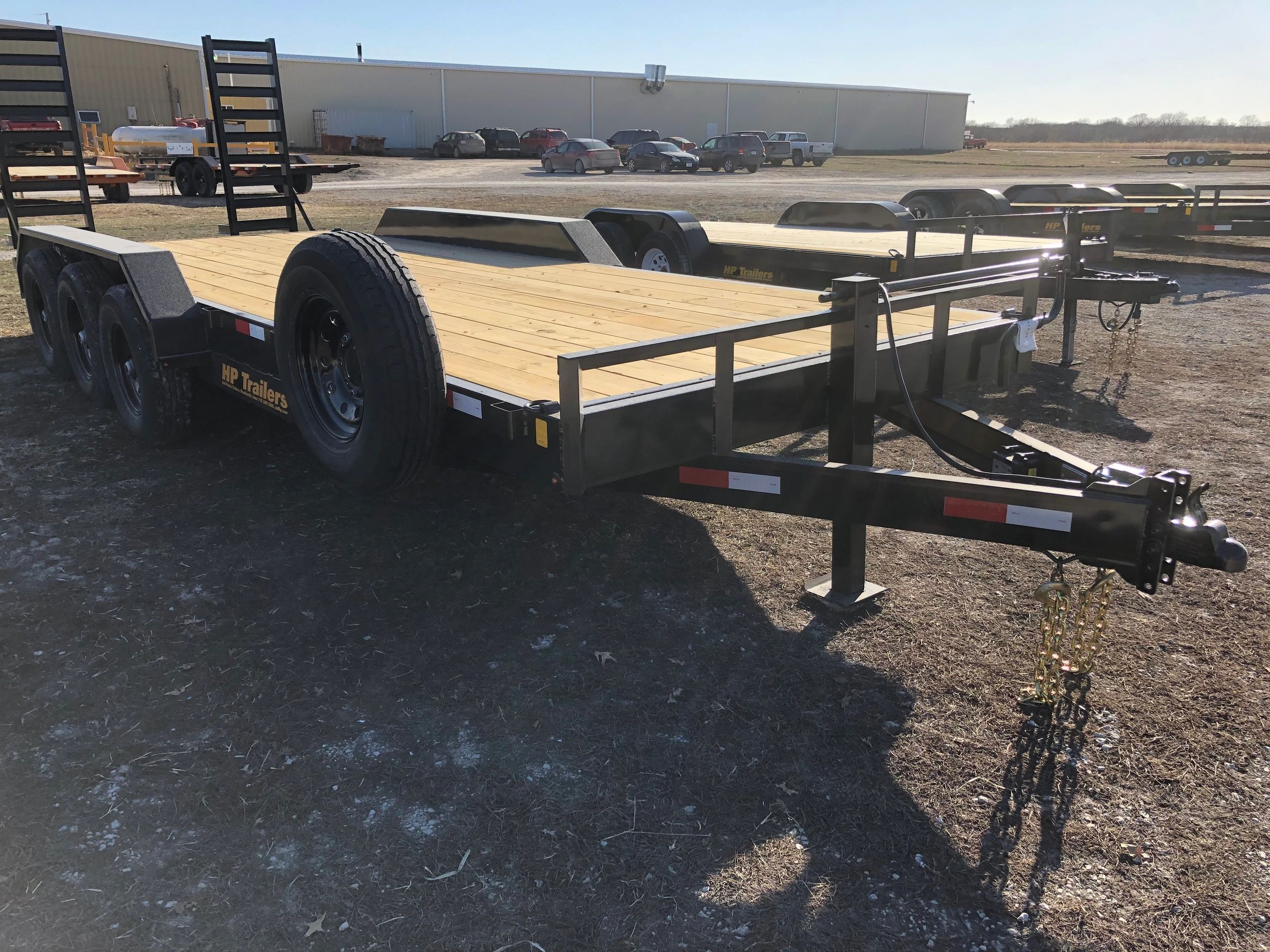 Available in all of our std lengths, this unit was ordered as a 20' flat floorplus 2' dovetail model. In order to build it up to this capacity, we simply beefed the frame up to a full 8" channel with 14" under floor cross member spacings, upgraded the hitch to the next step thicker 6" channel steel and continued it all the way to the front of the suspension on both sides, created custom triple axle channel steel drive over fenders, triple 7,000lb immersion rated easy lube 8 bolt axles with 6 ST235/80R-16 10 ply rated wheel tire assemblies, put on the nicer 7,000lb rated drop leg jack in the tongue and added on a pair of monster strong flip down skid loader ramps on the back.
On any fendered model unit we offer, you can opt up to this 21,000lb triple axle GVWR package, which not only beefs the frame waaaay up and tightens up the cross members, as well as the beefier 7k dropleg jack in the tongue and other assorted goodies, you get THREE 7,000lb axles fully equipped with brakes on ALL wheels, 6 of the big 235-16 10 ply rated radials on the heavy gauge white steel wheels and we also include these nifty drive over channel steel fenders custom made for the triple axle suspension, plus the complete additional adjustable height coupler option with your choice of load rated pintle ring hitch or 2 5/16" coupler...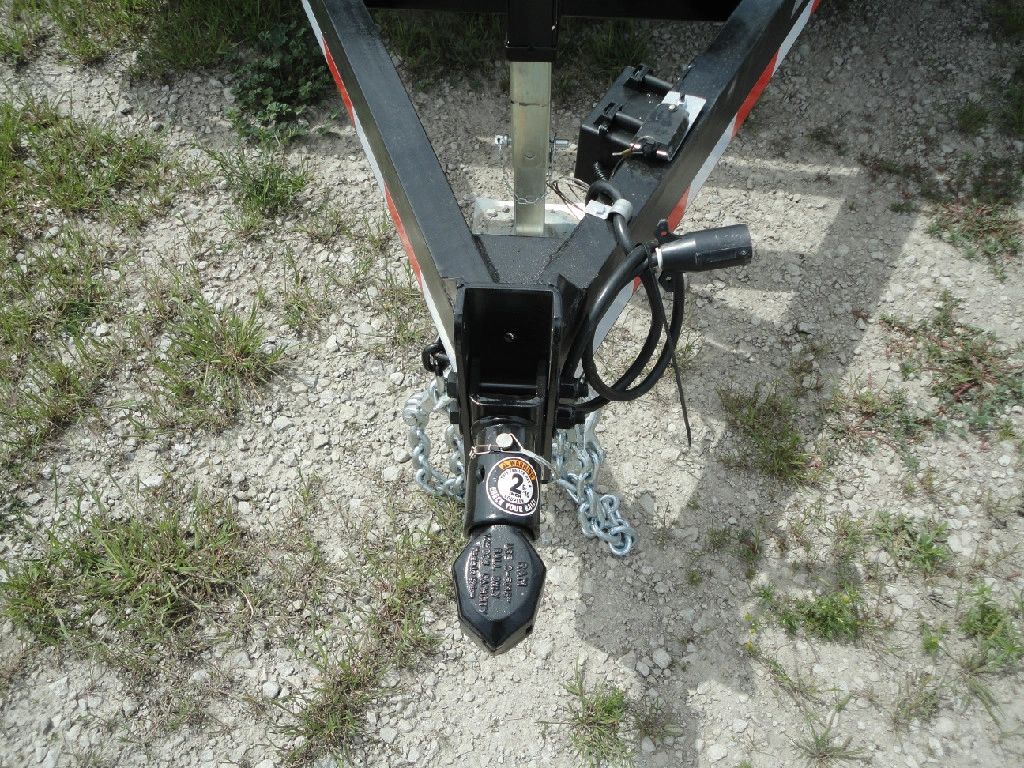 If you want massive actual tagged GVWR, you'll need a Pintle Ring hitch. The customer had to have a 2 5/16" unit, so the tag still rates this trailer at only 14,000lbs GVWR... that will be between him and the DOT man he meets one day. All units will come std with adjustable height pintle ring hitch as std equipment, you will need to specify 2 5/16" coupler at no extra cost.
This shot shows the 84" wide floor between fenders, the LOW fender height that comes with such a large frame option and the low approach angles of the drive over fenders. It's one very useful design for hauling nearly anything on wheels.
Out back, a pair of our $250 optional flip down skid loader ramps and would recommend our spring assist for $200. The built in dock legs on the bottom of the ramps are actually custom length to fit this exact trailer. Ramps can be slid in toward center or out to edges for loading nearly anything.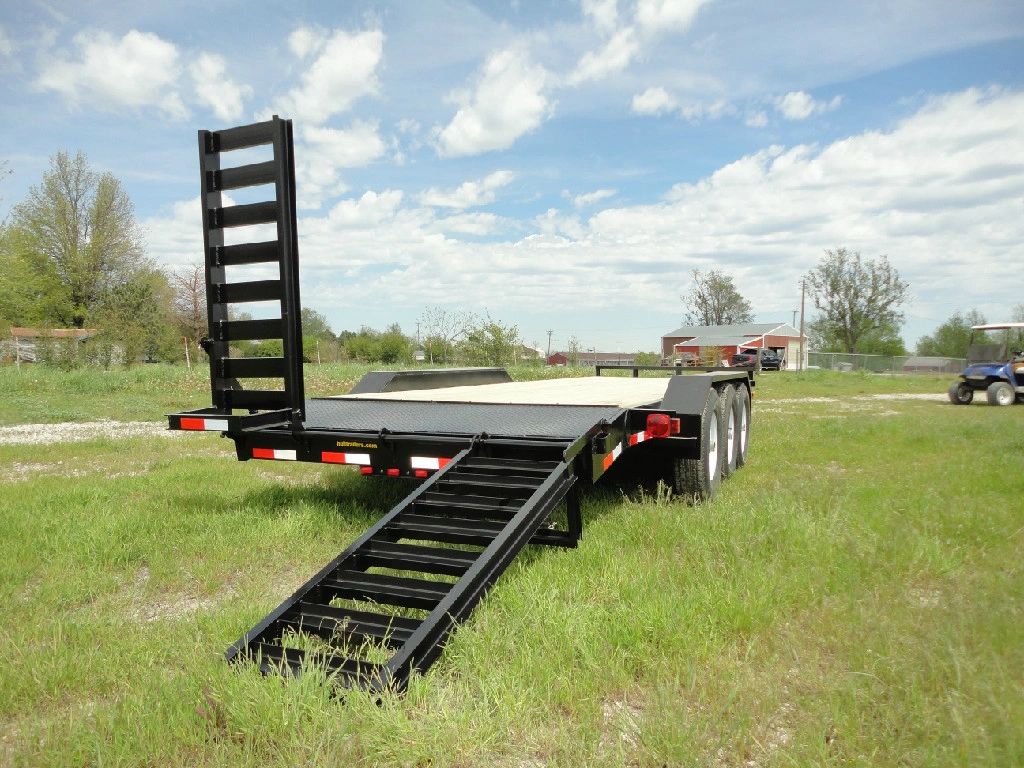 And check out the 10 degree load angle on these ramps. That's a pretty easy climb up onto the bed.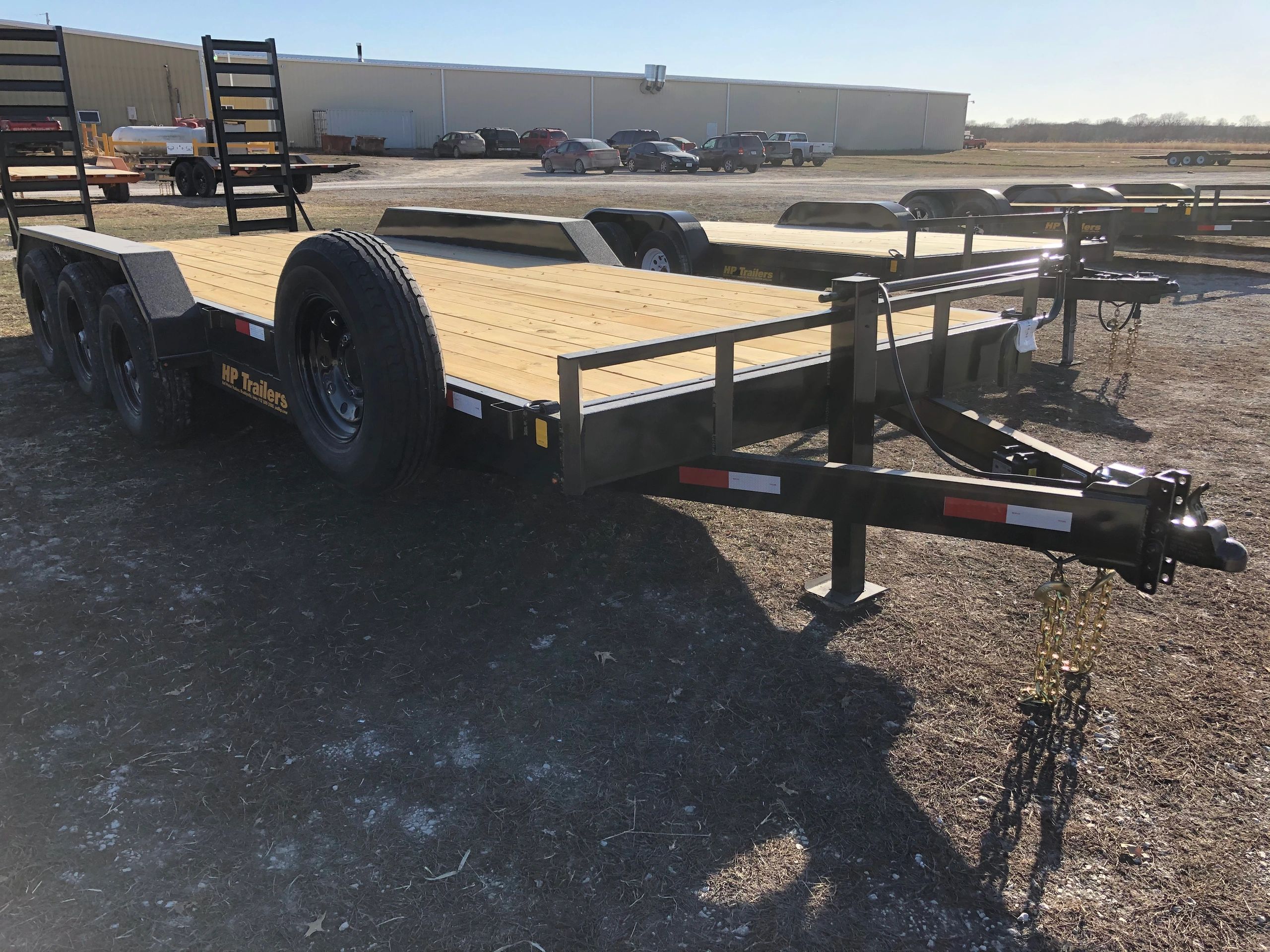 So, what you have here is 21,000lbs of capacity and 22 feet of deck length in a compact easy to load and pull design...
Thanks
Craig and Melissa.
Back to the top of this page.
Back to HP Trailers Home Page.