New hours...
8am-5:00pm Monday through Friday.
9am-Noon Saturday.
Closed on Sundays.
Need a question answered?
Call us direct! 712 589 3100
All models come with Dexter Brand Axles and 2 year warranted Taskmaster Components wheels and tires standard.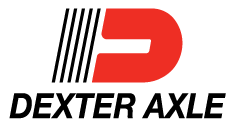 New! Super wide floor option.... need more space? How about 84" wide between fenders? Call us for free details. 712 589 3100
Check out a quick video of our great little SS series single axle!
Single Axle SS or RS Utility Trailers


66x8 $1,995

66x10 $2,045

66x12 $2,095

66x14 $2,145

76x10 $2,095

76x12 $2,145

76x14 $2,195

84x10 $2,145

84x12 $2,195

84x14 $2,245

Tilt or Rampgate models same price


OPTIONS:


A-Frame locking toolbox- $200

8k jack- $60

Bi fold Gate- $200

Split Gate- $150

5' gate- $200

Heavy Gate (extra spars)- $150

Coil Spring assist gate- $200

Rope rail on top- $225

24" tall sides- $40 foot

36" tall sides- $70 foot

48" sides braced- $100 foot

225 radials NOT AVAILABLE, NO ROOM

Aluminum wheels- $200

Spare Mount- $50

ATV version with drop in ramps- $565

Add brake to 3500# axle- $200

Add brake to 5200# axle- $450

Extra LED marker lights- $25

I was hoping for a sunny day but when you get the first of a new design, you shoot it regardless. Here's the very latest version of the mid year 2018 Hull Single Axle SS utility. This is the very most popular size too. A 76x12 model with all of the new standard features including Carboncoat DM coating system, full thinline LED lighting throughout and the now standard 205-15 RADIAL tire upgrade.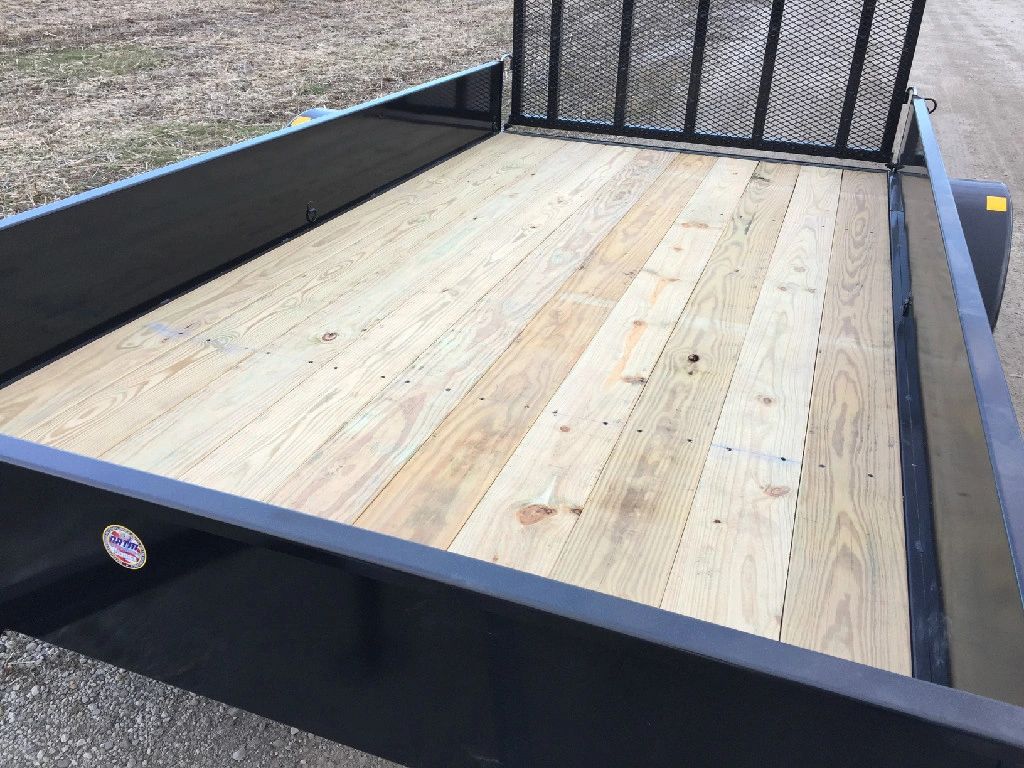 Check out the standard treated wood floor with 10 year no rot warranty standard!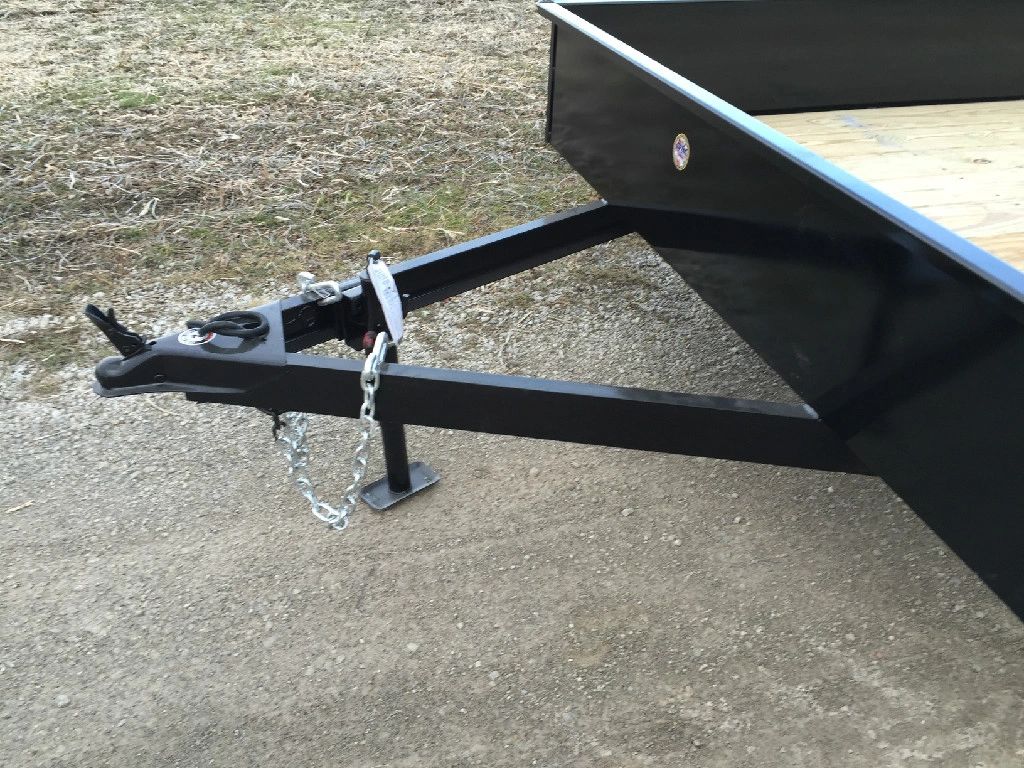 All standard! Channel steel tongue, 2,000lb swivel up jack, 2" Posi-lok coupler, dual latching safety chains and a complete enclosed wiring harness with 4 prong flat lighting plug.

Out back, more cool standard stuff. Heavy service ramp gate? FREE. Vertical thinline LED tail lights FREE. There is nothing in this photo that is an option... all std.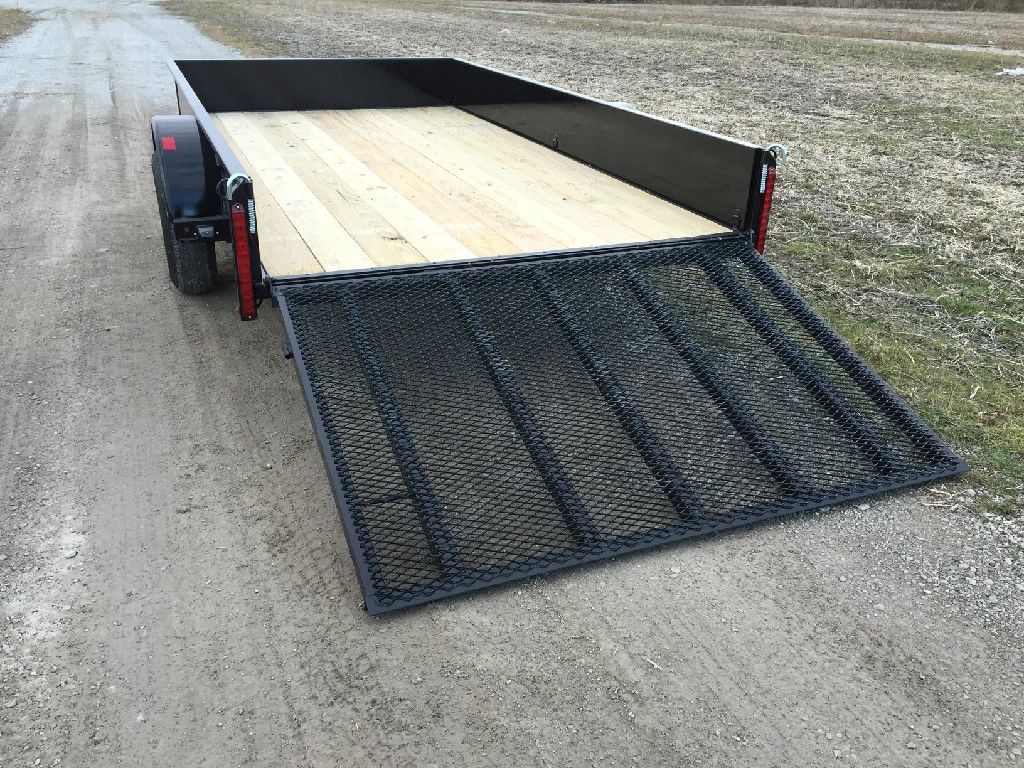 Just pull the spring loaded j hook latches and lower the gate to load and unload, anytime, anywhere. Pretty nice! And notice the all tube supports that go from side to side for support, no matter what you're loading.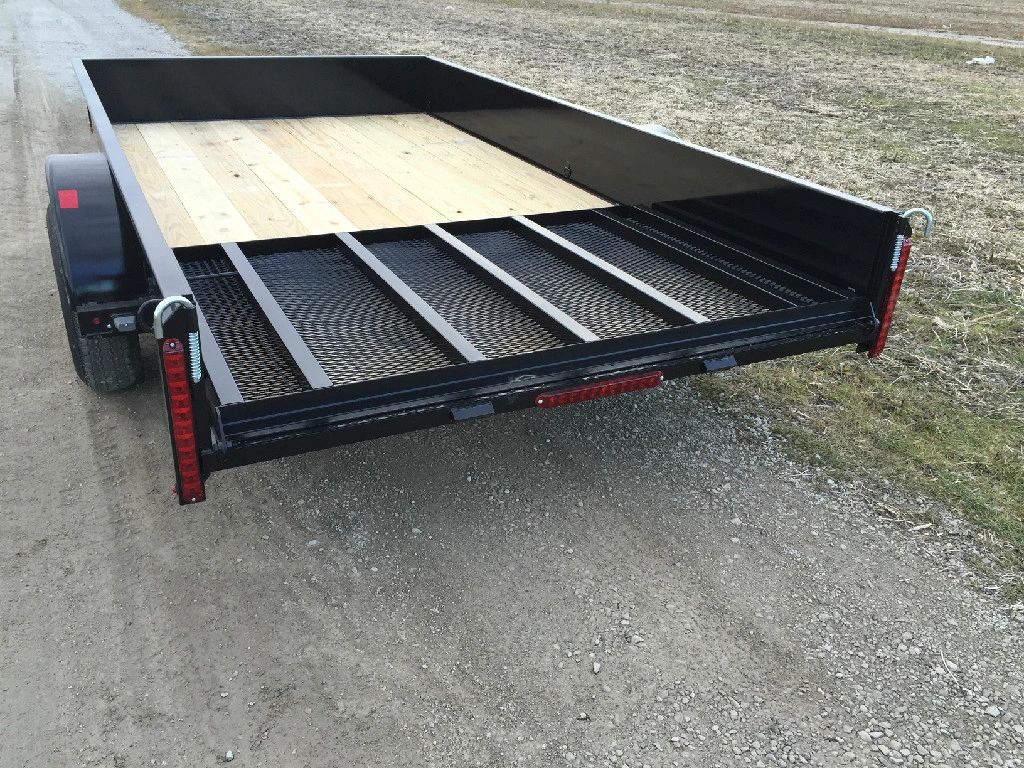 One other neat advantage to our style of trailer is that you can fold the gate forward and lay it on the floor to really reduce wind drag when towing empty. Save a mile per gallon when towing, just by laying it down. It's a standard feature of these trailer models and something the we originated way back in the 90's.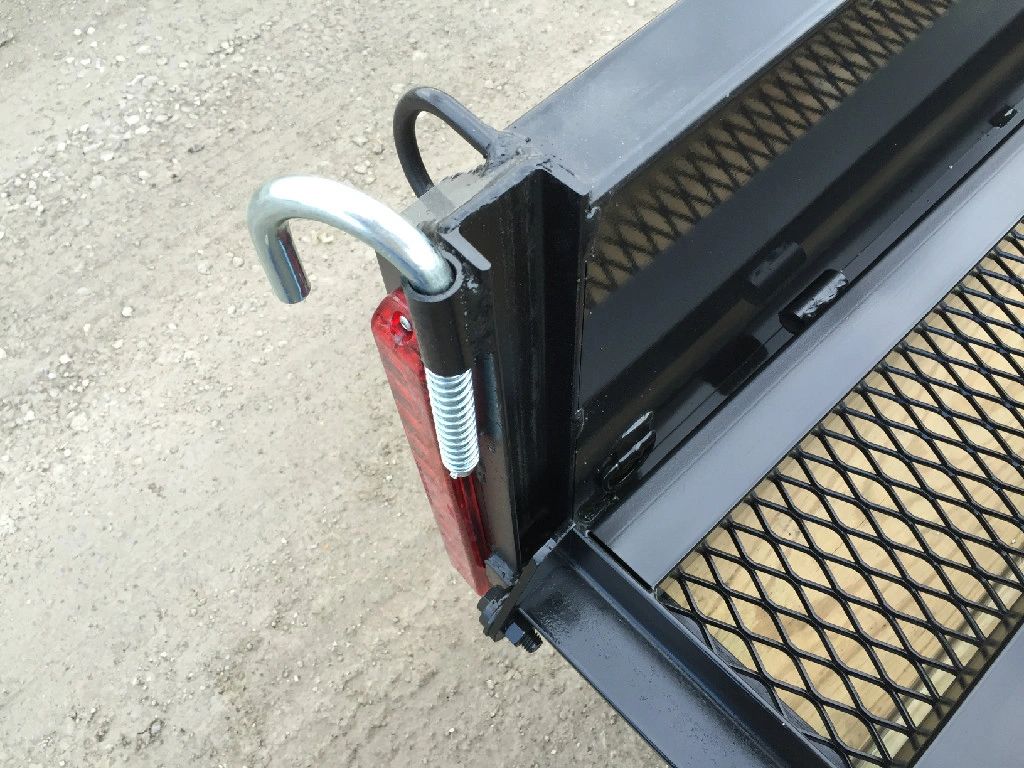 One more neat standard feature is this cool little board slot.. Just cut a 2x12 to width and drop it in the rear slot to keep small debris from dropping out the rear of the trailer. (Don't think that we're the kind hearted! It actually serves as an extremely strong side support brace as well.)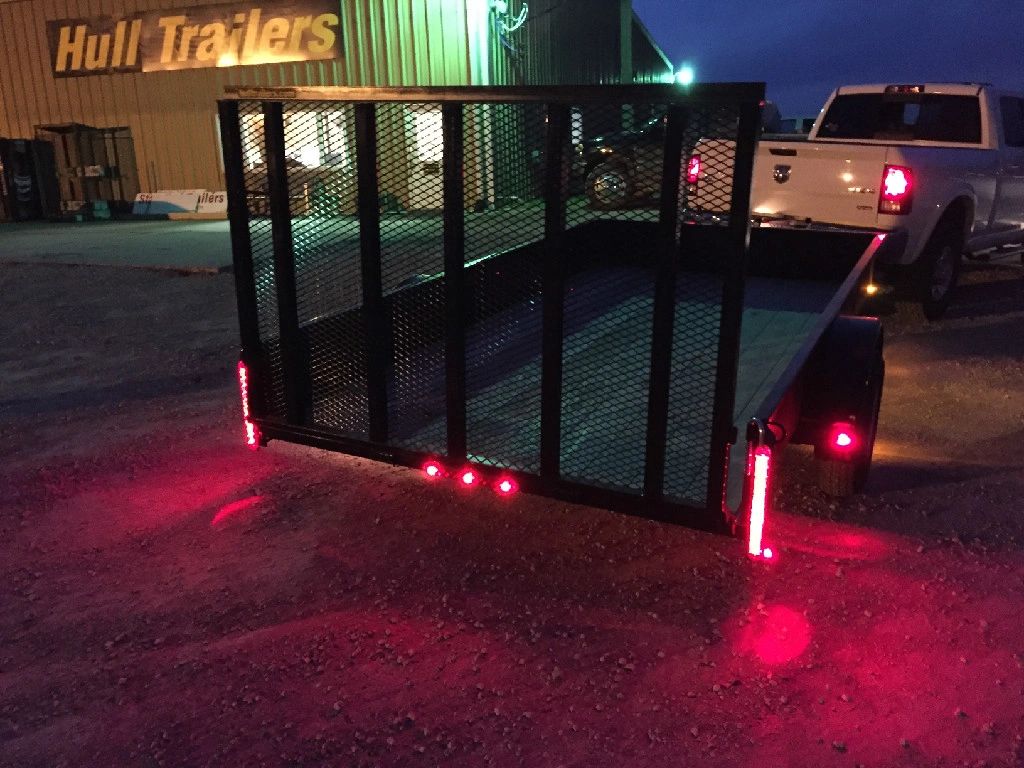 One more quick shot... want to know just how cool the thinline LED tail lights are? Check out this shot of a customers unit leaving about sundown just a few weeks ago. In the dark of night, it is a shining beacon indeed.

Other cool ones we've done lately...



The possibilities are pretty well endless! Call 712 589 3100 and let's talk about what you want!

Check out the older version trailer photos below, because the basics are still the same....
Sure, nearly everybody has a ramp gate on their single axle trailers now, but not a 100% heavy steel tube main spar unit that can do what this one does.... this gate can take up to 2500lbs in the center of it's main support span and it can do other things too.....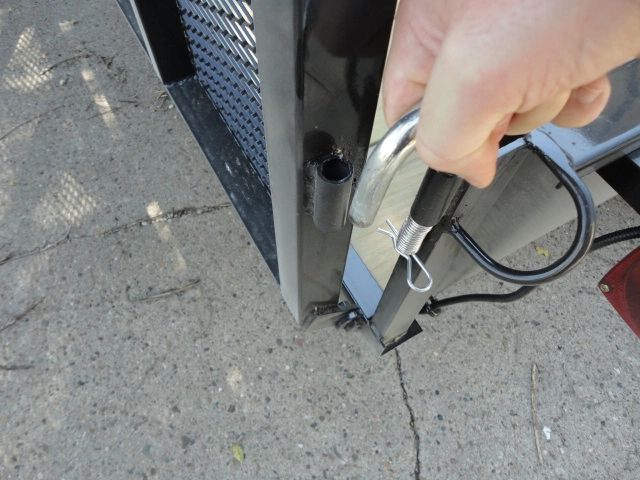 These neat little spring loaded J hooks allow you to store the gate upright, or if you have an empty bed, or just the room behind what you are hauling, you can always let the gate lay forward in the floor to cut wind drag while towing.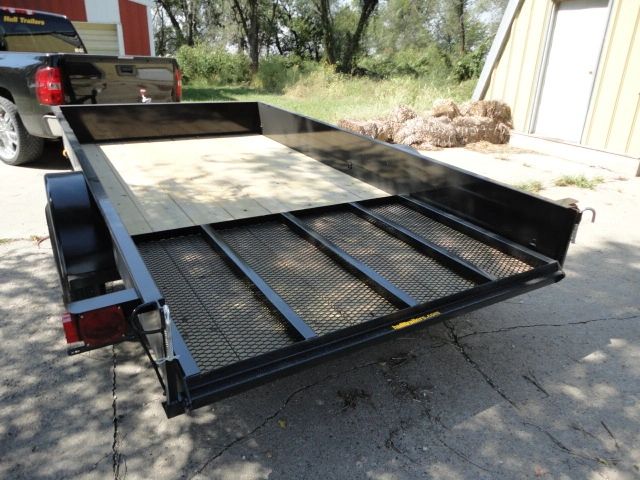 This 76x12 model shows how easy it is to just lay the gate down and cut down on wind drag when towing! Yep.. it comes Standard on every one we build too!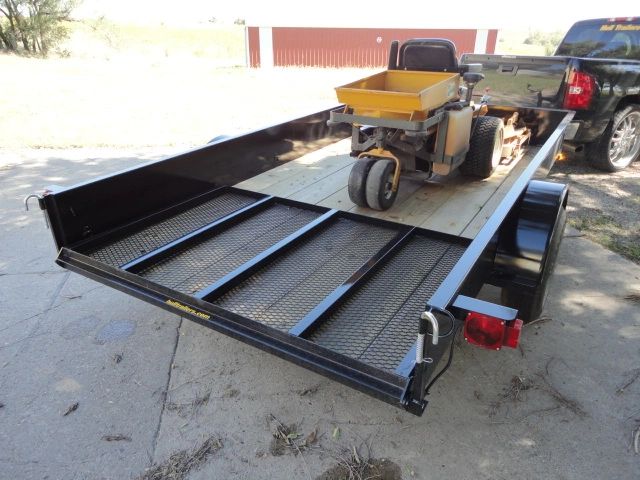 Even with this Walker Commercial lawn mower on the deck, there was room to lay the gate forward. Pretty neat!
This unit also works well for hauling the family get around golf cart!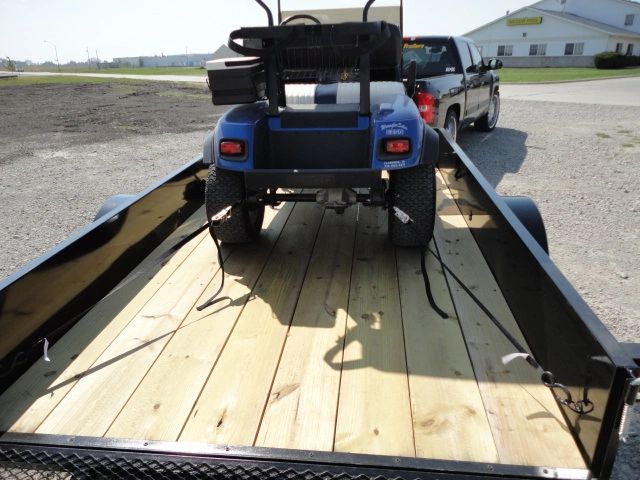 I like using the four corner D ring tie downs when securing cargo. It keeps things where I want them. There are also two more D rings centered along the sides too on all models. 6 inner D rings plus four fixed up corner rings for securing things when needed.
Like when I'm hauling motorcycles around. This Hyabusa and it's mean little sister, the GSXR1000 both fit side by side just fine in this 66x10 model. Note how I used the two top corner tie spots to secure the bike on the other side of the trailer! Works excellent.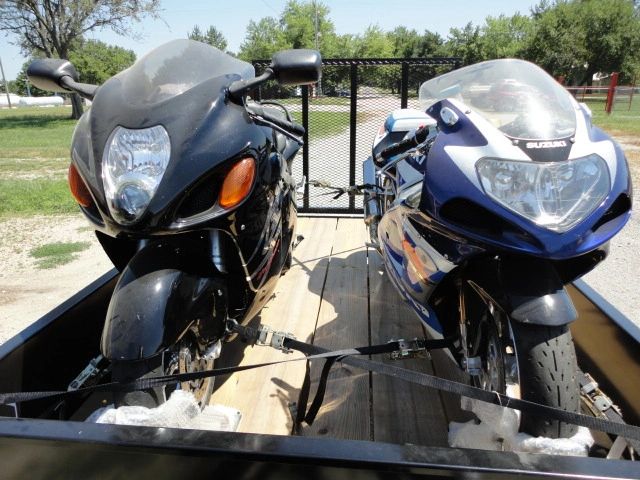 Excuse the dust, but these two girls were just coming out of storage. See how much room is still in between them? And this is on the narrowest model we offer... a simple 66x10.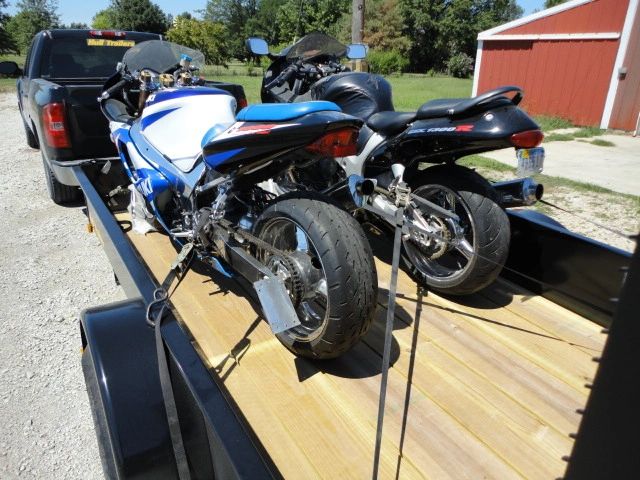 In the rear, I used the upper rail where is connects to the fender for a makeshift hitch point and it works fine for just keeping the tails on bikes in check while moving them around. Notice that I once again used the very rear inside bed D rings and crossed them to stabilize both bikes as well. 8 straps,
Two Easy to use motorcycle Chalks
, just a little planning and some good snug tying down is all it takes to haul two bikes on one of these trailers.
Here's a 66x10 hauling our old beater shop 4 wheeler. Low load angle and decent approach degree make riding them on and off the deck a no problem affair.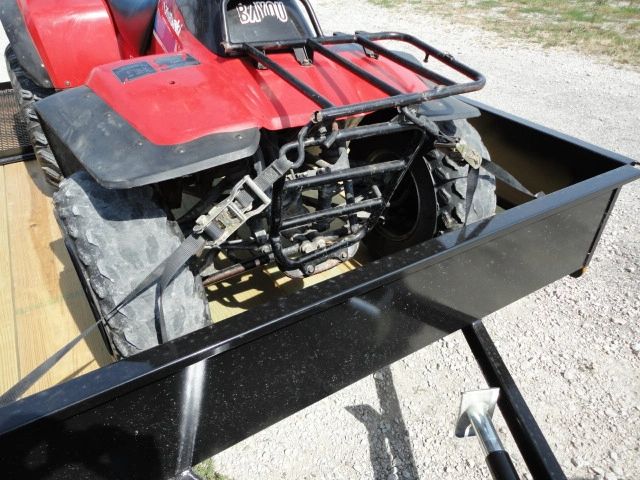 Here, I used the front cargo rack and the two front inner D rings to secure this 200 Bayou ATV.
And once again, because the trailer was built just long enough, I could drop the gate forward and cut some wind drag, even while towing loaded. Pretty neat?
We just can't imagine why anyone WOULDN'T want one of these cool 3 way gates on their trailer... and it doesn't cost a penny extra to get one on ours... they come standard.
Check out the standard 14" high solid sides that come on these models, plus the swinging D ring tie downs installed inside the bed for easy securing of cargo. Standard floor is ACQ treat top grade 2x8 and 2x10 lumber (much stronger than 2x6 boards!) and floor carries a 10 year no rot replacement warranty.
When you need all of the bed for towing, the ramp gate stores vertically and since it is steel mesh, wind drag is minimal at highway speeds. We rate each gate to take a ton of load, which gives you a nice margin of safety while loading large mowers, ATV's or equipment as well.
When you are ready to load or unload, simply lift the spring loaded J Hooks and let the gate down to the ground for a pretty easy slope. Every gate is full bed width and 4' feet long to give you an easy to operate size, while creating a nice gradual slope to load and unload on.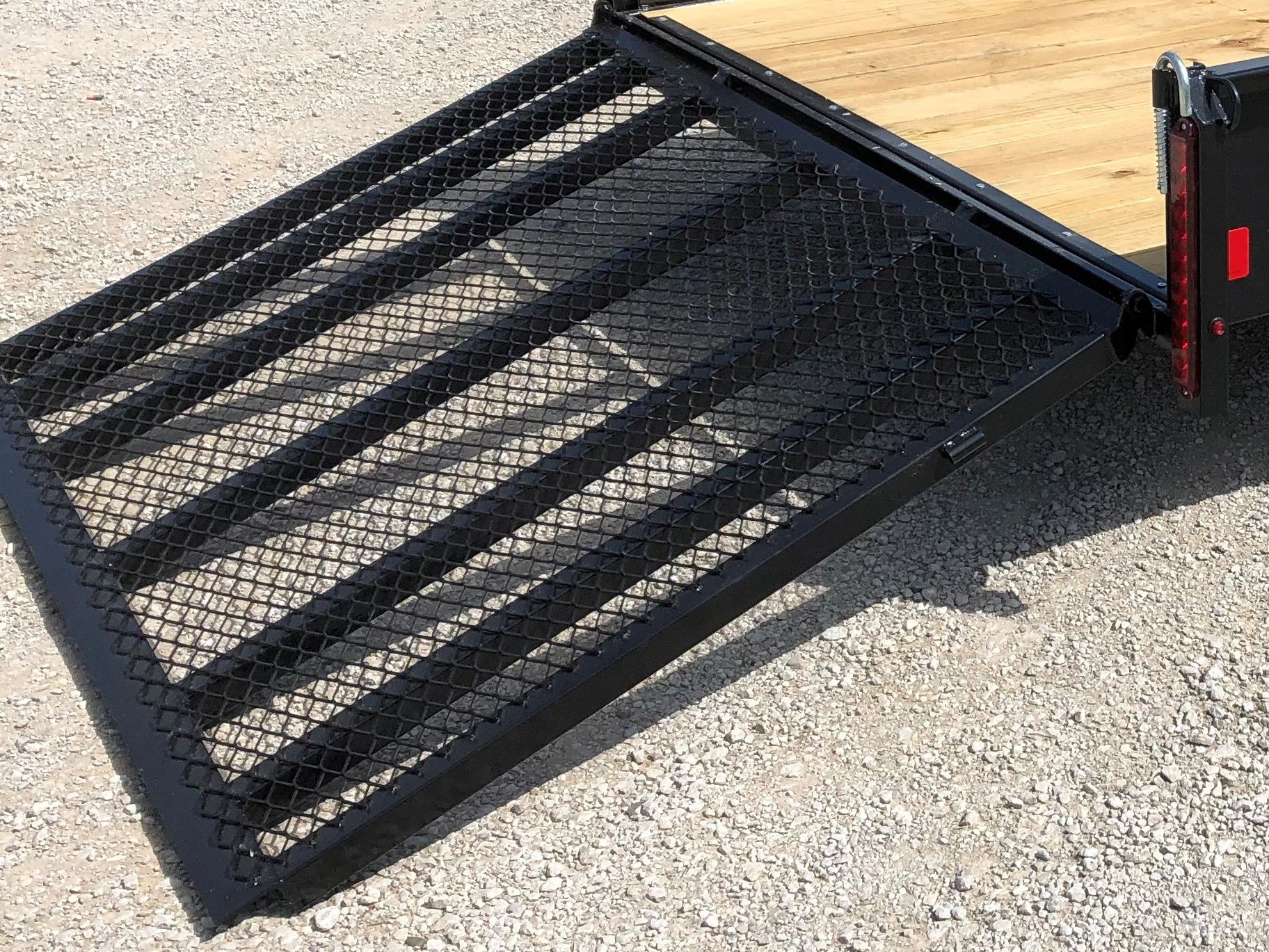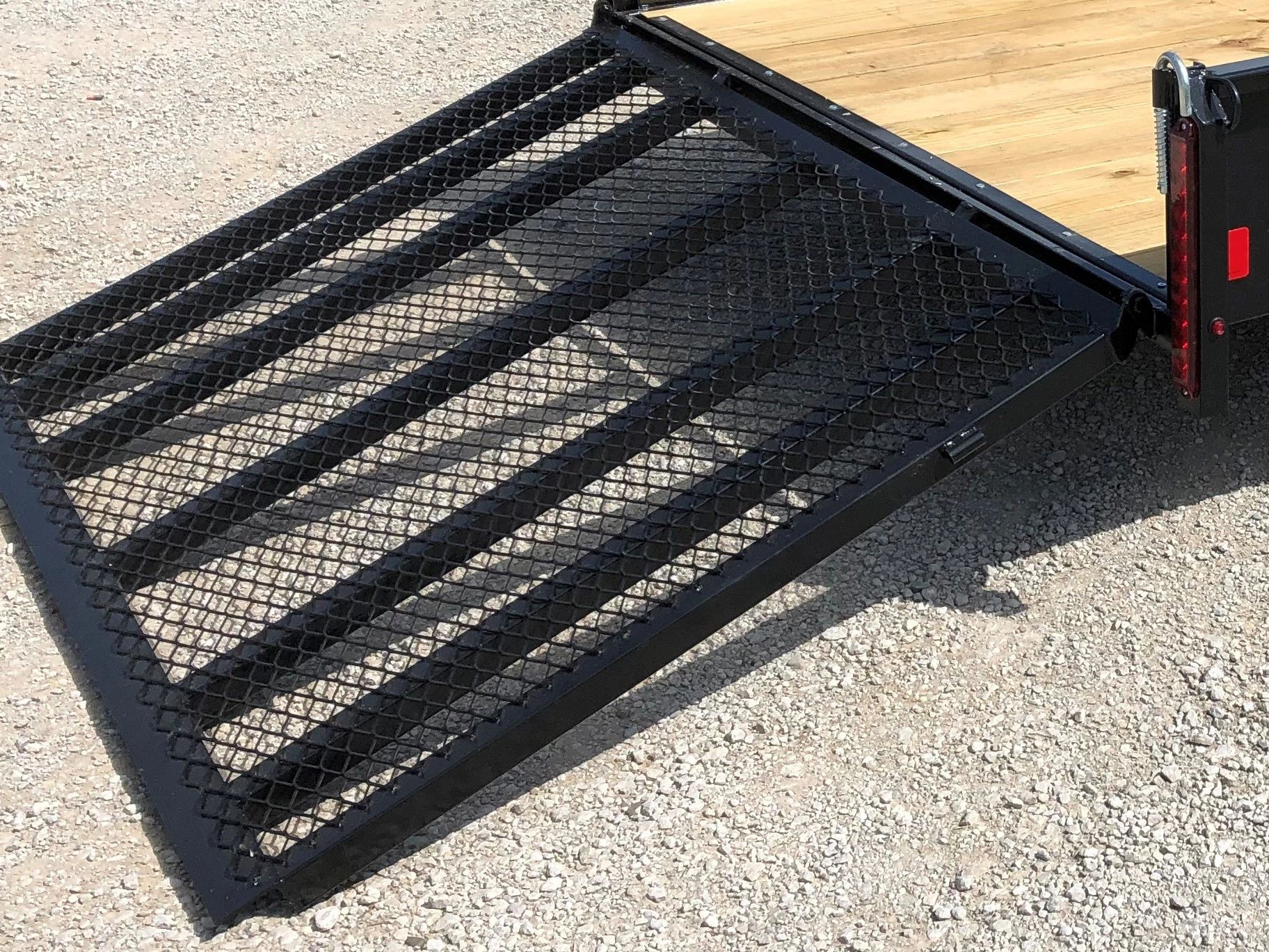 Want ZERO gate wind drag while towing? Simply let the gate fall forward into the bed and it will stay there while traveling. We often recommend getting a longer bed that allows customers to lay the gate flat behind their mower or ATV if they are concerned about mileage. $100 spent on a little more deck space can help gain a mile per gallon over years of hauling.
Every Single Axle SS trailer comes with a 3,500lb rated leaf suspension axle, 20% stronger 6 bolt hubs,
True EZ lube spindle, which allows you to grease your wheel bearings without removing the wheel or hub
, load rated 15" wheels and NEW ST205/75-D15 6 ply rated trailer tires. It's the same basic suspension and wheel/tire system as our full size car trailers which guarantees you a tough, usable trailer for years to come.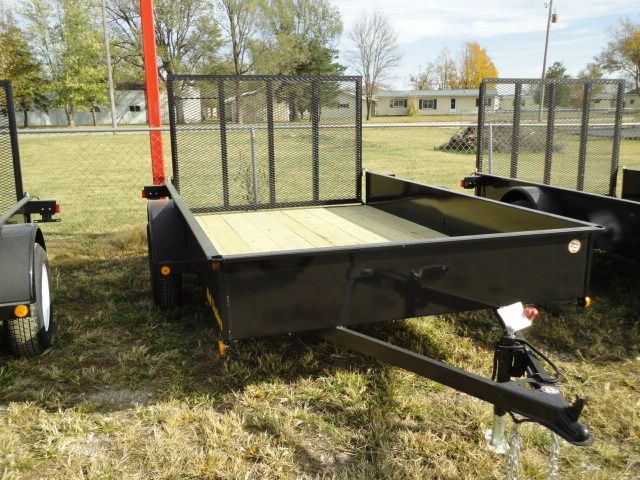 We are VERY proud of the high quality and rugged durability of this trailer and recommend that you come see one for yourself before spending a penny on any other trailer. We have full confidence that when you see how it's made, what we use to put it all together and how well backed it is with a 10 year frame and floor warranty, you will make the same choice that thousands have before.... you'll pick one of our trailers as your new unit.