First things first.... We have NEW business hours now!
We are available from 8-5pm Monday through Friday.
9-Noon Saturdays

We are now CLOSED ON SUNDAYS!

Ok, you've made up your mind and you have called Craig in advance to make sure that
A: He has what you want in stock
B: He knows that you are coming to get it, so he doesn't sell it to someone else.
C: He knows what day and time you will be there so he doesn't run off to have fun and leave you sitting there looking at a locked up shop. (Hey! It happens!)
D: You have the proper ball, set at the proper tow height.
E: You have the proper lighting plug on your truck and you have CHECKED to make sure that it is working.
F: You have told Craig if you are paying with a check, cash or a major credit card, so he can prepare the proper paperwork in advance, if necessary.
These are all important things and I just wanted to create a checklist for my visiting customers
First things first.
CALL ME!!!!! 712 589 3100.
If I don't answer, please leave a message telling me what you are wanting to buy, your name and phone number and when you would like to come get it. I WILL get your message and I swear I will call you back.
I'm not kidding!!! CALL ME!
I cannot stress this enough! My inventory changes so fast lately that what I have on the lot Monday morning could all be gone by Thursday! We've sold 7 trailers in the last 9 business hours here, so if you want anything, even a basic 18' M/T Tilt, call ahead and make sure that we actually physically have one.
The sooner you call me, the better.
If I know that you are coming in 4 days to get a 20' M/T Tilt in 9,990lb gvwr rating that I may have in stock, then I will be more than happy to put a 'hold' on that trailer until the end of business four days later. If you don't call and tell me you are coming, I will just keep happily hooking people up and selling stuff and you will be at the mercy of the God's as to what is available when you come rolling in.
Bring the right hitch and TEST your light plug!
Though I keep a very small inventory of items around, I frankly do not have the time to screw balls on and off mounts or scare up drop hitches and I am not in that business. I stop at the coupler, when it comes to selling trailers. Plus, if you come and your lights on your truck are not working, I do not have anyone on staff to work on your truck lights. We test and restest trailers to make sure they are working before they leave, but trucks.... that's a no no to us.
Single Axle Trailer? 2" Ball, 4 prong plug.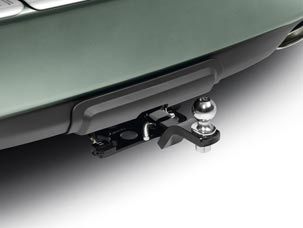 All of our single axle trailers have a 2" ball coupler, which means that you will need a 2" ball in your hitch to tow the trailer. (Please, don't have a 2" ball rattling around in your tool box... make sure it fits your hitch, is installed and tight.)
Single axle trailer lighting plug.
All of our single axle trailers are operated by a 4 prong flat trailer plug. Pretty std stuff but you have to have yours in working condition, so check it out on someone's trailer before you make the drive down here.---- please... we beg you. Have mercy on me.
Tandem Axle Bumper Pull Trailer?
2 5/16" ball and 7 pin RV plug.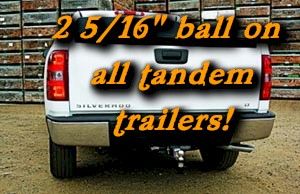 Once again, I just thought it prudent to put this down in writing here. I have had people show up to pick up a 14,000lb rated Speedhauler trailer with nothing but a 2" ball screwed into a step bumper and a four prong trailer harness with half the wires hanging out of it. They got to spend a night at the local Motel and pay a local shop to fix it, because I can't and frankly won't.
If you are bringing cash (Mmmmm.... who doesn't love cash!?)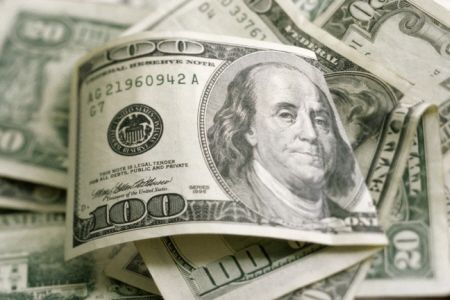 When you are paying with cash, let me know in advance and I will have your MSO all printed and and ready for you to take with you.

We take checks too!

If you wish to pay with a cashiers, company or even a personal check. Just bring along two forms of ID. We will give you a bill of sale so that you can start using your trailer immediately and then will send the MSO in with the check to the bank. When your check clears our bank, the MSO will be mailed to your address on your check. Simple? Yes siree!
Like the Boy Scouts say... be prepared. OK?
Thanks
Craig
Other things that you might consider important!
Here is a copy of the written warranty for all trailers, as issued by Hull Trailers. It's well rounded, fair as can be and pretty friendly, if you ask me.
Click Here for a copy of the written warranty in PDF format!
Take me back to the top of this page!

Take me to the SLTrailers.com home page!