In our last nearly 30 years of selling trailers, the industry has had some real innovations. One of the most important innovations to come along was the creation of a solid, usable, affordable equipment/car hauler trailer that could tilt the bed down to load and unload and still be stable while towing at speed.
Upgrade to Alum. Wheels (4)- $400

Optional colors- $200
Built with heavier web 6.2lb per foot 5" channel steel for the frame and tongue and 3" channel steel for the cross members, this trailer comes with a full 10-year frame warranty. The actual bed measurements are 84" wide between the fenders and 18' long from the standard headache rack to the tail.
We also brace the inside and outside of the fender with steel supports so you can actually WALK on our fenders without damage. Notice all of the full welds and how the entire trailer is designed. It really is a superior piece of workmanship.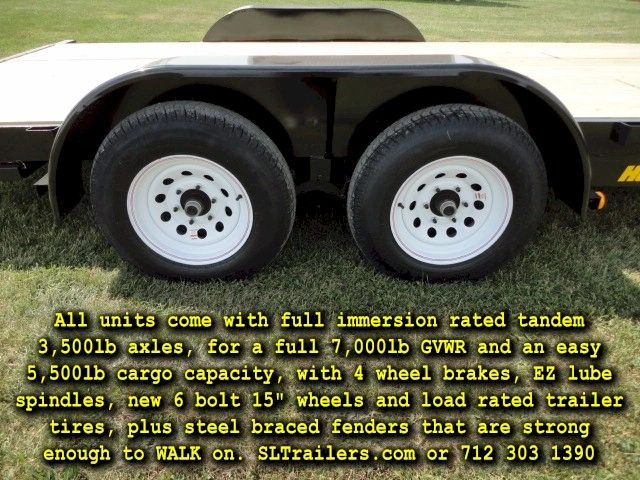 Running gear on this trailer is comprised of a pair of top of the line Axis 3,500lb rated axles with EZ lube spindles.
(Don't Know what they are? Watch us grease an EZ Lube Hub here!)
These allow you to grease the wheel bearings without removing the wheels or the trailer hubs. MUCH more than just bearing buddies, these spindles were actually designed and machined with ports to channel grease into both the inner and outer wheel bearings. The entire hub assembly is an immersion-rated unit, which means it can go completely under water and not allow moisture or dirt into the bearing area. Every trailer comes with 4 wheel 10" electric drum brakes, 6 bolt hubs, which are 20% stronger than comparable 5 bolt hubs, and new ST205/75-15 C-rated Trailer tires on the proper load rated trailer wheels. Suspension is a fully equalized four spring leaf suspension, which gives this trailer much more suspension movement when running through rough terrain, and also helps cancel bounce between the axles to really smooth out the ride of this trailer, whether loaded or unloaded.
All M/T trailers come standard with full DOT lighting. For all marker lights they are now upgraded to rubber mount LED units as STANDARD equipment.
Don't get lied to ... single brake axles on tandem trailers are NOT legal.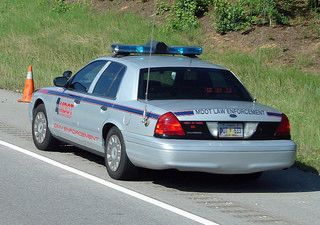 If a trailer dealer tries to tell you they are, just ask him to put down in writing that he will pay all of your tickets if you get stopped for having only one brake axle on your new trailer ... and watch him. He'll weasel backwards like you pointed a gun at him. It doesn't matter which state you are from. Four wheel brakes on a tandem axle trailer are required by FEDERAL highway law.
DOT cars are now stopping and inspecting ALL trailers, and when they find one that is not legal (meaning that it doesn't have brakes on all 4 wheels; it doesn't have the proper marker lights and reflectors; or it doesn't have the proper safety chains, operating brake breakaway system or improper coupler, tire or axle ratings), they can and WILL fine you and make you unhook the trailer where it sits! Talk about ruining your day! That is why we ONLY sell trailers that comply with all state AND federal towing laws. We know that you will have a trouble-free life while using it AND you will be pulling a trailer that is SAFE to use. This unit comes with all of the proper tail, turn, stop, clearance marker lights and reflectors you need.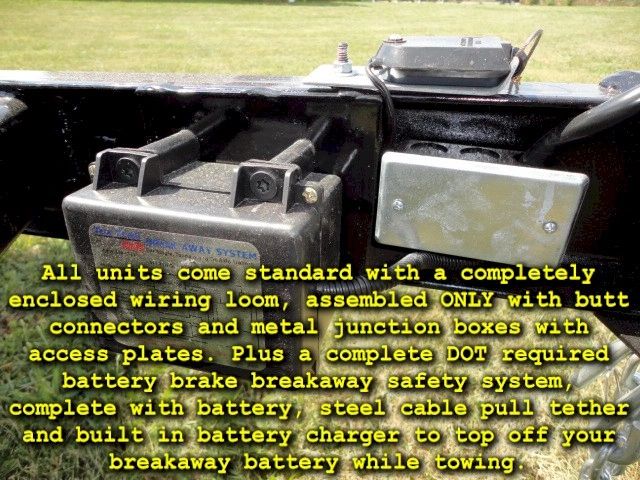 Your new M/T Speedhauler tilt deck trailer also comes equipped with the newest on-board battery brake breakaway system with on board battery AND charger! The battery is charged through the accessory circuit that is on all new trucks with the standard tow package. This ensures that your breakaway has the juice to do its job when you need it to.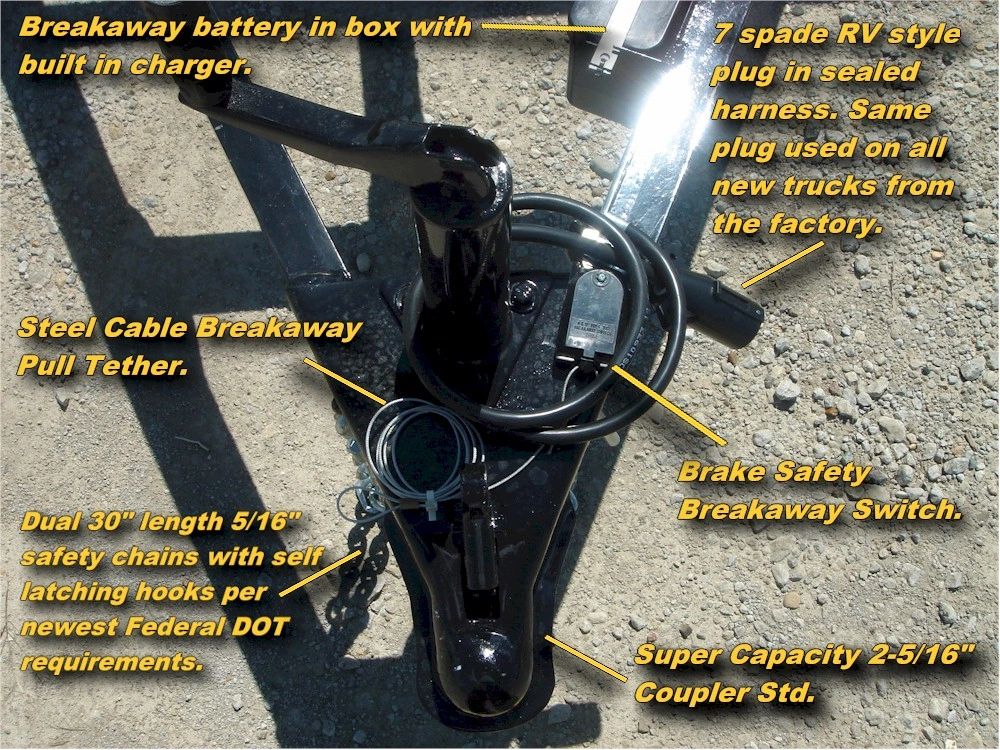 Our M/T series trailers come with a standard 2 5/16" coupler. Why not a 2" coupler? Because most 2" balls are only rated to carry a gross capacity of 5,000lbs, and this is a 7,000lb-rated trailer. By stepping up to this unit, you are getting an over-rated, 14,000lb capacity coupler, which gives you (and everyone around you while towing) a solid 100% safety margin. Less chance for failure while towing is always a good thing. The trailer also comes with a 5,000lb-rated tongue storage jack, which is 2 ½ times the capacity of most jacks that manufacturers put in these trailers. It makes the whole trailer easier to use and lasts longer for about the same amount of money. Also, notice that this unit comes with the proper 7 spade lighting plug that fits nearly every new vehicle equipped with a tow package, and we fit it with 30" long, plated safety chains that have the new NHTSA 2009-required positive latches on each hook. It's just a solid, easy-to-use setup that will keep you going and complying with the law, while being as safe as possible at all times.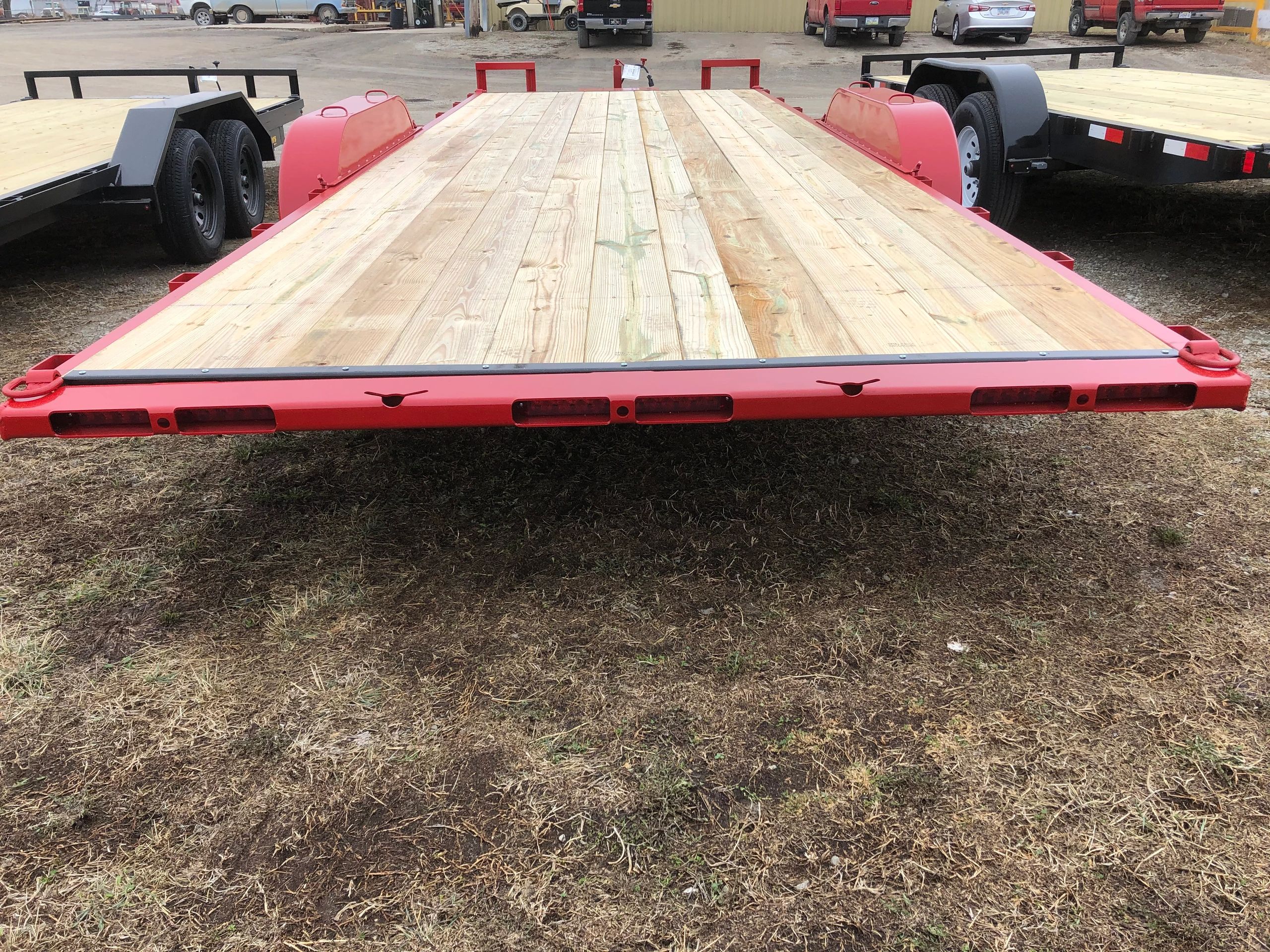 At the rear of every M/T tilt, you'll find our tapered tail that allows you to just lower the bed and drive on and off of the trailer—much easier target to hit, than attempting to hit a pair of narrow ramps and climb up onto a trailer bed. The 18 M/T shown shows the low approach angle. It really is an excellent design to load and unload anything with wheels.
How does our M/T work? Simply … on every unit, you'll find two spring-loaded tongue locks that keep the bed and tongue latched together for towing. When you need to load or unload, simply slide the lock pins back on their "open" notches, turn the hydraulic lock at the base of the jack, and pump up the 6,000lb capacity lift to tilt the bed all of the way up. It takes about 45 seconds to tilt this trailer all the way on level ground. (Find a slight slope, and it doesn't even take that long!) It will stay wherever you want it to while loading and unloading. Once you are ready to let it back down, simply release the hydraulic valve on the bottom of the jack, and the bed lowers down in about 5 seconds. Once back down, trip the tongue latches, tie your cargo down, and go. Want to watch a real time video of this trailer being tilted up and back down?
Visit our youtube page and watch the video here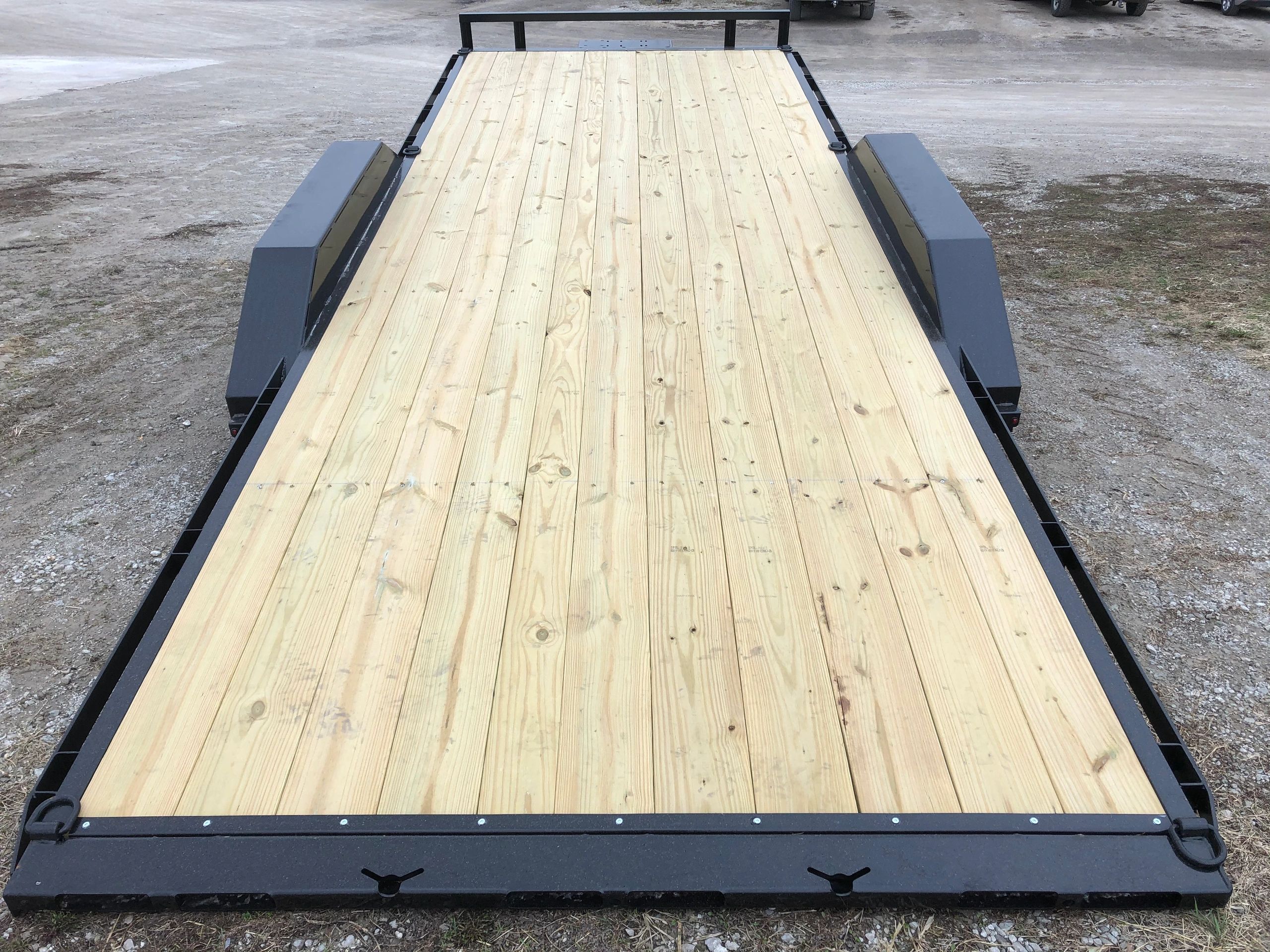 All M/T tilts come standard with a full width 2x10 ACQ top-grade treated floor. By top grade, we mean that it is specified to be #2 grade or higher lumber, and in most cases, we receive pure #1 grade lumber for our floors. We then press fit the floor in the frame and bolt it down in nearly 70 different locations to make sure it stays there for the life of the trailer. If you need it, we can also build this trailer with a full gridded cross member system and steel diamond plate floor. Price varies by length of trailer for this option, so call us at 712-589-3100 to get a quote.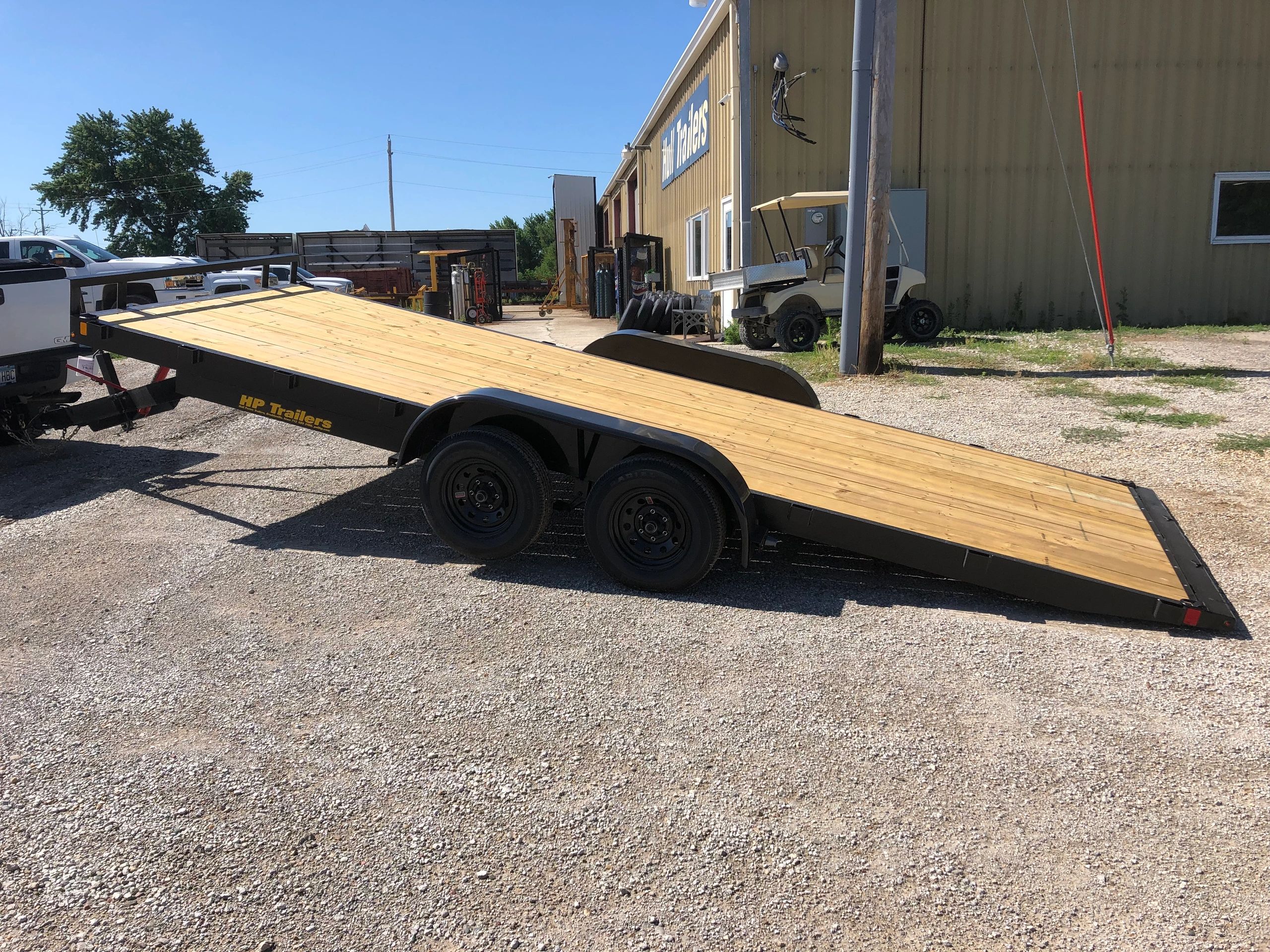 Photo above shows optional 9,990lb GVWR package ($650) on a 20' model. Call for pricing on any custom model you need! We are here to help 6 days a week at 712-589-3100. Though we think that the 18' and 20' M/T units in 7,000lb trim shown are good for 80% of what most people want to use a trailer for, we also offer many other choices.
This unit is available in the more powerful E/T model, which uses onboard hydraulics to power tilt and lower the bed. We also offer this unit in 18'-30' lengths, 9,990lb and 14,000lb and even 21,000lb GVWR capacities, removable fenders, channel steel fenders that you can literally drive over the top of, 102" wide fender width floor extensions for specialty carrying, and much more. Call us to get your quote today!
All trailers are built on three dimensional fixtures to assure that the unit is square and flat, and all the wheels point in the same direction (which is usually a good idea!). Then the entire unit is hand prepped before we acid-wash it, steam-clean it, cover the entire trailer in the most durable red oxide primer we can find, and then finish the trailer with multiple coats of gloss enamel.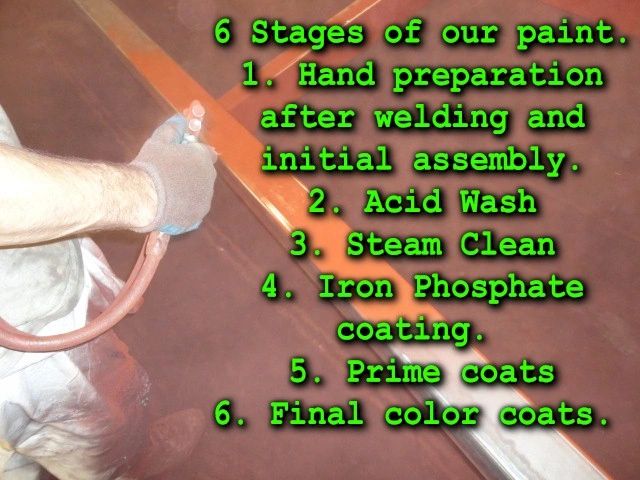 We've been hearing about powder coat and will change over to it as soon as the powder coat manufacturers can assure us of a great finish each time … which, at present, they won't. The bottom line for us is this: if powder coat were the best finish for this type of application, then Ford, GM and Dodge would be powder coating their trucks right now … and they are NOT. A good three-stage phosphate acid bath, a properly applied sub-structure primer layer, followed by at least 4 mils of high gloss industrial/automotive enamel is the best overall finish for the money we can still find. (Trivia: Did you know that powder coating actually costs about HALF of what a good three-stage paint job does?)
We apologize for the length of this, but thought it was time to slow down and explain what makes a great trailer. We hope that you have learned a little more about tilt bed car trailers and trailering, and feel like you can now move forward and choose one that will do what you want, safely and legally, for the right amount of money. If you are interested in the 18 M/T tilt shown, we sell them every day out the door for less than you think. For more information, feel free to call us at 712-589-3100. Our office is located just North of Trex Mart right on Highway 71 in Braddyville, Iowa, which sits on the Iowa Missouri line. Just 11 miles south of Clarinda, Iowa, and about an hour North of St. Joe, Missouri.
Thanks for reading our page and, hopefully, thanks for your business.
Hull Porter Trailers
302 Hwy 71
PO Box 147