Hull Trailers Hours
8am-5pm Monday Through Friday
9-Noon Saturdays.
Call 712 589 3100 to get the newest and most current pricing and info, always.

Plan your pickups accordingly!
~ Thanks, Craig and Melissa.

Hi Deck Trailers.
When you REALLY gotta haul some stuff.


Hi Deck Ramp Trailer Pricing


15'+5' 14k $9,495

20'+5' 14k $9,975

25'+5' 14k $10,195

30'+5' 14k $10,875 - 30' + has to be GN

35'+5' 14k $11,195

40'+5' 14k $11,775


OPTIONS:


16K w/ G Rated- $1,295

16K tandem 8K axles- $1,695 (w/ 215 Super Singles on disc wheels)

20K tandem dual upgrade- $1,995

20K w/ ST235/75R-17.5 J rated Super Super Single wheels- $1,995

21K w/ triple 7's- $1,495

24K tandem dual upgrade- $2,995

24K w/ super singles- $2,995

24K Triple 8's G-rated 16"- $2,995

24K Triple 8's H-rated 17.5"- $3,195

Loose 235 (E) spare- $150

Loose 235 (G) spare- $200

Loose 215/17.5 spare- $260

Loose 235/17.5 spare- $285

Loose Dual (E) spare- $180

Loose Dual (G) spare- $240

Electric over hydraulic drum brake- $2,295

Electric over hydraulic disc brakes- $2,795

Single hydraulic jack- $795

Dual hydraulic landing gear- $1,590

Lid on chain tray- $175

Deck on the Neck- $1,000

Expanded Metal in neck- $500

Extra D-rings- $15/each

Extra Stake Pockets- $25/each

Extra marker lights- $25

Winch track rail for 4" ratchets- $55/ft

4" ratchets no straps- $25/each

Bridged frame- $30/ft

Steel Floor- $80/ft

Buyers Box3'-$300 4'-$400 5'-$500

Midship turn signals- $150

Winch plate in floor- $175

Call us at 712 589 3100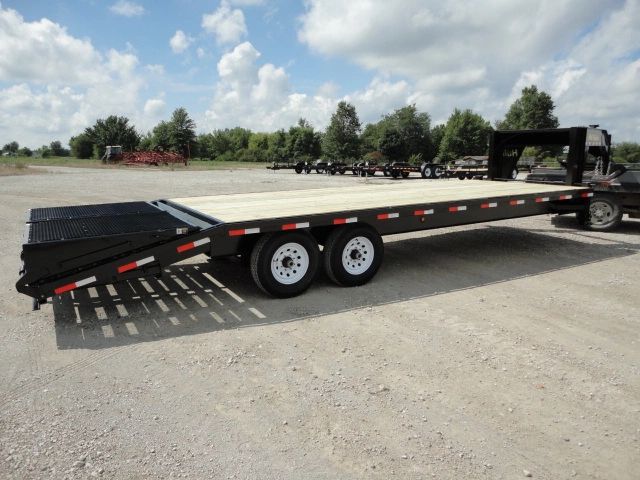 20+5' dovetail Hi Deck in 14,000lb capacity ($9,295). This unit was custom ordered with dual 12,000lb jacks on the font, (add $175) like what comes std on any of our heavier GVW package units..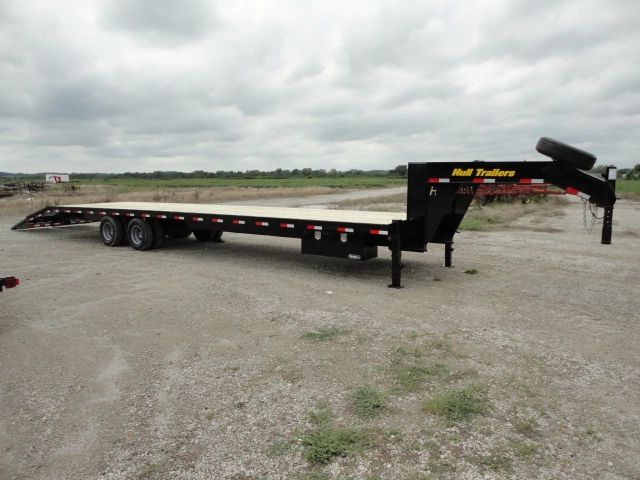 40+5' dovetail 20,000lb Tandem dual model (this gives you a total gross vehicle weight rating of 24,500lbs including the coupler) with optional 48" under floor Buyers locking tool and strap storage box matching spare wheel and tire for a tandem dual trailer and a free neck top spare tire mount.

Unit shown is a 20+5 dovetail model with optional spare tire mount, dual front jacks and 5' dovetail option with spring assisted 3 way ramps.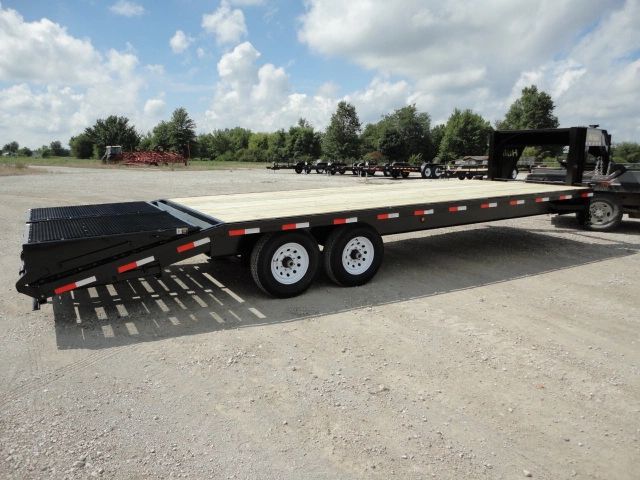 Unit is a full 14,000lb capacity with 12" I beam frame, torque tube chassis, drop neck hitch and is ready to be used heavily for years to come.
The drop down neck is a great item. It actually helps to cancel that 'jerk, jerk, jerk' sensation you may have felt while towing other goosenecks in the past. Anytime you can make a trailer pull smoother, it is a wonderful thing!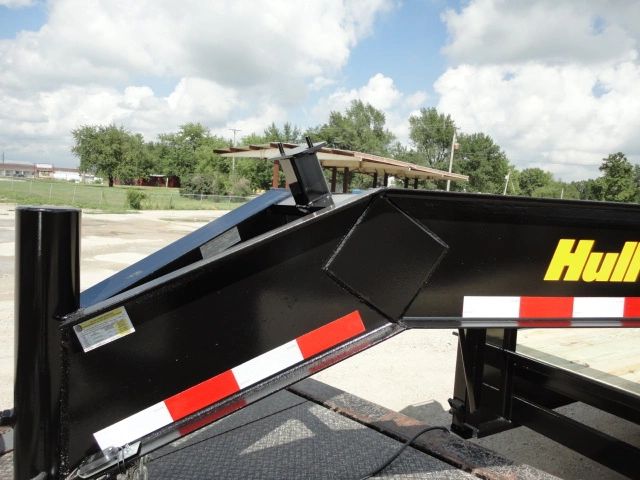 FREE spare wheel mount is a good idea. by putting it up on the top front of the neck, it stays out of the way while you are towing as well.
24,000lb capacity gooseneck hitch is more than tough enough to take on any load this trailer can carry, double pinned and adjustable height are also two other features of this hitch that make it well worth the money. Notice the dual safety chains with their own storage points, the battery brake breakaway system and the extra long lighting plug lead. These are all standard items as well.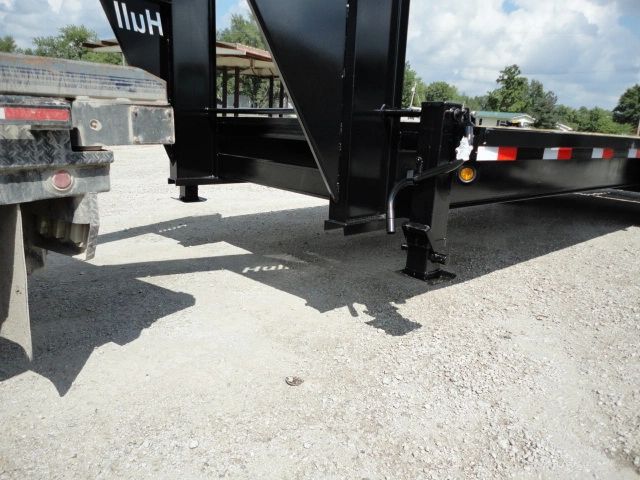 On 14k models, a single spring loaded drop leg jack is standard, this customer opted to add on the dual landing gear. Very nice and very stable when dollying down loaded.
Unit comes std with full LED lighting, including side clearance units, tucked safely under the rail in front of the axles.
Tandem 7,000lb immersion rated Axis brand axles are the best we have ever seen. True EZ lube hubs, monster strong 1/2" wheel studs, large 12x3" brakes on all four wheels, fully greaseable suspension and more. Plus, check out the std ST235/80R-16 E rated steel belted radial tires (3,500lb per tire load rating!) on matching heavy service wheels!
Taking a tip from the semi truck boys, this trailer comes with super thick rub rails and alternating pocket and spindle tie down points down both sides.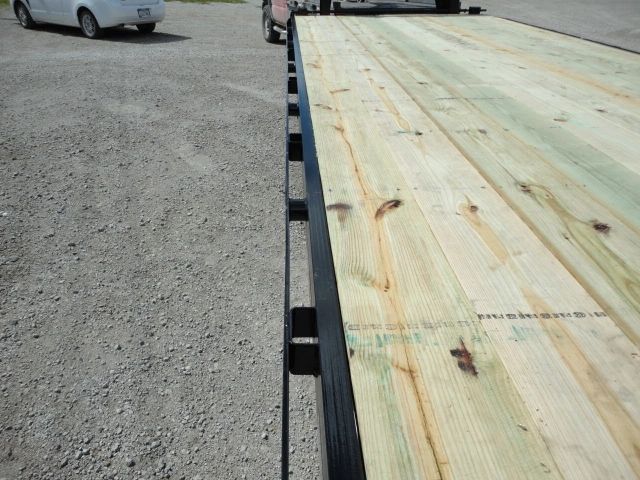 A full 102" of usable deck width and all the tie down area you could ever need. All standard on all models.
When we say, 'self cleaning' we MEAN... self cleaning. The entire dovetail and both full width ramps were designed to grip and bite for easy loading and keep themselves clean to do the job again the next time.
By creating these dual full width units that flip over and lay down, you have a much better trailer for hauling. Your ramps can be used as a deck when needed for hauling bales or bulky equipment.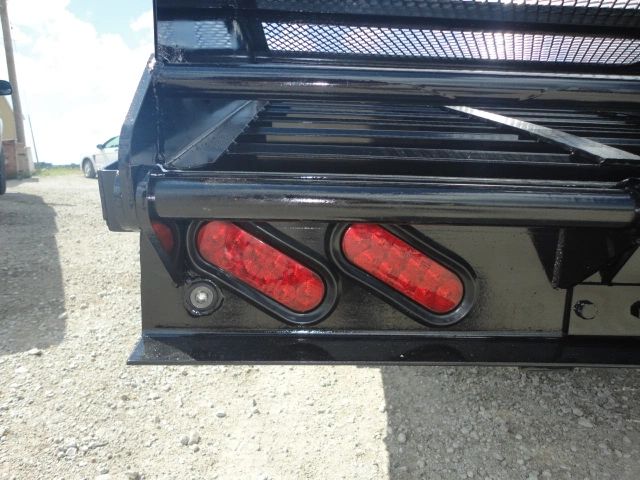 Redundant LED tail lights are a nice touch and come std on all units.
Where else can you go get all of this? Not anywhere in the US that we know of.
Back to top of this page.
Back to SLTrailers home page.
I want to EMail Craig