G/T Low Deck GN Tilt Speedhauler Super powerful push button hydraulic tilting GN trailer… like a tow truck that you can tow with any truck.



Custom built for Ken in the State of Oregon! He found a car just like his dad used to own, but it was clear across the country in Massachusetts. So, he had the car shipped to our location (where we stored it in my car shop for a few days), found a decent used dually he could consider worth keeping when he got home and had us build him a new 20' GT tilt, 9,990lb Axle pack, fender width floor and drive over fenders with a matching spare on the neck.. It made the trip back to Oregon without a whimper. Nice all around gooseneck car and equipment trailer
Car Dealers are also going in the direction of the GT tilt for its extremely easy usability, lack of strain on their men and women who do all of the dealers trades and transporting and the added stability and safety of keeping the load planted on a gooseneck instead of dangling off of the rear bumper on a tag type trailer. This unit went to Alltrade Cars in Kansas. 22' GT tilt, 9,990lb GVWR upgrade, rub rails on the stake pockets and removable fenders.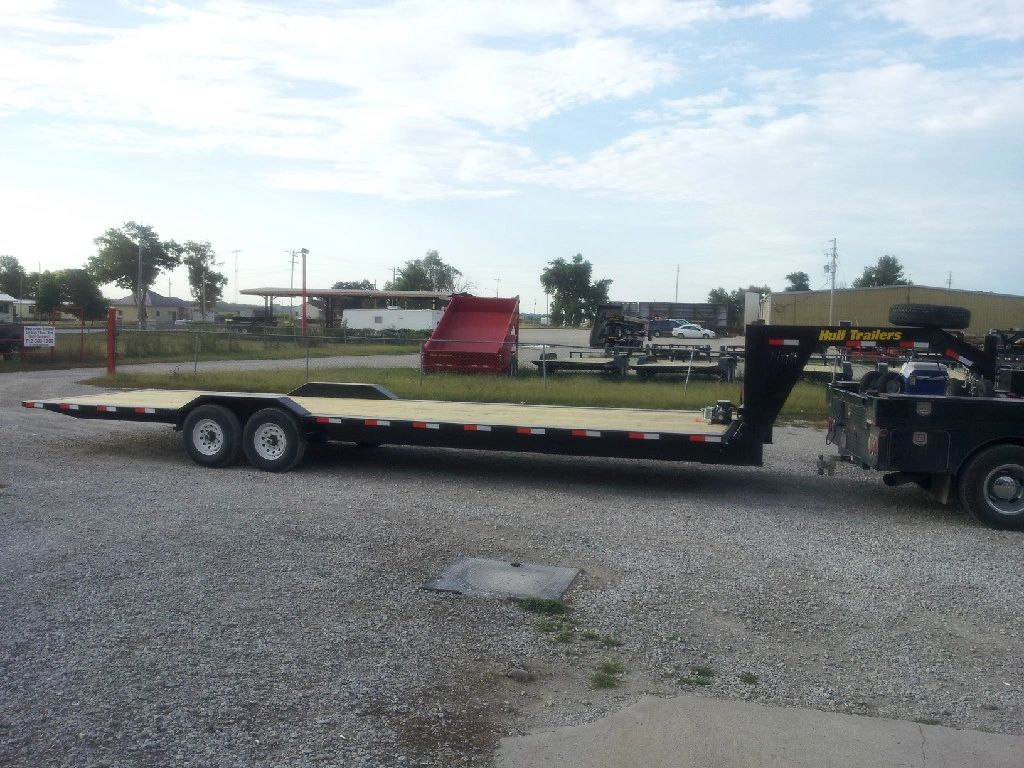 Allied services wanted a low deck trailer with a full 102" of floor width in a tilt design that would be able to drag on anything in their fleet and move it without a ton of problems.. the solution? 30' GT tilt, 14,000lb GVWR upgrade pack, fender width floor, drive over fenders, 12,000lb winch mounted, 4 button wireless remote to operate both the tilt bed and winch remotely, in addition to the corded remotes that come with the tilt trailer and winch, plus a matching spare mounted on the neck. It left here nearly a year ago and we've NEVER even received a phone call from them... that's a sign of a trailer that does what it's supposed to do. Want a copy? No problem.
Since we are going longer... let me show you one I did for our friend and customer Bob in Colorado!
Here's one of our 36' GT Tilts in the 21,000lb triple axle trim, dual landing gear up front, steel foor, fender width floor, wireless remote and winch plate in the floor. He hauled a trailer home for a friend as he went as well. 2016 model price for an exact copy of this trailer would only set you back right around $12,000. That is a ton of trailer for that kind of money, even if it was just a standard ramp type model. But when you add on the fact that it is a power tilting unit, it's the best value you can find.
Here's a shot of it tilted up and loading one of his diesel drag trucks, just for reference. Notice how that, even fully tilted and loading, it's not overstressing the tow vehicle. Hardly any squat! Plus, as Bob puts it, "It pulls as straight as a laser'. If you are wanting a stable, powerful, easy to load and unload trailer that can carry up to an honest 18,000lbs if need, here you go.
Or, there are more on down... keep scrolling.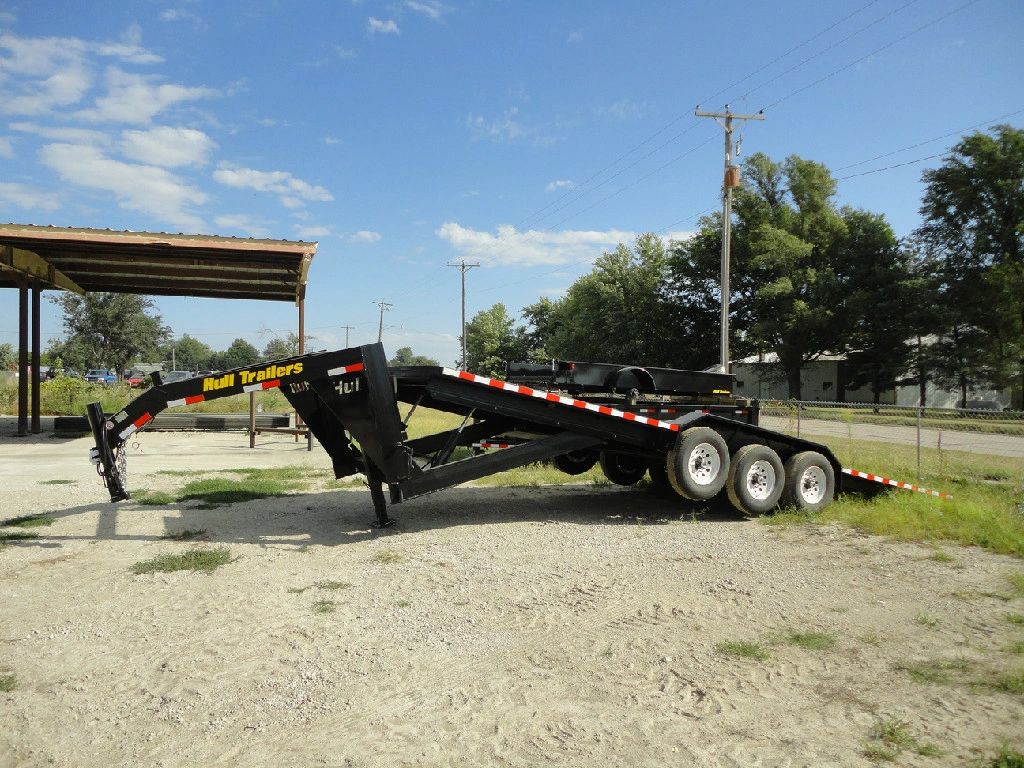 Need even MORE capacity? We can do that! Here's a 28' GT tilt with the fender width floor option and our 21,000lb triple axle upgrade which comes with the drive over fenders.
Thanks to our friend Dennis Travis from Halstead, KS for ordering up this nice 24' 9990lb GVWR GT Tilt trailer. Take a quick tour of it.
Our friend Dennis has a cool truck he wants to haul once in a while, and since he has a new 6.7 diesel Ford truck with the gooseneck hitch, he opted to get a REAL trailer, as he puts it. Out came this sweet, push button tilt, 24' bed length GT Gooseneck model.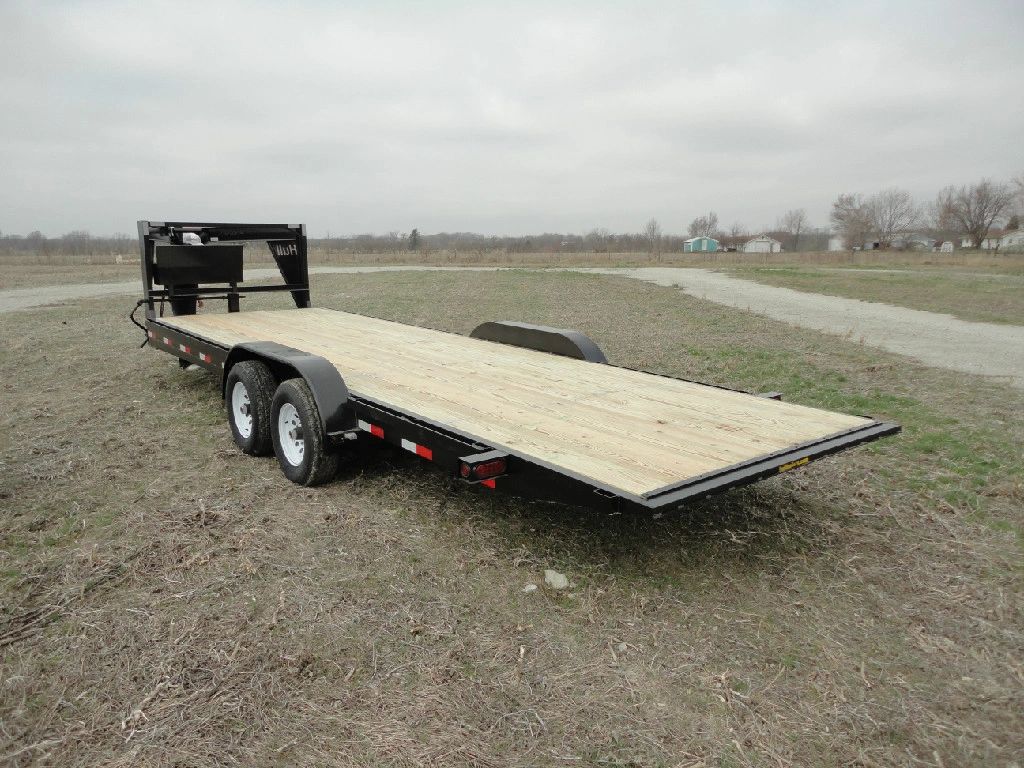 When the bed is down, you'd never know that it was a self-powered hi deck tilt trailer. We've built THOUSANDS of these over the years, and you've probably seen a bunch of them -- you just didn't know that they tilted!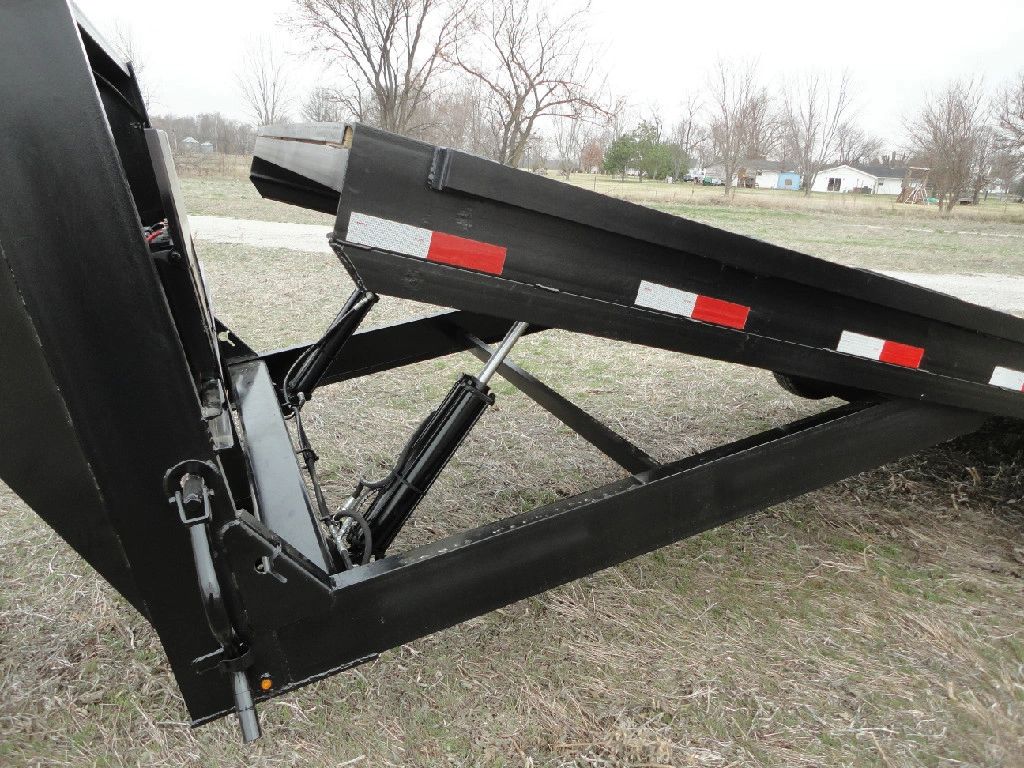 Here is where all of the work gets done. The custom specification gooseneck is built with massive under frame swivels that work in conjunction with TWIN under bed cylinders (overkill on this unit, but better safe than sorry) to lift and lower the deck on demand.
Up front in its own lockable box we install the hydraulic power unit, 15' corded push button remote and a new 750 amp hour deep cycle battery. All of it comes standard on this unit at the prices shown.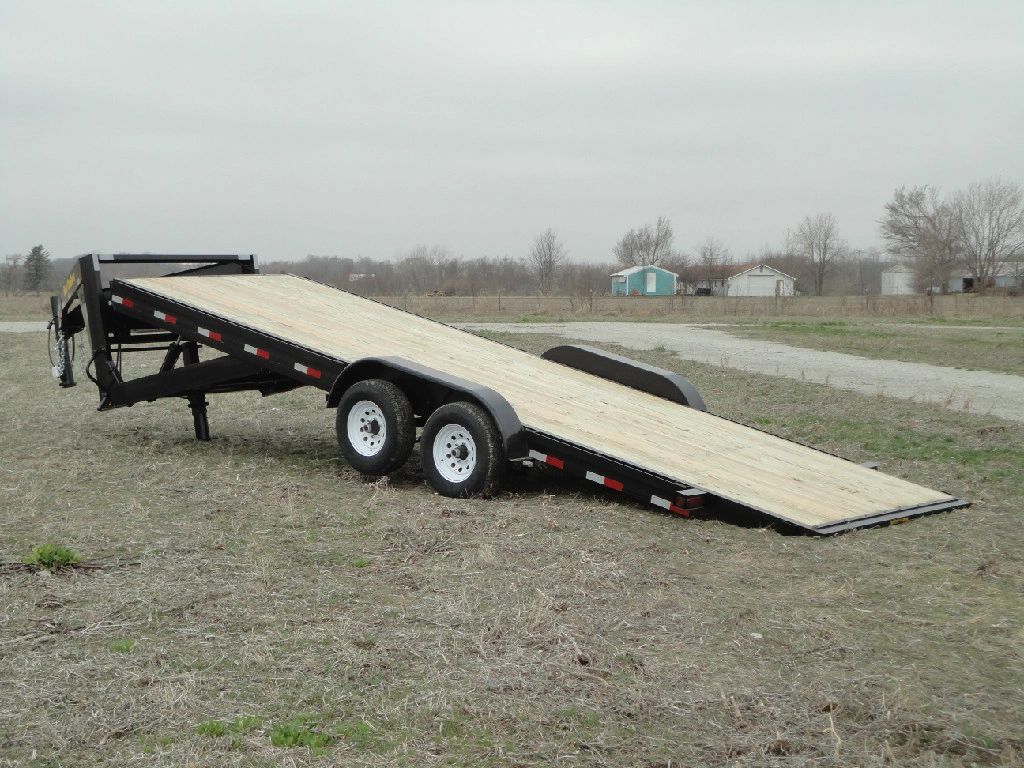 Look at the super low slope for loading. It really is one of the most useful low deck style trailer designs we've ever seen, and the price is right on it for the equipment you get.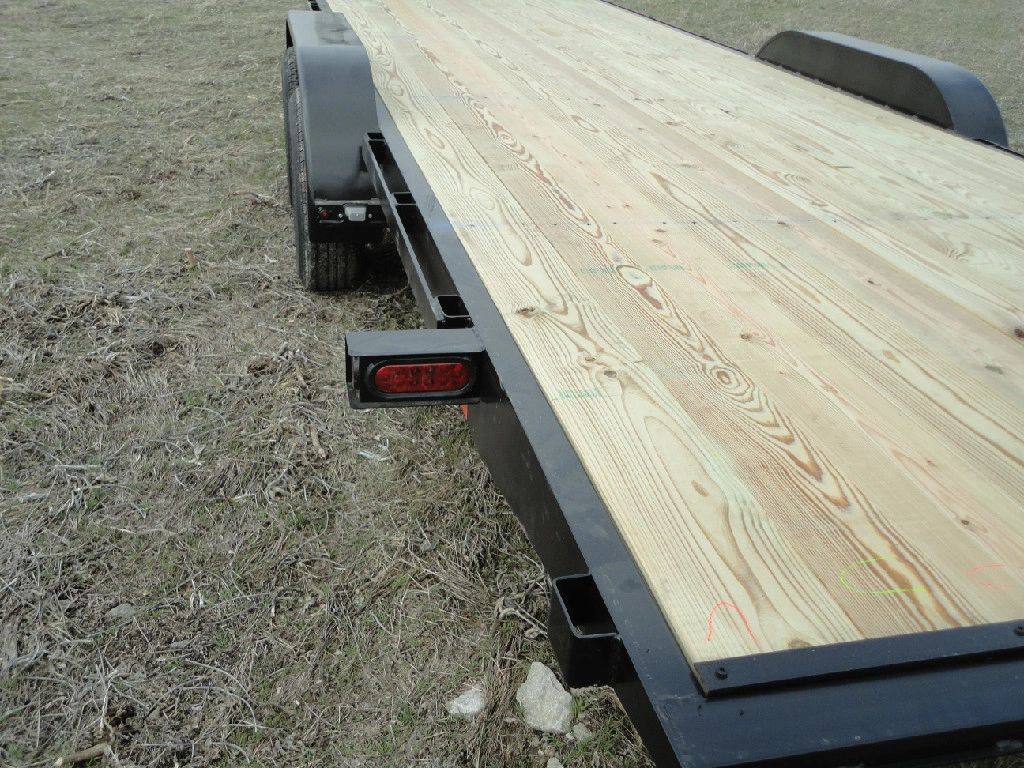 Note! 2016 models come with the cool thinline LED lights hidden in the tail... no side mounted tail lights!
Dennis opted for two really useful options: LED light upgrade, which does give you some pretty tucked-in lights that should last for up to 11,000 hours of service, plus the tail lights are encased in this nifty steel box structure to help prevent damage while using the trailer.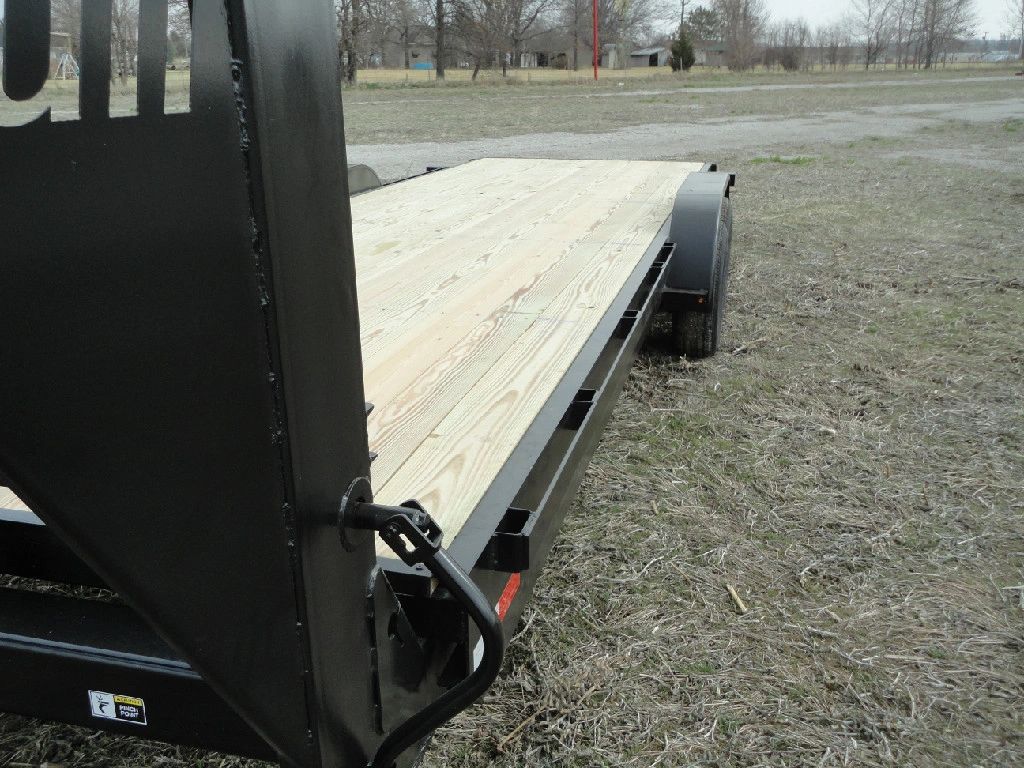 Dennis also opted to add on the rub rail option. Just take the length of the trailer X $10 per foot to figure out your total cost to add these onto your new trailer. This thick steel band attaches from stake pocket to pocket, giving you an almost unlimited area to tie things down.
One other option that Dennis picked was to beef the entire trailer up! The $750 optional 9,990lb suspension upgrade does so much more than change axles. The frame is made from heavier steel, the cross members underneath get tightened up to 14" spacings, two 5,200lb axles get installed with immersion rated brakes and hubs (which means that you could run them under water and not worry about damaging things as much—they are basically boat trailer axle sealed units). Plus, every unit comes with true easy lube hubs, meaning that you can take a grease gun, loaded with red lithium grease, our personal pick for a great all around hi temp wheel grease, and lube all four wheel bearings in under 5 minutes with no wheel removal. Very handy!
The stronger 6 bolt hubs, load rated wheels and ST225/75R-15 8 ply rated steel belted radial tires also keep you rolling under even full-load conditions! They come standard in the $750 9,990lb GVWR package upgrade, as well! (See, we told you it was a great deal!)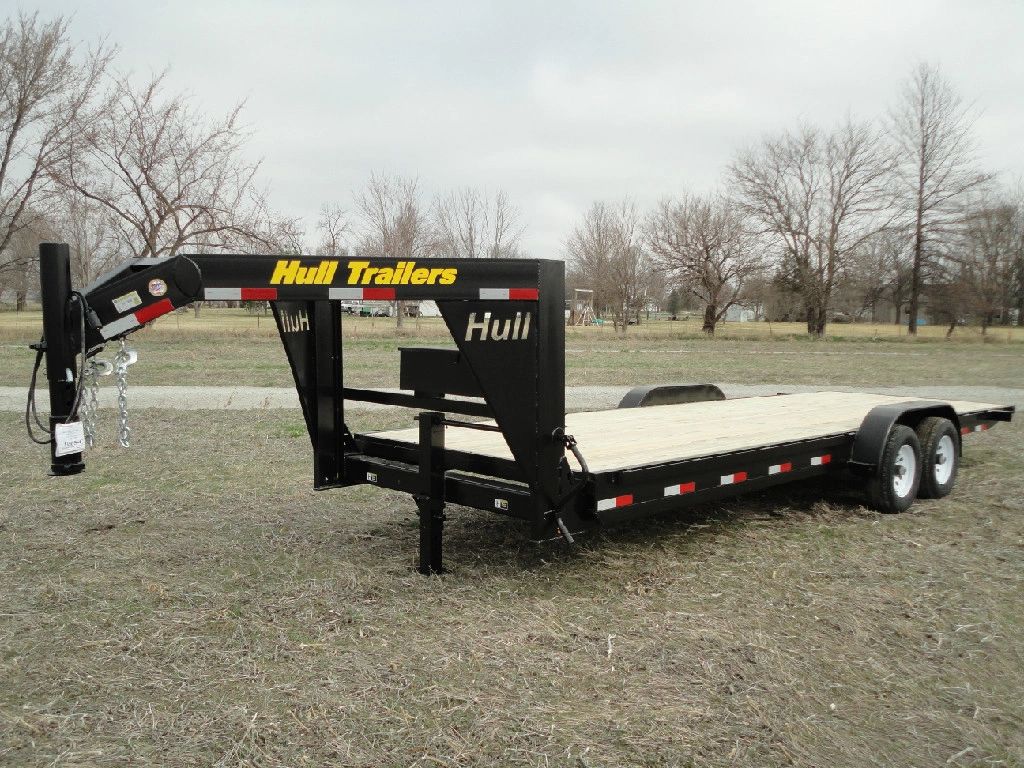 So, just another great example of a good design! The GT Tilt 24' 9990lb unit. 165 square feet of deck space, 5 tons of capacity and push button loading …
Want to see other ones we've built? Keep scrolling!
Check out this cool 22' 14,000lb unit we custom built for Mr. Davison of Pittsburgh, KS!
Mr. Davison owns a towing company and wanted to add on one more roll back truck to the fleet without having to spend the $40,000 it takes to buy a roll back truck. This unit, with a 14,000lb capacity, power hydraulic tilting bed and a few other cool options will give him big truck capacity without the big truck price.
When tilted down, the unit looks like any other gooseneck low deck trailer, and it pulls like one too! With the addition of rub rails over the stake pockets, he can be assured that tying down will not be a problem, regardless of what he is hauling.
All standard on our G/T models, the 8" channel steel drop down neck, adjustable height gooseneck coupler, spring assisted 12,000lb jack, and more, give this unit everything you need to work it hard for a long time.
You want power? This thing has power. Dual cylinders operate in conjunction with the hefty tongue system to lever up and load or unload nearly anything you could imagine. If the axles can carry it, and it can fit on the bed, you can tilt it.
Excuse the mud! (Spring in Iowa is coming!) This shot shows how we now encase the entire hydraulics system, 15' corded remote with push button controller and the included deep cycle battery pack inside of a lockable box within the confines of the gooseneck hitch. Very compact, very complete and usable!
This unit was also ordered in the 14,000lb capacity chassis, which gives you these massive 10 ply rated steel belted 16" radial tires on heavy duty wheels, larger 9/16" 8 bolt hubs, EZ lube spindles, 4 wheel immersion rated brakes and tandem 7,000lb axle axles on greasable tandem suspension. Our customer also looked forward to the moment when the fenders might get in the way and ordered this unit with tandem removable fenders.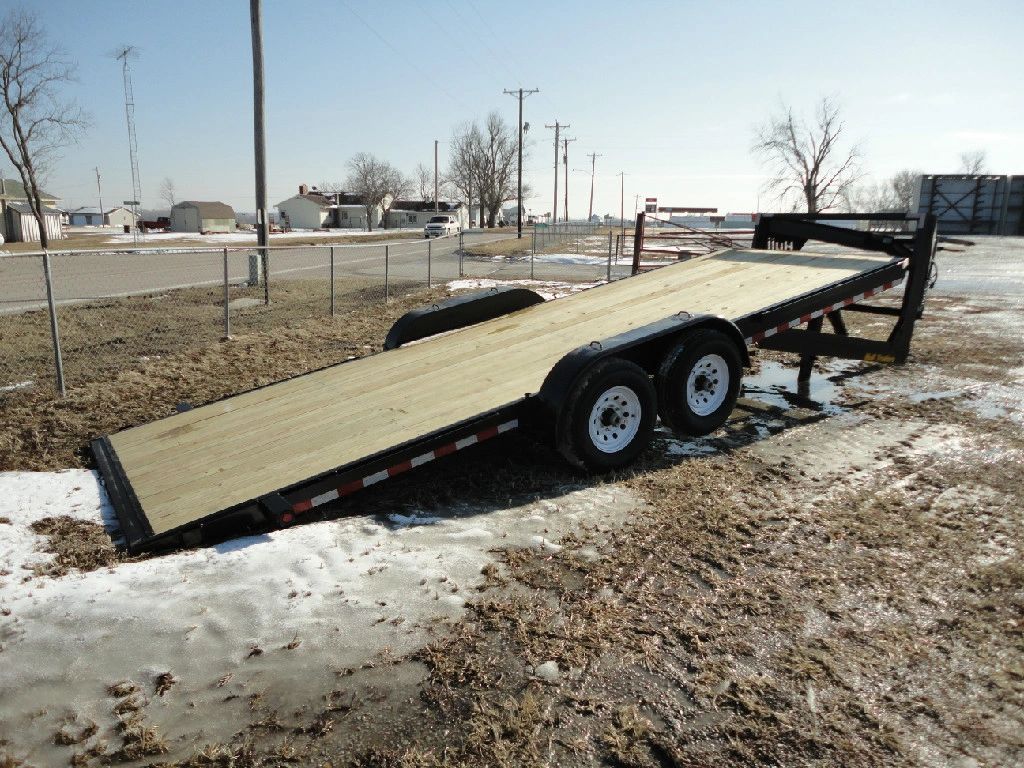 Huge capacity, easy button tilting, gooseneck hitch and a low load angle all make this one very cool trailer indeed. Want one? Give Craig a call at 712-589-3100
The G/T Gooseneck Tilt is a complete, self-contained electric, over hydraulic tilt bed trailer that was designed purely as a gooseneck trailer. With this comes many advantages, in both pricing, and in overall usability and durability. Read on and discover YOUR next new trailer.
We're going to cut right to the car chase, here, and show the true advantage to the GX style unit, even over the ET Speedhauler bumper pull version. The biggest thing is the super powerful dual cylinder lift system tucked neatly under the bed, where no one can mess with it, and everything is nice and compact. The INCLUDED deep cycle battery works in conjunction with a full on power up and power down hydraulic pump unit that operates the twin 2x16 cylinders at a rated 3,000psi hydraulic pressure. This gives the unit a full on 12,000lbs of lifting pressure at the cylinders, which ensures that you can ALWAYS tilt your load up.
When the bed is down and you are in towing mode, you would never have a clue that this trailer can do what it does. Push the hidden remote button up inside the gooseneck hitch and …
in about 6 seconds, the bed it tilted and waiting for you to load on it. As you can see, this unit was also equipped with the optional $200 removable fender set, which comes in real handy, as well.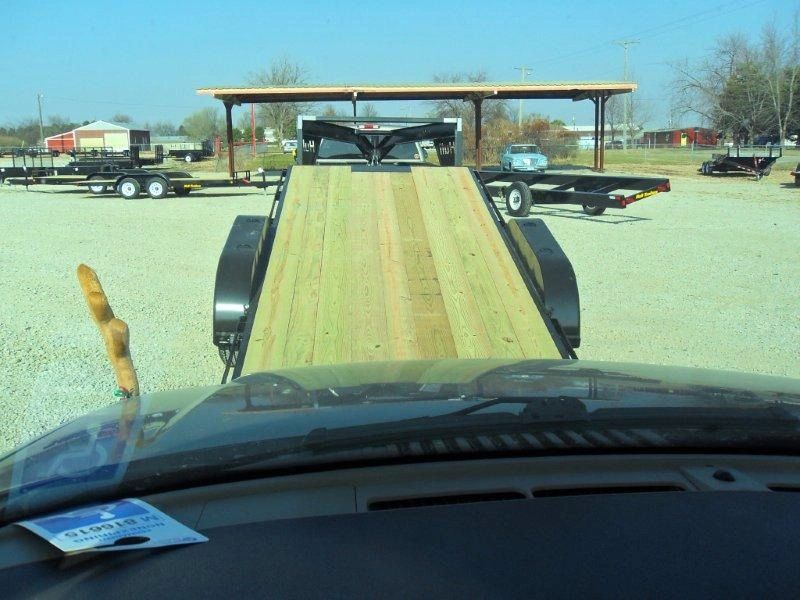 So, why are tilt bed trailers so much better than ramp type trailers? How about these very important reasons ... you don't have to worry about your wheels hitting the ramps when loading and unloading; you don't have to worry about whatever you are loading getting high centered as it goes onto the trailer; and you have no ramps to worry about losing or getting stolen; and, (most important for those of us with bad backs and knees!) you have NOTHING to pick up and carry around. Driver's seat view shows you that by simply leaning out and watching your left wheels as you load, you can drive on the bed.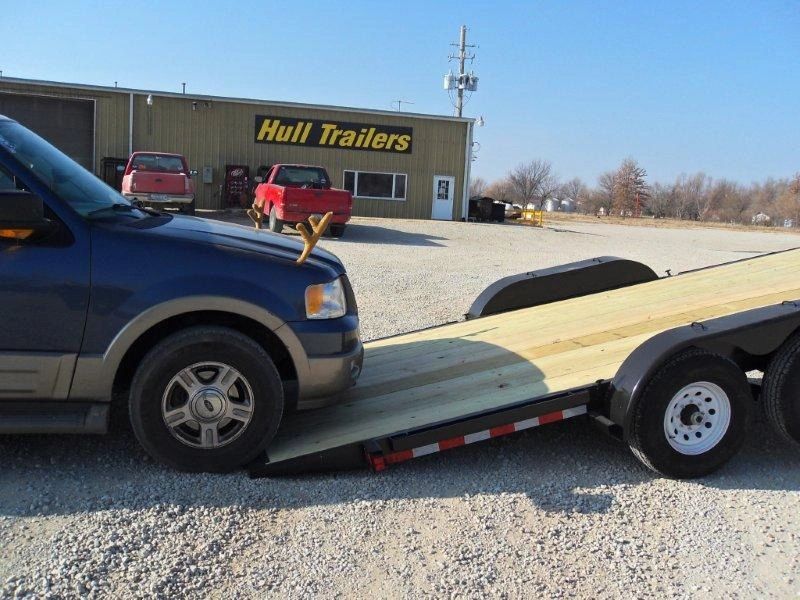 Even on this heavy framed 14,000lb capacity optioned model, the lean angle is perfect for driving on and off of. Pull it up, throw it in park, and let the bed down.
With a full 84" wide floor, even this full-sized SUV has room to drive between the fenders, and with the gooseneck option, you can jackknife tight with your two vehicles at will.
The last cool feature of having a powered tilt trailer like this is you can choose to stop the tilt action anywhere along the way. Here, we stopped the bed at mid tilt and snapped this photo. Notice the cool included features like bed step on the neck,
EZ Lube Spindles
and the low standard fender height?
Need more options? Whether you're looking for an enclosed car trailer, or a gooseneck dump trailer ,or need custom flatbed trailer plans, give Craig a call at 712-589-3100, and he'll be glad to help.
Back to top of page.
Go to Main Home Page.