Office hours
8am-5pm Monday-Friday
9-Noon Saturday
Closed up on Sundays
Call us at 712 589 3100 to get a price and availability!

~ Thanks, Craig and Melissa.

Check out our GTH video!
New GTH Tilt Bed Hi Deck Trailers
Everything you need... and it tilts!
How many times have we gotten a phone call...
'Can you build me a power tilting trailer with the deck over the wheels?'

2021 GTH Hi Deck Tilt Pricing:


24' $10,745

26' $11,095

28' $11,595

30' $11,875

32' $12,225

34' $12,575

36' $12,895

38' $13,245

40' $13,575

42' $13,945

44' $14,245


OPTIONS:


Combo Tilt option- $1,700

G-rated tire upgrade- $70/tire

16K w/ G Rated- $1,295

16K tandem 8K axles- $1,695 (w/ 215 Super Singles on disc wheels)

20K tandem dual upgrade- $1,995

20K w/ ST235/75R-17.5 J rated Super Super Single wheels- $1,995

21K w/ triple 7's- $1,495

24K tandem dual upgrade- $2,995

24K w/ super singles- $2,995

24K Triple 8's G-rated 16"- $2,995

24K Triple 8's H-rated 17.5"- $3,195

Loose 235 (E) spare- $150

Loose 235 (G) spare- $200

Loose 215/17.5 spare- $260

Loose 235/17.5 spare- $285

Loose Dual (E) spare- $180

Loose Dual (G) spare- $240

Electric over hydraulic drum brake- $2,295

Electric over hydraulic disc brakes- $2,795

Single hydraulic jack- $795

Dual hydraulic landing gear- $1,590

Lid on chain tray- $175

Deck on the Neck- $1,000

Expanded Metal in neck- $500

Extra D-rings- $15/each

Extra Stake Pockets- $25/each

Extra marker lights- $25

Winch track rail for 4" ratchets- $55/ft

4" ratchets no straps- $25/each

Bridged frame- $30/ft

Steel Floor- $80/ft

Buyers Box3'-$300

4'-$400 5'-$500

Midship turn signals- $150

Container Prep- $90/foot

Container prep knife edge on tail- $400

8" knife edge- $200

Extra D-rings- $15

Optional colors- $200


This converts our GTH to a full on container hauling trailer with raised guide rail sides, full hi tensile steel sheet floor plus 1' wide 3/16" steel wear skids down both sides, winch plate on floor, stop blocks for containers at front of deck, 4" semi truck style ratchets on drivers side (4 on sliding tracks) and under bed tie rail for ratchets on passengers side, plus the addition of a knife edge tail that creates an easy slide on design for shipping containers to load and unload.
Total cost for the complete container prep pack on any unit, $80 per running foot of length.
Electric winches...
(Winch Mount Plate Included in Price)
10,000lb electric winch installed and wired $795
12,000lb electric winch $895
17,000lb electric winch $995
20,000lb electric winch $2,395
Check out some GTH Models we've built for customers in the past!
New 34' 24,000lb GVWR trim GTH built for a professional towing client in St. Louis... options shown include, 24,000lb GVWR tandem dual upgrade with dual landing gear, spare mounted on neck and a 12,000lb winch installed... Call us for a custom quote on anything you need. 712 589 3100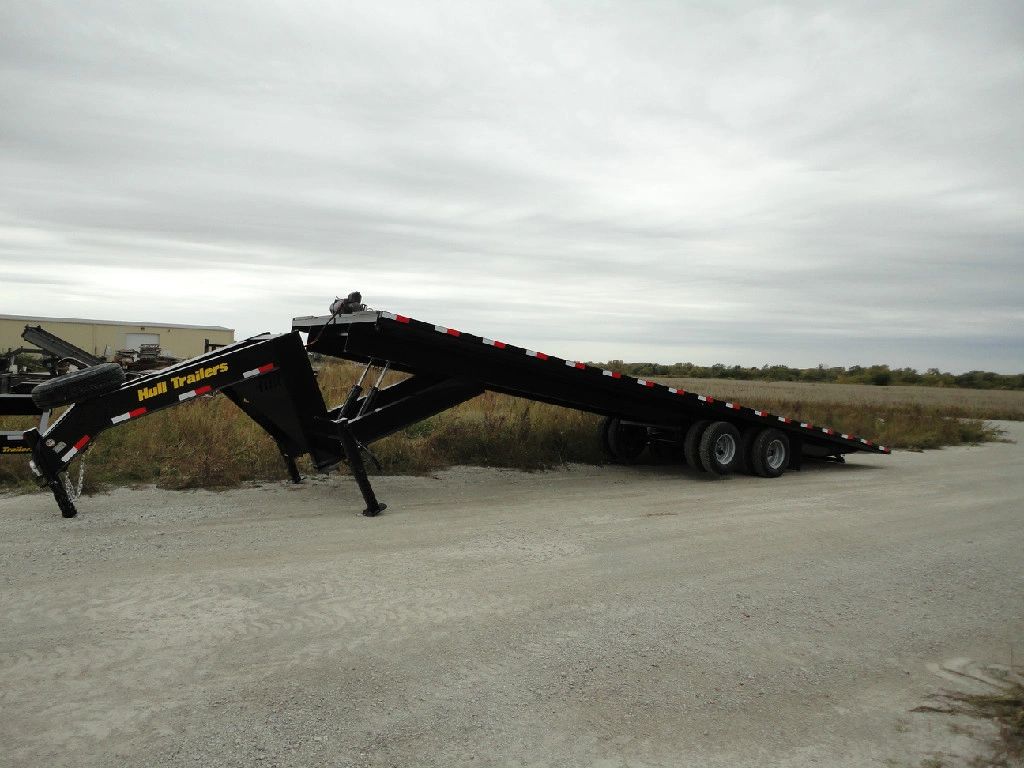 NOTE!!! We tilted it up just a little to show it off... but you ALWAYS want to have your trailer hooked up to your truck when loading and unloading.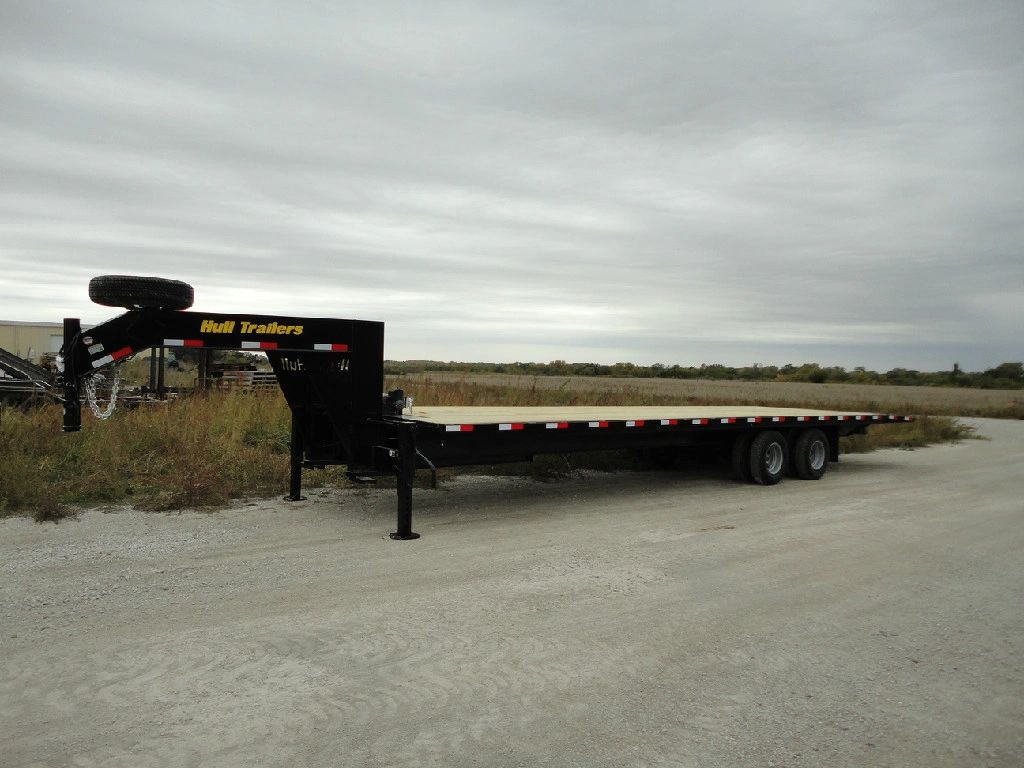 24,000lb GVWR tandem dual unit comes ready to use as delivered. Nothing to add. Just hook up and go.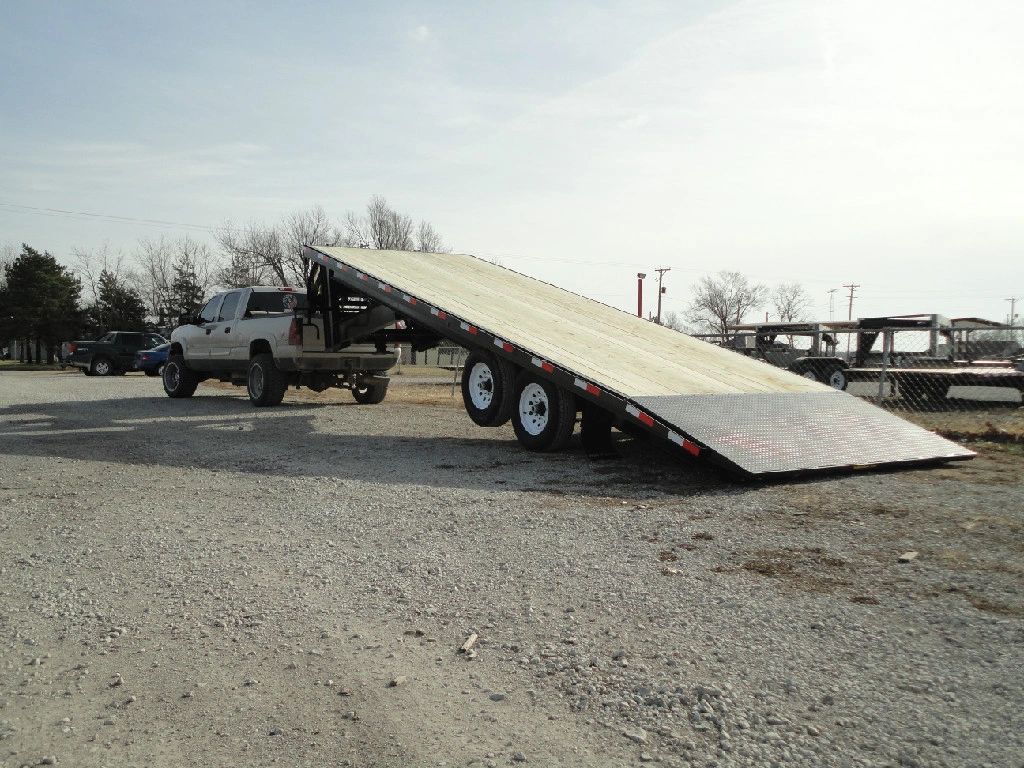 30' GTH in std 14,000lb axle capacity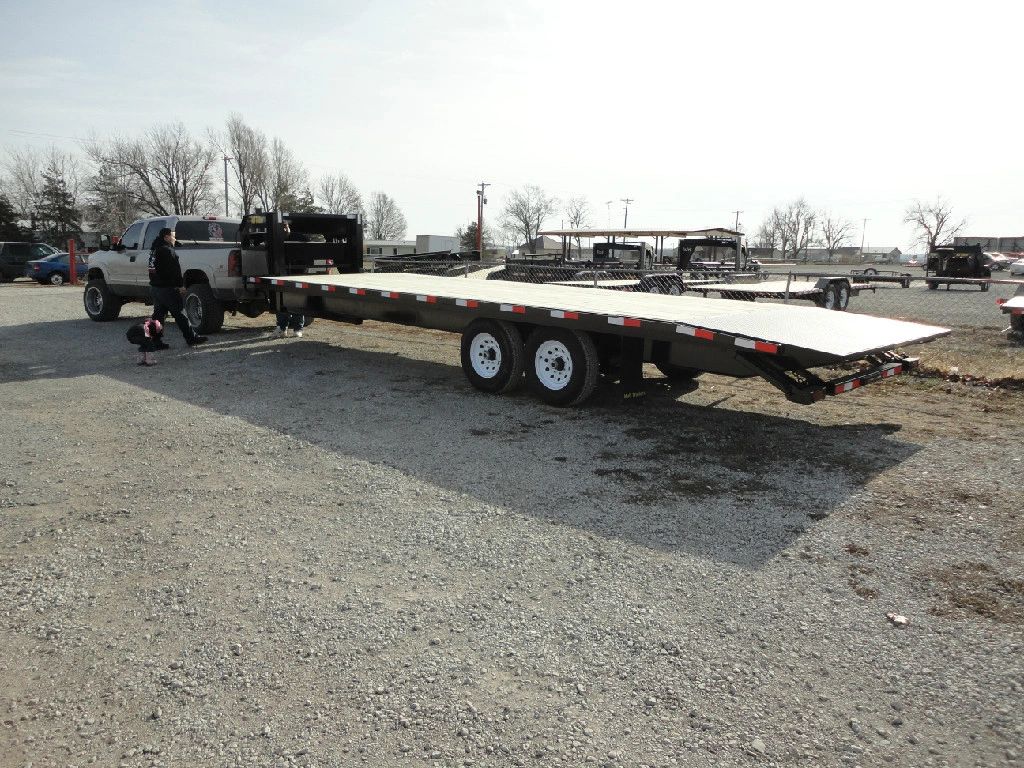 Tilted down and ready to tow, it looks like a regular deck above the wheels unit.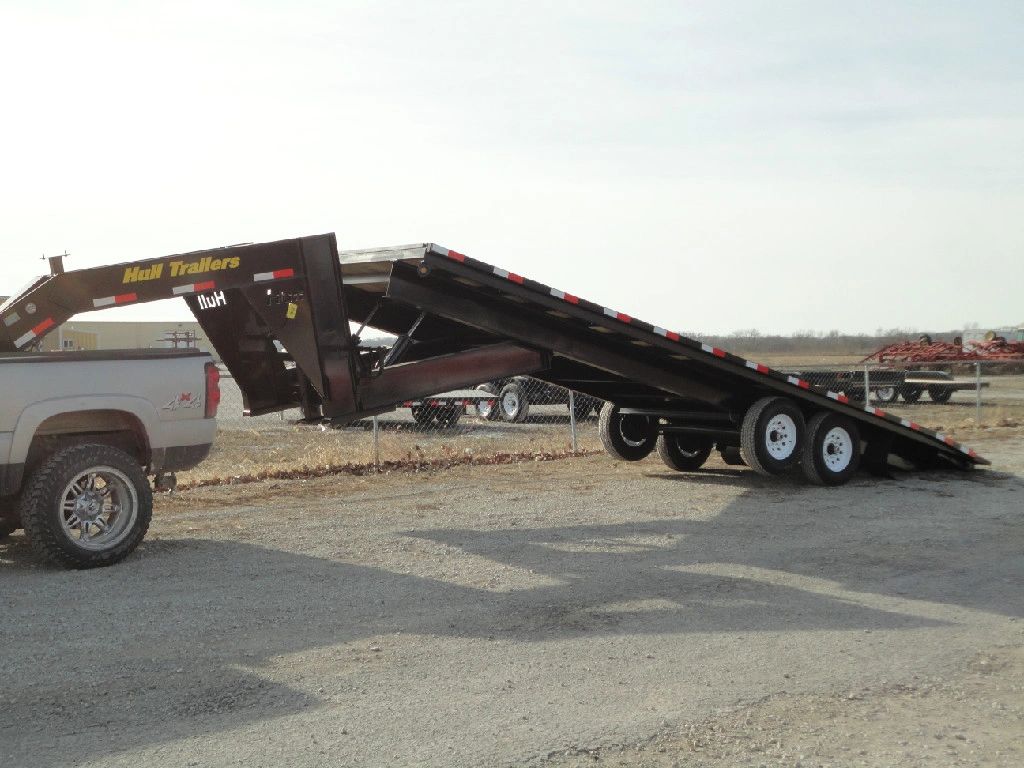 Then, when it's time to load, just push the button and tilt it up. It's that simple.
The trailer looks all the world like a regular, flip the ramps down style of hi deck trailer at first glance. That is because we worked to hide everything that makes it a tilt out of the way. The only real option on this trailer is the addition of a matching spare wheel and tire on the std neck top mount. Otherwise, this unit is ready to go with other options added, just ask for a 44 foot GH tilt in 20k trim and this is what you will get.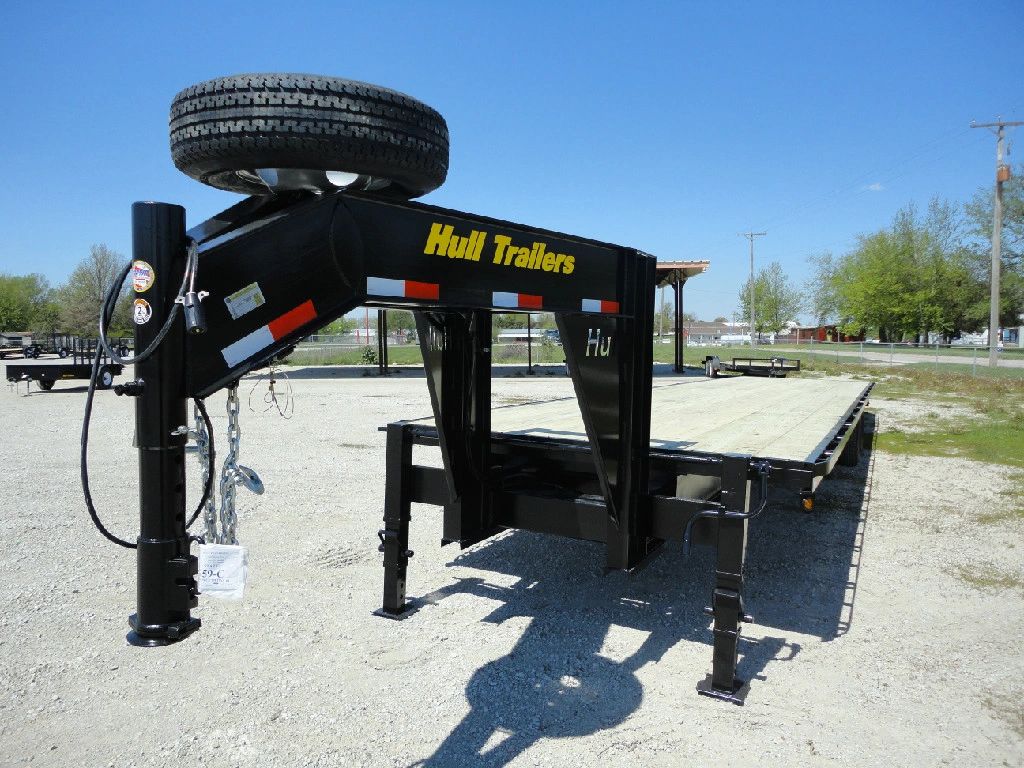 Up front, it's pretty standard 20,000lb tandem dually hi deck equipment. Big 19lb per foot Hi Tensile I Beam frame and tongue, dual 20,000lb jacks, 30,000 lb rated coupler with adjustable height, breakaway system, monster safety chains and more... all std.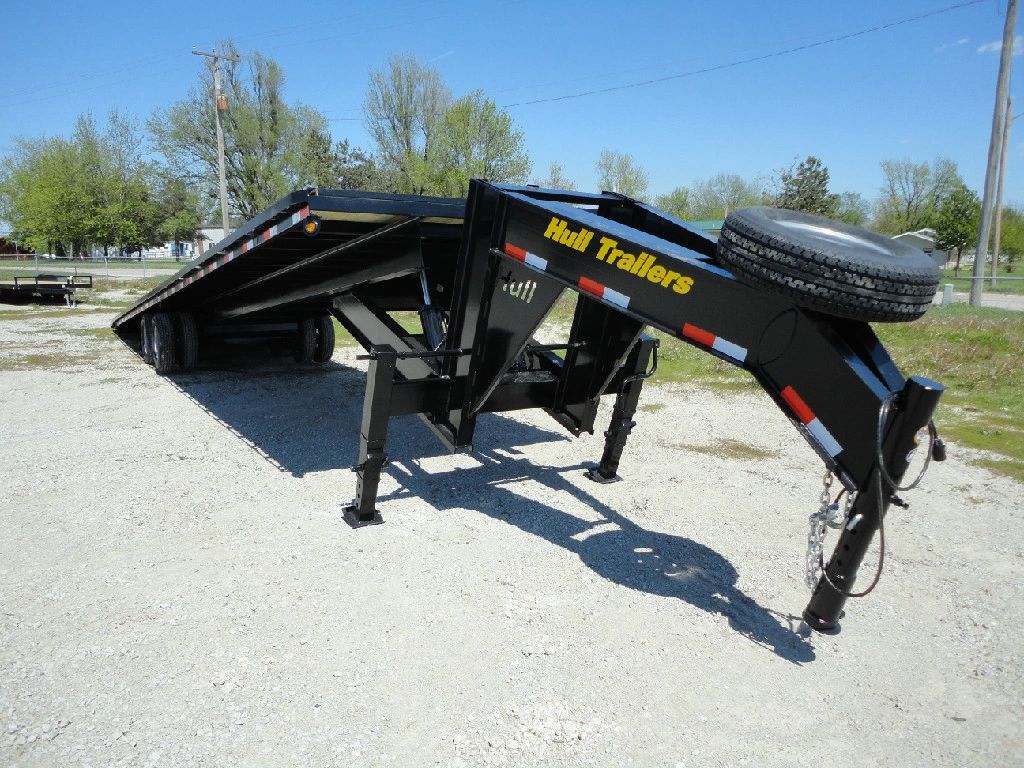 Ok now.... we just tilted it up for PHOTO's ONLY... always hook to your truck before you load or unload!!! But this shows you how much stroke is built into this unit, it tilted up and nearly touched the front coupler on the ground before it limited out! But, how does it tilt? Read on....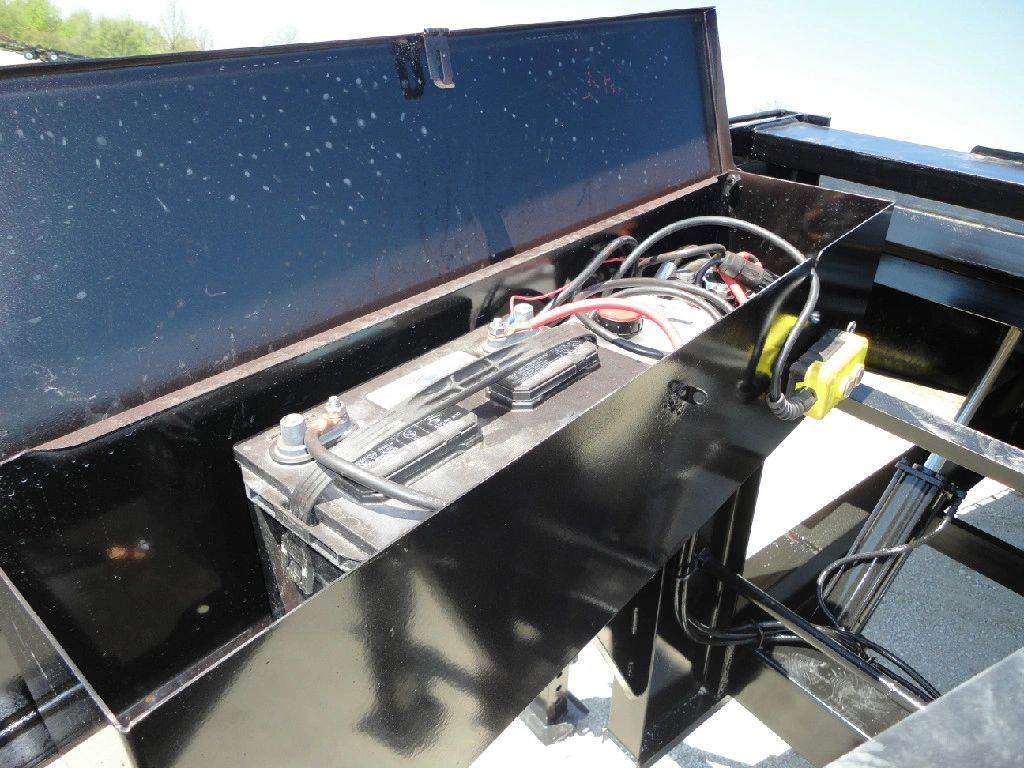 With the entire hydraulics system nestled safely inside of it's own locking box up in the neck, battery included, you just hit the button and this trailer tilts up in about 20 seconds.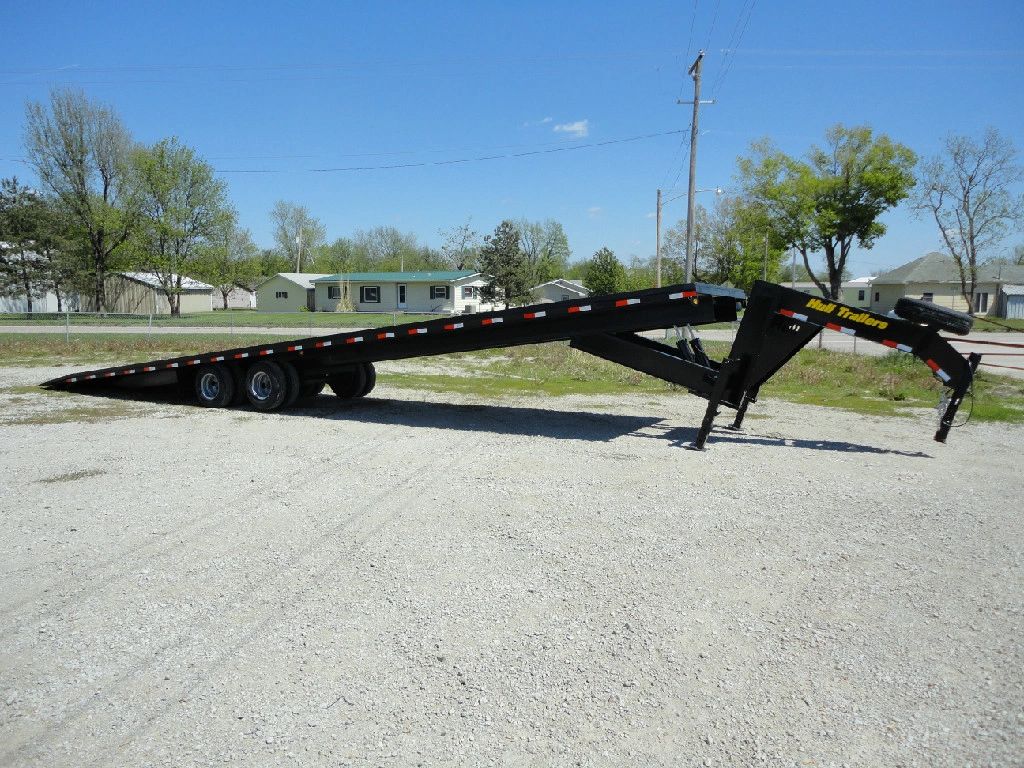 Once tilted, you have a decent slope angle to get up on and no issues with clearance!
Imagine it... a full 44 foot long deck, 102" wide and you can just tilt it and drive right on. Sweet.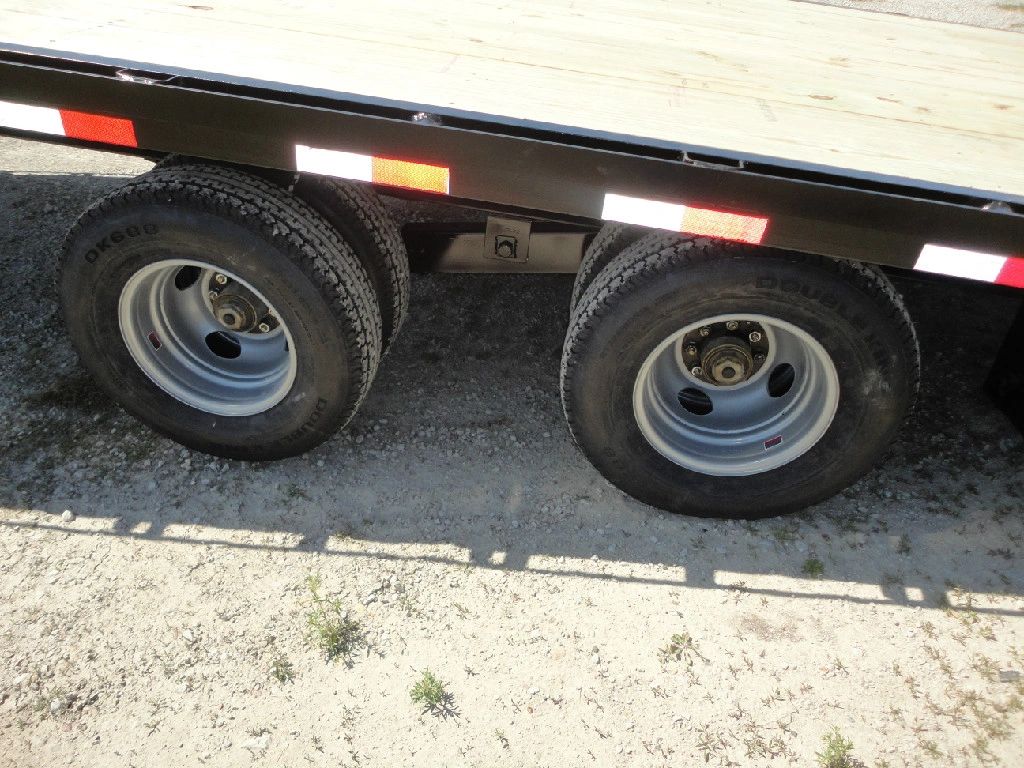 This unit is equipped with the optional 20,000lb tandem dual suspension package which includes greasable Dexter axles, massive four wheel brakes and 8 complete ST235/80R-16 10 ply rated steel belted radials. It's one commercial ready system.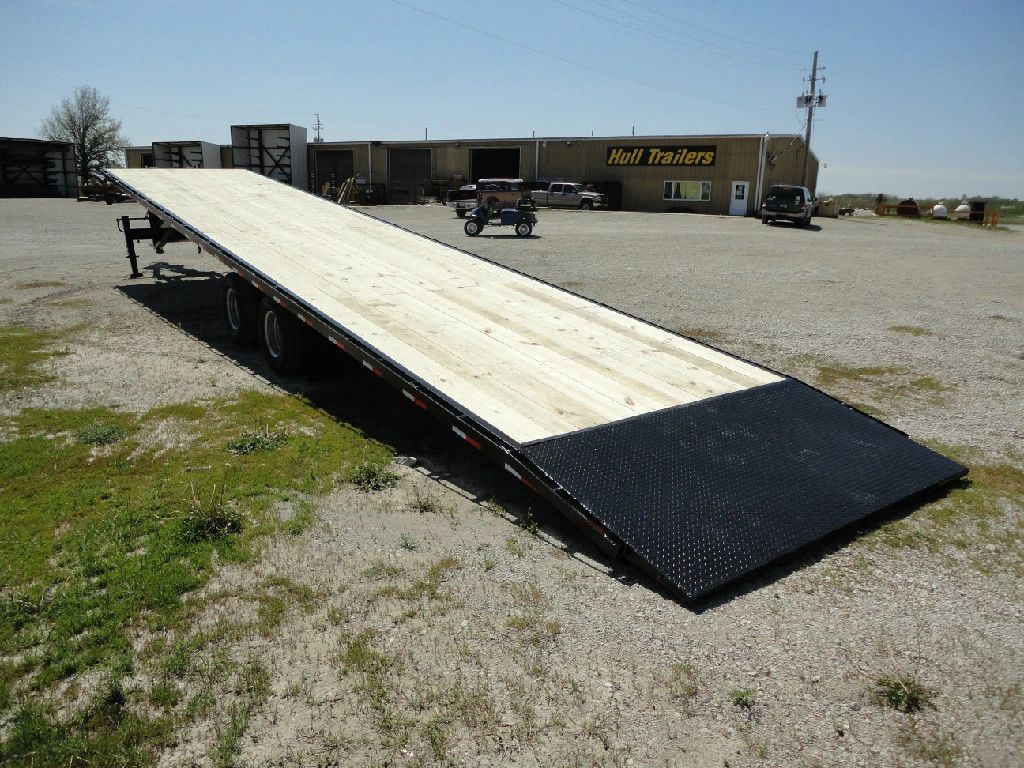 All we can say is that we are happy with the design and invite you to call with any questions! Need a quote on a unit?
Call us now at 712 589 3100 or email us at office@pullhp.com
Thanks!