Our E/T Speedhauler is designed to be simultaneously durable and efficient. The easy-to-use tilting mechanism allows you to load and unload the trailer quicker than ever. Our diverse inventory also includes goose neck trailers and a wide assortment of other types of trailers and accessories.
Check out this neat video we did of a customers new 20' E/T tilt with removable fenders and a spare wheel and tire mounted as options.


Longer custom models are available... give us a call at 712-589-3100.

When you are serious about using your trailer a bunch, this is the one for you!
E/T Tilt Speedhauler Models...
18' model $4,995

20' model $5,195

22' model $5,395

24' model $5,695

26' model $5,995

28' model $6,295

30' model $6,595


NO longer models available!

Must do G/T tilt gooseneck for longer


OPTIONS:


Bulldog coupler- $85

Adjustable height or Demco coupler- $95

12K jack- $175

Steel floor- $60/foot

Wide floor- $50/foot

Removable fenders- $200

Drive over fenders- $300

9990lb pkg- $750

14K pkg- $995

16K pkg w/ G rated 16"- $1,695

16K pkg w/ 215 radials- $1,895

21K (Triple 7's)- $2,495 w/ DOF

Upgrade to 225's- $135

Upgrade to Alum. Wheels (4)- $400

Loose 205 spare- $120

Loose 225 (D) spare- $130

Loose 235 (E) spare- $150

Loose 235 (G) spare- $200

Spare mount- $50

Winch plate in front or tube- $125

Winch plate in floor- $175

2,500# Mechanical Winch w/ removable Mount & vertical winch tube- $300

Ducktail- $500

Rub Rails- $10/ft

Extra wide pumpbox- $200

Wind Fairing- $525

Extra D-rings- $15

Winches:


10K- $795

12K- $895

17K- $995

20K- $2,395

All units come with roomy 84" extra wide floor!
This unit is a 22' E/T Tilt in 12,090lb GVWR (Gross Vehicle Weight Rating) / 9,990lb GAWR (Gross Axle Weight Rating) trim with optional Red color. Model as shown...
When we say that the 2021 Model E/T Tilt Speedhauler is vastly updated, compared to it's previous year predecessor, we are not kidding. Here's a quick laundry list of updates on the newest model, below the pricing and options list.
The E/T Tilt Speedhauler. Power up and down tilting with the push of a button!
84" wide between fenders standard.
5" channel steel frame and tongue with full 5" channel steel tongue wrap under frame support back to suspension std.
Heavy wall steel tube swiveling tongue with fully operable powered hydraulics to lift and lower the bed at a push of a button! 750amp battery and two way 3000psi hydraulics with corded remote std. Battery charges through lighting plug when hooked to your truck.
Bed front 'headache rack' std
2 5/16" coupler, extra-long safety chains
8,000lb drop leg jack set back in tongue
Breakaway system with charger std
7 prong plug, extra-long cord
7,000lb GVWR
Up to 5,500lbs on deck capacity
4 wheel electric brakes std
Easy lube 6 bolt hubs std
15" ST trailer RADIAL tires
Steel braced walk on strong fenders
Fender front rock guard
FULL LED lighting throughout std
Durable enamel Carbon coat DM coatings
Full 10-year frame, tilt tongue and treated wood floor warranty on all units
Many more options available! Give us a call 712 589 3100
#1. Dump Box style battery and hydraulics storage.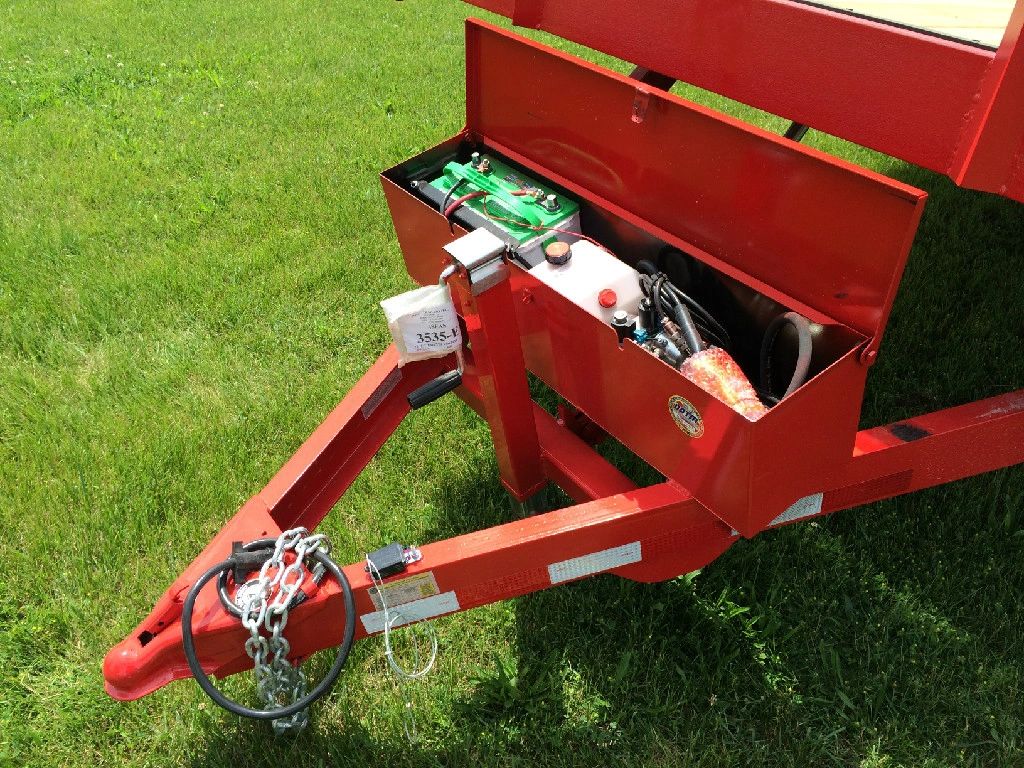 It was simply time to do this. Though I have always loved the 'hidden away' design of the older model E/T Tilt, where we put the battery and hydraulics back underneath the bed, inside of the tongue. I have also known that if we would get them put away inside of something more weatherproof, longevity would be assured. So, we bit the bullet, redesigned everything on the trailer to make it work and here you go. Now the battery, hydraulic controls and remote all store in this neat all steel lockable box on the tongue. It takes up a little tongue space and requires that any winches get mounted on the deck, instead of out in front of them, but the advantages over the long run are huge.
#2. Under bed cylinder system.
This adds a number of neat improvements to the overall system. It allowed us to specify a much heavier service cylinder design, it also allowed for even more bracing and support of the tilt bed lift and pivot systems and created a much faster operating lift system with a little more overall weight support to boot! Even though no one complained about the speed of the older design, this thing lifts up and tilts back down nearly 25% faster than the old model! Neat stuff!
#3. Better axle placement.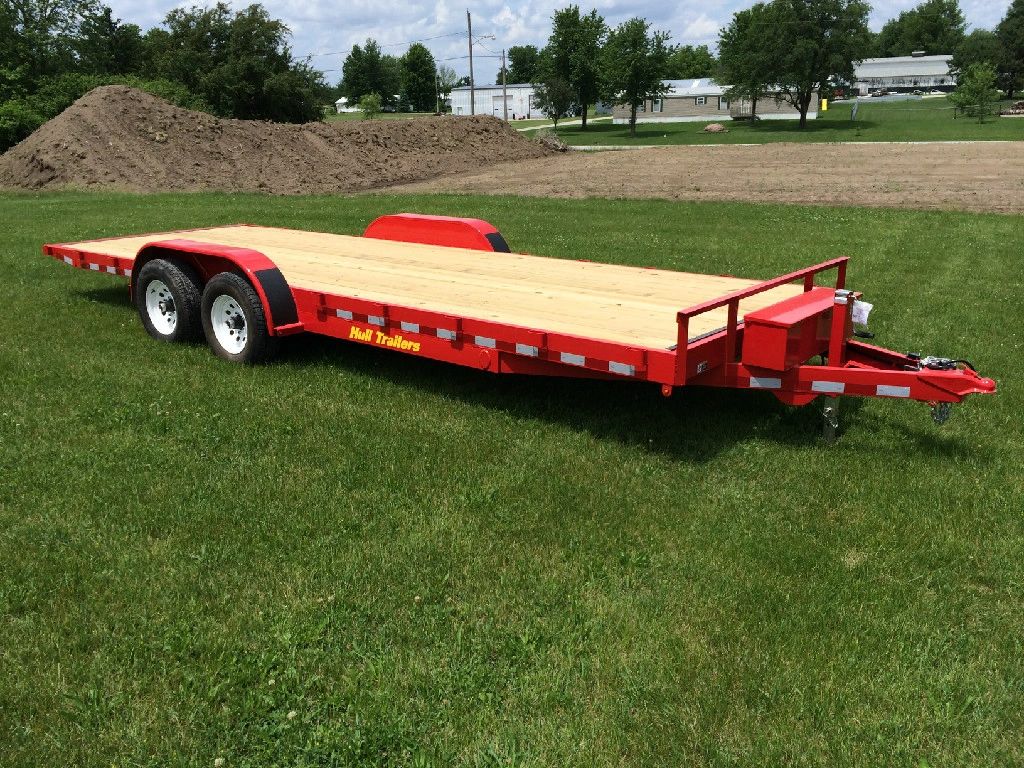 Do you see it yet? On this 2018 model 22' E/T Tilt Speedhauler we custom built for a customer, you can really tell from this angle that the placement of the new cylinder location allows us to set the axles further back on the chassis, which DOES help ride quality and stability whether you're running empty or loaded. It's just a few inches but in the trailer design business... any time you can keep the axles back in proportion to the overall length of the deck, it improves things in the nicest little ways.
Expect more of an in depth look at the new models, but for now we wanted to get the news out on the 2018 model E/T Tilt. Need more answers? Want to discuss your situation with Craig or Melissa? Well, that's what we are here for... Call us at 712 589 3100 or email
Craig Here
, or
Melissa
Here.
Otherwise... read on about this model the photos below are still going to share with you all of the what's, why's and how's of our model and hopefully will let you see how much we love this model most of all.
The E/T Speedhauler is exactly the same trailer from one end to the other as our venerable M/T Speedhauler, except for one very important difference. With this trailer, you simply press the up button on the weather proof remote in the tongue and power the bed into the tilted position in about 5 seconds, empty or loaded.
Wonder just how fast it works?
Watch this quick video of an 18 foot E/T tilt being unloaded in about 45 seconds.
The unit we are showing in this feature has two options....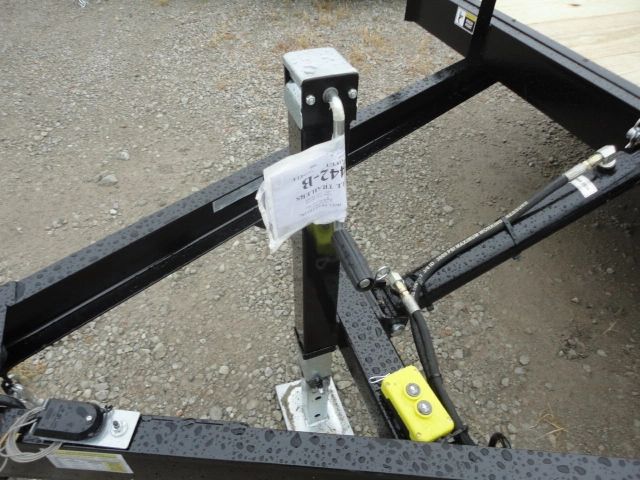 8,000lb drop leg jack NOW Standard on these units!
Is it fast? You be the judge!
Watch the video below!
Think of it as having electric start on your Harley...much easier than kicking it.
Check out the complete video of this actual featured trailer being operated. Remember!!!! Always have it hooked to your truck when loading and unloading, we're just showing it off here empty.
FIRST! Here is a run down of all of the std features on all E/T Tilt Speedhauler Trailers.
2016 Mid Year Pricing is going DOWN!!!! Call us at 712 589 3055 for the most current price on any model.
hat's 300 plus pounds of Iowa Farm Boy standing on that fender edge. By adding on the bracing standard, you don't have to worry about hammering a collapsed fender back up off of the tires because cousin Bubba decided to use the fender as a seat or a step stool. We know... it seems like a no brainer, but you would be surprised how many companies don't have ANY bracing on their fenders.

This shot really shows the beautiful std floor that goes in each trailer. It is true #1 grade Hybrid new growth Southern Yellow Pine, grown in Southern Arkansas or Northern Louisiana. This just about the densest version of pine flooring that you can buy in the U.S.. In fact, many home builders in Washington State pay to have this type of wood freighted out to them because the fur pine out west is just that much inferior to this breed of lumber.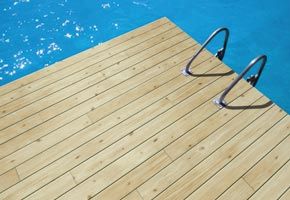 Actual photo from our wood supplier showing what the grade of wood we use is supposed to be used for.

And then there is the way this wood is treated to assure you against termite damage and the attending rot that comes with it. We could go on and on about this, but let us just say that every wood floor trailer we supply to your customers comes with a 10 year no rot floor warranty. If your floor rots out, bring the trailer back here and we will replace it for FREE within the first ten years!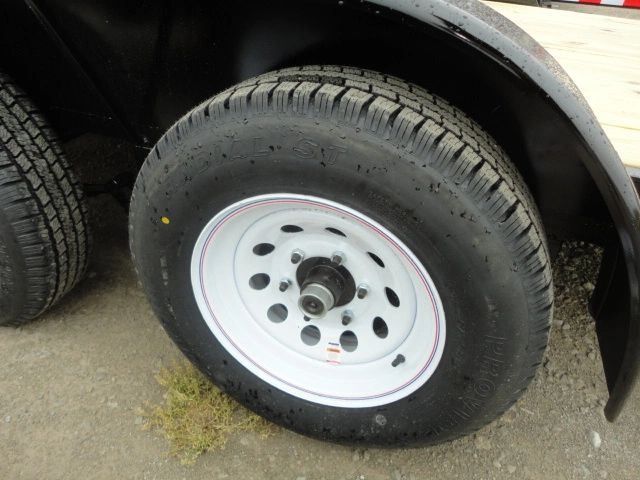 Now, let's talk axles. The standard E/T Speedhauler will come equipped with a pair of possibly the best 3,500lb rated axles you can buy in today's market. Axis brand leaf spring suspension units that are immersion rated models, which means that they are designed to run in water.... as in boat trailer water! This increased quality of construction gives you better seals, better bearings, better spring mount and brake hardware and a host of other neat things that we don't need to go into here. Suffice it to say that this standard axle is truly top of the line!

Why not torsion axles?

3 reasons we don't recommend torsion axles for this application.
1. These axles are always trying to share the load; This means that as your two axles ride over bumps and dips on our trailer, the two axles have a steel equalizer unit that allows one axle to borrow the load of the other axle anytime it needs it. Thus, the term equalized. By letting the two axles always work to share the total load, no axle has to bear the total brunt of a shock like hitting a pot hole, climbing over a curb or running over a wood block while moving through a construction site.

2. You can buy parts! God forbid, but if you broke a leaf spring or hurt a spindle of one of these axles, there is a place in nearly every town in America where you could find a new piece and simply have it replaced. Damage a torsion axle, and 9 times out of ten you get to buy.... a COMPLETE new axle or nothing at all. We like serviceability on our trailers and this system is the easiest to find parts for, the most durable for the cost and rock solid to use.

3. What does your truck have for suspension? Maybe we are over simplifying this, but if rubberized torsion axles were the do all end all be all of axles, GM, Ford and Dodge would be figuring out a way to put them under the tail of trucks and they are not. They choose a steel axle with multi leaf springs to hold your truck up. Good enough for them, more than good enough for us.

Want to see one with a few other options? Check out this black little sweety we put together for a customer...


Still pretty basic, 8k dropleg jack 8and the new standard Thinline LED light system. The thinline LED tail and marker lights are hidden inside of their own protective system at the tail of the trailer and really clean the lines up on the unit... no tail light pods to bang your knee on either.



See those two funky looking slots in the very back of the tail, just on either side of the center marker light? Those are built in chain or strap hooks. You can now go straight back with your tie downs if you choose, as long as you order the Thinline LED light option.



The huge advantage to this type of trailer is having an 84" wide target to aim at when you are loading and the whole world to aim at when you're unloading. Take it from a man who dropped a very nice '57 chevy off of a loading ramp once... after you have an ET tilt, you will never go back to any other type of trailer.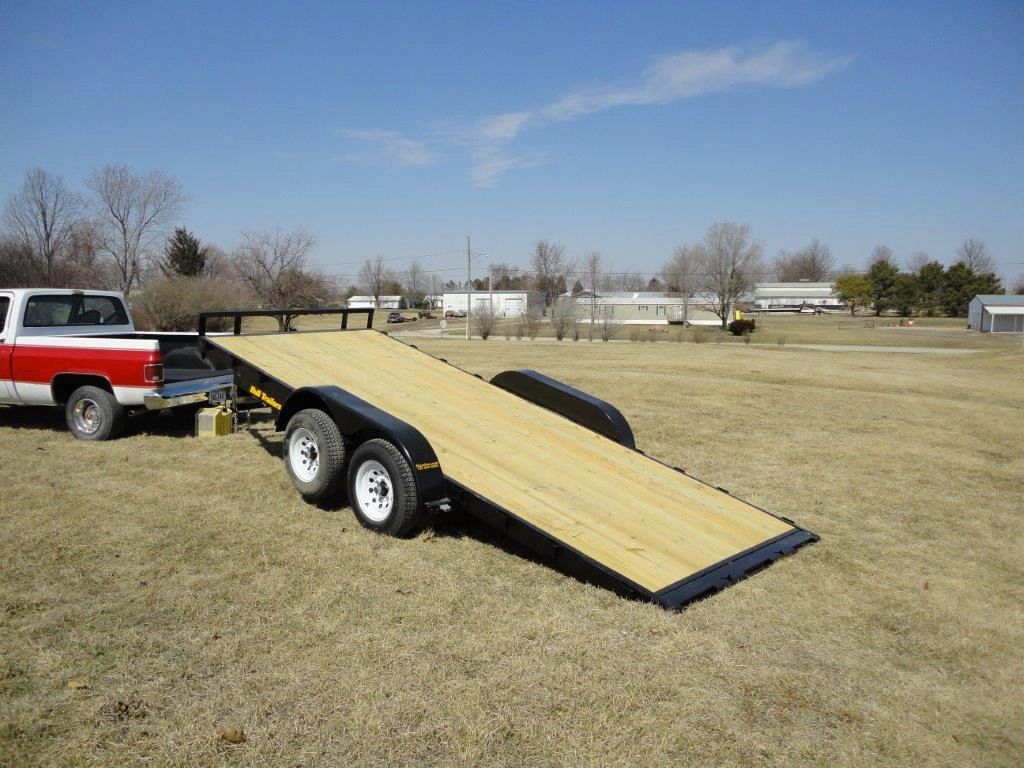 There you go... a complete, 50 States US and Canadian legal trailer that tilts at the push of a button, comes with a 10 year frame and floor warranty, contains the slickest LED light option we've ever offered along with the must have 8k dropleg jack feature, plus upgraded tear drop fenders. It can carry an EASY 5,500lbs on top of the deck in an 18 foot bed length.

Frankly, we can't figure out what you're waiting for! Get in touch with us and let us get one coming for you!


Ok.... enough for now.
We hope that this quick feature on the E/T opens your eyes to the possibilities of what you can have in a new trailer. If you have questions, want Craig to quote you a unit with any custom items, or whatever, just do one of the following...

Call Craig at 712 589 3100


Head back to the top of this page and read it again

Go to our main home page.

Thanks for visiting... now go download the catalog and read even more!