NEW 2021 Pricing as shown.
NEW model updates!!!!
NEW!!! Full extra wide 84" floor width standard!
10 gauge steel 'drive over fenders' now STANDARD!
20% stronger 6" Cylinder Hoist now STANDARD!
100,000 PSI tensile strength hoist frame now STANDARD!
Super strong 7 gauge floor now STANDARD!
Adjustable height coupler now STANDARD!
Spare tire mount STANDARD!
(That's about $950 worth of options now standard!)
No kidding... Call us at 712 589 3100
84" wide floor, 12' long model is only $9,525
84" wide floor, 14' long model is only $9,745
84" wide floor, 16' long model is only $10,425
Gooseneck? (Check out this price!)
only add $675 more!
Click here to visit the goosneck dump box page!
Call us now at 712 589 3100 and get your name on the next available one.

NEW Standard features on 2021 models!
OPTIONS:
18' long roll out tarp system-
Loose- $295
24" or 36" tall sides- $70/ft
110 volt battery charger- $85
Pallet fork storage under trailer- $300
Rub rails around stake pockets- $200
w/ 16" G rated tires and new wide spread axles for an
unbelievably stable and smooth ride on a 16' trailer.
16K axle and chassis w/ wide spread axles and
215 17.5 tires- $1895 (16' only)
21K (Triple 7's) on 16' only- $2,495
Loose 235 (E) spare- $150
Loose 235 (G) spare- $200
Loose 215/17.5 spare- $260
Spare tire mount included on all models. You can buy a spare if you want, but the mount is free regardless.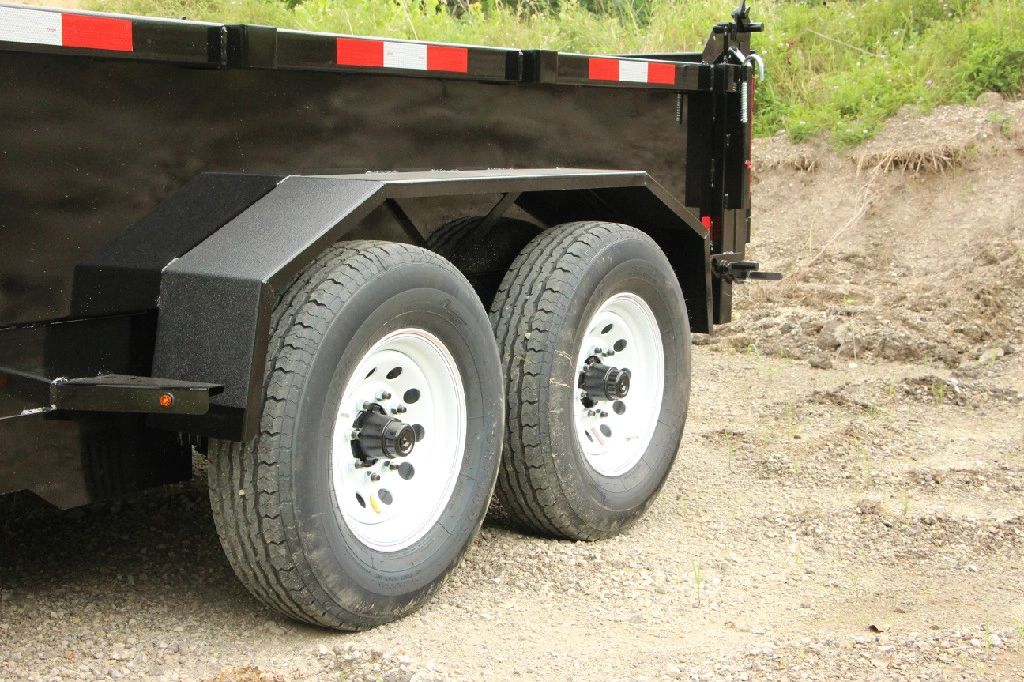 10 gauge steel super duty fenders standard.
They're just a lot harder to kill!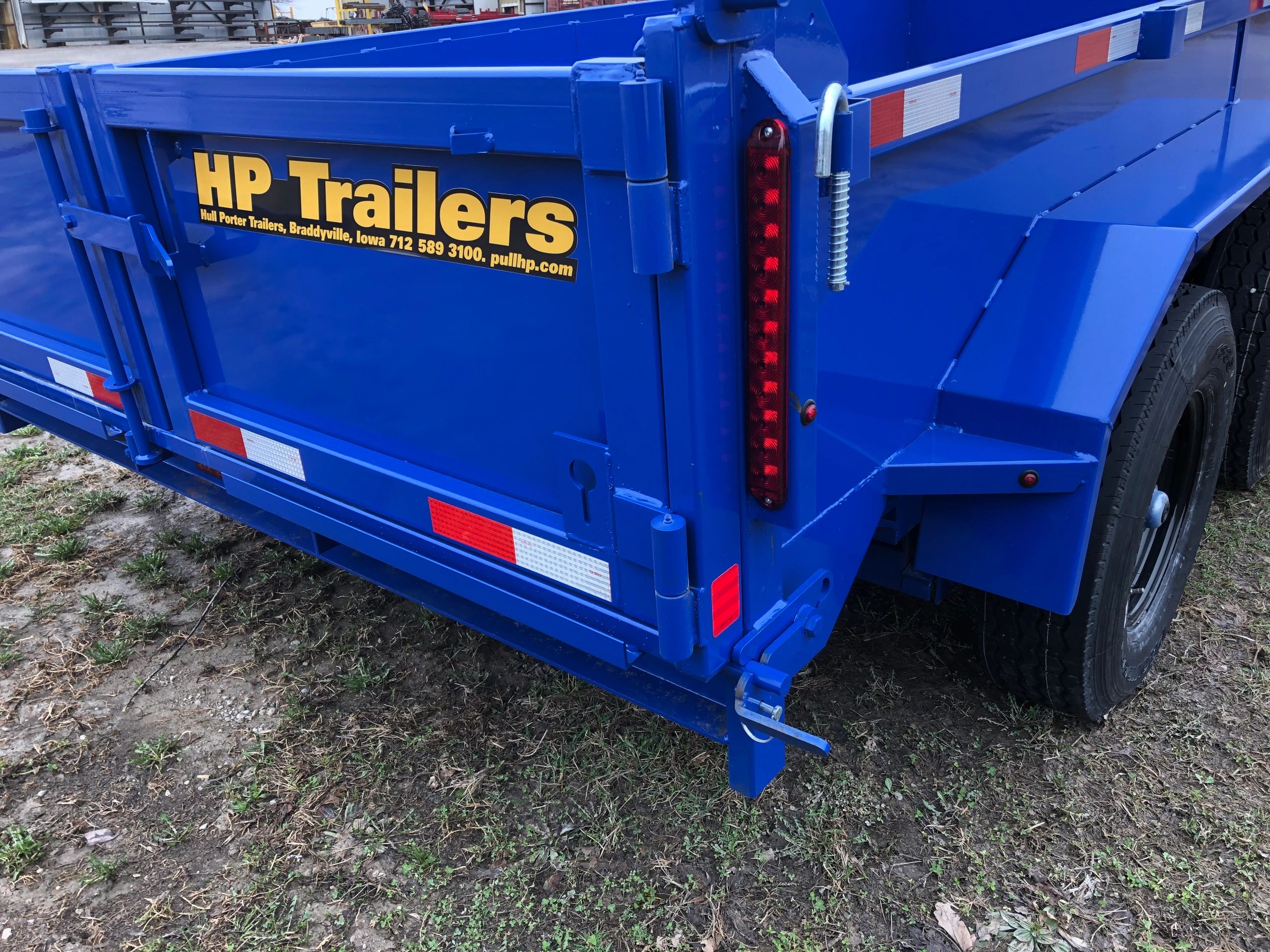 Extreme service greaseable barrel hinges on rear gate standard. PLUS!!! Thinline LED tail lights installed in a high mount protected position.

New super wide control box with extra built in storage! You asked and we answered.
This nearly 6' wide box contains all of the hydraulics, the battery and the other half is there just for storing things. No extra cost... we just thought it was cool. It added a few inches of overall length to give you more than enough room to your truck while turning, but it works perfectly.
Otherwise? We're still building the same basic work horse that you guys know and love. Read on below to learn all about this terrific trailer design and give us a call to get yours coming. 712 589 3100
More of the same good stuff and few neat upgrades... same price. (How about that?)

Here's a photo shoot of a brand new 14' DB in the optional $200 yellow color that we custom built for Chris Mangroo LLC of Lakeville, Minnesota. A remodeling contractor who chose us over every other brand.
What comes std? Follow along and we'll go over all of the details as much as we can!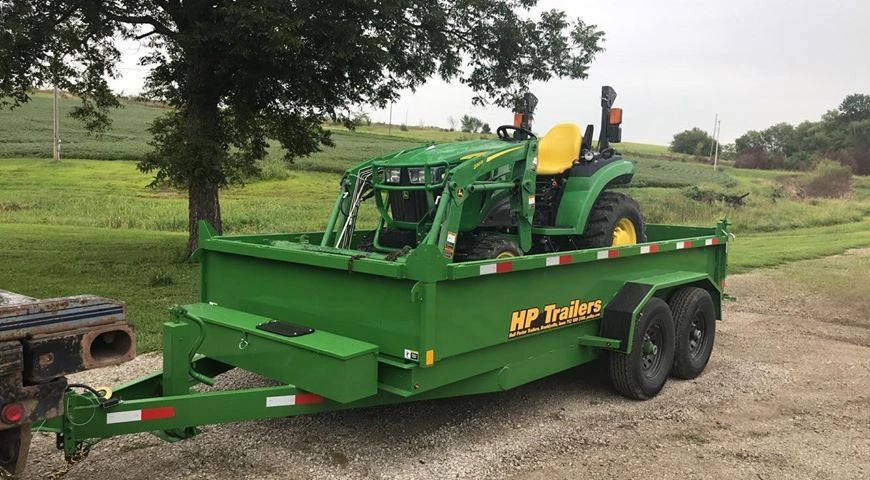 2021 model DB trailers come standard with a LOW 24" deck height. Why is that important? It gives you a lower center of gravity and also make is infinitely easier to load something up the ramps. We have measured many other brands and found that their deck heights are 28",29" and even as high as 31" on a so called low profile trailer.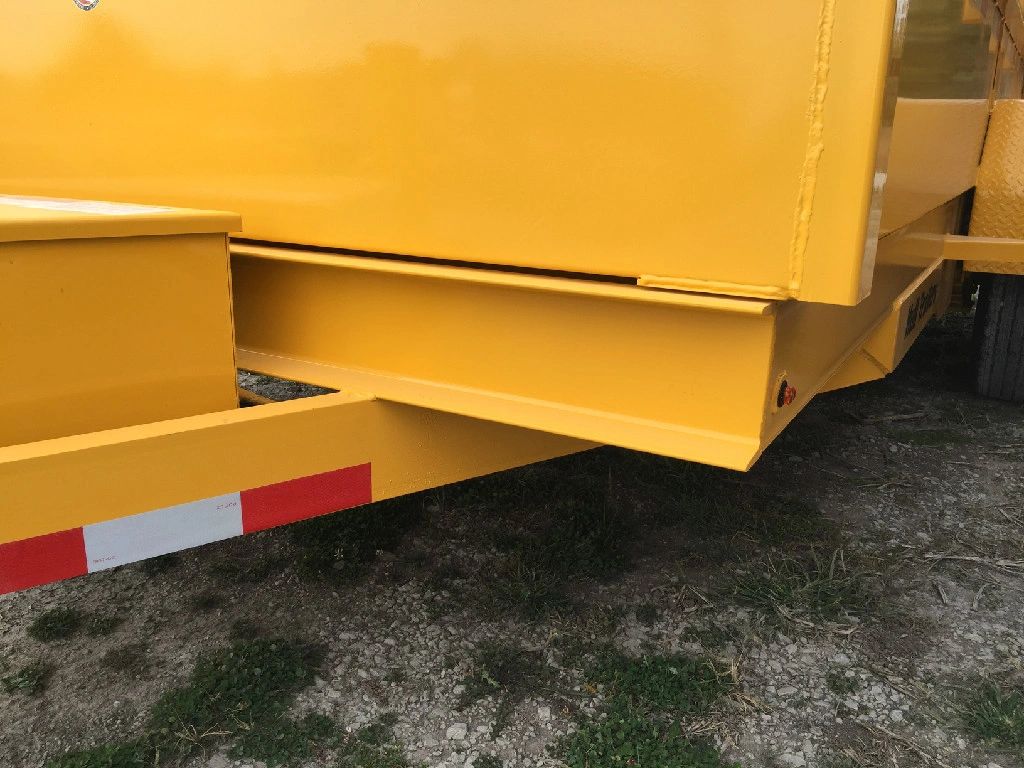 Complete 8.2lb per foot heavier web channel 6" frame and tongue. It's strong, rugged AND flexible.
Adjustable height hitch WITH YOUR CHOICE of 2 5/16" couplers, Pintle ring hitch (shown) or even a farm clevis hitch NO CHARGE. It is std equipment on all bumper pull models.
Dual self latching safety chains on their own stand alone mounts for both US and Canadian certification on commercial carrier standards.
12,000lb lift rated (20,000lb static load rated) drop leg jack with two grease points.
Automatic retracting spring assisted foot on jack for easy hookup every time.
And you'll find a lot of neat things.... Here sits our 3,000psi power up and power down hydraulic power unit with 15' corded remote and a new 750 amp Interstate Brand Green Top deep cycle battery. Trivia: This battery was specifically designed by Interstate expressly for dump box trailers.
The remote is also magnetic. So, you can pull it out through the 'peep hole' we place in the box and it will magnetically 'clink' on the outside for you to operate.
When you hit the up button, the entire unit powers up hydraulically to an industry standard setting max tilt angle of 52 degrees... I'm sure that other companies are playing catch up, but as of now, this is the steepest dump angle we have found on a low profile (fenders on the sides) style dump box trailer anywhere.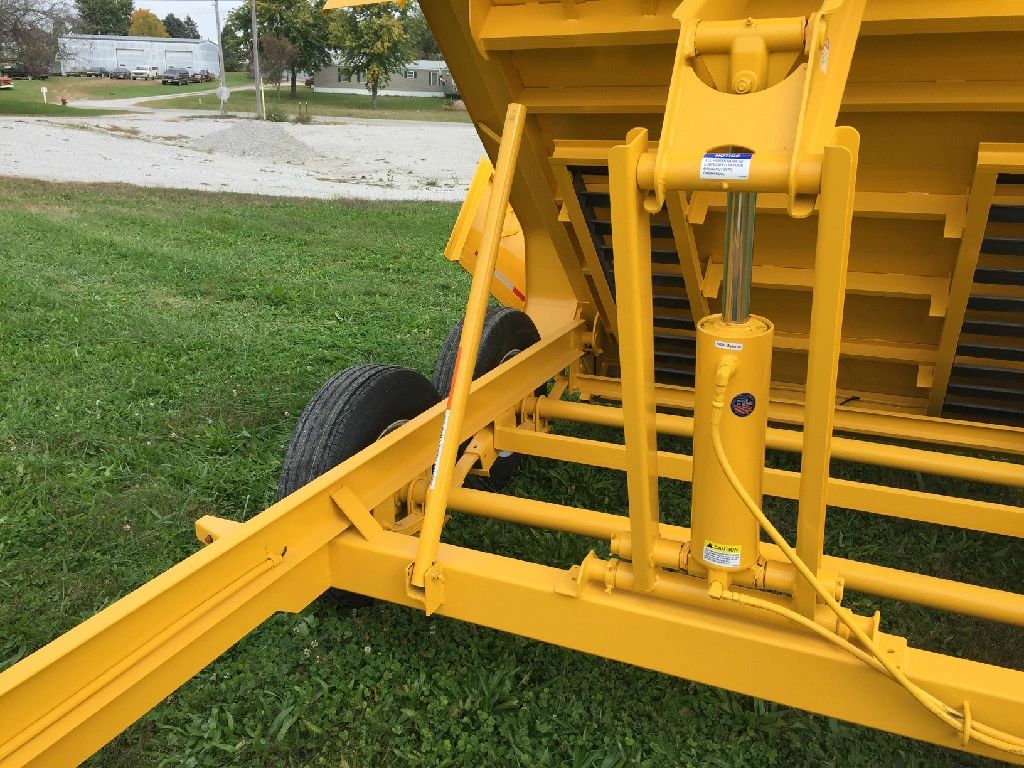 In this photo are two of the things that make this trailer such a beast. A monstrous heavy wall tube steel hoist support and this massive American made 6 ton hydraulic scissor hoist system. There are two or three neat little engineering tricks in this photo as well, but because I don't want any other trailer manufacturers stealing things, I won't talk about it here. (Call Me!)... it makes a huge difference in how our unit operates compared to any other unit you can find.

Check out the angle on it here... can you get stuff to slide out? No problem. One other little note... even at full tilt, notice that the tail is still not on the ground (MANY companies can get 45-48 degree tilt angles at full extension, but their tails will be pretty well stuck in the dirt.)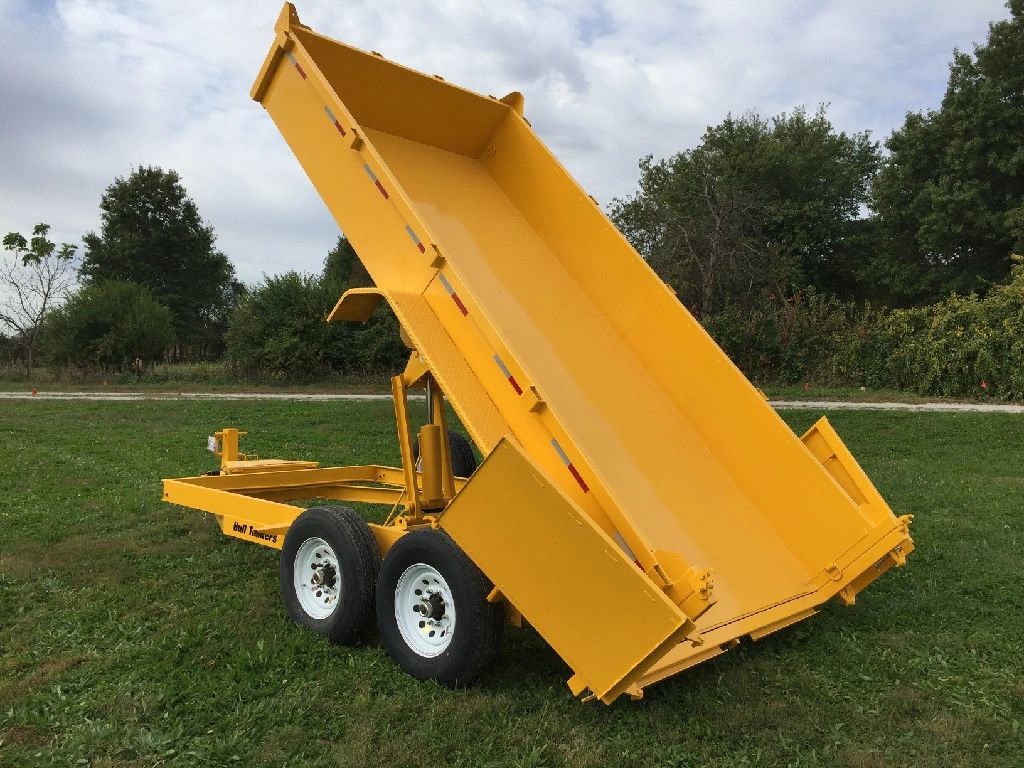 Check it out! Even at full extension, you've got a little air gap at the back. That's real important when you need to pull out from under a load of brush!
Speaking of dumping things, let's look at the two different ways you can operate the gate. It's designed to allow you easy opening to load and unload equipment and unload bulky cargo, like limbs or construction debris, or to spread rock or dirt. Let's look at the first method of opening the gate.
To unlock the double side swing, or 'barn door' gate, simply unlock the center lock bar and swing each gate around to the sides.
You simply swing the gates around and lock them open with our gate hooks. Now you can load or unload equipment or, once the gates are locked, you can tilt and dump without the gates swinging back down and getting in the way.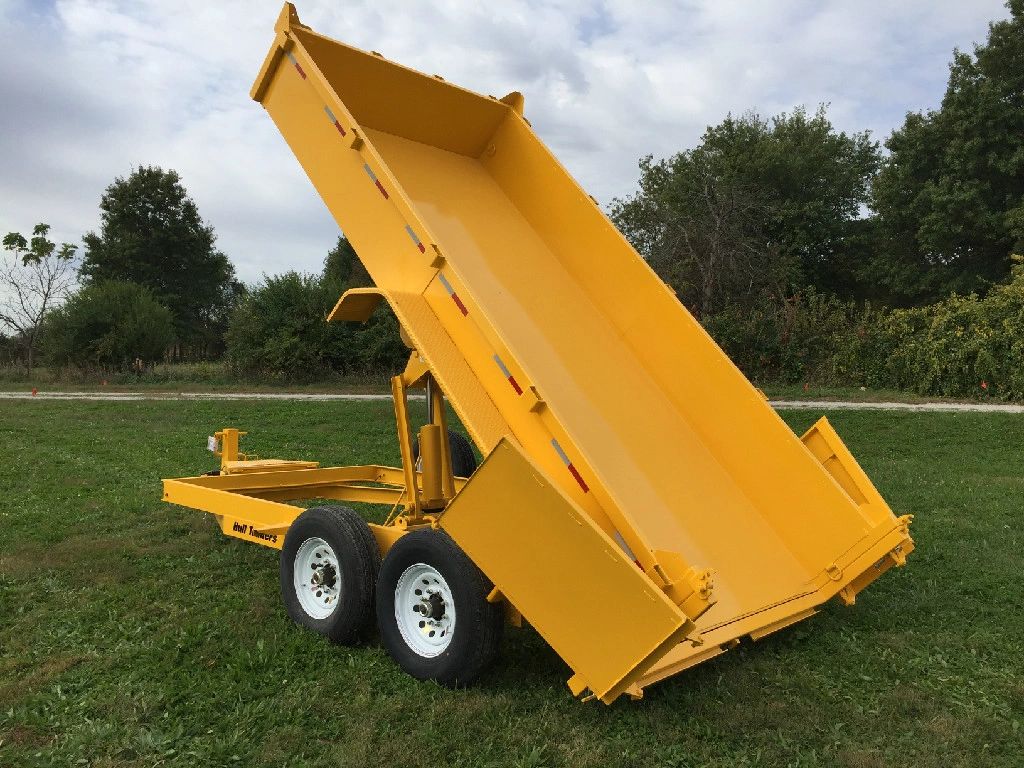 Once the gates are locked open, they'll stay put while you tilt and dump.
Or you can leave the two gates locked in the center and simply KICK the two bottom latches open to create a Spread gate or what is also called a 'Rock Gate' in the industry. Curtis designed these latches so that you could ALWAYS get them open, even if there is a load against the gate, which comes in pretty handy... no hammers, no pounding out pins. Just remove the safety clips and kick the latches down to free the gate to swing open at the bottom.
Here's a shot of the latch open for reference.
Once you have the two bottom latches tripped, as you tilt the bed it just comes open at the bottom. There are even chain slots on the trailer and the gate to allow you the option of adding on some sections of chain to limit how far the gate swings, if necessary... all std equipment.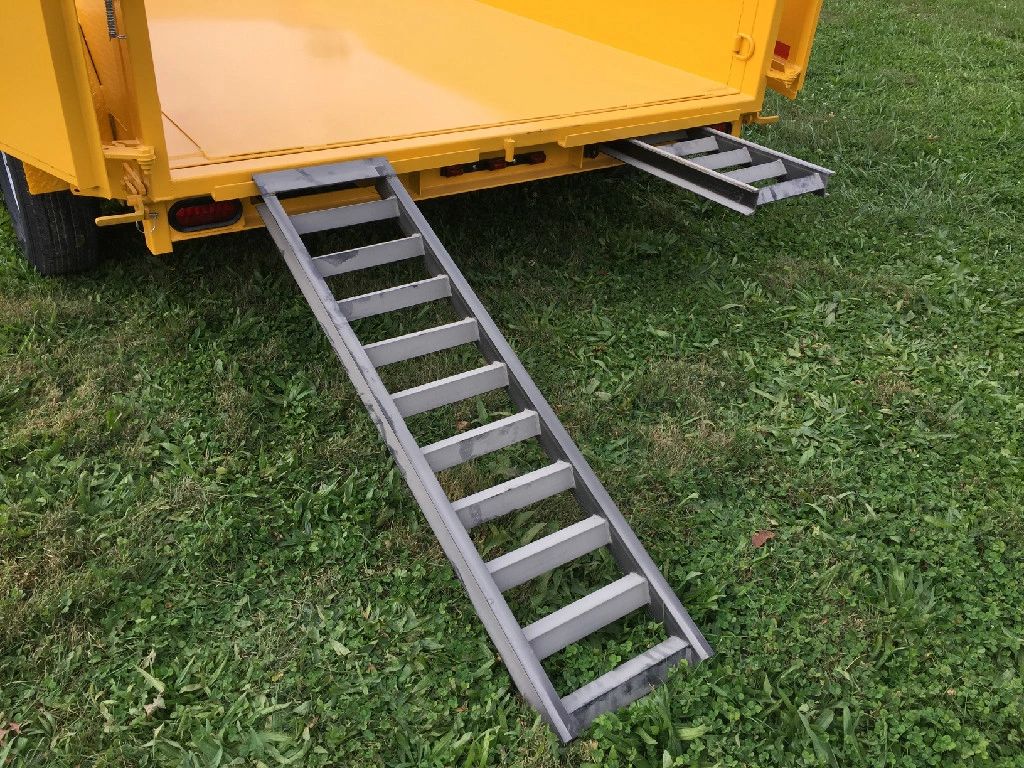 Now, let's talk about ramps and storage! (Excuse the dust, but we literally stole a unit for photos before it shipped to a customer... no polished up show pony here!). Underneath every DB series trailer is a pair of our proven 3" channel runner ramps in 5' length (actually about 5'4"). They stay hidden out of the way underneath the trailer until you need them and when you need them, just pull them out and load. One of the neatest features is how the ramps lock in place... check it out.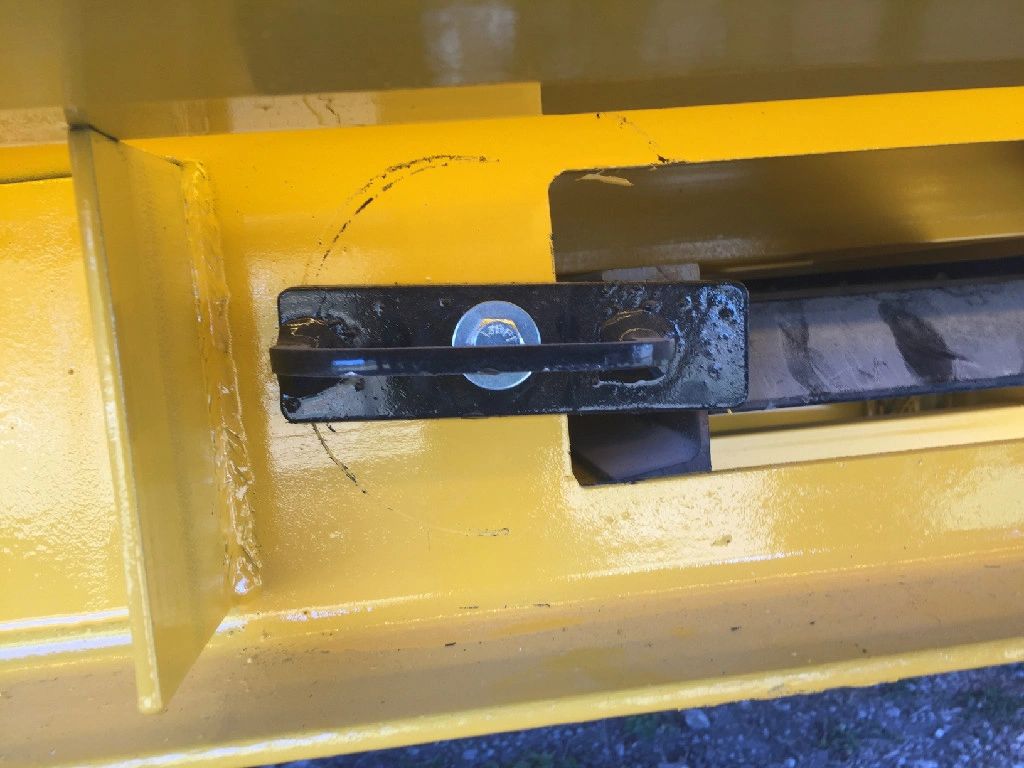 This is twist lock. It retains the ramp without having to remove any pins!! No pins or clips to lose! Check this out....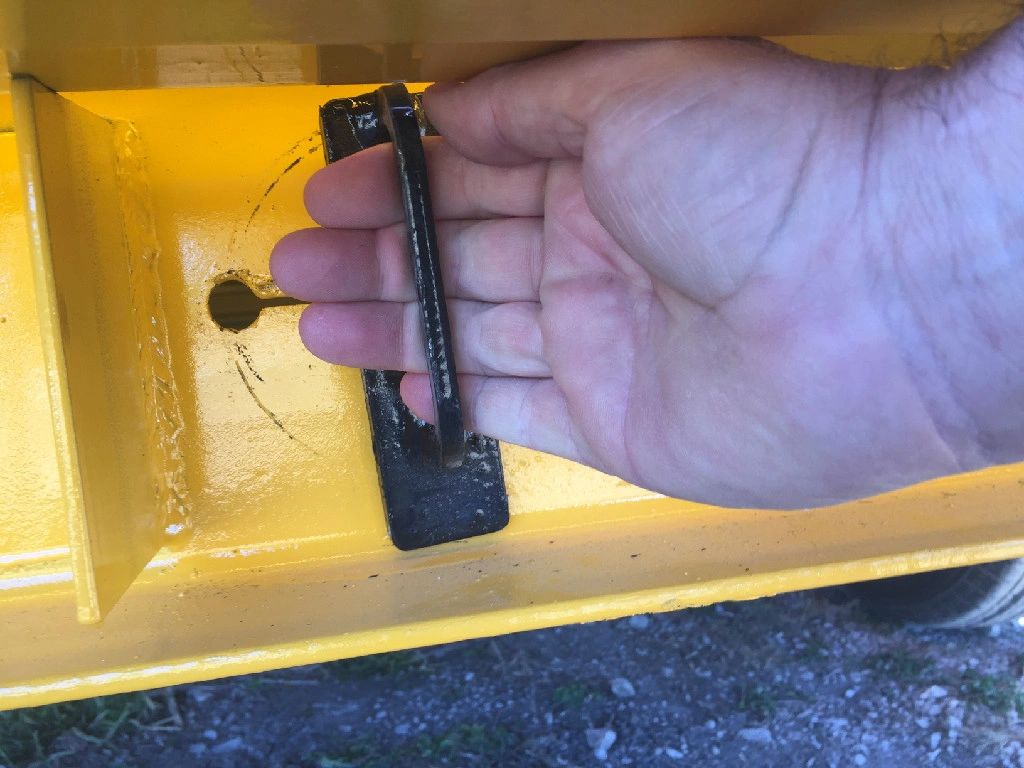 Just give it a little pull and twist to open up the ramp slide...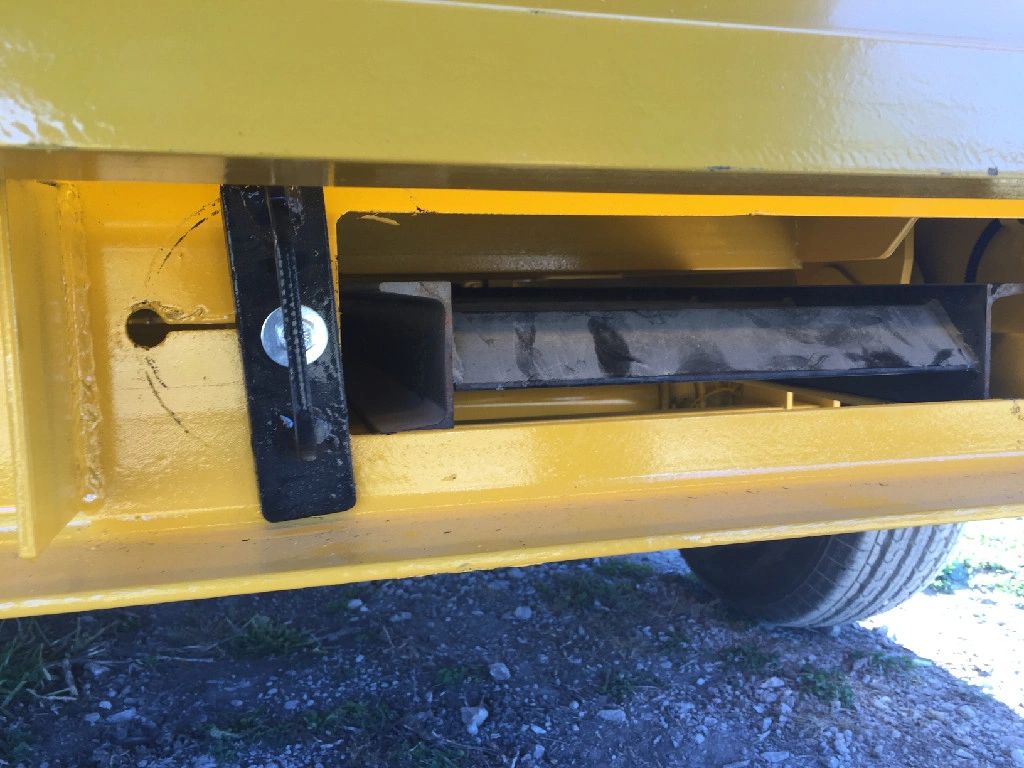 Now, you pull your ramp out. Pretty neat indeed.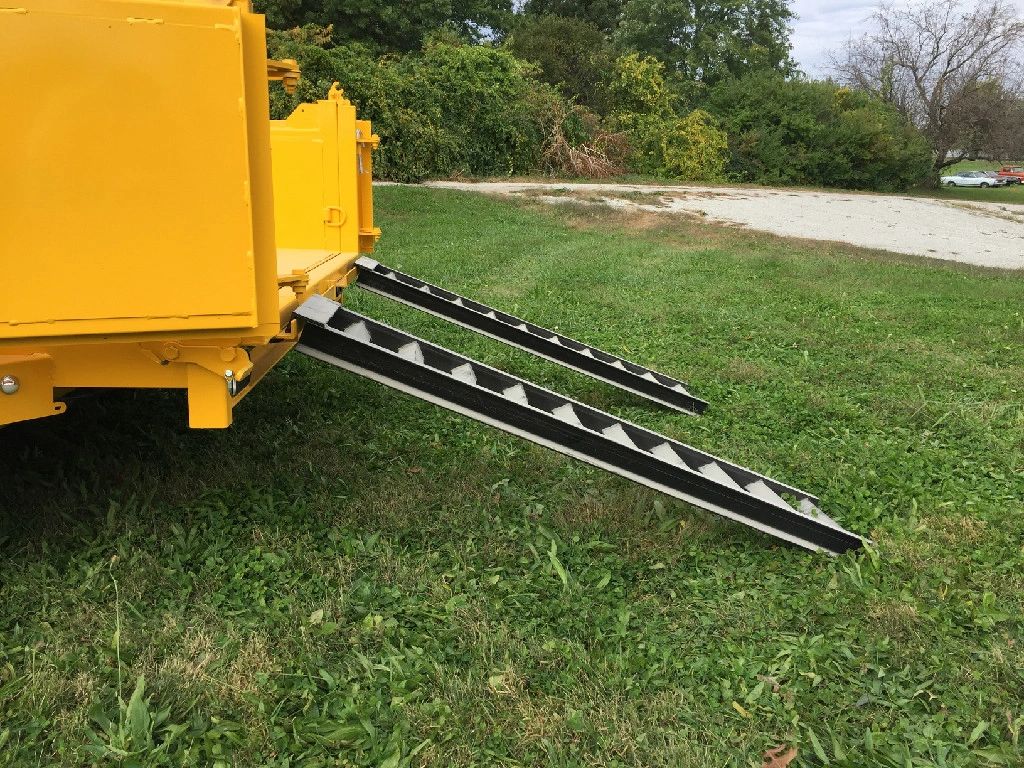 Another neat feature is your ability to change the load angle on the ramps as you wish. Leave the trailer flat and load or unload, or you can tilt up the bed to eliminate a high point while loading. If you are running up a track type skid loader, this could be an important feature indeed.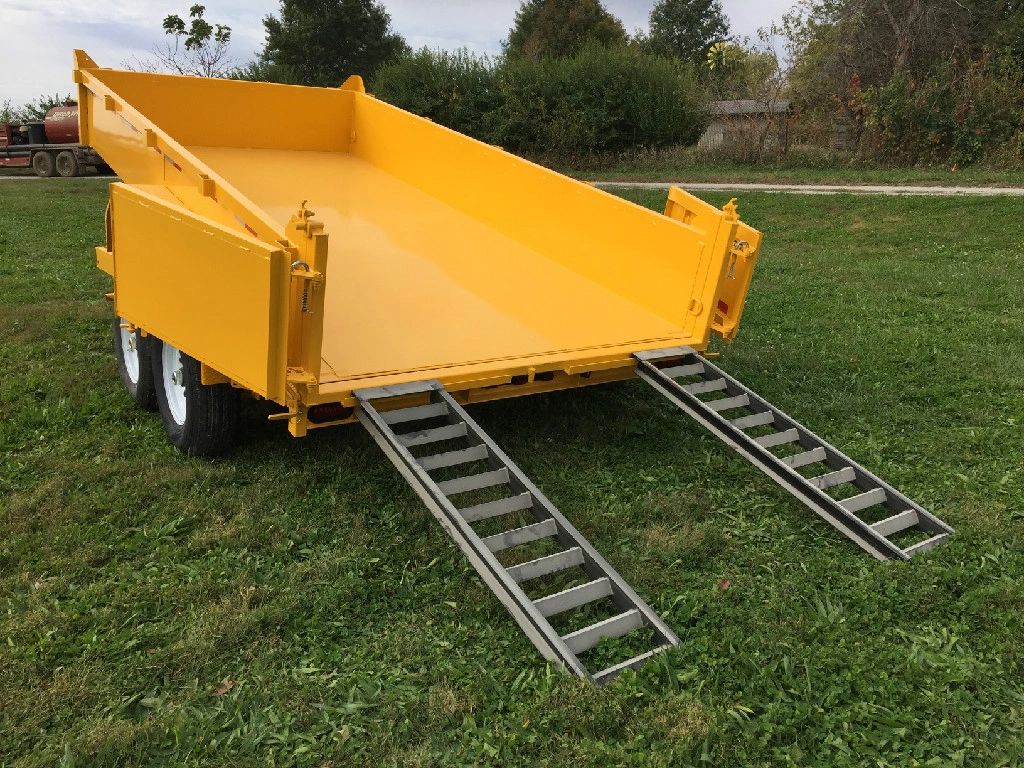 By being able to tilt the bed and still load or unload, you allow a straight shot in and out of the bed if needed. Keep in mind that all of our DB series models come with a standard 82" wide floor inside the box as well, you can squeeze in some pretty big skid loaders without issue.
Speaking of adaptability, we also designed the rear ramp hook system with
adaptability
in mind. You can set the ramps very close to each other for wheeling up small, narrow items....

Or slide them all of the way out for loading big skid loaders, tractors or other items. Once again, we always tried to leave your options wide open on these units.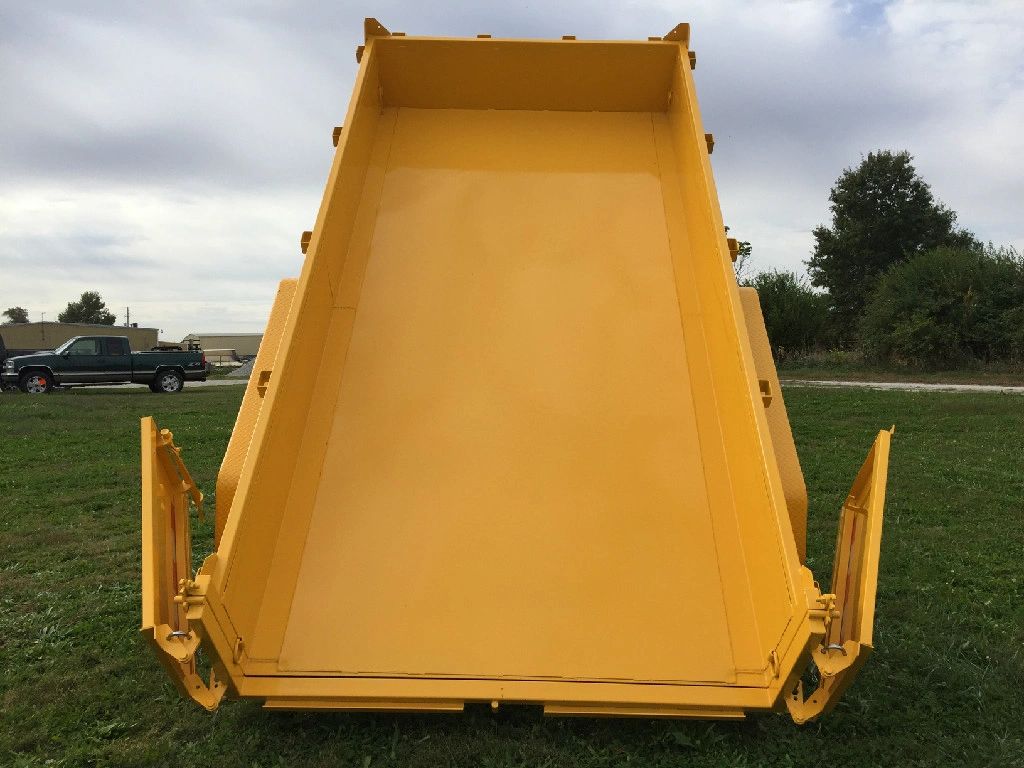 Let's talk about the floor on this trailer. It's just another example of always keeping your eyes pointed to the future for technology. With the development of AFFORDABLE Hi-Tensile Steels, we have been able to create a dump box interior that no one could have a few years ago. The 7 gauge 7 floor sheet has the more strength than a standard tensile 8 gauge floor. Same goes for the sides... instead of the old school std tensile 10 gauge sides, we run 55,000 psi yield Hi-tensile 12 gauge sides that have the SAME strength as the old steel but lightens up the trailer by 100lbs. And talk is cheap, so we back up the floor with a 10 year warranty, just like every part of the chassis and welds... so.
Don't just take our word for it. We know it will work and we know it will last and we back it up in writing.
Another design criteria that came from building 30,000 of them was to not build the standard side too high. By keeping the standard side at only 20+" from the floor to the top of the box, we have created an easy super low loading system for tossing things into the box from the sides. If you need to build high side boards, we've created the foundation for doing that easily as well! Check it out...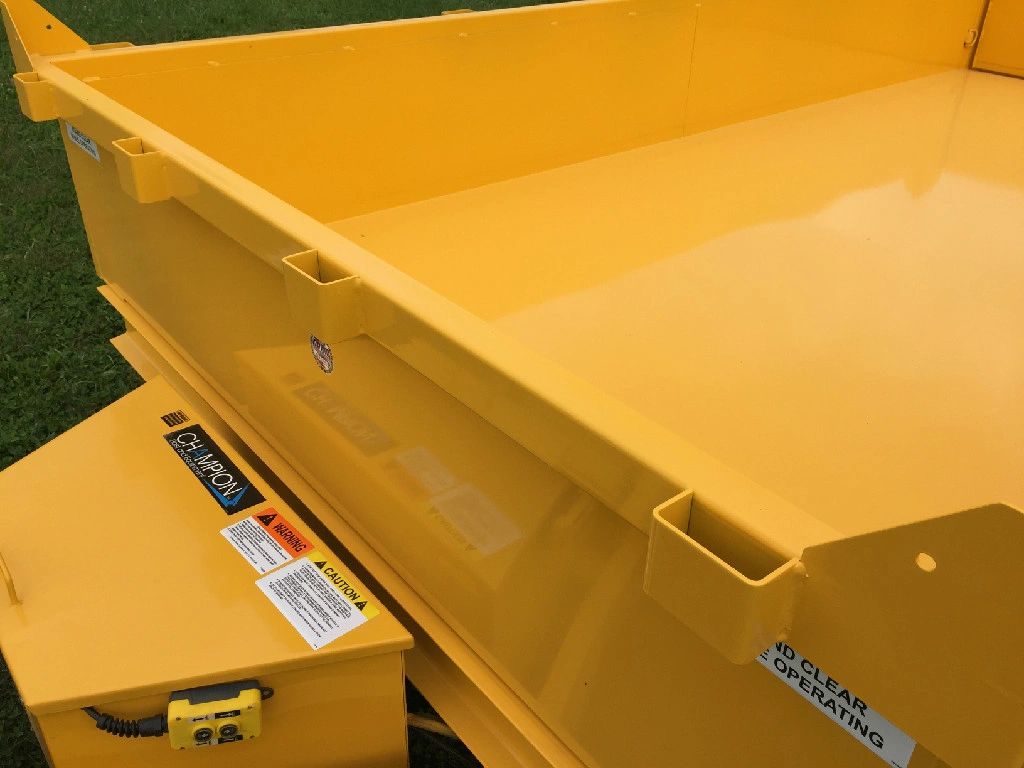 Along the front and down both sides of the top of the box, we automatically install numerous stake pockets that will work in conjunction with the std corner brackets. It allows you to build side boards with 2x4 vertical brace boards every few feet to guarantee a very stiff and solid side board system up to 48" higher than the current sides easily.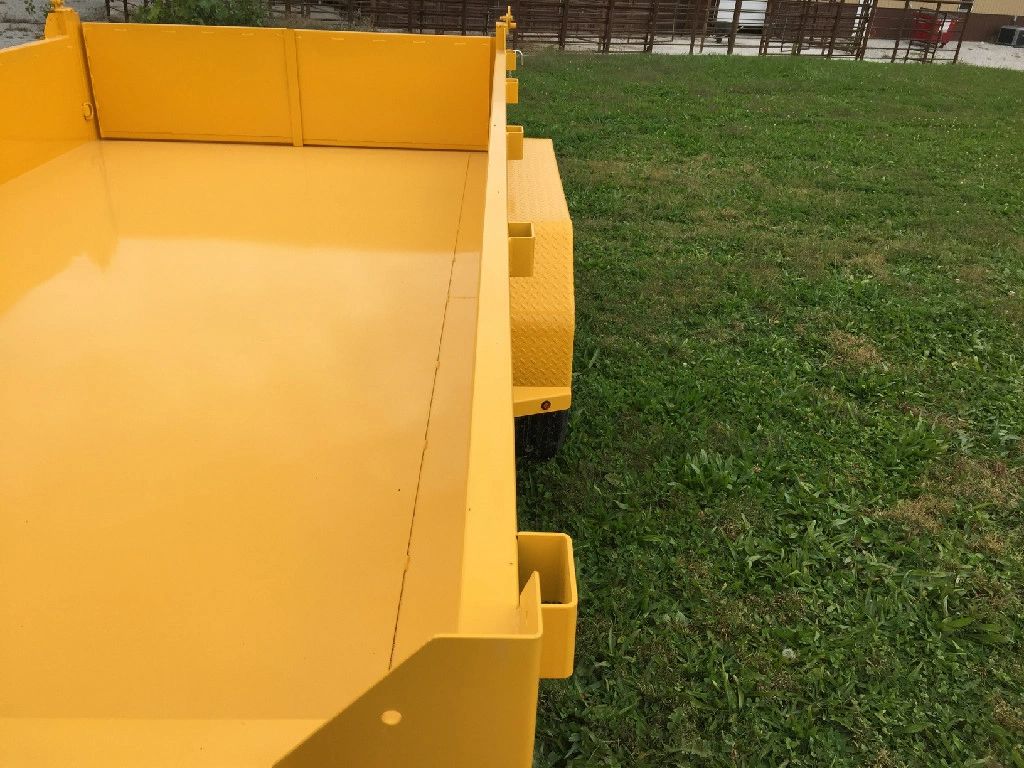 The corner brackets, in conjunction with the numerous stake pockets work together with our standard heavy wall rectangular tube steel rail tops make for a VERY sturdy foundation to build sides on up, whenever and pretty well as high up as you wish.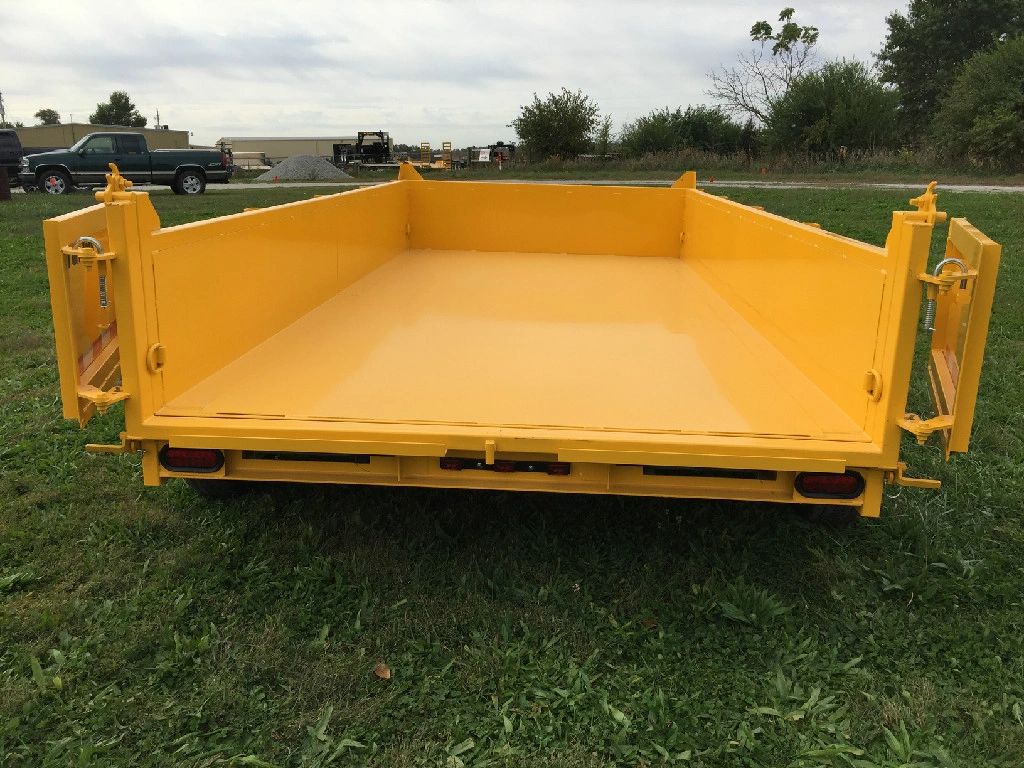 I almost forgot to talk about tie downs! On all DB series units, we weld four heavy service d rings inside to secure loads with. Notice that we mount the rings up on the wall and weld them directly to the tube supports. Why? We've found that by moving them up to the sides, you won't have items catching on them, like with floor mounted rings, when dumping.... very handy.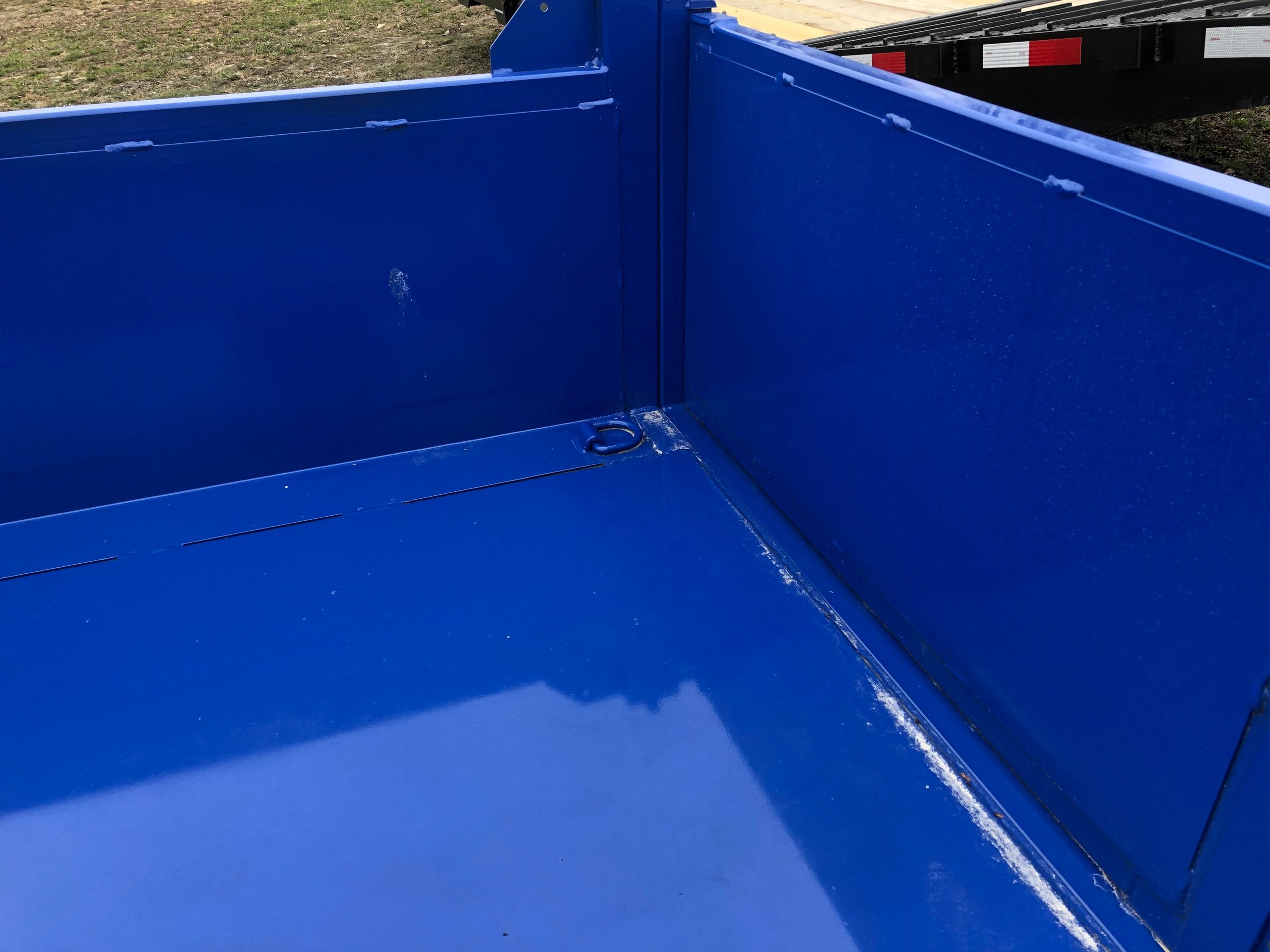 NOTE!!!! 2018 models have the D rings mounted on the FLOOR, not the sides. Why? Because it is just stronger anchor point. No more side wall mounted D rings. Here's a close up one of the four rings. This is the passengers side front corner.
Here are the two rings at the front of the box...
And two at the back.... it's a solid, no catch system and it comes standard on every DB series trailer.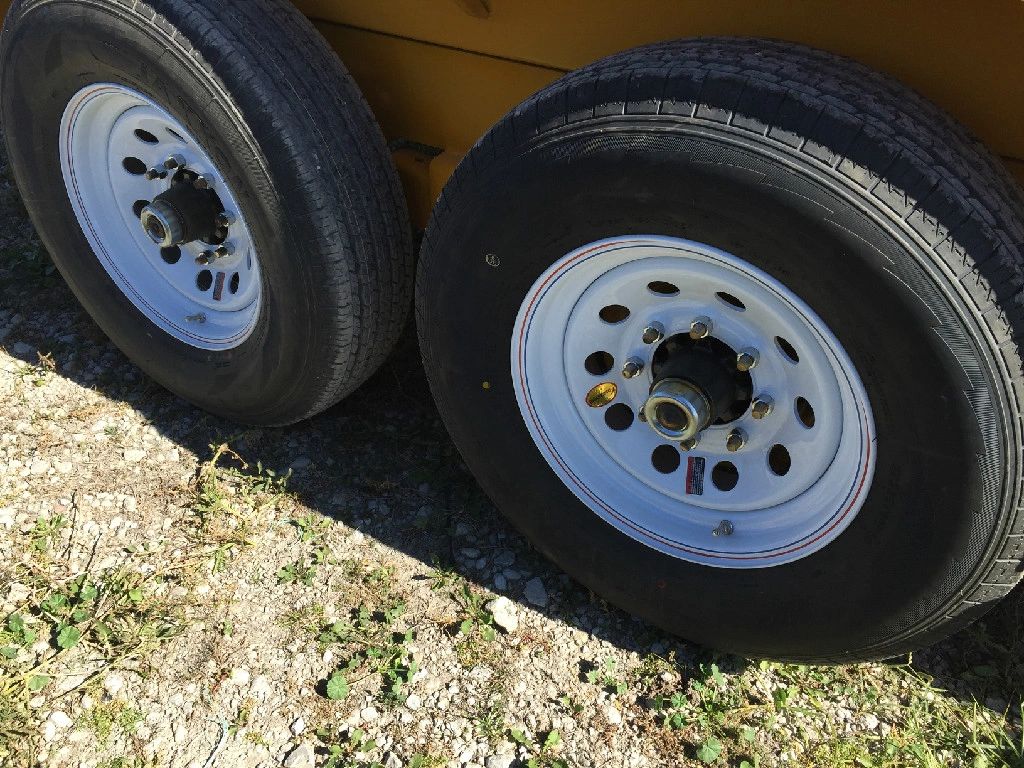 Every DB series dump box comes with the latest Pro-Series axle and suspension system. We love everything about these because they are built for COMMERCIAL, run it every day use. The suspension contains extremely high nickel content for reduced wear and even contains both greasable hubs as well as greasable center pivots on the suspension system. With proper annual or semi annual lubrication (depending on how hard you plan to run it) this entire system is designed to run for up to 250,000 miles with only brake and seal service required. It's a well proven design that works like it is supposed to... day in and day out! Each axle is capable of carrying 7,000lbs for a total axle capacity of 14,000lbs on every unit we offer.
More to come..... ~ Craig
Scroll on down for more photos and features of our units featuring 2015 model and earlier trailers. (You'll see what updates we've done what we've kept the same!)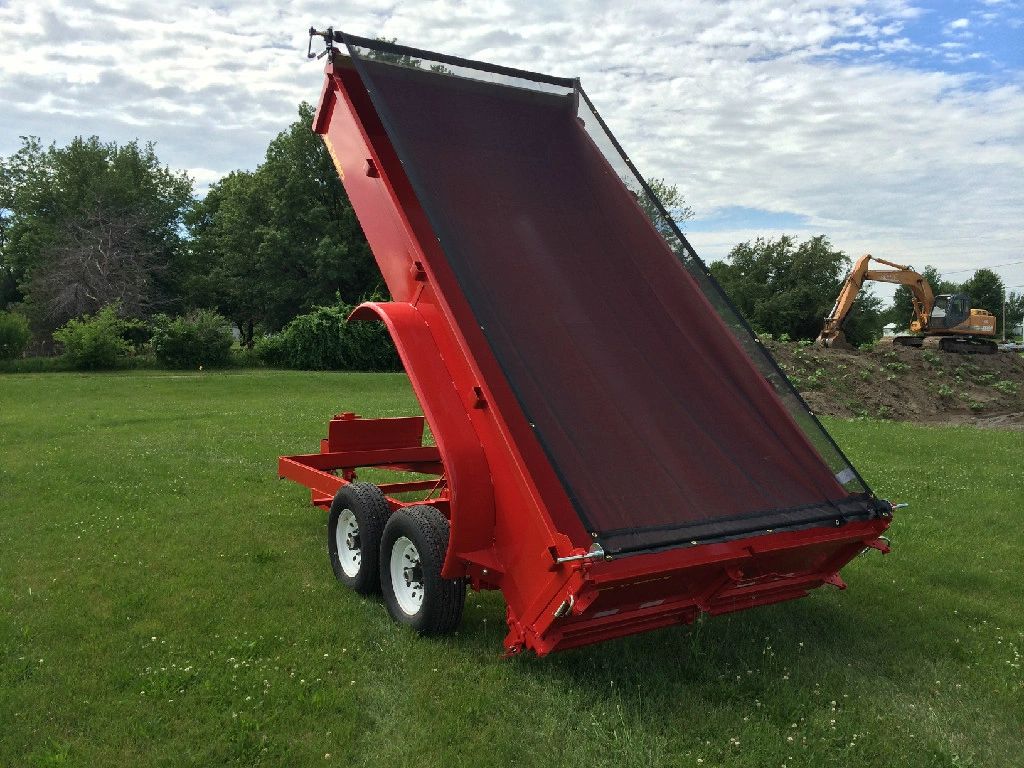 Spare mount on all models is Standard... just add the wheel and tire if you choose.
As I was writing this page and doing updates, I remembered a new 2015 model that a good customer just came and got. I shot a bunch of photos and will use it as an excellent example of what you can expect when you get your new Dump Box from us! Scroll down and ride along
New 2015 Model 14' dump box trailer in red! Nice looking and nice working! Let's start at the nose and go to the tail on this one. First, check out the 6" channel steel main frame stacked on top of the 6" channel steel tongue. Up front you'll find the 14,000lb rated coupler that is standard. This brings up an issue as well. Many folks talk about adjustable height couplers, thinking that they are a better, or that they carry more weight.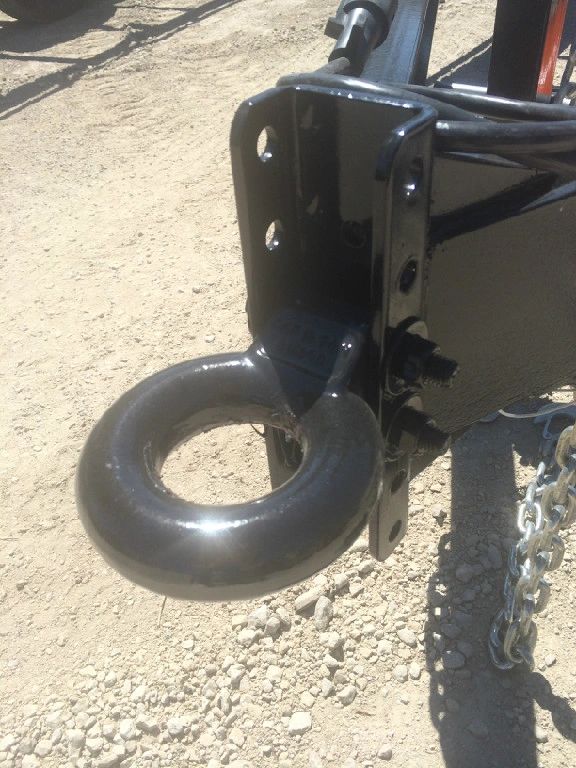 Shot of now std adjustable height coupler with Pintle Ring hitch installed. You have 4 choices of hitch... 2 5/16" latch type coupler, 2 5/16" Bulldog style coupler, Pintle ring or even a farm clevis style hitch. Now, that being said... one of the great things about the adjustable height style couplers is not their adjust-ability, but instead it's about making them harder to steal. If you plan on leaving your dump box on a job site somewhere, simply remove two bolts, take the coupler out and take it with you. Trailers are real hard to steal if they don't have a coupler. Just an idea. ~ Craig
It's a beautiful thing, this new two way hydraulic pump. Upgraded in just about every way from the former KTI model, this girl has tougher solenoids, nearly twice the bearing area in the pump motor and a little thicker material in the hydraulic reservoir itself.. plus! check out the newest long corded remote that comes std.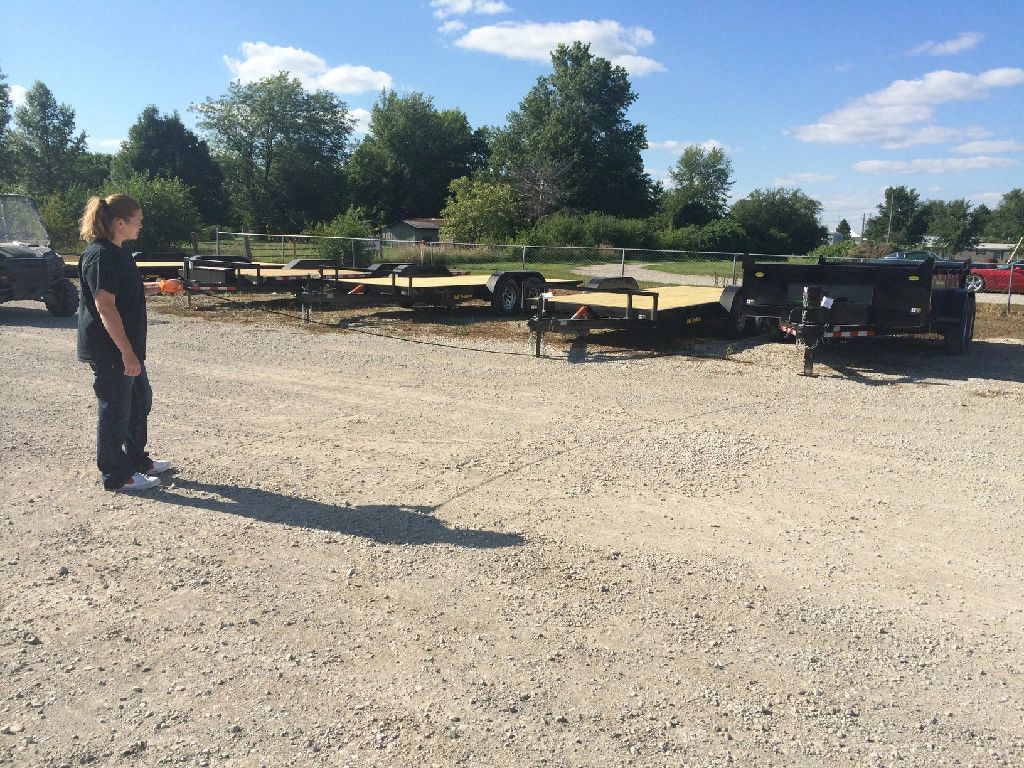 Extended remote cable hooked to the rugged, magnetic base two button control! You should be able to stand where you want while dumping with this unit! Not an option... this is standard on 2015 and up Dump box trailers.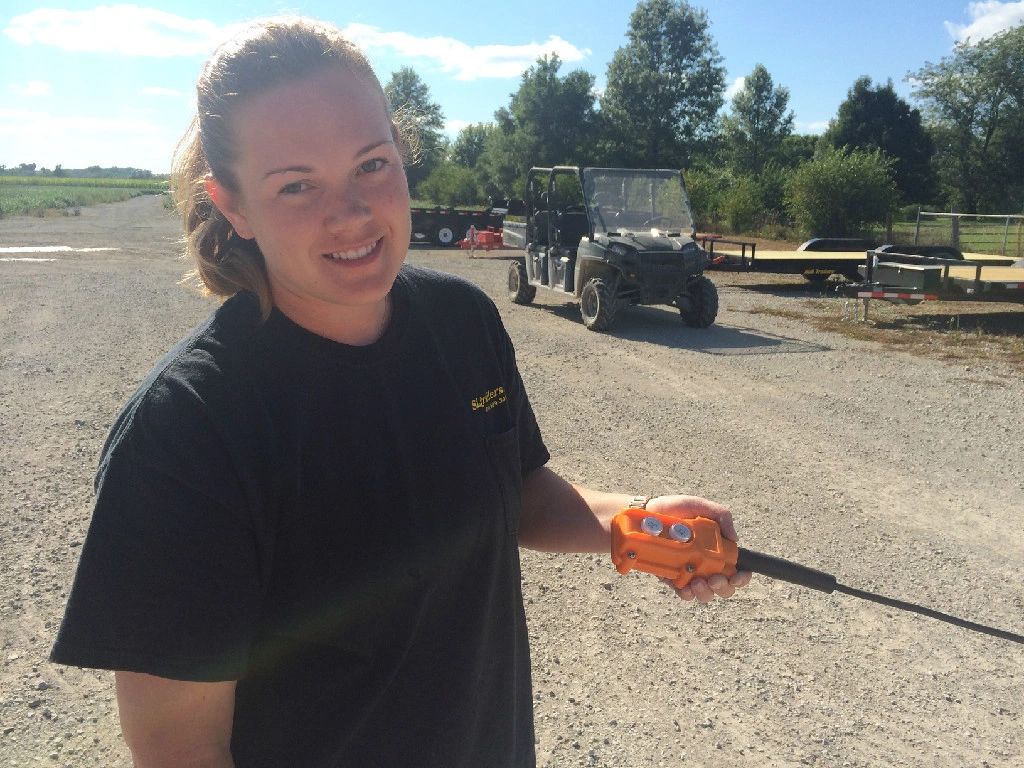 She's a good sport too! I said, here baby, hold this while I take a picture. LOL!
I also want to mention the bigger 750amp hour Interstate Marine Deep Cycle battery that comes standard on every unit. It's a big, long service unit that can be easily replaced or warrantied nearly anywhere in the World, which is a nice side note.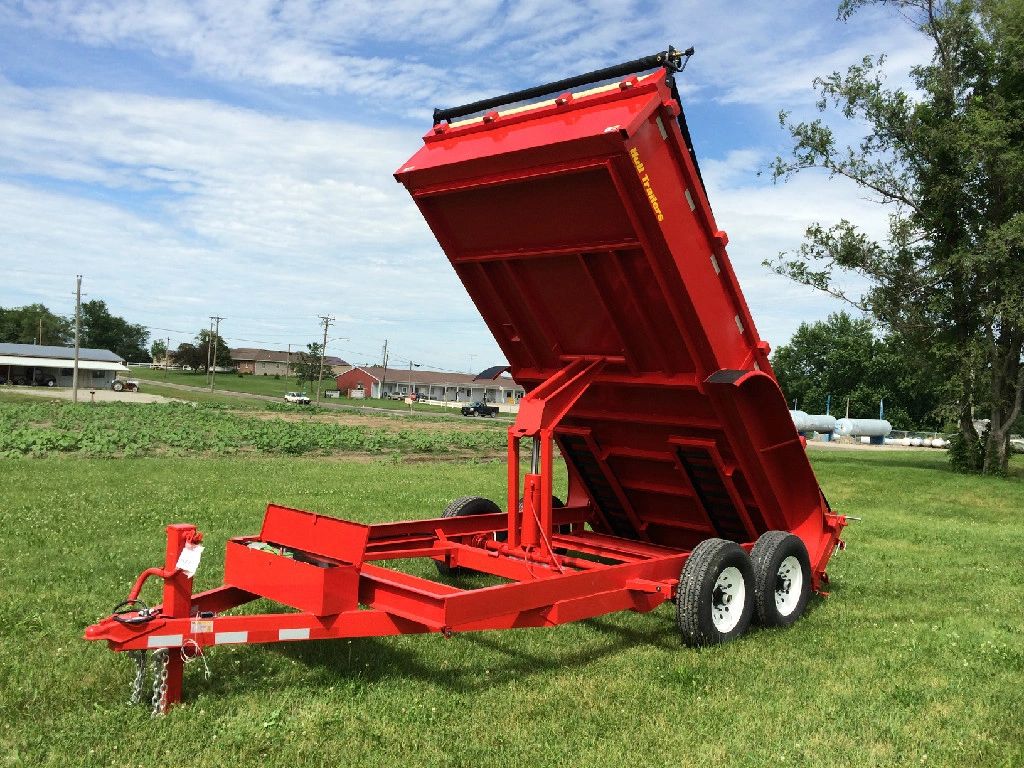 All of that hydraulic power gets funneled through our custom tuffgard hoses to a massive 600 series hoist system. This design, combined with the 3,200psi pump and 750 amp battery give you a solid 5.5-6 tons of dumping power all day long. Period.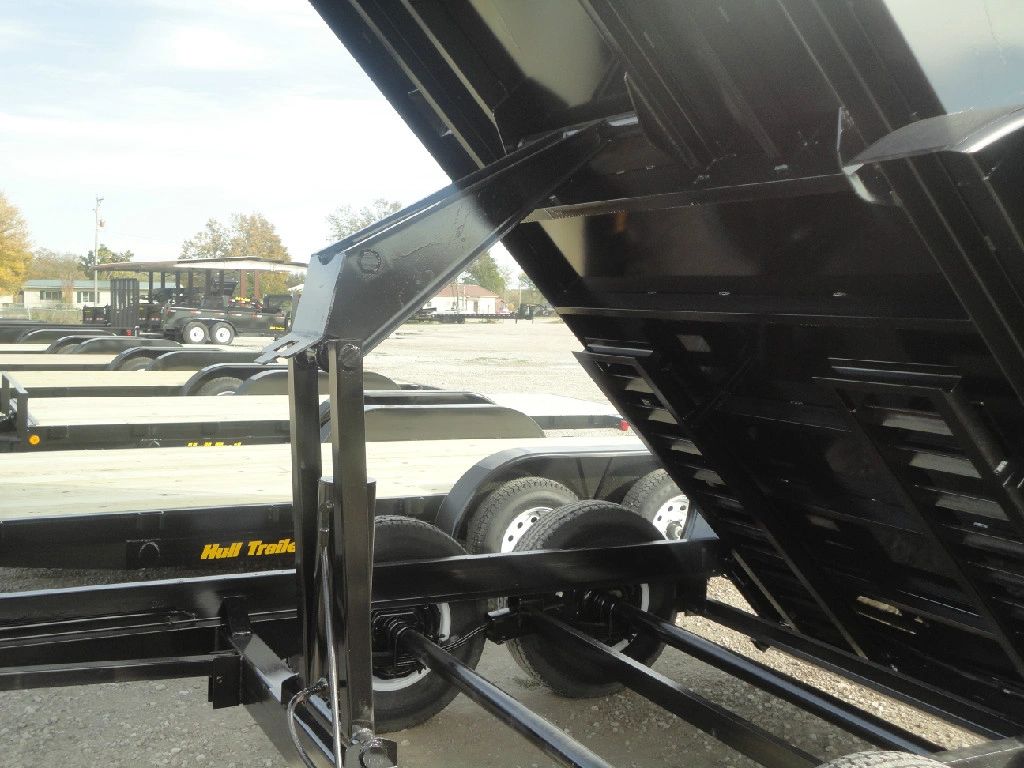 Also, check out the close cropping of supports under the Hi-Tensile 7 gauge steel floor. Well over 1,000 of these have gone out into customers hands since their release and we have had NO repair issues or warranty calls about this floor design. Here's a quick fan shot of one doing some heavy work sent in by a happy customer below.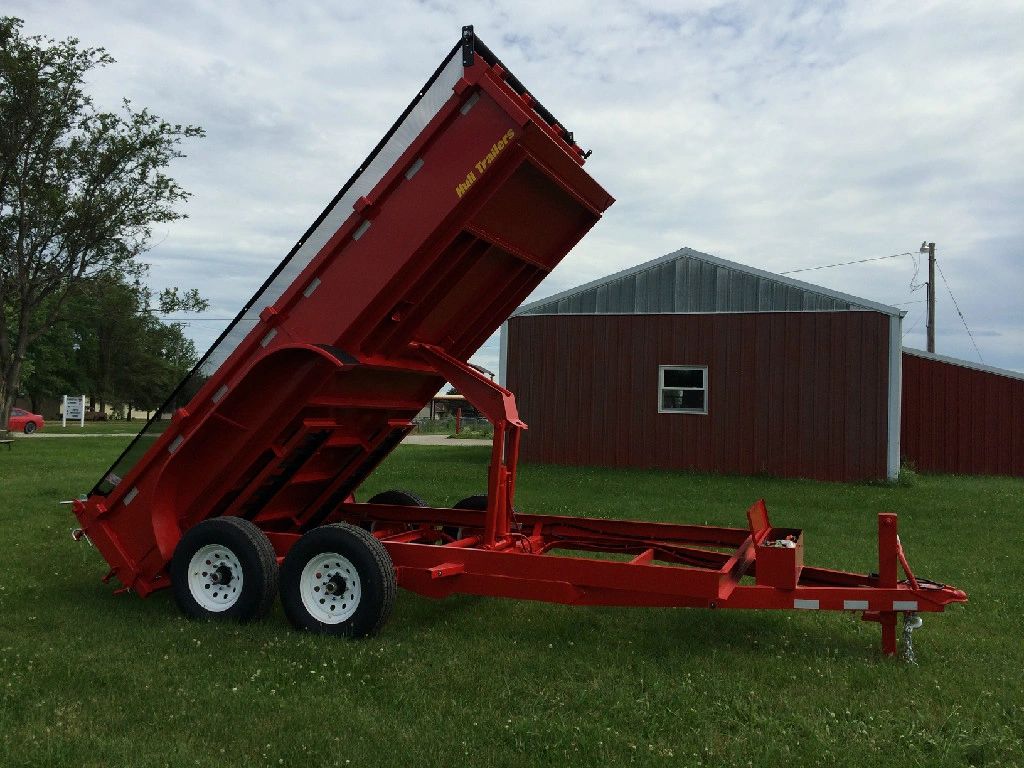 Ok, so we have the toughest frame, the lowest deck height, massive lift capacity and also the steepest dump angle we've seen on a low profile dump box trailer of this type that we have found. A full 52 degrees at full extension.. and isn't being able to actually dump stuff out the point of a dump box trailer?
What good is a trailer if you can't get there and get back. Solid running gear is a must! That's why we chose the Axis Pro-Series system. Here's the rundown for you techy types.
1. Tandem 7,000lb axles with the newest high nickle content springs, plated mount hardware, 12" electric brakes on all four corners and the biggest 9/16" 8 bolt wheel studs you can get.
2. True Easy Lube Spindles. It's extremely handy for keeping things greased when you have to keep running.
Click here for a quick explanation of what they are and what they do.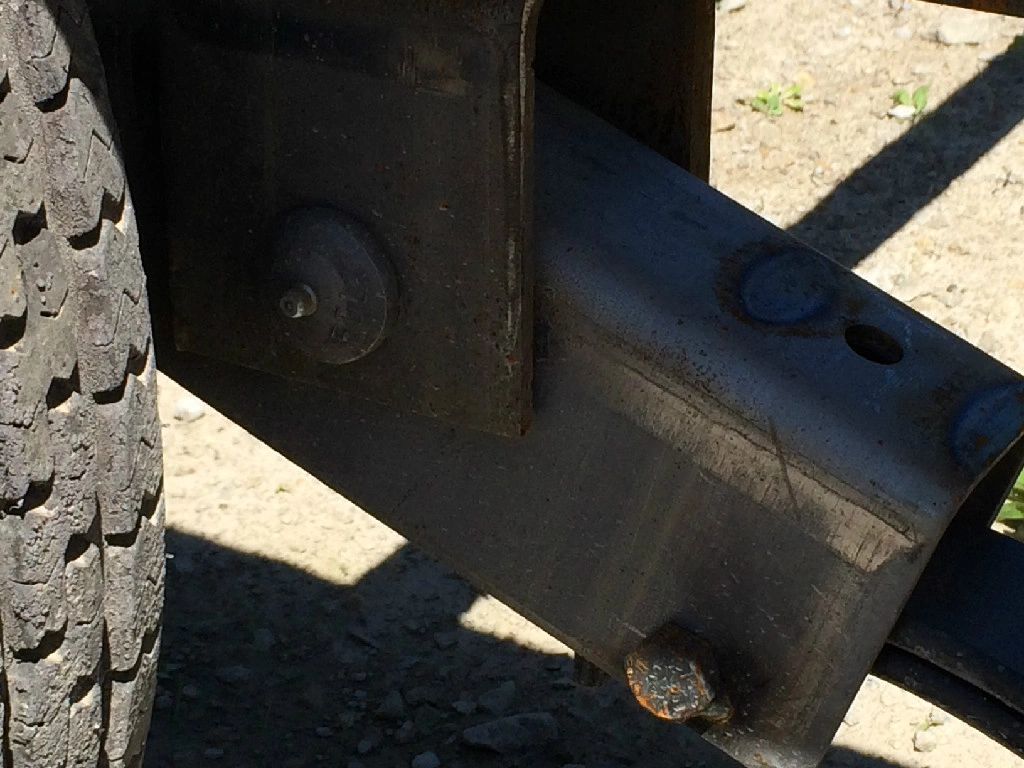 3. Pro-Series Suspension system with the High Nickle content rub pads and greasable center pivot bushings for up to 250,000 miles of service life. (I wanted a close up shot, so I found a naked unit waiting for coatings to get this detail shot of the center pivot)
4. Check out the wheels and tires. New 8 bolt 16" 'disc' wheels (another trailer industry term) with new ST235/80R-16 E rated (10 ply rating) steel belted radials. Are they imports? Yes. But to be honest, someone in China has learned how to properly make tires in the last 3 years because we just don't have any calls about them. Folks are running them down to the cords with no major issues at all, which is a better track record than I've seen on some Goodyear brand tires in the past. Enough said.
In short, it's the toughest, most durable, most easily serviced suspension system we could find within reason.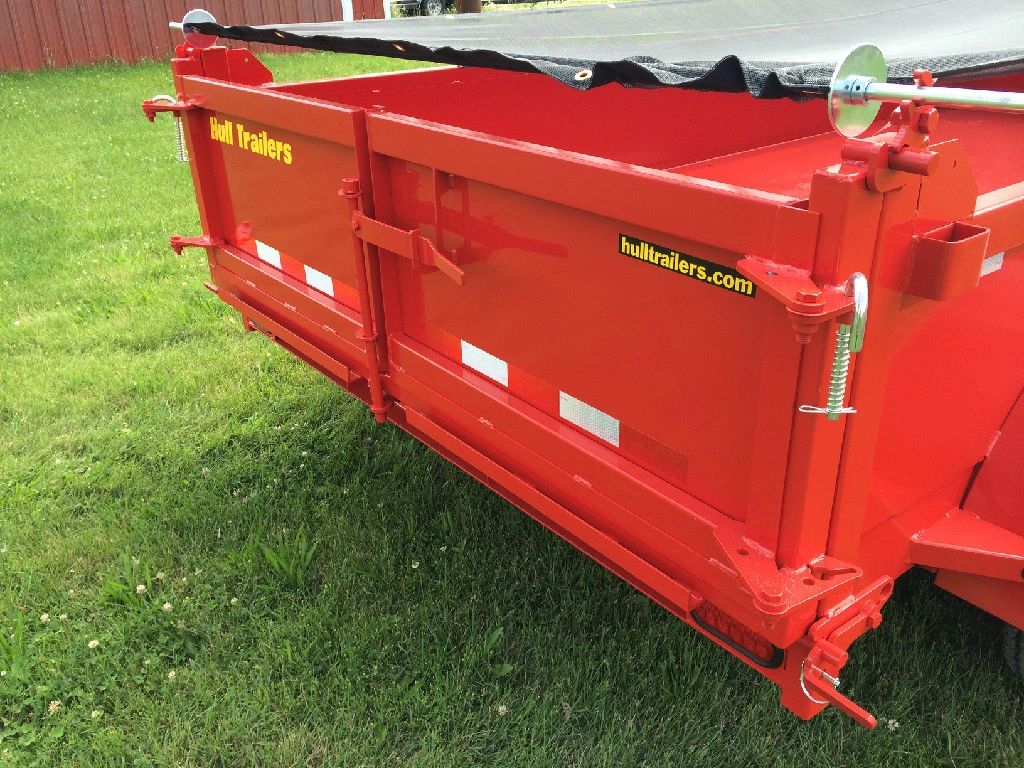 When we started out making this real design, we called on brother Curtis. Just so you know, Curtis is the man who designed every H&H trailer you have ever seen, including the venerable H&H dump box trailer that became the standard of an entire industry.
But, when he was offered the chance to start with a clean sheet of paper, his only comment was, "Good! I'm going to fix everything I hated about the old one."
What you see here is the culmination of 20 years of manufacturing nearly 25,000 dump box trailers. It's worthy of more than a few photos worth of explanation as it is slick from one end to the other.
To operate the barn door feature on our gate, simply push in and lift the lock bar to release the gate locks and you are good to go. No pins to remove, nothing to loose. Which is a plus when you're at the landfill or out in a field somewhere.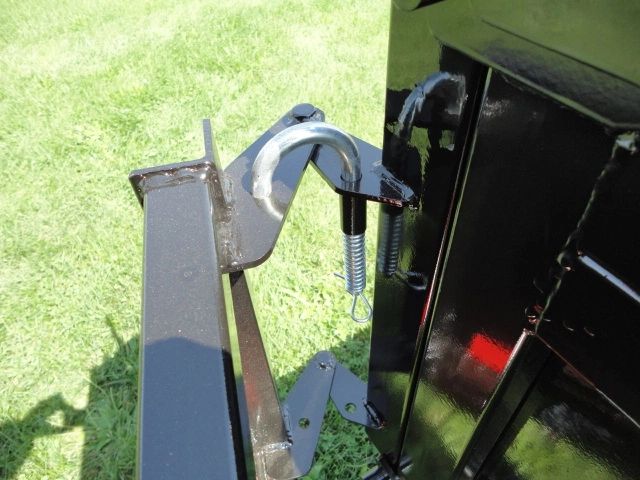 Just swing the gate around on either side and you can lift up and drop these spring loaded J hooks into the pin holes on the upper hinge... once again, nothing to remove, no pins to lose and very simple to operate.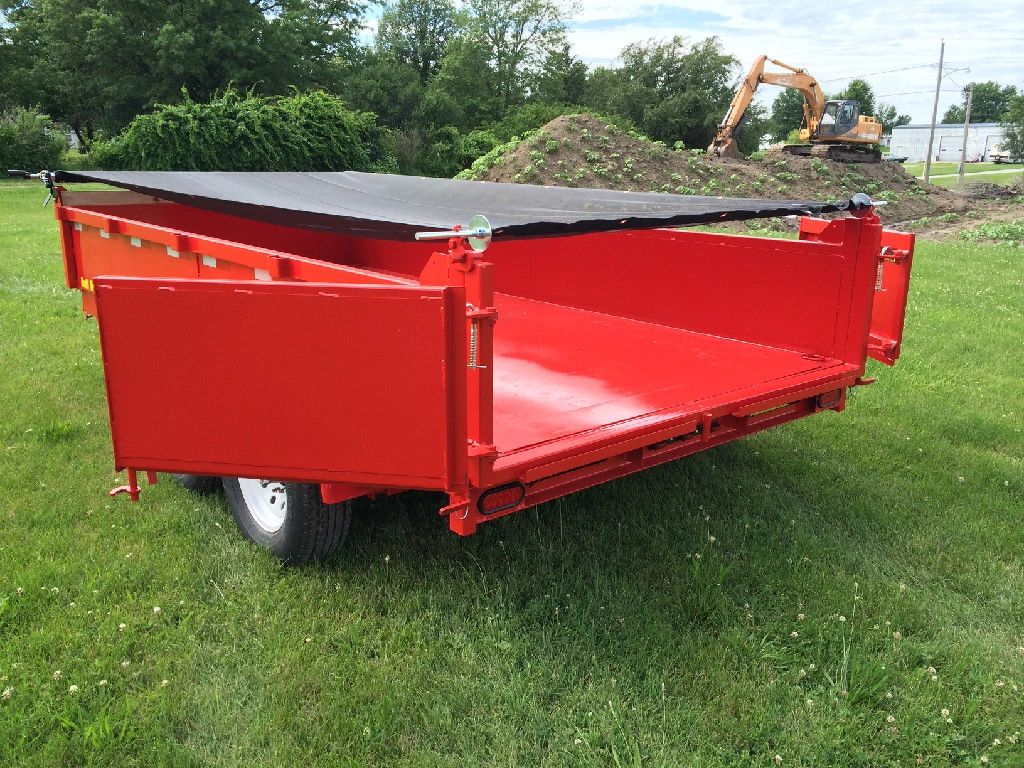 Once you've got that done, you're ready to dump with the barn doors open.... like thus.
And why is that cool lock pin feature handy? Because you can do this... pretty neat.
Or, you can trip the two lower latches and have the gate swing out from the bottom. (Tip! If you want to sound like you're in the know, just call this rock gating!)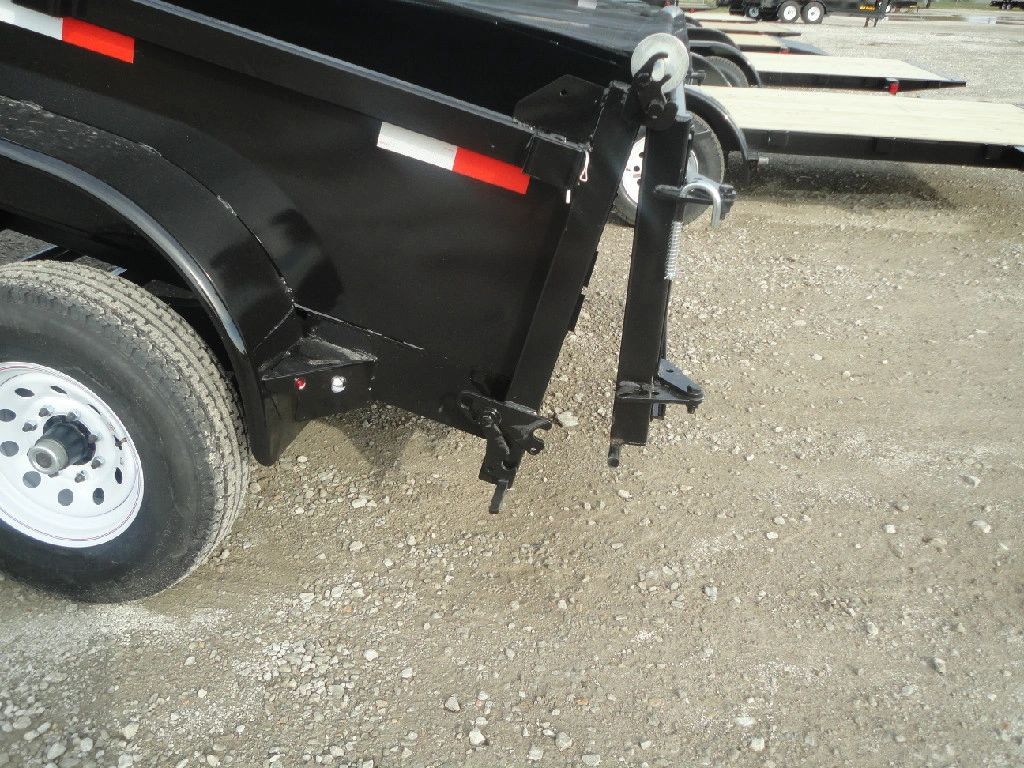 When in rock gate mode, the heavy wall tube of the tail box structure AND the same heavy wall tube of the gate structure really show their stuff, yet it swings effortlessly open as the bed tilts up.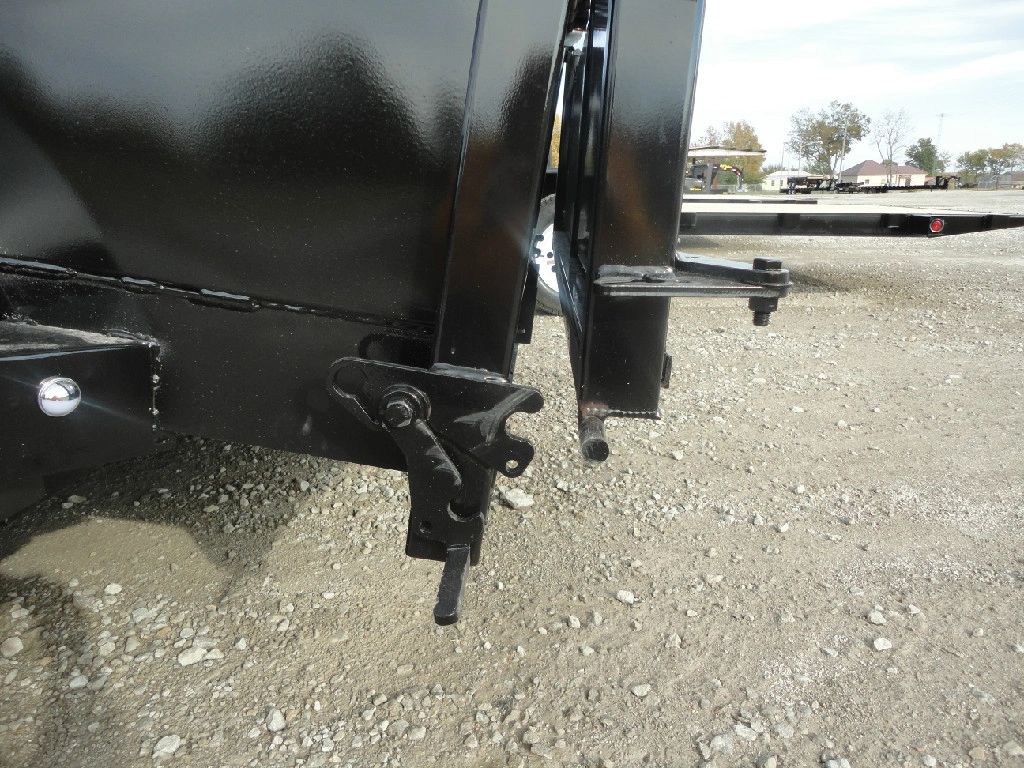 And we even include chain 'keyholes' so you can take some 5/16" lengths of spare log chain, drop one end to the box, the other to the gate and limit how far the gate will come open. This makes it easier to evenly spread gravel, for those who like to be able to do that.
Ramps! Yes... they come standard on our trailer.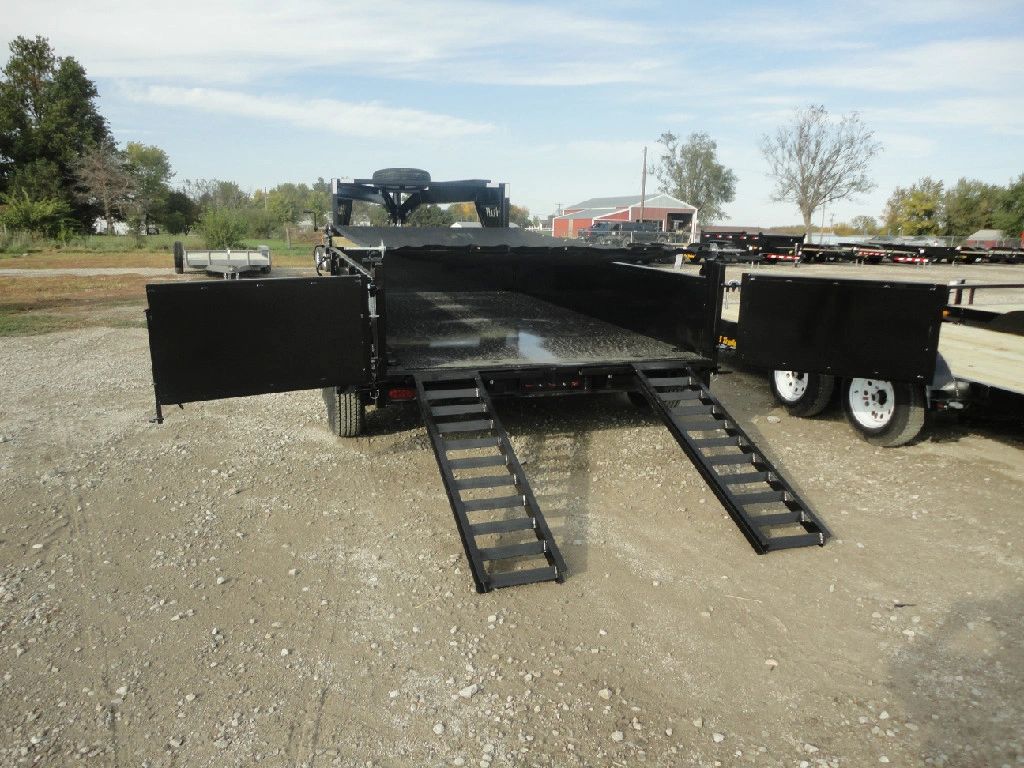 Every dump box we sell comes with a pair of these heavy duty 5 foot long ramps, a full 14" wide and made from 3" channel steel for the side rails. Very sturdy units that hook on the tail of the trailer to load and unload anything that you can fit inside of the 82" wide box.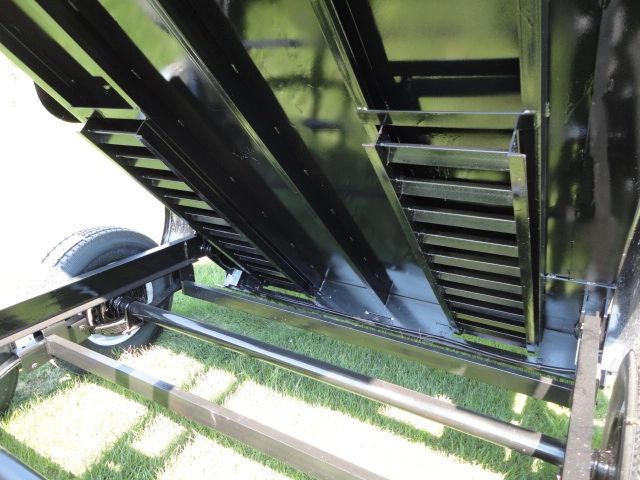 Both ramps slide in from the tail and store neatly in their own underbed carriers out of the way. If you never used them, it wouldn't matter as we hid them away.
Remember how Curtis did his best to eliminate the need for any removable pins or clips that you could lose? Well, he really did something neat on the ramp retainers. This lock bar is spring loaded and has no removable parts. Here it is in the lock position, holding the ramp inside of it's carrier.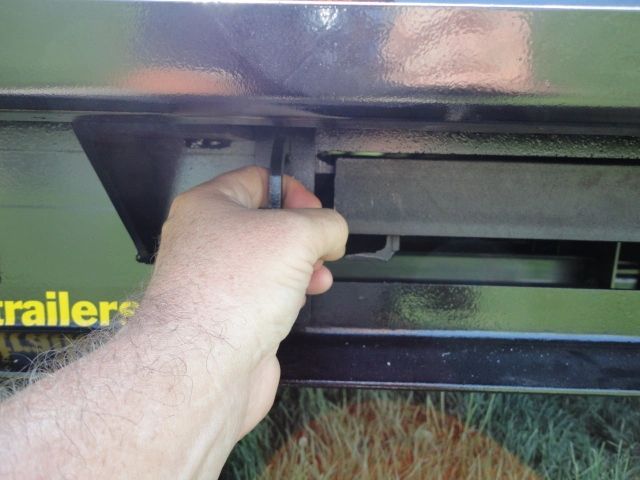 Just pull out to collapse the spring and twist the lock bar sideways to open up the hole and pull your ramp out.
Then just pull the ramp out, hang it on the tail and load. It's about as dead rock simple a design as I have ever seen.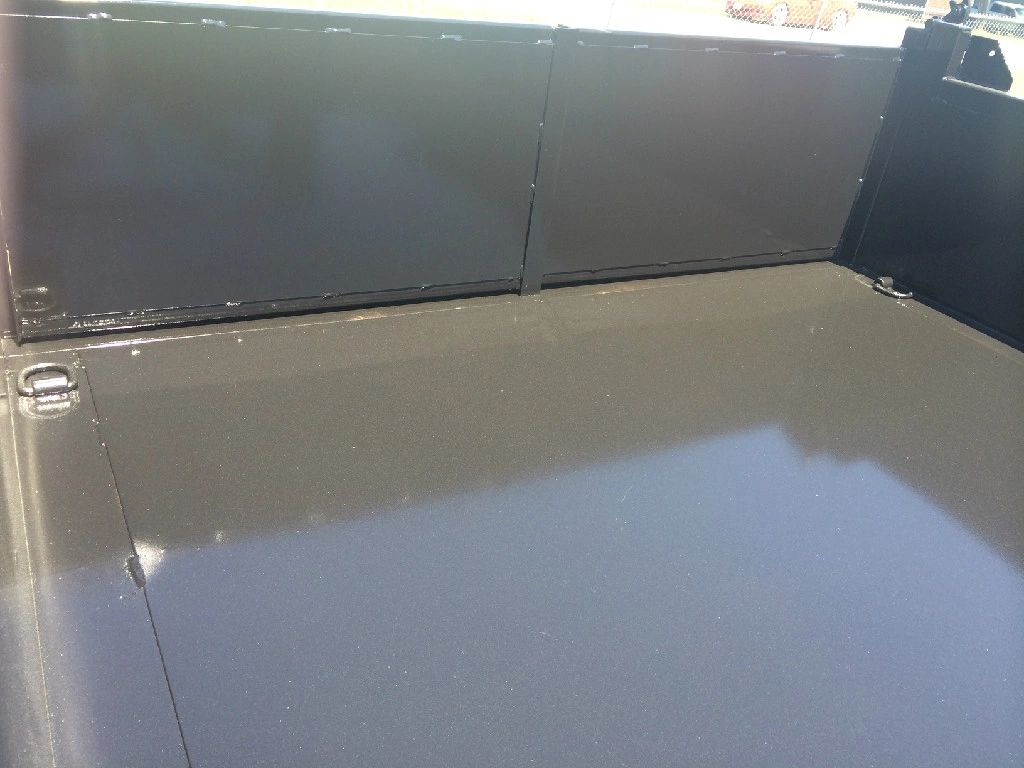 Once you have your skidloader or tractor loaded up, you need to secure it. So, we include D ring tie downs in all four corners of the bed.
With 10,000lb per ring load rating, they are more than strong enough to keep what you tied down... tied down.
In a nutshell... there are all of the reasons why we love this trailer and why our customers love it to. I have honestly never had a product quite like this new dump box. A customer will come get one, then his dad will come get one, who's brother in law comes and gets one, who's nephew comes and gets one... and that's about the best reference you can get for a product.
Keep reading below for our spec sheet and even more neat photos of this unit at work.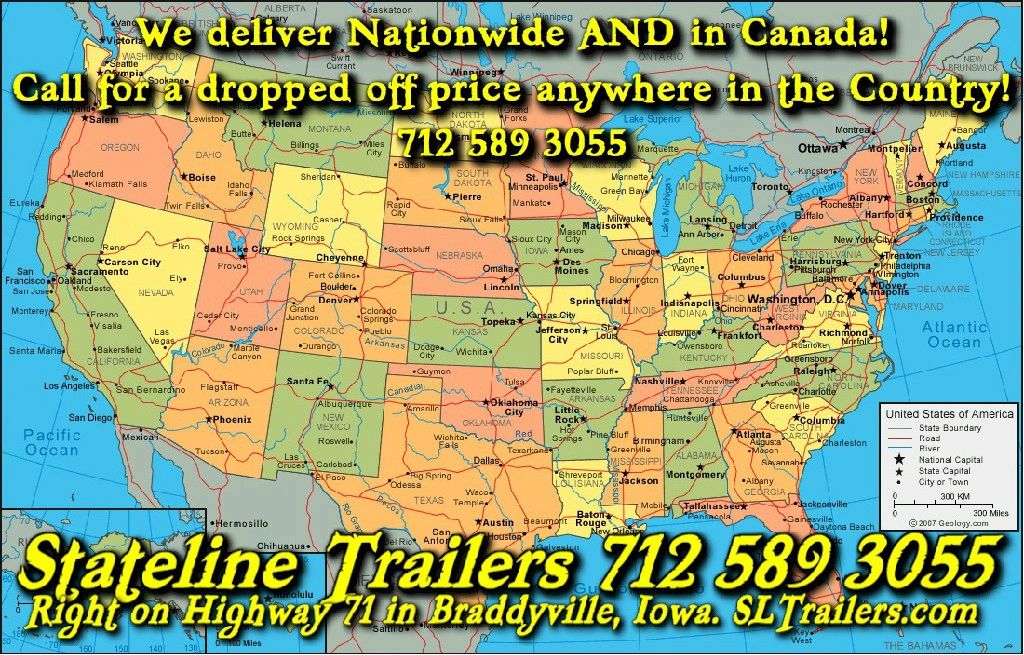 What do our customers think? Here's an email from one! "
Craig , I just wanted to tell you I gave my dump box trailer a good work out picking up some rocks in my fields and also moving some dirt and it worked excellent. Nice product. Dan Mannel jefferson,iowa .
and we also got some fan mail with a photo from Caleb Morgan...
Hi Guys! Just thought you might like to see what the trailer you sold me as been up to the last couple weeks. I'm very happy with this purchase. The trailer is working fantastically. Included here is a picture of a typical load for me. It handles the work load just fine.
I've had several people ask me where I got the trailer. I always point out the website to them and tell them that you're great people to work with. So hopefully you'll get some more business.
Thanks again guys.
Caleb Morgan



Thanks to Jim and his brother John from Omaha for getting their new 14' gooseneck dump from us!



Bryan from Madrid Iowa ordered his 14' bumper pull dump with the $395 reel out tarp kit. Good choice!



Nathan from Underwood Iowa came and got his SECOND 14' dump box from us the other day. He had a fleet of four dump boxes for his roofing company that consisted of two H&H models a Midsota brand and a PJ. He is replacing all four with ours because his guys like them better... we take that as high praise indeed.



Fred from Weeping Water Nebraska is another repeat customer. Here is he picking up HIS second 14' bumper pull dump box for his construction company. It will spend it's days hauling a mini excavator from site to site.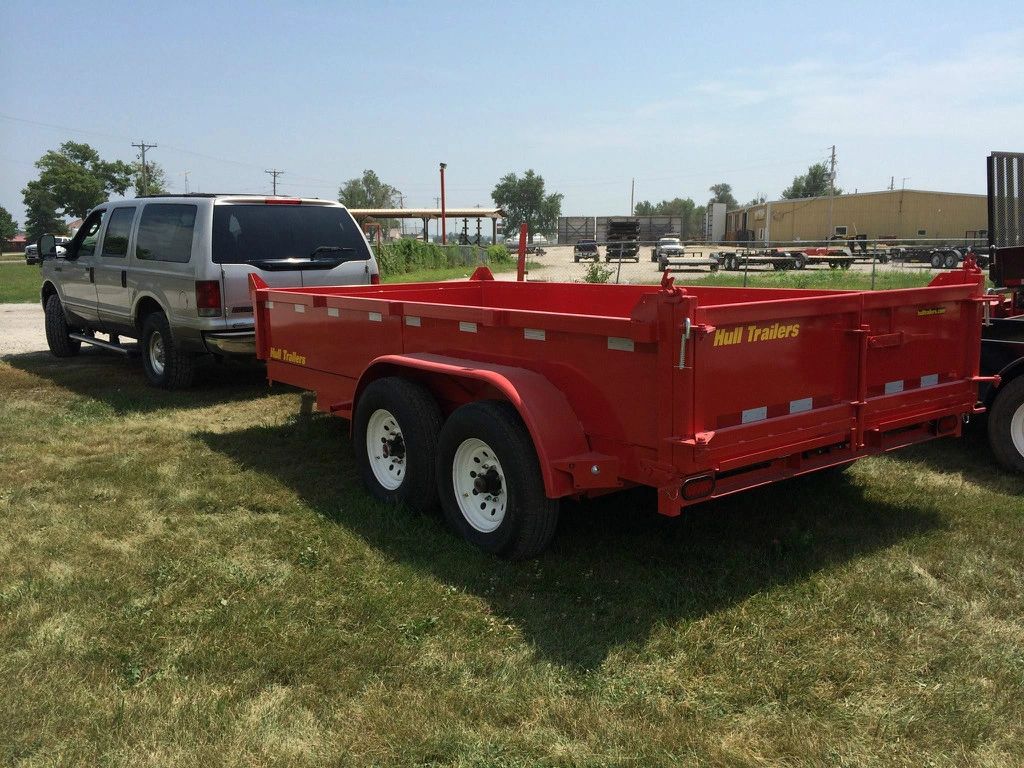 Jim from Sioux Falls South Dakota got his new 14' dump box for his roofing company as well.



Northwest Missouri Cellular is a great multi unit customer of ours and this 14' dump box is just their most recent addition to their fleet.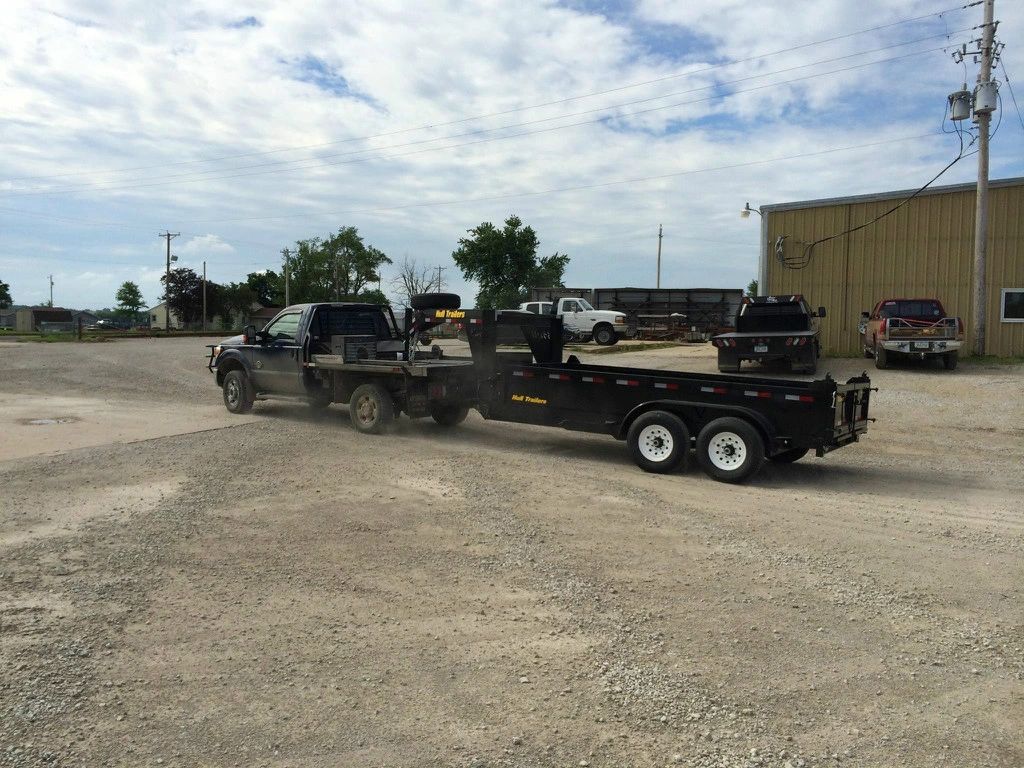 Kevin from Gentry Missouri added on a new 14' gooseneck dump box to his fleet from us as well.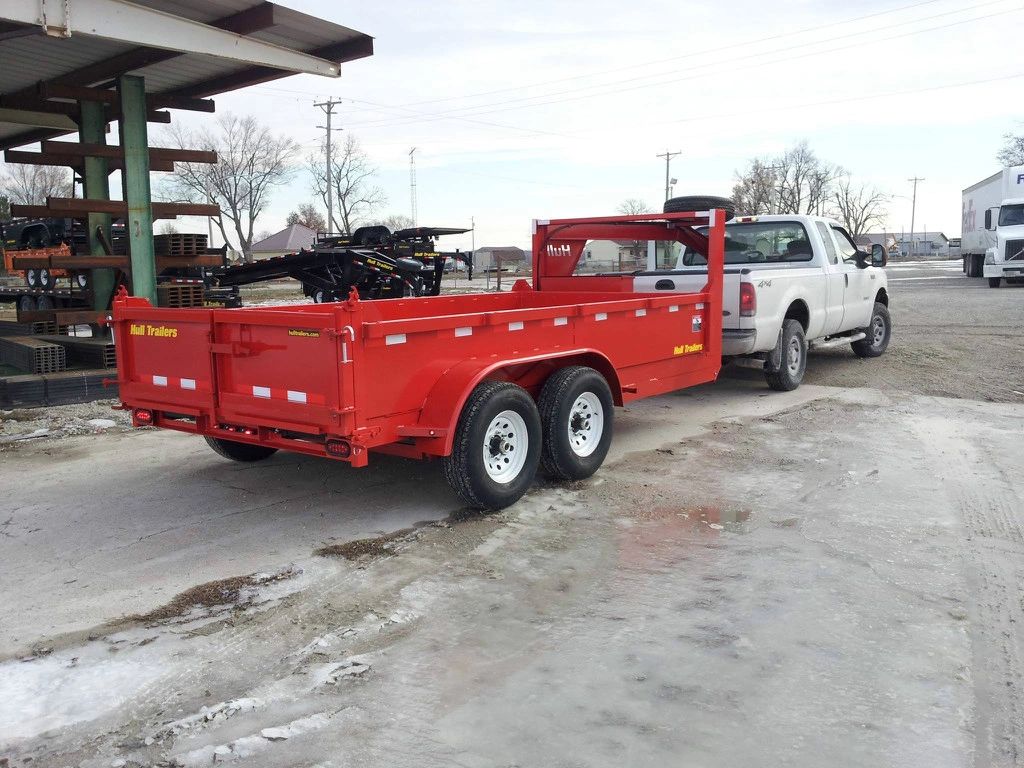 And I found this great shot of a red gooseneck dump box that went to Allied Construction of Denver earlier this spring. Honestly, the only issue we have is building these fast enough. We have the ability to produce about 250 per year tops, so if you want to become part of the family of owners, get your name in when you can.

Now... enough of that.. on to the data sheet and some more neat feature photos.

Hopefully we can make you as happy as these guys! Read on....

Want a bumper pull Dump Box? Scroll down for the entire feature!
Want a Gooseneck Dump Box?
Click here to see the full 20+ photo tour!

Actually!!! Read both... we've put features about both trailers on different sections.
(Hey! We've got 61 different pages
and 1,500 different photos on this site!
Our fingers are getting tired!)

Click here to see the tarp system front to back.

What do they weigh?
12' Bumper Pull Dump Trailer empty weight is 3410lbs
14' Bumper Pull Dump Trailer weight is 3610lbs
Want it in a Goose neck? No problem! Only $675 more!
What is the advantage to a gooseneck over a bumper pull? Many things. It can take an exponentially larger tongue load than bumper pull units, is more stable to pull when loaded heavy and also allows you to maneuver the trailer into much tighter spots with less effort. But, it all has a few small drawbacks. You lose a lot of bed space in your truck while you are hitched up and it makes hooking up and unhooking a little more of a chore. My vote? If you have a gooseneck hitch on your truck, by all means.. GET the gooseneck dump trailer.
Just make sure that your accessory circuit on your tow vehicle is live to your trucks trailer lighting plug and the alternator on your truck will charge the battery on the trailer while you tow!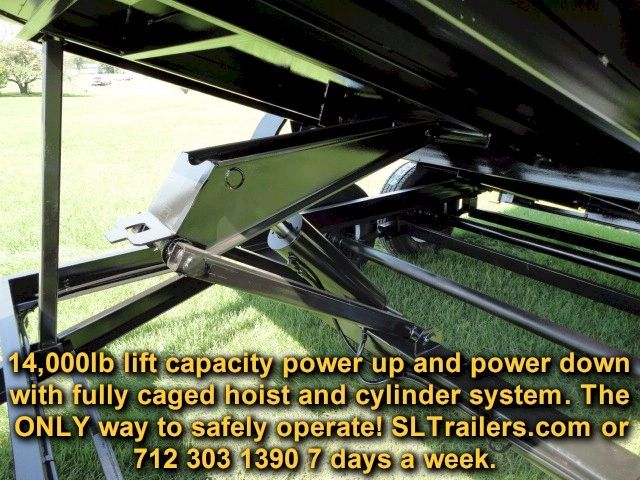 What will this hoist lift? A bunch! In fact this system is over powered for the trailer. Check out the testing photo below... that is quite a little more than a 14,000lb load you are looking at and it dumped it with no problem!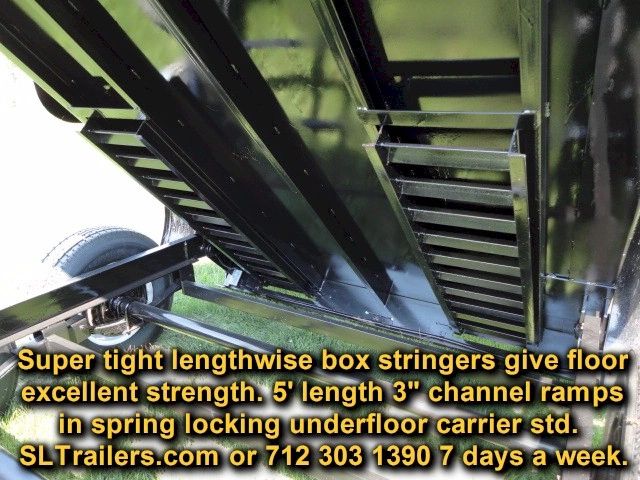 Just pull the ramps out and load even large skid loaders with no problem. Here was our test mule with a T300 bobcat loading and unloading.. tracks and all!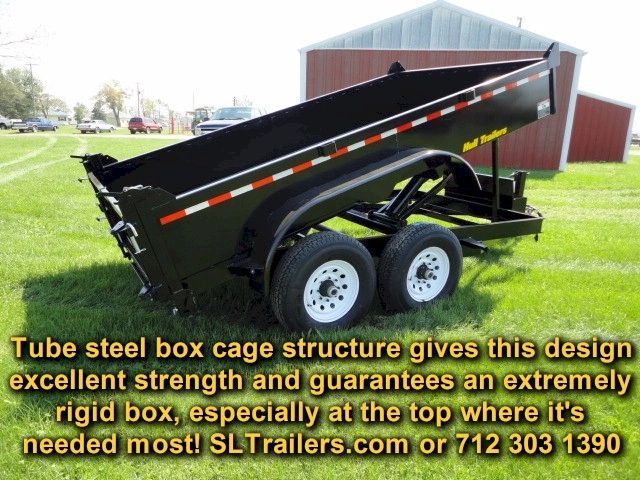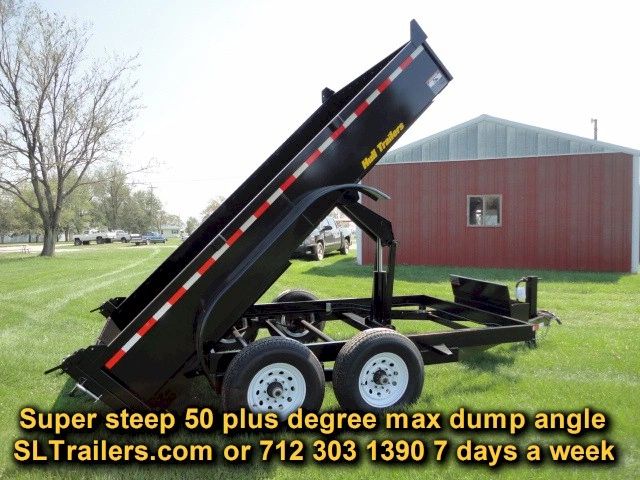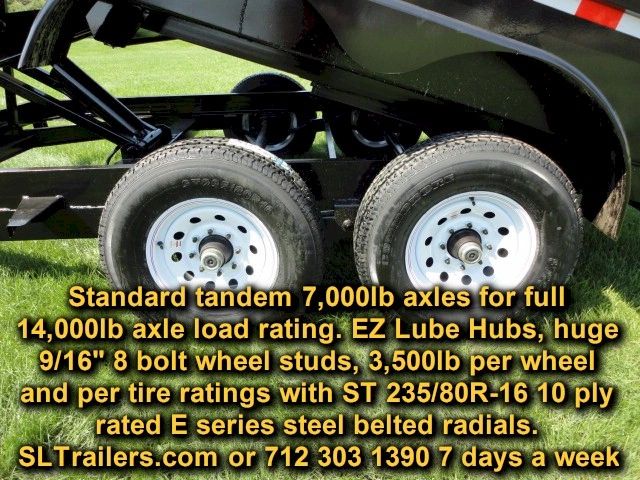 So, what are they designed to lift and dump? Check out some of the test photos for the prototype....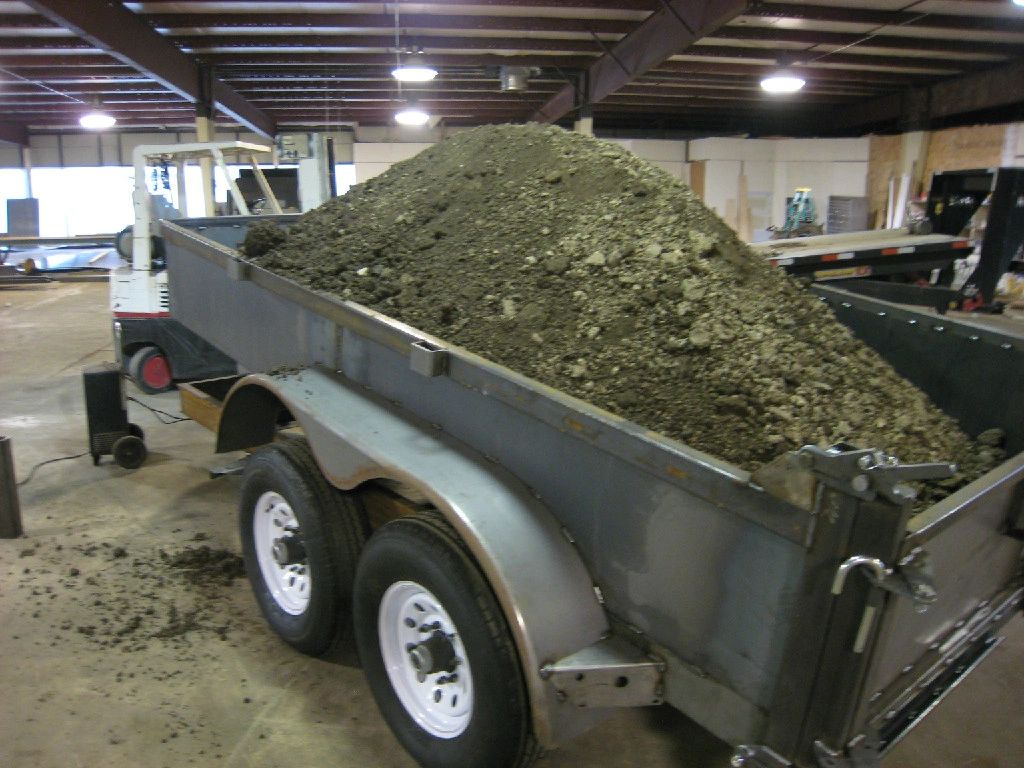 Curtis took the very first unit and LOADED it up to gross capacity with dirt and it tilted and dumped with no problems. We'd like to see actual test photos of other companies dumps!!!! If we say it will do the job, we KNOW it will do the job!
This is the pressure stop test. pick it up, stop it and make it sit still for an extended period of time... keep doing it until YOU get tired. It tests the unit and assures our customers that their new dump box trailer is ready to be used!
So.... what do you think? We believe that this trailer has taken the last 20 years of dump box trailer manufacturing, distilled the very best out of all of the designs Curtis has created in the past and created an entirely new unit that not only does the job better, but safer and more efficiently for LESS money than ever before.
Be assured, nearly every dump box trailer you have seen is some version of a copy of one that we have designed and manufactured in the past. So, the only question is why would you buy a copy of something and pay more money for the copy than the original?
We cannot keep these in stock for long at any time. In fact this first unit was sold DURING this initial photo shoot. Lead times vary, so call Craig and get yours coming asap, before Hull Trailers books production out to the end of the year!