18' Dovetail Car Trailer for only $3,695
Read on and learn more about one great little trailer value.

Watch a neat features video of our 2020 model Dovetail HD Flatbed...

The first question I usually get is, "Craig? What length should I get for a car trailer?"

My answer is still the same: it's pretty hard to beat the 16' plus 2' dovetail for a design. Here is a quick tour of one we built for a customer to help you better get a feel for what you get for your money.

Here's our current pricing sheet with a few options, but as always, our options list is as long as your arm so call 712 589 3100 and let's talk about what you need.

HD Flatbed Trailers.


10' $3,695 -----(no room for ramps- $100 for
12' $3,745 ----- 6' Bobcat Ramps) or
14' $3,825 $100 upcharge to go from
30' $5,675* - Gooseneck option strongly
32' $6,145* recommended on lengths
34' $6,825* over 30' – add $675 for GN
36' $7,375* w/ spring loaded 12k jack
38' $8,525** - 38' - 44' - GN ONLY -
*= Must do 9990lb pack upgrade as well
OPTIONS:


2' dovetail- $250

4' dovetail- $450

Bulldog coupler- $85

Adjustable height coupler- $95

12k jack- $175 or dual 12K Jacks- $350

A-Frame locking toolbox- $200

GN Locking toolbox- $200

GN Extra wide locking toolbox- $300

Steel floor- $60/ft (diamond or smooth or open pit)

12" tall sides- $35/ft

Removable fenders- $200

Drive over fenders- $300

Gooseneck hitch- $675 w/12k jack

9990lb pkg- $750

14K pkg- $995

16K pkg w/ G rated 16"- $1,695

16K with 215 radials- $1,895

21K Triple 7's- $2,495 w/ DOF

Upgrade to 225's- $135

Upgrade to Alum. Wheels (4)- $400

Loose 205 spare- $120

Loose 225 (D) spare- $130

Loose 235 (E) spare- $150

Loose 235 (G) spare- $200

Spare mount- $50

Bobcat ramps- $250

Spring assist on bobcat ramps- $200

Winch plate in front or tube- $125

Winch plate in floor- $175

2,500# Mechanical Winch w/ removable Mount & vertical winch tube- $300

Low Profile Monster Ramps- $1295

Rub Rails- $10/ft

2021 MODELS are here!
Every unit has the extra wide 84" wide floor now standard!

What we have here is our very versatile 16' hd flatbed with 2' dovetail option. Empty weight is only 100lbs per foot so this 16' plus 2' dovetail model weighs in at a svelt 1800lbs. The trailer is good to carry 7,000lbs gross in std trim shown, which means you can haul up to 5,500lbs on top of the deck any day of the week.
This complete all steel dovetail unit, which adds an additional 2 feet of overall length to the trailer, is $250 as an option and adds 2' on to the overall length. What is the dovetail good for? Well, put simply, it tricks whatever you are loading and unloading into thinking that you have a 7' long approach ramp, which keeps cars from hi centering, while allowing you the back-relieving pain of only having to tote a 5' long ramp in and out of the carrier. If you are planning on loading something that you are concerned about dragging or hi centering while loading, the dovetail option was made for you.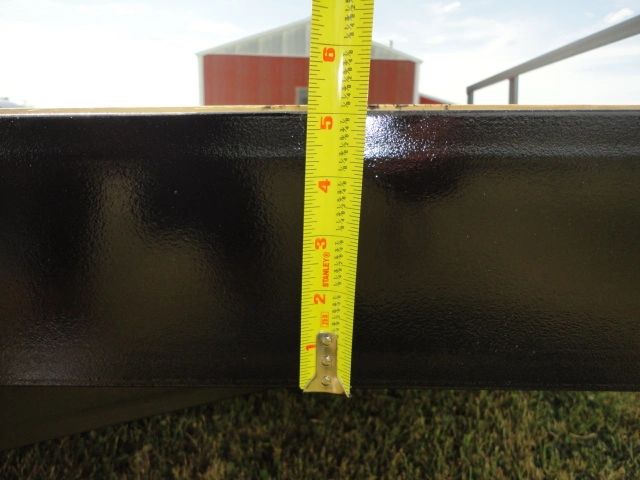 But, let's go into the little things that make our trailer useful, strong and reliable. It's all about the basics. One of the MAIN things about a flatbed trailer that will either make it strong and useful, or cheap and worthless, is the choice of materials for the frame, tongue and cross members ... this IS the main skeleton and support system for everything else, so make it strong. That's why we ONLY use a minimum of 5" tall 6.7lb per foot Schedule A36 channel steel on the main frame AND the tongue of the trailer. It gives you incredible strength, while allowing the frame to flex when needed, and gives us the ability to easily place a full 10-year frame warranty on this trailer model.
Why not angle steel? Well, angle steel is strong in one direction, but not so much in the other, and trailers like this get worked from every angle ... so we choose 5" channel as the base.
Why not tube steel? Well, tube is strong in pretty well every direction, but it really isn't very flexible, and trailers like this get flexed constantly when being used ... tube will crack long before channel steel will fatigue, so, once again, we choose channel steel.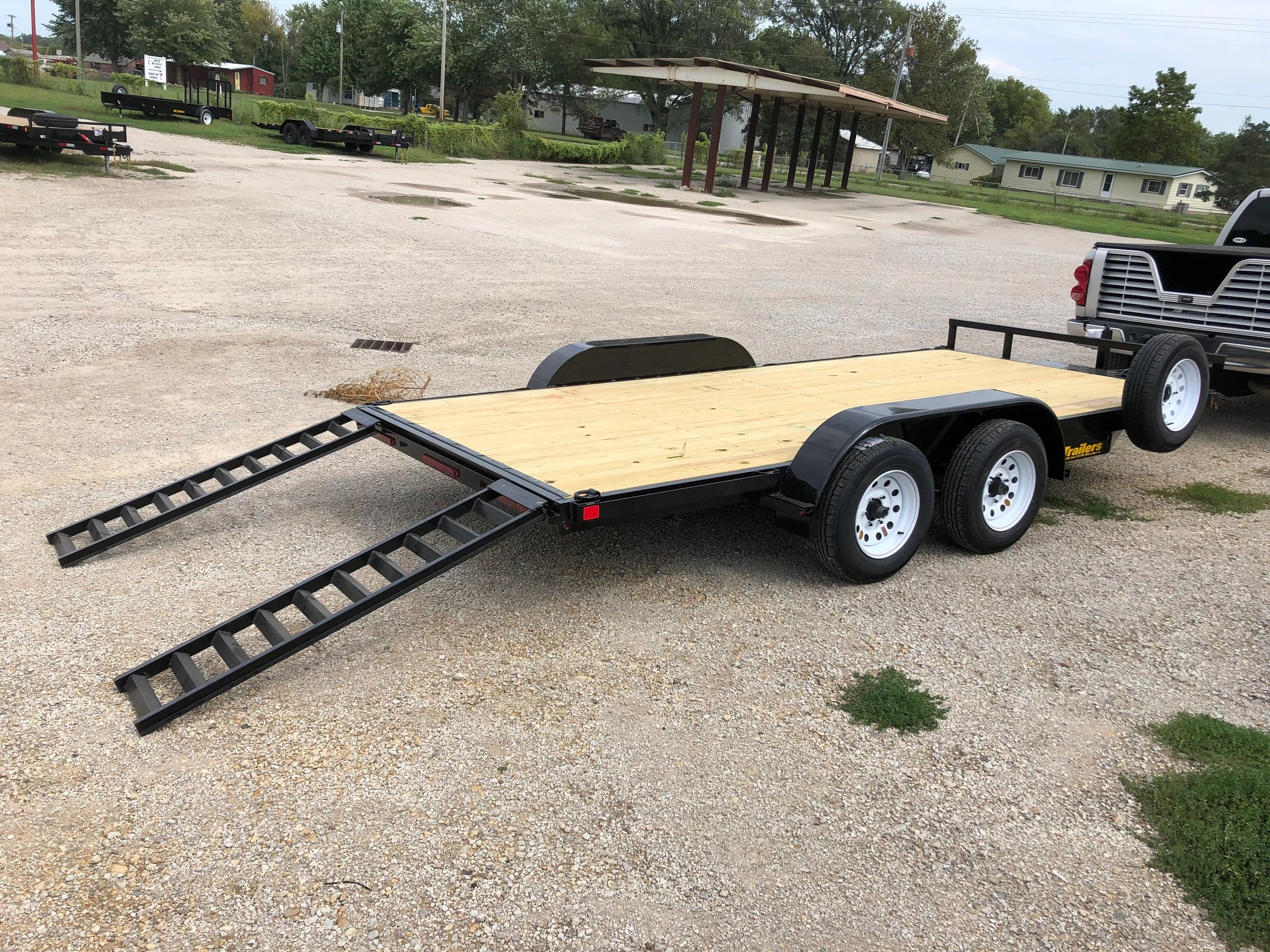 Good basic car and equipment hauling transportation ... this unit has a low 21" std deck height, a floor width of 84" between the fenders, and is equipped to run commercial in the US and Canada, as supplied.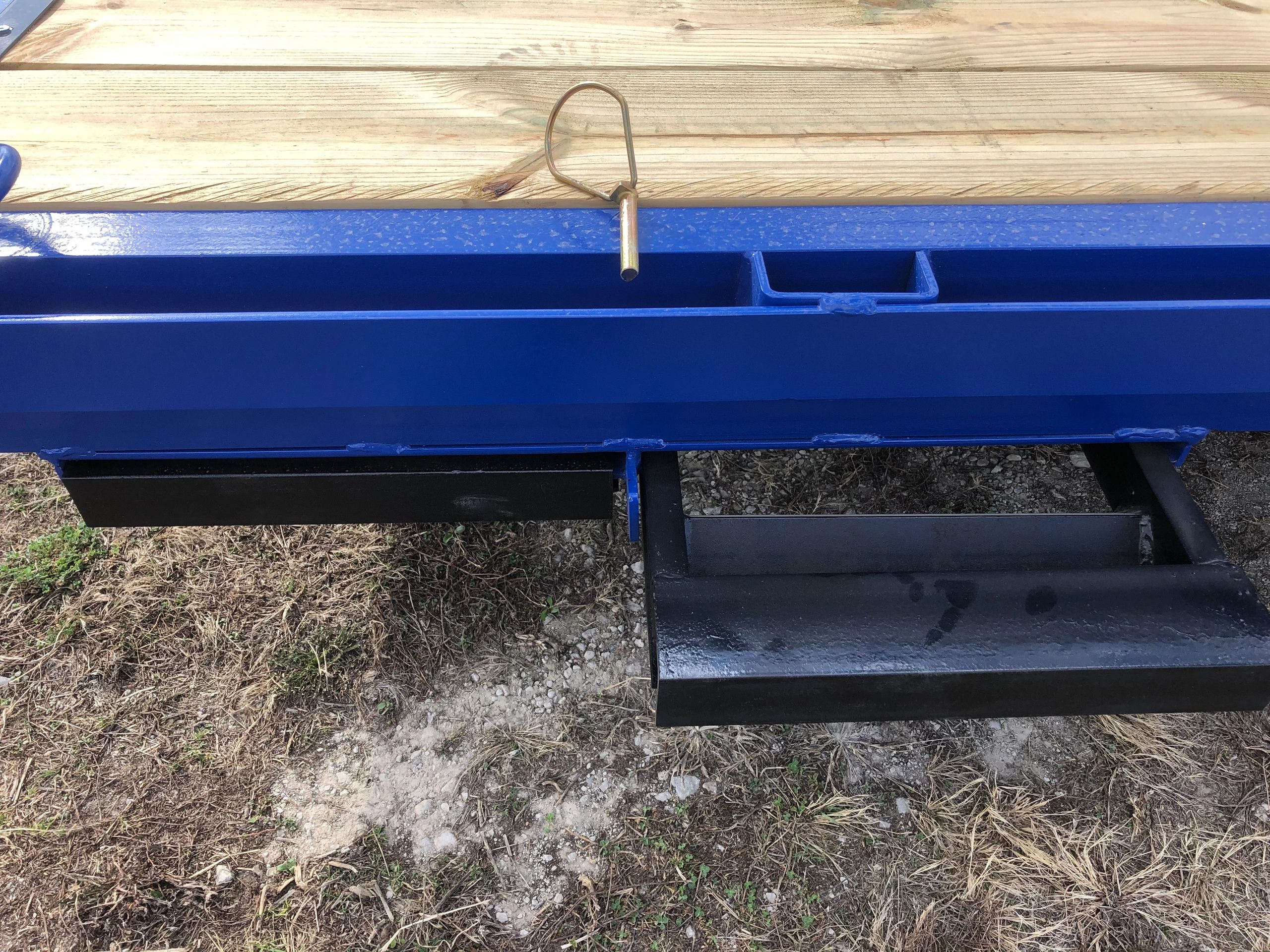 Each unit is standard with a pair of 5 foot long channel steel ramps in their own underfloor storage. They are included in the std price -- no add on needed.
I will get back to pound on this some more but you guys are keeping me busy on the phone ... just what you see here took me 5 hours between phone calls. In the interest of fairness to you, I also recommend you click over and read about the rest of the specs on this model in the non-dovetail flatbed feature I did on the site ...

Learn more ... Click Here ...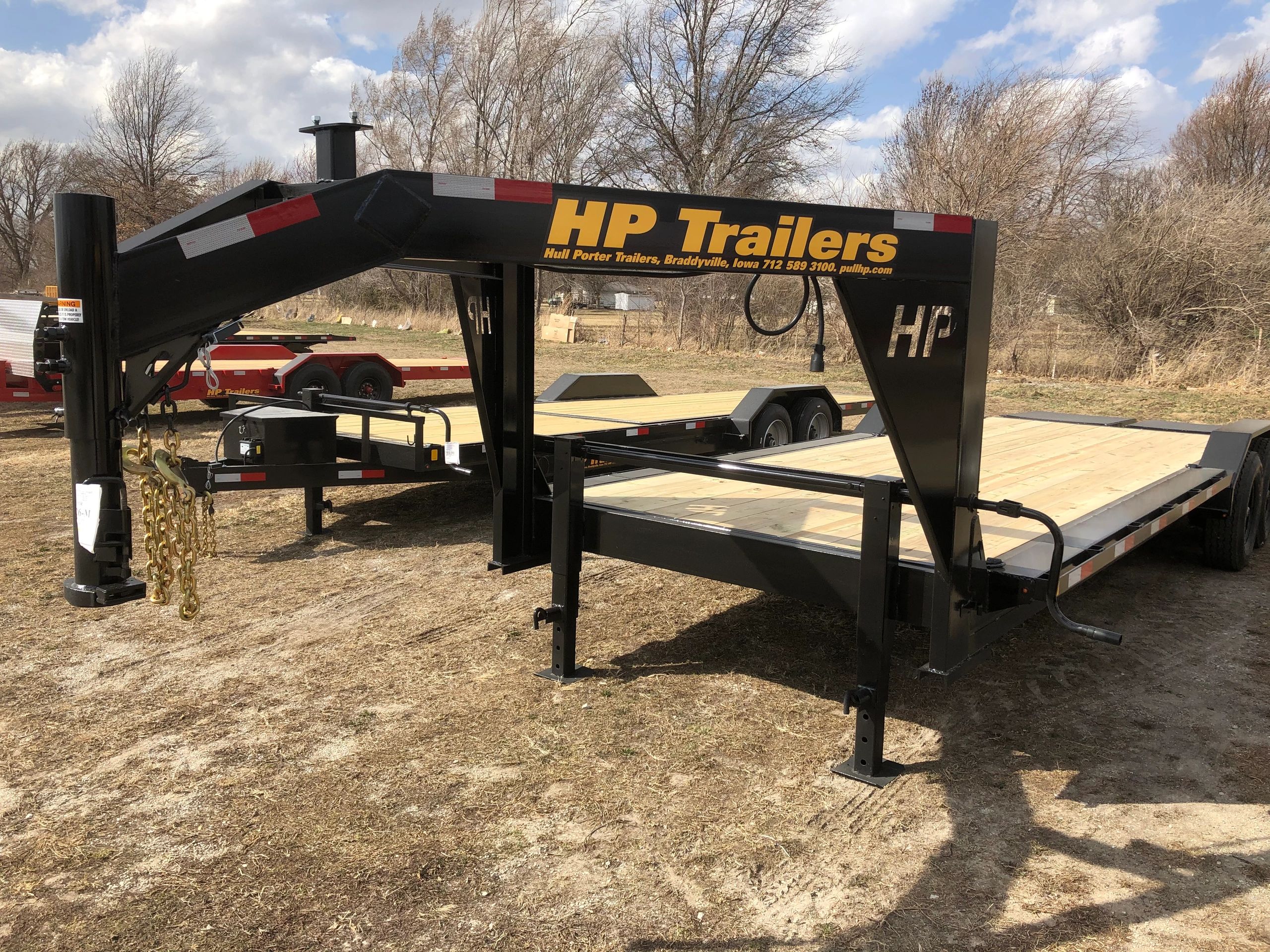 Need your HD Flatbed in a gooseneck chassis? No problem ... you'll get it upgraded just like you see in this photo, with adjustable height gooseneck coupler on a drop down channel steel gooseneck tongue, 12k dropleg spring loaded jack with side crank, big gussets on the frame and neck and a few other neat little features for $675 more.
Need more capacity? You can upgrade this unit to a 9,990lb trailer or a full on 14,000lb GVWR unit (shown above) for anywhere from $750 to $995. Call Craig at 712-589-3100 to get the full details on how this actually creates an entirely new trailer within a trailer and gives you all you need for an excellent price.
HP Trailers
phone
712-589-3100
Back to top of this page.
Back to Main Page.