SCROLL DOWN AND ENJOY!

NOTE: This is a rolling, growing page filled with older models and older prices at times. We keep this page up to give you an overall idea of the things we build and invite you to call 712 589 3100 to get your CURRENT price on any trailer here.

It pains me to even have to say it, but for some reason we have to forewarn people about pricing changes to eliminate the angry 'But, I saw one for $85 on your web site!! What kind of low down horse thieves are you people!!!' comments.

Read, enjoy and call us to get a currently updated version of anything you see here with a current out the door price. Just call us direct 712 589 3100.
~ thanks. Craig


Custom Trailers are no big deal for us. From one off total units, to just special little mounts and things that suit your needs, Stateline has the experience and the know how to make sure your ideas actually get turned into something useful. AND... we will try to keep you from making mistakes along the way! Use 20 years and nearly 140,000 trailers worth of experience to your advantage. Tell us what you want to do and we may know of an even cooler and more cost effective way to do than you'd thought of!
Need a custom quote?
phone 712 589 3100

Cool trailers headed out the door....
Phil Plecher wanted "the last trailer" he would ever need to buy at the stoic age of 65 or so. He did a ton of research online and chose to get that trailer from us! We were flattered. Here's a photo Phil sent of his new trailer at work.
It's a 20' MT tilt with 9,990lb GVWR package and teardrop fenders. Looks good!!

A customer of ours from California ordered up a new triple axle ET tilt trailer with all of the bells and whistles. This 28' ET tilt is loaded for bear and can handle a load. Here are a few phone shots he emailed us with 16,000lbs of forklift parts on board. He said that the trailer handles these loads daily with NO issues! WE are glad to hear it! Thanks for the business!
Are channel steel fenders tough? Ask Jeremy!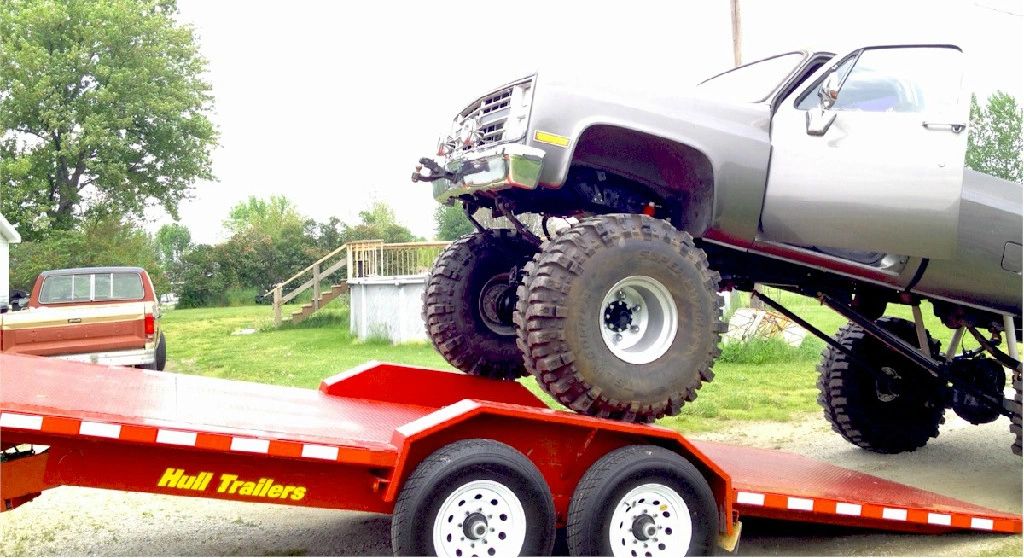 Jeremy loved my personal trailer..
(you can view my personal trailer feature by clicking here)
so much that he had me build him a copy of it, but he wanted it in the heavier 14,000lb capacity. He and his buddy decided to test the channel steel fenders and put their mud swamper truck on it to test it out. His email said it best... "These fenders don't flex! they could do this all day!"
With his truck running a full 96" wide at the tires, the 102" floor option was a necessity as well. Good looking truck!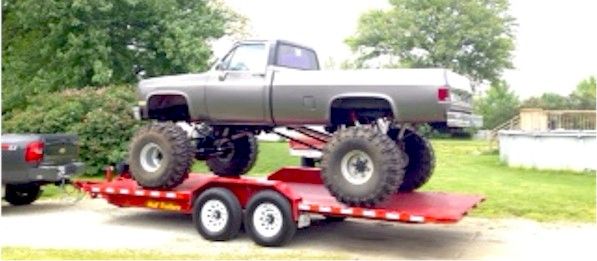 One neat little custom 18MT tilt.
When Rob Maroc ordered up this Red 18MT tilt, he pretty well ordered every option that most of our customers want. This 18MT tilt has the $200 removable fender option, the $180 rub rail option on the stake pockets, A $175 winch mount plate installed so that a winch can be added later, The STANDARD 8,000lb drop leg jack set back in the tongue and the newest STANDARD LED package with the super cool Thinline LED tail lights. All in all it's a ton of cool trailer.
Check out the full feature on it here!
But...if you want my pick for a cool little car hauler, check out this custom 18ET push button tilt trailer we built for John from Denver to haul his 55 Chevy around on....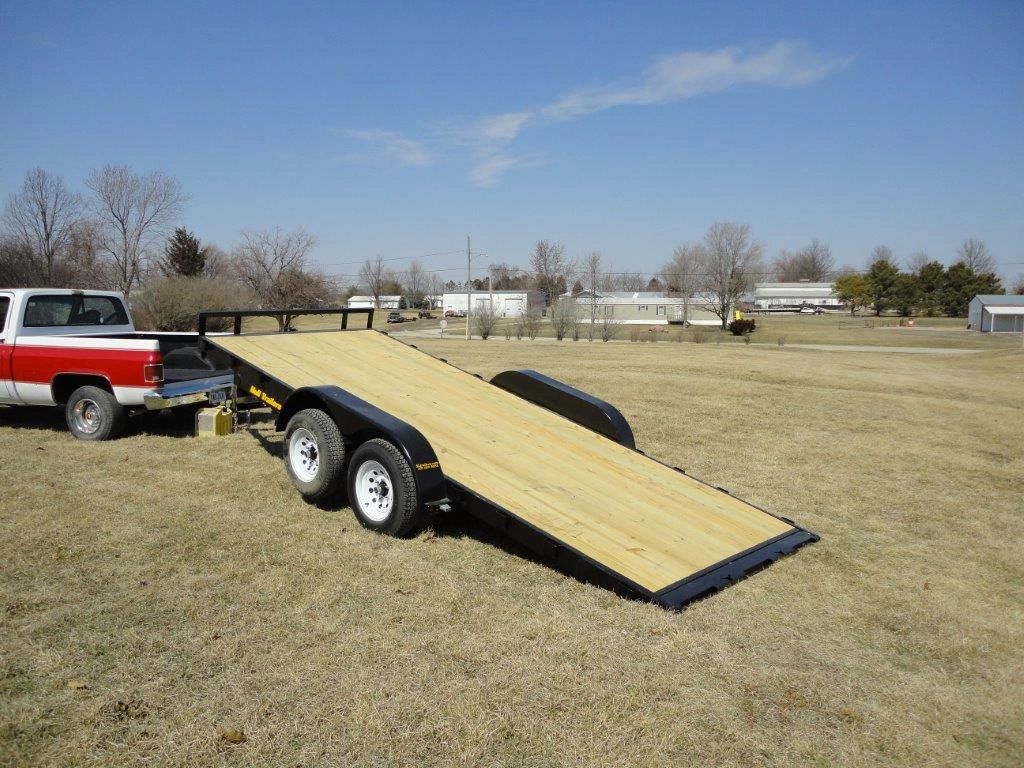 Complete push button tilt trailer coolness in a compact 18' bed length and the two must have options of thinline LED lights and the 7k dropleg jack feature? It's pretty sweet.
I talked about it here.. click the link to see more.
Custom Length for a custom job.
Our friend and customer Chip had a very special need when he ordered his new trailer. He had this sweet little Fox Bodied Mustang that he drag raced, so the trailer had to load and carry it for him, but he also had another special request that we were more than happy to take care of...
Chip sent me photos of his custom length 15' plus 2' dovetail car hauler loading his drag car. He said that it was as simple as dropping the ramps in place and driving it on... just like you would hope.
Once on the trailer, he straps it down and is ready to hit the drag strip! THAT is what a good trailer is supposed to do.. make your life easier, not harder.
Looks good, Chip! But, why, might you ask was Chip so adamant about having his trailer 15+2 instead of our std 16+2 dovetail model? Well, because he has a special place he hides his trailer when not in use.... check out the last photo.
Chip has created this nifty hiding spot for his trailer underneath his rear deck. He hooks it onto his UTV and backs it under the deck, where he swings around the deck skirting and makes the entire trailer invisible, which keeps the home owners association at bay, I would presume. So... do you have a special hiding place you need a custom trailer built for? Give us a call... we didn't charge Chip much of anything for the custom length feature and we won't ask much of you either.
12/01/2012
The Ducktail Trailer is now available!
What might you ask is a ducktail trailer? Well, it's a feature we can add onto any 20' or longer E/T tilt trailer to allow your super low car to climb up on the deck without damaging those expensive carbon fiber splitters and ground hugging spoilers. Check it out...
By creating this 10 degree upkick on the tail, your car actually get to rise up a very slight 5 degree angle for the first four feet of loading before it transitions onto another 5 degrees of angle. By breaking the loading angle into two stages over the first four feet, you can drive on and off without that nasty grinding sound.... you know the one I'm talking about!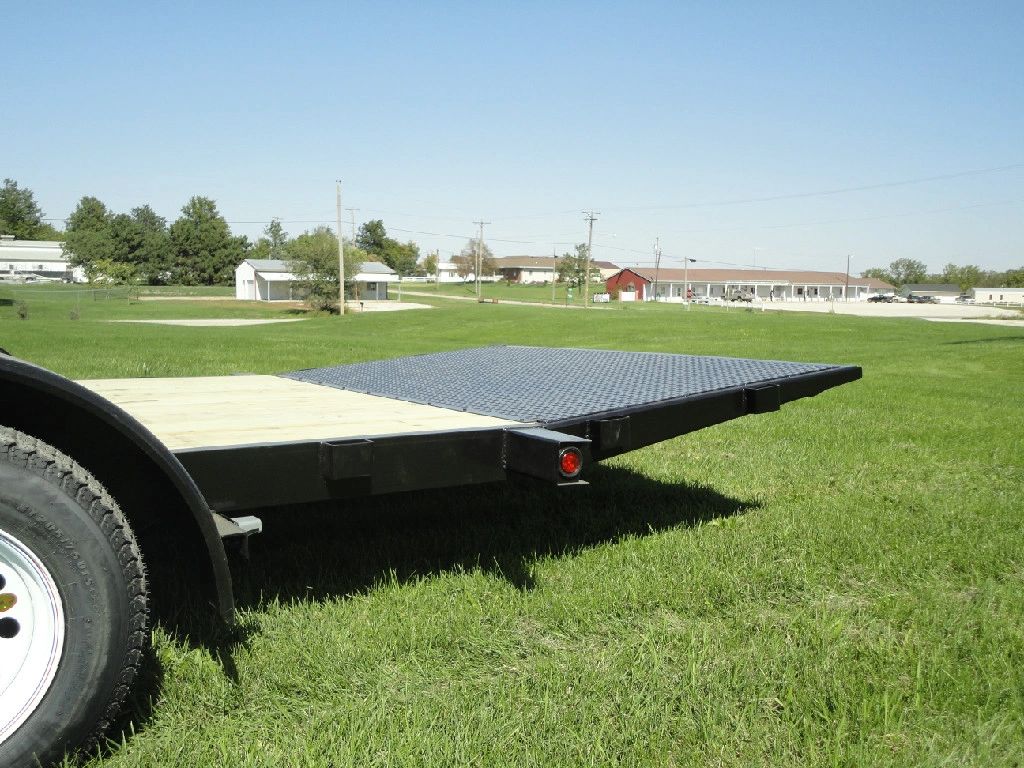 It looks funky but works like a dream... here is the kicked up tail when the bed is down for towing....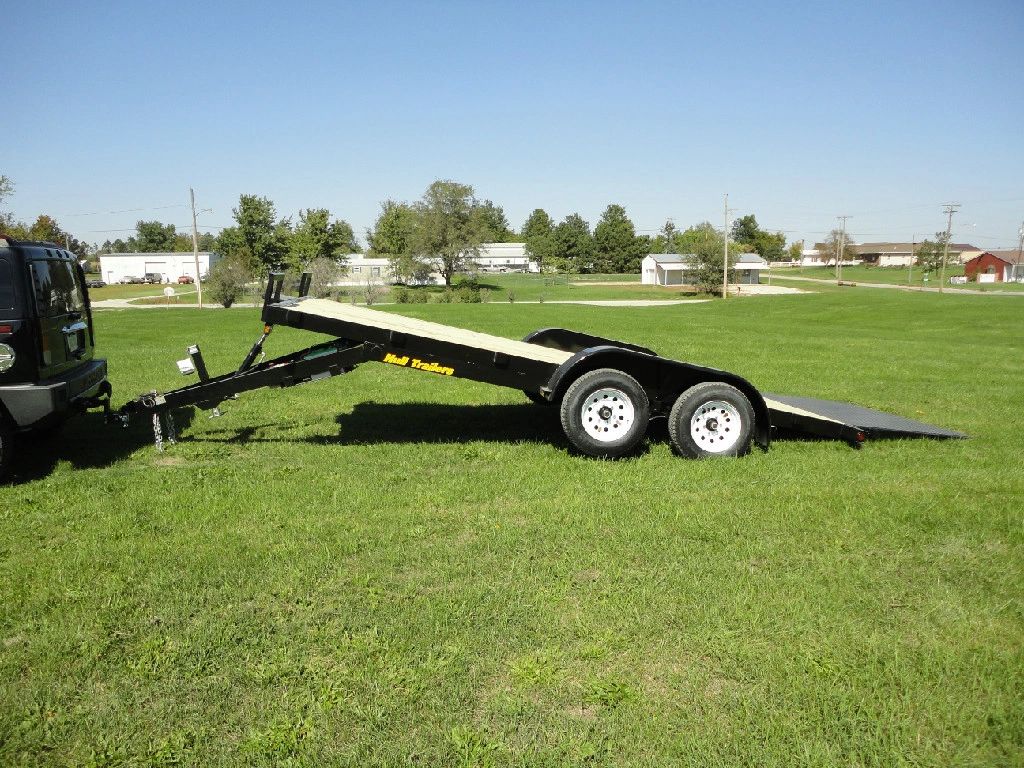 And here is the side view of the unit when tilted for loading.... all of a sudden, driving your Z06 Vette on and off of a trailer doesn't have to be a maddening and stressful experience. How did we test it? We called our local GM dealer and asked him what the worst car to load was. His response surprised us, so Melissa hooked up the trailer and headed over to test load a new Chevy Volt! (Yep... terrible ground clearance, long front overhang, plastic ground effects and rubber skirts everywhere... check it out.)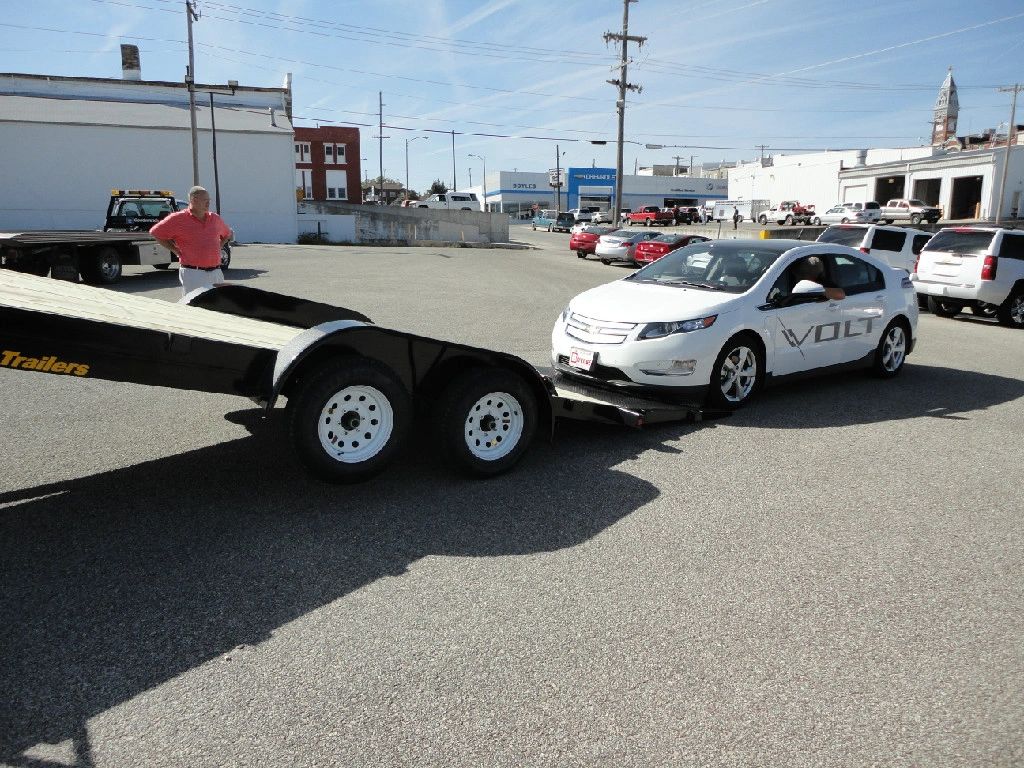 Here we are at the moment of truth. The rubber skirting was designed to scrub over things, so that was OK... what we didn't want to happen was touch that much more expensive plastic ground effect pieces underneath... David Boyles of Boyles Motor Company in Maryville, MO watches as we use his expensive car as a lab rat.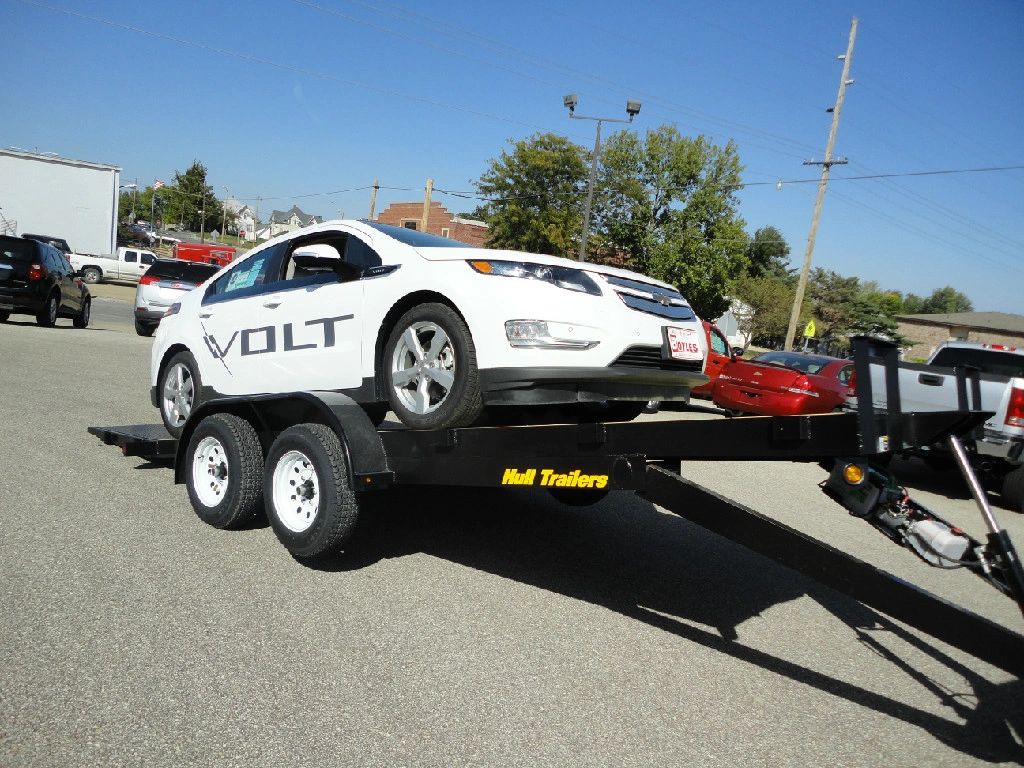 And.. long story short... they started it up and drove it on. Then drove it back off. Look at that low low front clearance... compare this to your car and decide, but we believe that this trailer makes getting the real ground dragging cars on and off of a trailer so much easier that it will surprise you! Check it out... only $500 as on option on any 20' or longer E/T tilt trailer!
Sold to Ron French of Illinois! Nice 928GTS Porsche!
Ron ordered up a 20' M/T Tilt trailer with rub rails, some extra D rings on either end of the fenders, channel steel drive over fenders, LED light upgrade, 7k dropleg jack option, a custom height headache rack that he is going to build his own custom guard on, upgraded to 225 radials and had us paint it in our optional red color! Looks good!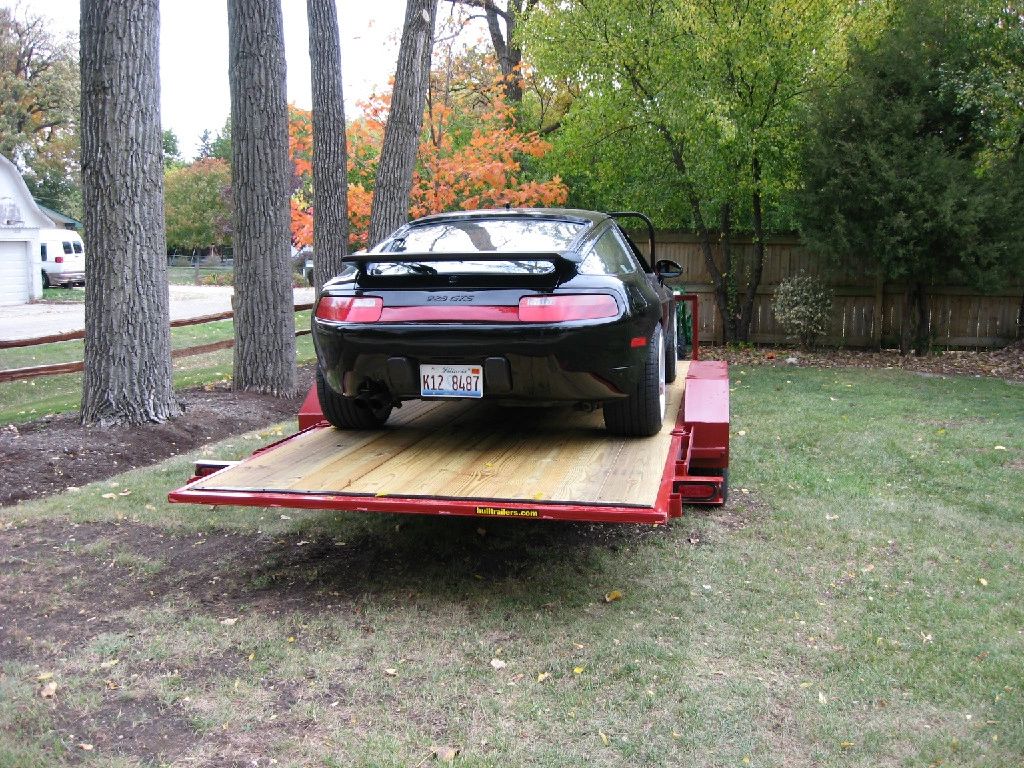 Notice all of the room around the car? That's a good thing! If you have a big hole to drive your car through, you have a much better chance of NOT hitting things with it!
And just to cheer us up a little more, Ron sent the following email along with his photos when he got home!
Craig, I really enjoyed meeting with you last week and picking up my new trailer.
The trailer is made using the best materials and excellent construction. Top notch craftsman

ship is rare today, and I just wanted you to know how much I appreciate it. Every detail from the wood decking to the welds is a work of art. I sent you a few pictures with my Porsche 928 GTS on the trailer. Again, thank you. Ron.
No... Thank YOU Ron! We appreciate the business.. .always!
Our friend and customer Matt Dold posted on our facebook page with a cool photo of his Vette on one of our 18 dovetail car trailers... his comment was priceless! 'Awesome car on an awesome trailer. Couldn't be happier guys! Thanks again'
Want a 16' plus 2' dovetail model this one one above? Get it out the door for only $3,725
So... you want something REALLY custom? WE can do that.
Basically, what we have here is a pretty std 20' HD flatbed trailer in the 14,000lb GVWR trim that then went to the custom shop, had a complete enclosed trailer custom body and frame built on it, a side staircase mount system, a complete roof top observation deck with flip up rails, a flip out ticket booth window and mounts to hold 42" TV monitors everywhere. It was the brainchild of our custom Troy Kring who owns a new company called Krazy Maze. The unit will travel to county and state fairs around the midwest carrying a complete 20,000 square foot maze for people to test their speed on. Yes, it took about 65 days from start to finish, but in the end, Troy says he got exactly what he wanted! ~ So, what can we help you create?
This one was more customized when it got home than when it was here, but I think my friend Kerry Lukenbill from Kansas City, MO did such a nice job, i had to put in the photo. He had come up looking for a 'cheap little flatbed trailer' but once I showed him what was actually out there, He decided to step up and get himself an 18 E/T tilt push button tilt trailer with upgraded 225 radial tires. Then he took it home, built these nifty John Deere themed side boards and apparently is driving his buddies nuts with jealousy as two of them have called wanting, "one of those trailers like Lukenbill got."
Want the same trailer to build your own side boards on? 18' electric tilt Speedhauler, upgraded 225 radials and all is only $4,730 as of march 2021.
New Super Duty Bobcat with 21,000lb triple axle suspension... a whole lotta trailer for under $7,440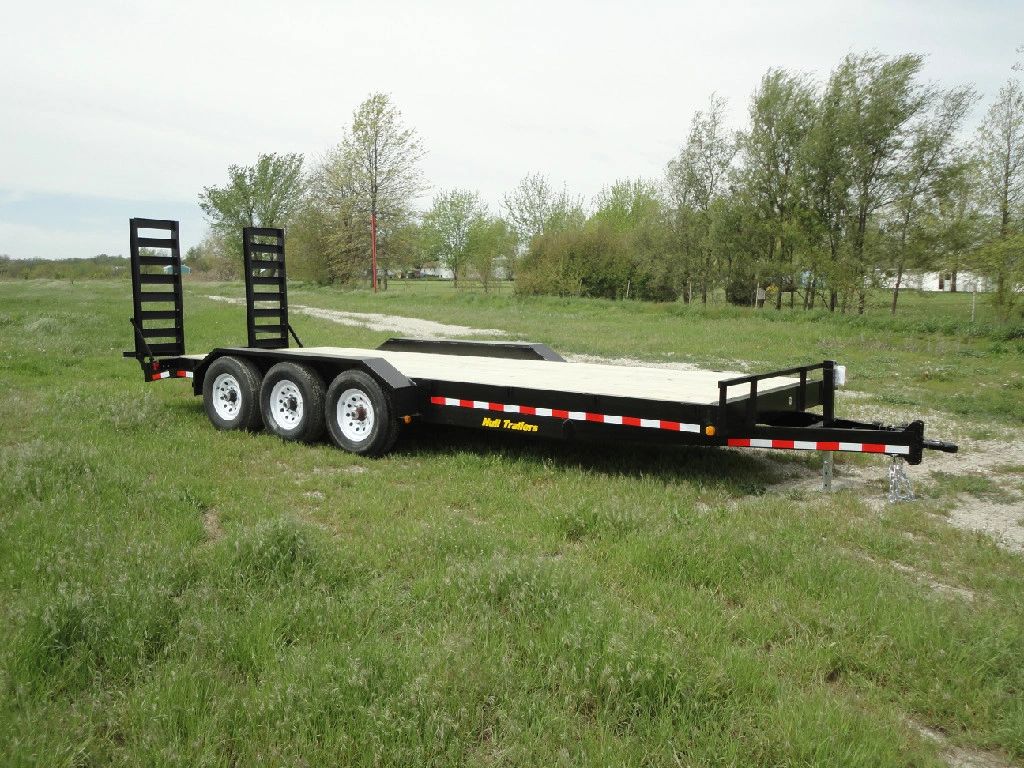 Imagine what you could haul on this monster! 22' of deck including the dovetail, bobcat ramps, triple 7,000lb axles and triple axle drive over channel steel fenders all for right around $7,440 as shown. Click the photo of above for a full feature on this unit.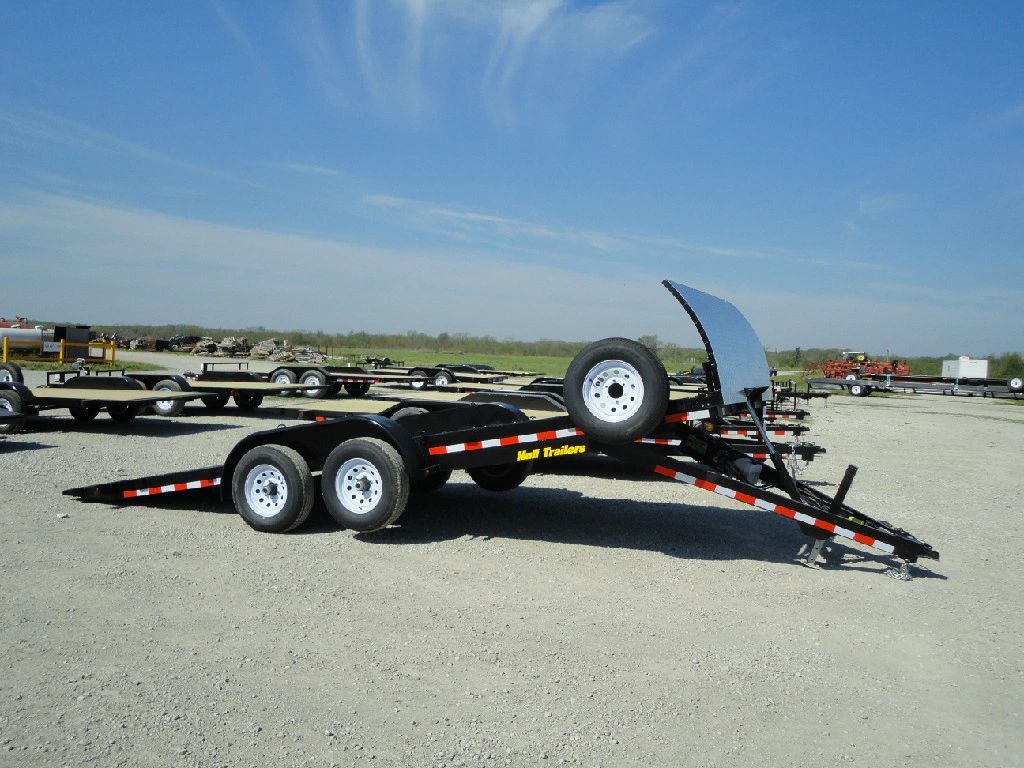 Super custom 20' E/T tilt built for our friend Robert White of Osceola, IA. 20' E/T tilt, 9,990lb GVWR package, LED lights, steel floor, winch mount plate, car guard fairing, removable fenders... pretty sweet unit. See a quick run down of it by clicking the photo above.
Just headed home to it's new owners place April 24th 2012
Rex wanted a very concise version of a custom tilt trailer and in my opinion, this epitomizes the custom built trailer.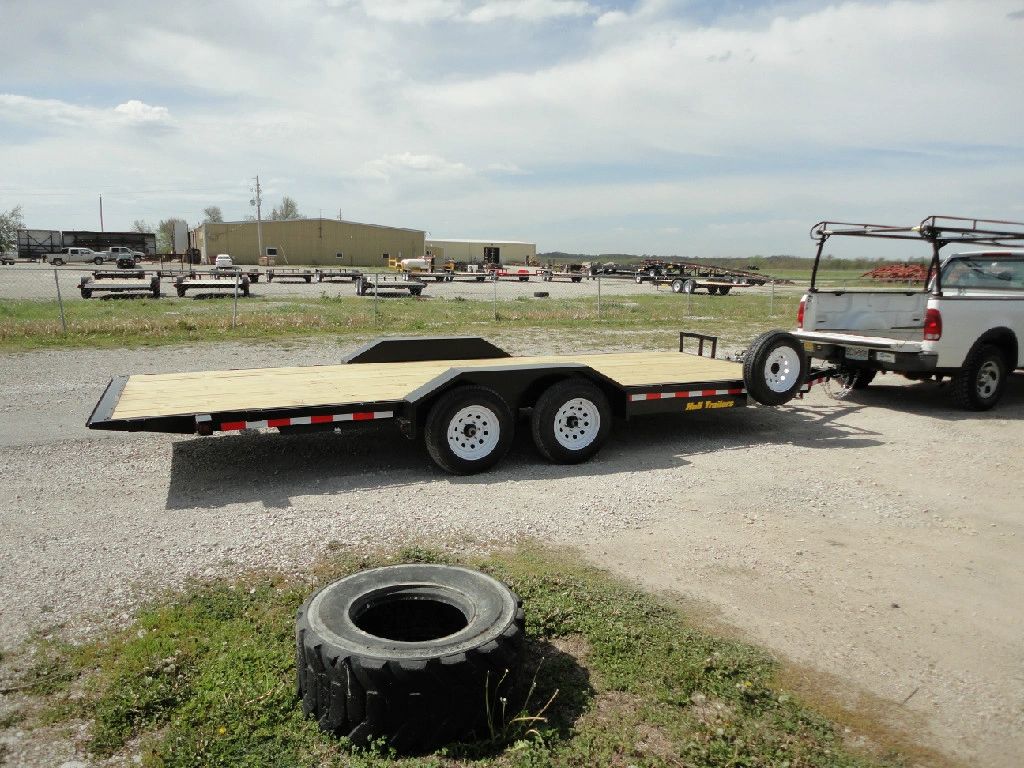 What we started out with was a std 20' M/T tilt speedhauler and dressed it up from there... check out the list of goodies we added on and then let YOUR imagination go to work on what you want in your next new trailer.
Not a custom trailer by any means, but we have been moving a PILE of 18 foot dovetail car trailers these days.. This is Dale Haber taking his new unit home.
Custom 18 MT tilt with removable fenders car guard fairing , LED light pack, 4 extra D rings in the usual car hauler position and mounted spare wheel and tire . Built for our friend Laverne Forbes of Kansas. Want one like it?
28' M/T tilt trailer 9,990lb GVWR package 102" wide floor option , channel steel drive over fenders , LED light pack, stake pockets up front instead of headache rack (no charge), removable winch mount and winch mount plate . Built for Carl Veenstrom of Michigan. Want an exact copy? Call to spec one out the way YOU want it! 712 589 3100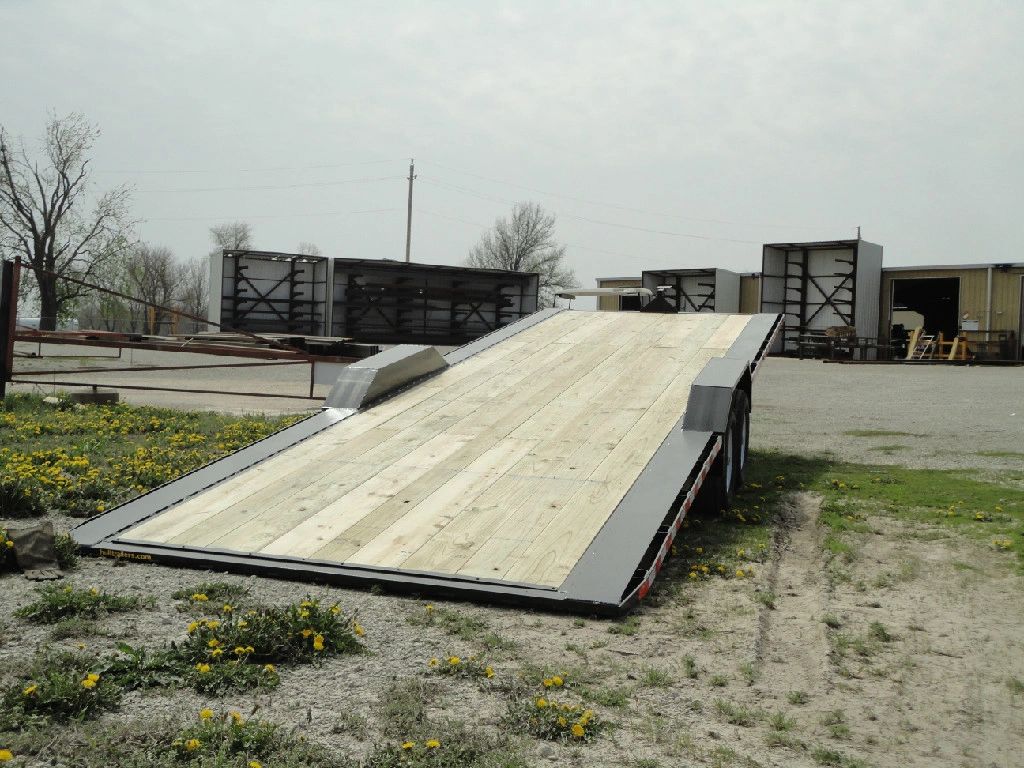 102" wide floor.... 28 feet long. What could you NOT load on this thing?
With the addition of channel steel drive over fenders, the entire unit becomes a smooth, usable work surface for loading and hauling just about anything you can think of.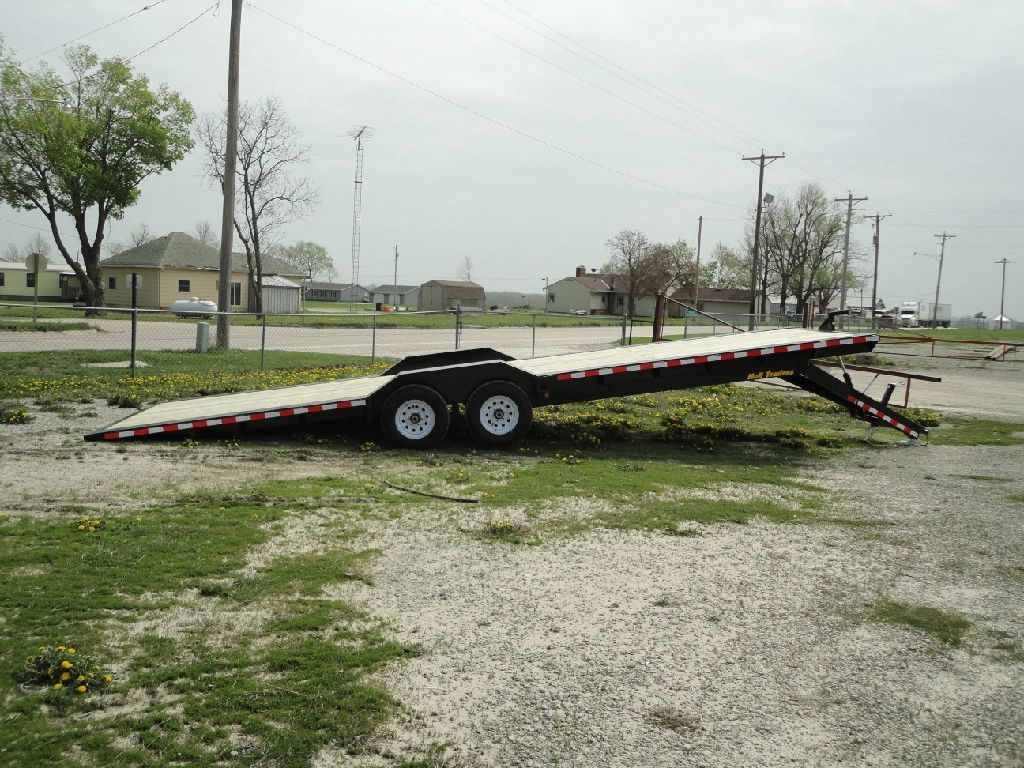 Fully tilted, the load angle on this 28 foot long unit is nothing less than a non issue. Just drive whatever you need to drive right on the deck and go.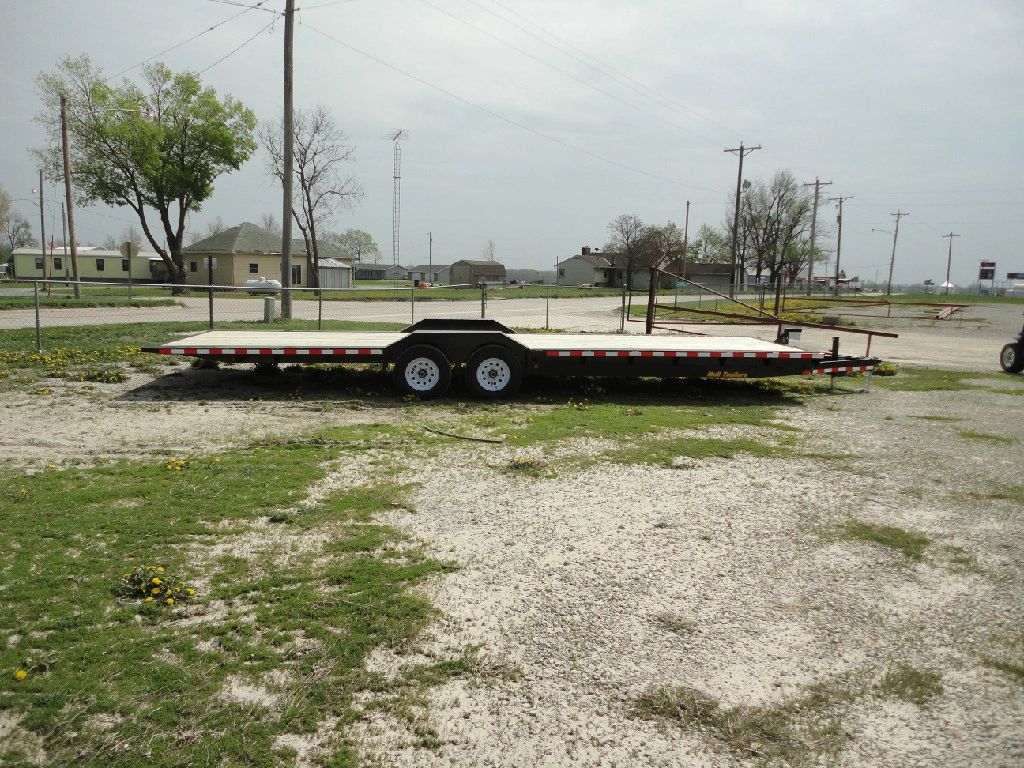 Yet, when the bed is down for towing, the entire trailer stays as low as it can and still give you plenty of ground clearance, front AND rear.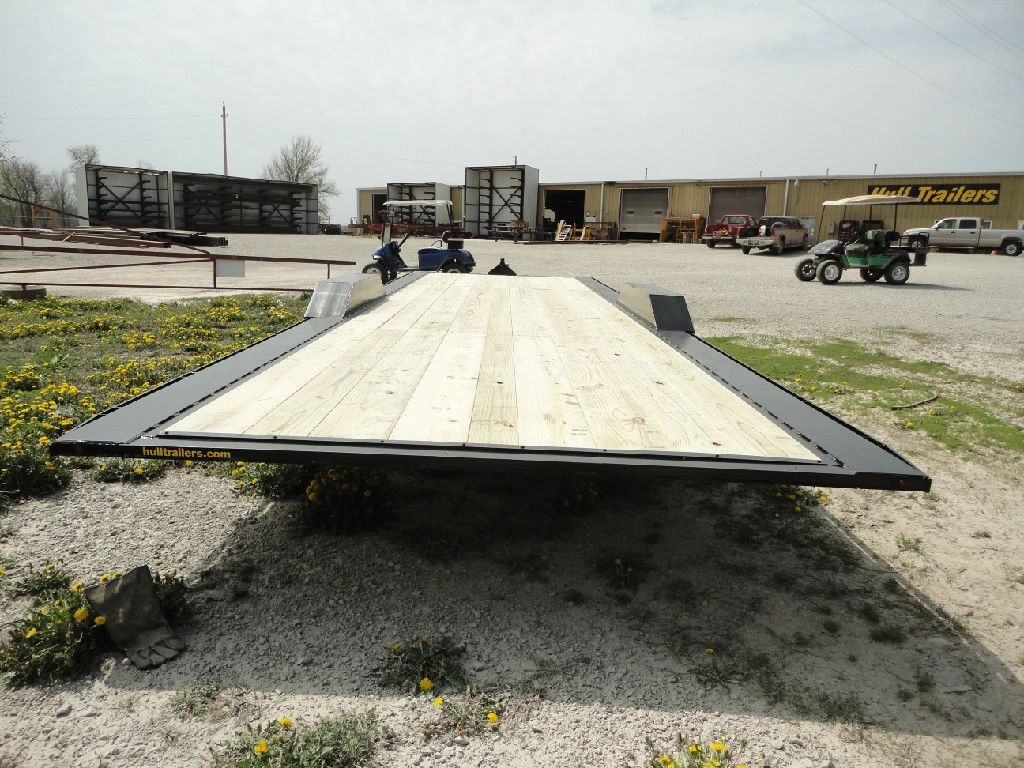 Remember, even this model also comes with the std 10 year frame AND floor warranty too!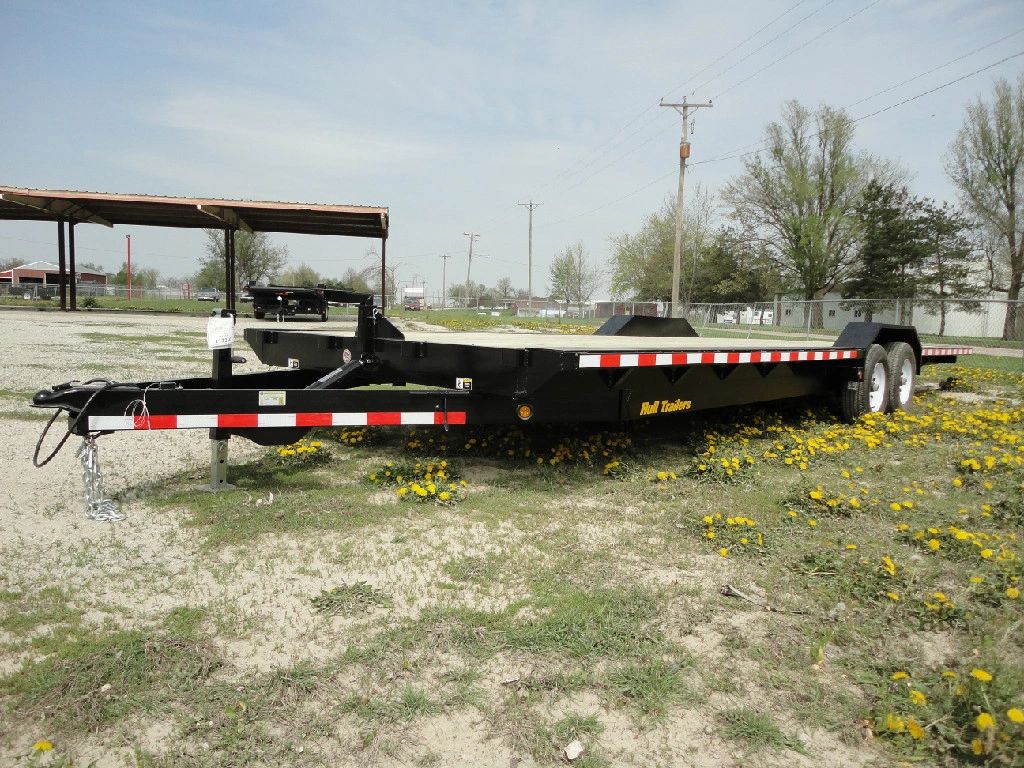 Everyone who saw this trailer out front had to stop an say just how impressive it looked. Thanks! We'll take the compliment!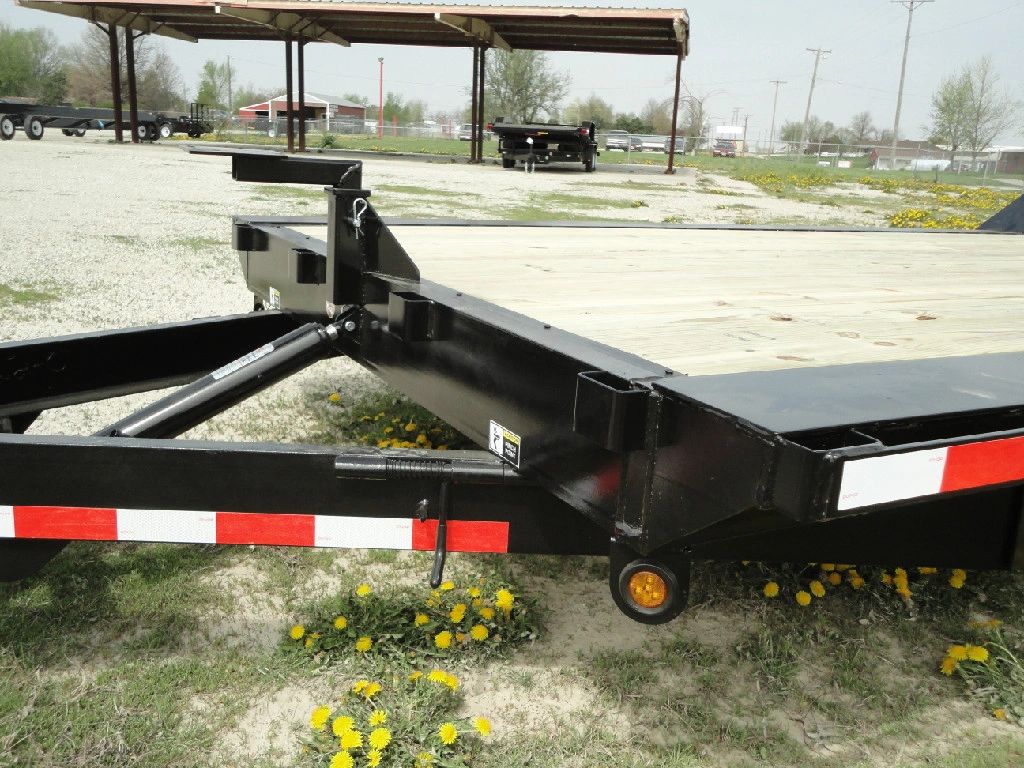 Not sure what you will be hauling or tying down? How about trading the fixed headache in for four stake pockets welded across the front of the trailer? No charge option!
Full 102" floor comes with rub rails on the stake pockets, included.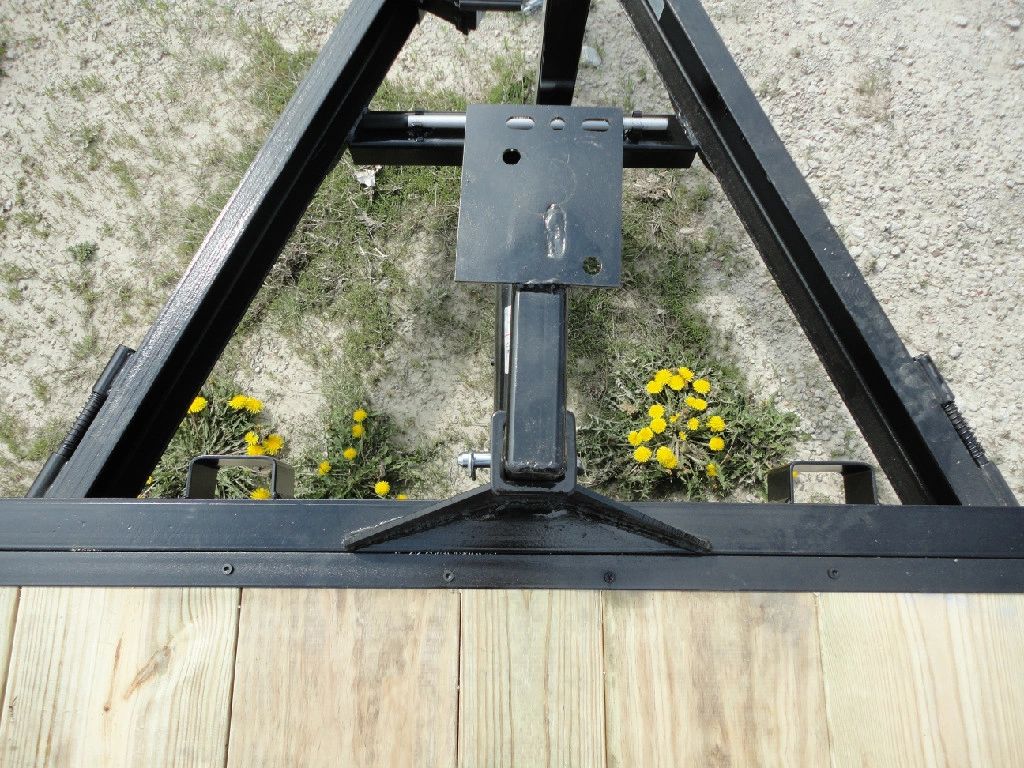 Winch plate will mount nearly any mechanical or electrical winch and is easily removed for security and storage out of the weather if needed. Add it to any unit for only $300! (No kidding)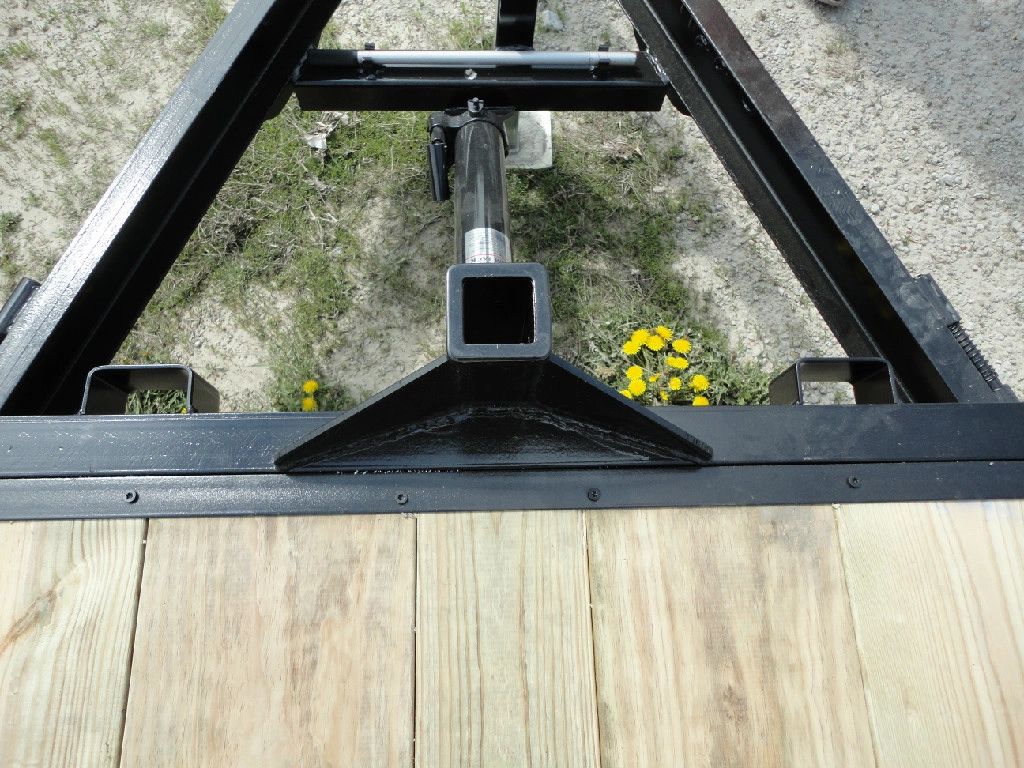 Pull the top winch plate out and this is all you have left.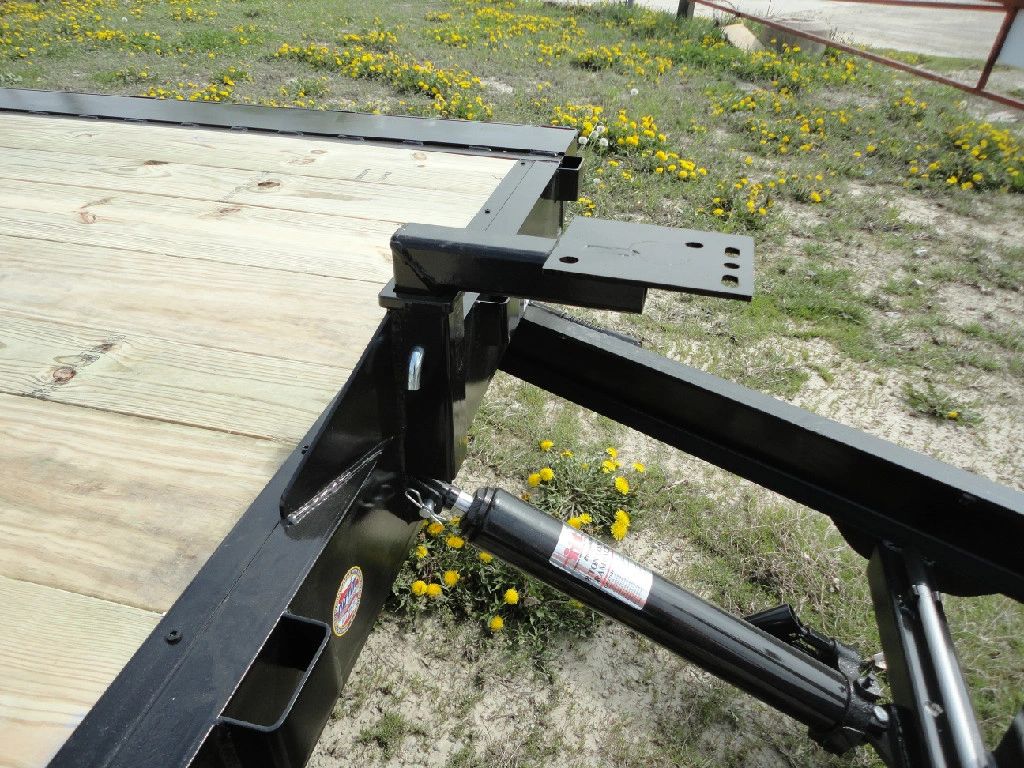 Forward facing design doesn't take up any load space and sits out over the tongue for easy access.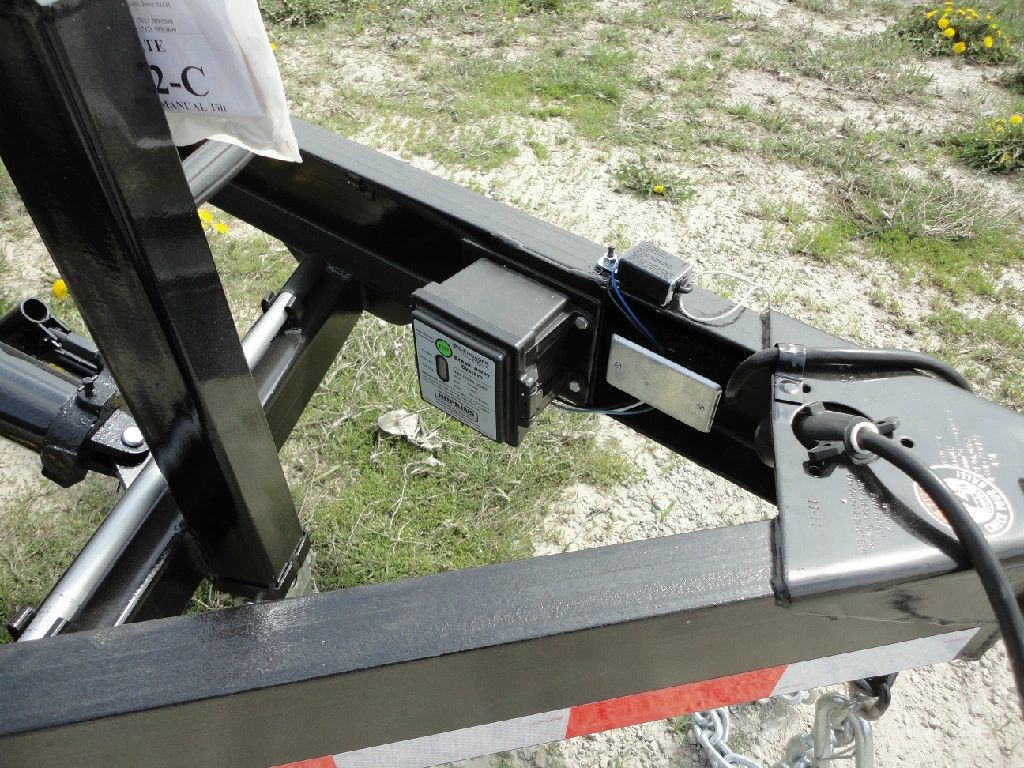 unit comes with all wiring butt connected (no scotch locks on the wiring loom... EVER) and is enclosed in full seamless pvc conduit with metal access plate junction boxes for long service life. Plus, you can see the included batter breakaway system for the brakes, which keeps this trailer 100% DOT compliant in all of the United States and Canada.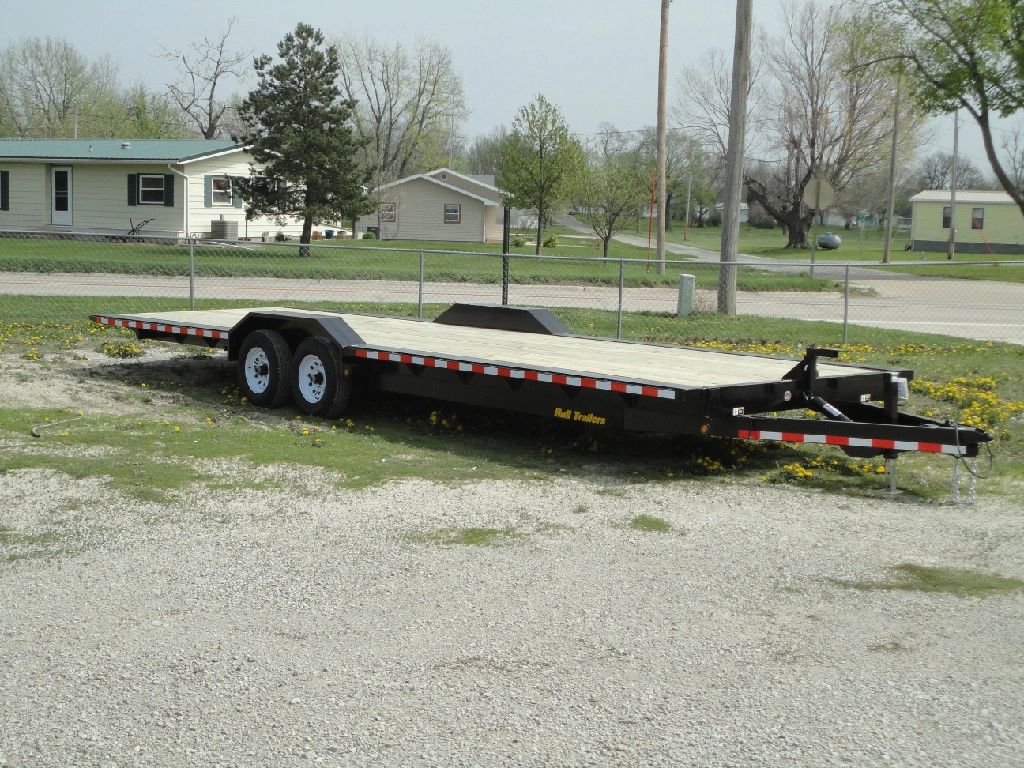 EVERYONE who stopped in to look at this trailer while it was here just couldn't quit talking about how nice and tough it looked. It really is the ultimate in a bumper pull tilt bed design, though, I would personally have opted up to the full on 14,000lb capacity, but Carl only needed the 9,990lb GVWR option for what he is going to do with it.
Want to price your own full on custom trailer? Give us a call or email now! We'll get to work on it!
Cool 20' E/T tilt made for working!
Robert Schrader from Marshalltown, Iowa came down and got a nice custom 20' E/T Tilt ($4,795), 9990lb GVWR package ($750), removable fenders ($200) and more... nice looking rig?
Not super custom, but Eric Gegg from Sainte Geneveive, Missouri came and got a new 14' Dump Box from us with the tarp kit installed and he came with this good lookin' cranked up Duramax 2500. We think that with nearly 1,000ft lbs of torque on board, he SHOULD be able to tow this trailer loaded... what do you think?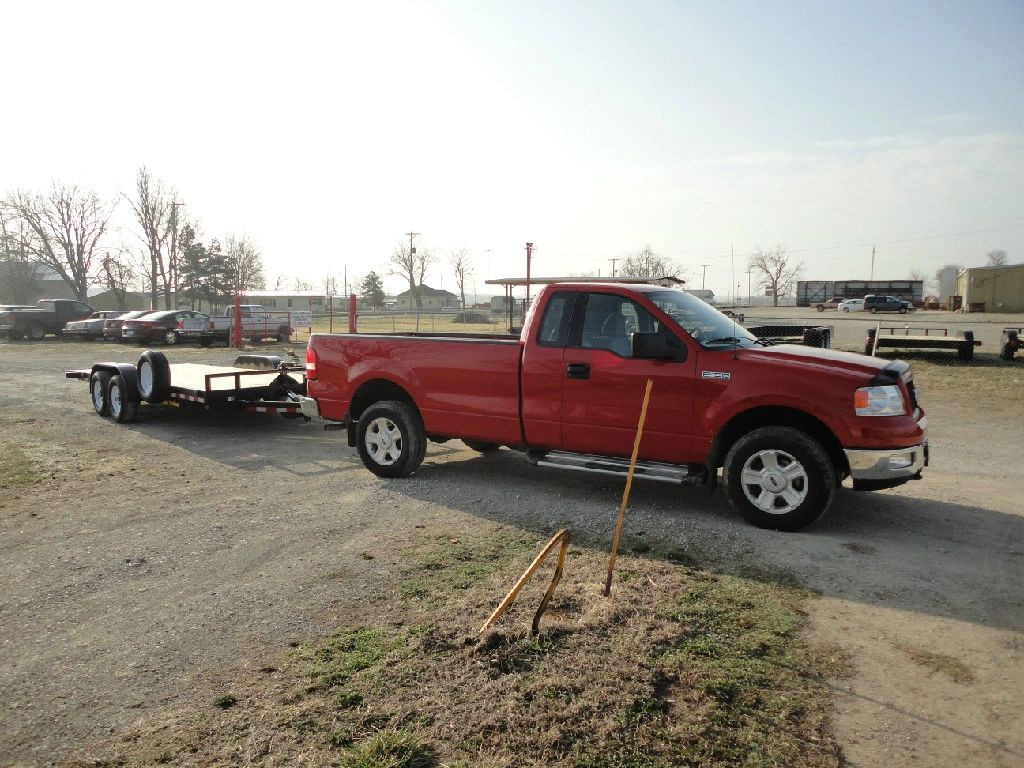 Check out the sweet removable 2500lb winch and mounted spare on this 20 M/T tilt in 9990lb trim... and LED lights too!
So, you need a low profile trailer, but you need a 102" wide deck AND you need to carry a rather large amount of weight... hmmm... we can fix that problem. Just take a look at the SL series. SL stands for Super Low, which denotes the fact that we've worked with the guys at the plant to design the lowest possible deck height while insuring that you will have enough operating ground clearance at the same time.
Shown here in one of the few snow storms we've received in 2012, this 34' long deck model was custom built for our friend Lance in Northern Iowa to carry him and his dad's pulling tractors to and from events. The 10" channel steel frame, 14" cross member spacings, 102" floor outriggers with under braces built in and the 21,000lb array of triple 7,000lb axles all work to make this one nice, low profile, hi capacity trailer.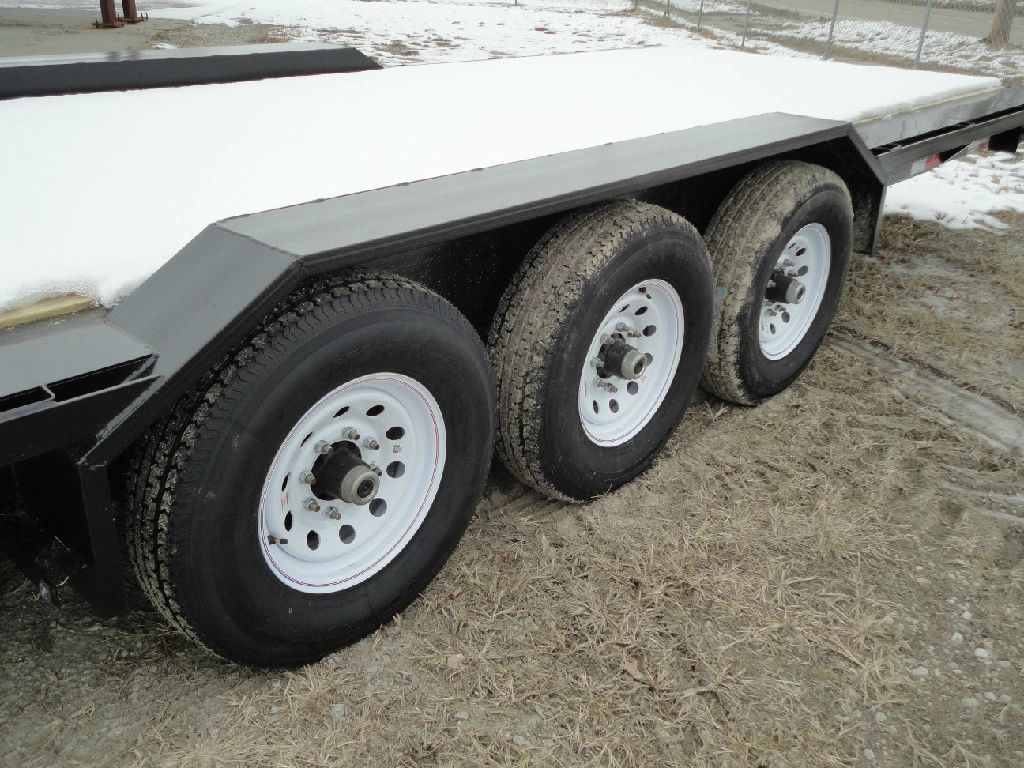 When it comes to suspension choices, you are the boss on these models. We can do a minimum GVW model in as light as twin 3,500lb axles (but NOT On something as long as 34' bed of course), Tandem 5,200lb axles, triple 5,200 axles for a 15,600lb GVWR, tandem 7,000lb axles for 14,000lb gvwr or step on up to Lance's model here with triple 7,000lb axles, giving you a whopping 21,000lbs of total axle capacity. Regardless, all of our units come with true immersion rated brake systems (meaning that if you get them soaking wet, they still work), EZ lube spindles and all new rubber. NOTE: Check out the monster low profile channel steel drive over fenders that come on this unit. Need something you can park a tractor on top of? These can handle that job.
One feature about these units that I love the most are the fender width floor design. By creating these heavy duty steel floor extensions, you get a full on Hi deck style width floor, complete with stake pockets and rub rails that tie directly into the channel steel fenders and create one extremely wide, rigid and usable deck.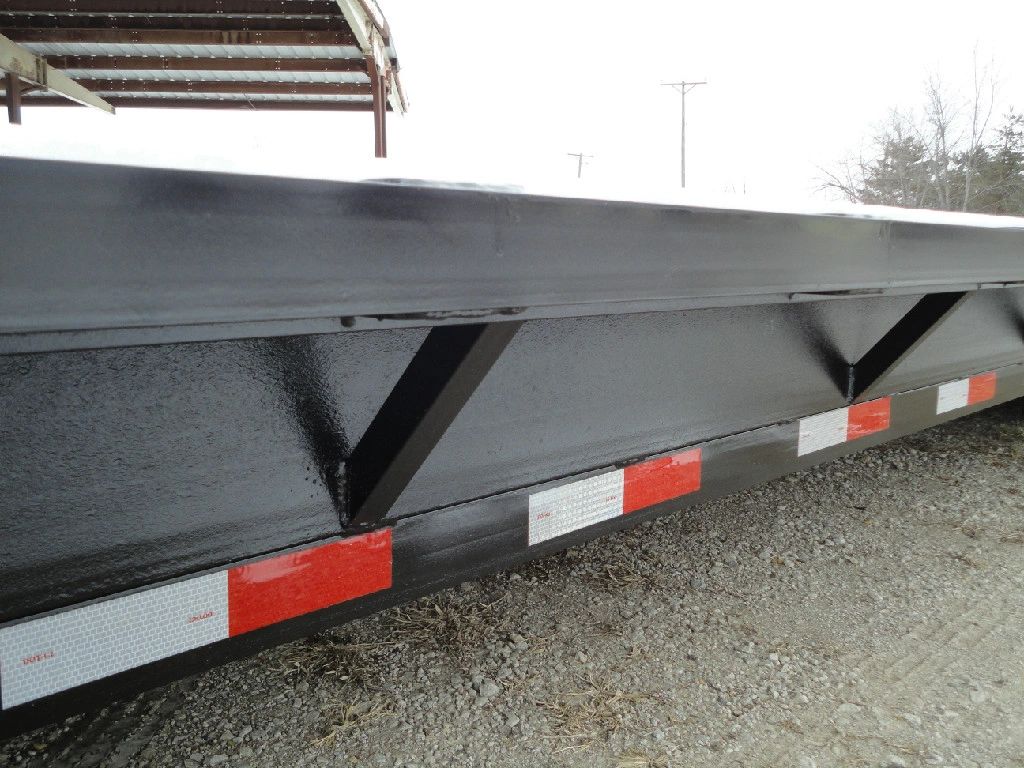 In this business, it never hurts to have a little insurance! Even though it's a short 8" out from the monster 10" channel steel frame to the edge of the bed, our guys tie these nifty knee braces up and out to insure you that this side is going to stay where we put it, regardless of what you need to load on top.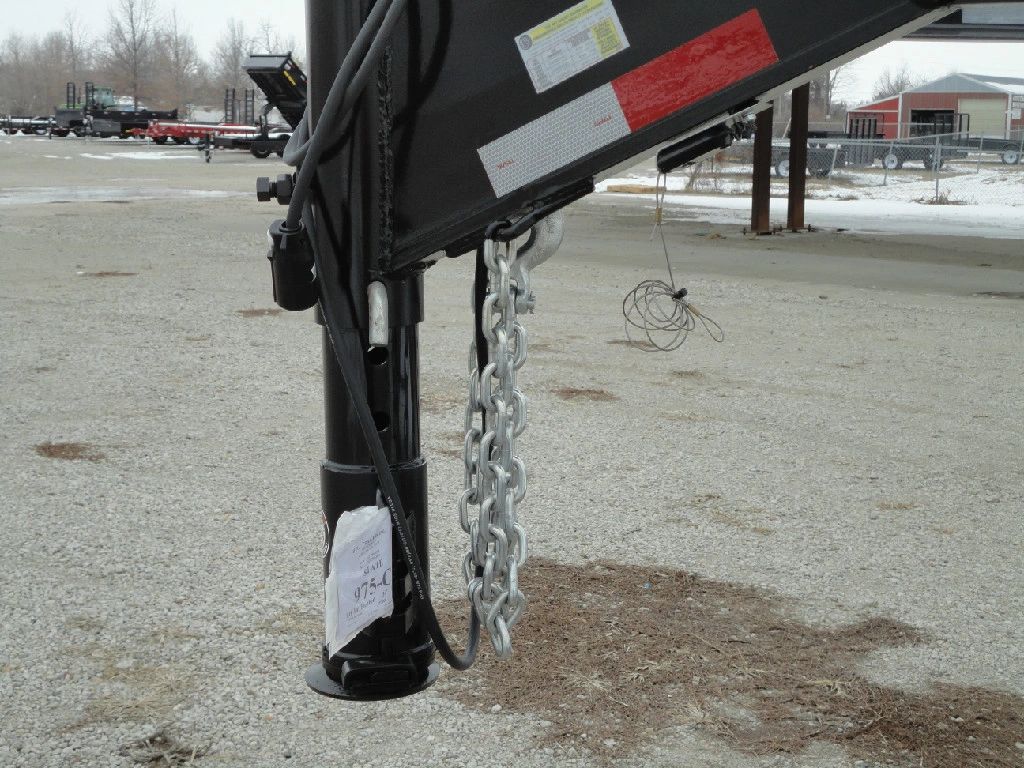 Actually Gooseneck hitches are just another option on this model! Can build it in a bumper pull chassis as well. When you opt for the gooseneck design, we don't skimp. Big drop down neck with the 25,000lb capacity adjustable height gooseneck coupler, safety chains, extra long lighting plug and breakaway system with under neck pull tether all come std.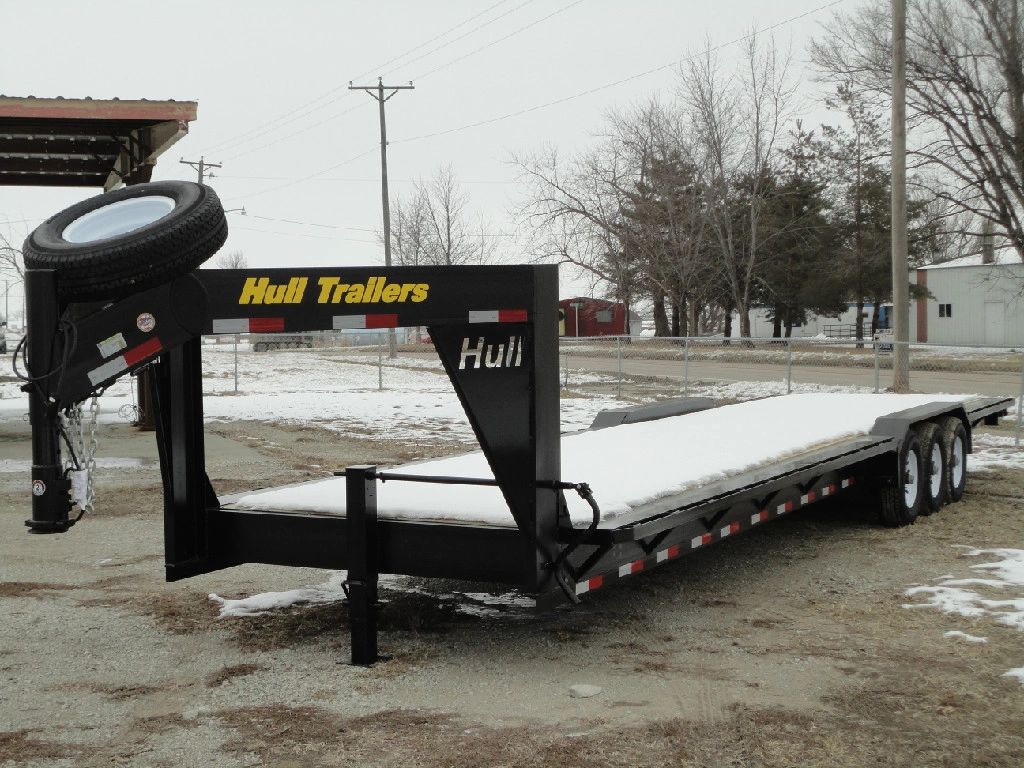 So, there you have it. A super low profile trailer that can load and carry up to 25,500 total pounds of cargo (21,000 on the axles and another 4,500 on the neck itself) while doing it in style. Interested in your own version of this trailer? Give us a call at the office 712 589 3055 7 days a week and we will be glad to quote you your own.
One cool car trailer....
Custom built for Mr. Houston Behrens of Fort Riley Kansas.
So.... you want a nice tilt bed car hauler. How about this cool 20' M/T tilt Speedhauler in 9,990lb GVWR trim, LED light upgrade, steel floor. 4 extra D rings, two front and two rear, winch plate up front, not one but TWO mounted and matching 225-15 D rated spare wheels and tires and our Car Guard fairing on the front of the bed?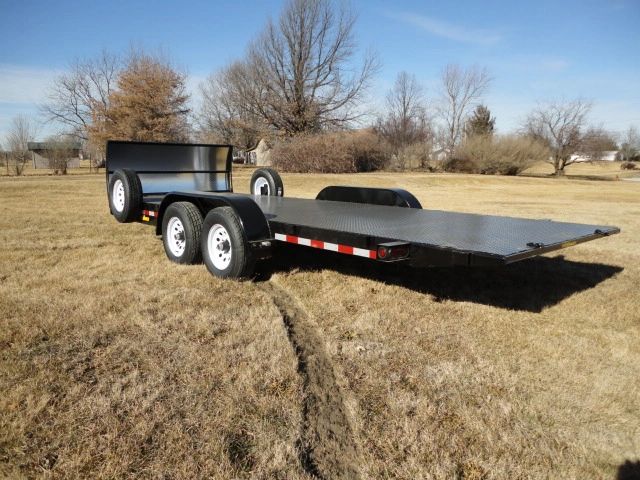 For some reason, our camera's both make this angle look like there is more tail hanging out than there really is. Just to set the record straight, the center line of the two axles sits exactly at a 60% rearward bias. You'd really have to work to get this trailer loaded wrong and it tows sweet, empty or loaded.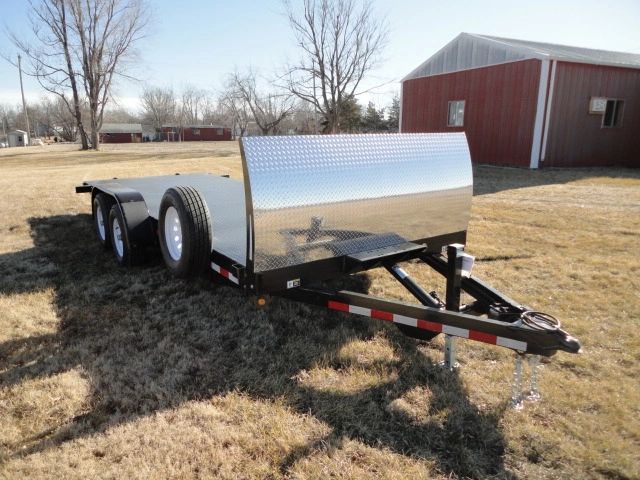 As you can see, Houston ordered the trailer with the front winch mount plate, but since we did not know exactly what model of winch he is installing, we did not cut a cable hole in the fairing yet. If you want, we will prep for a winch hole, but to be sure, we have to make it kind of large.... an cutting holes in a protective wall should be kept to a minimum size, in our opinion.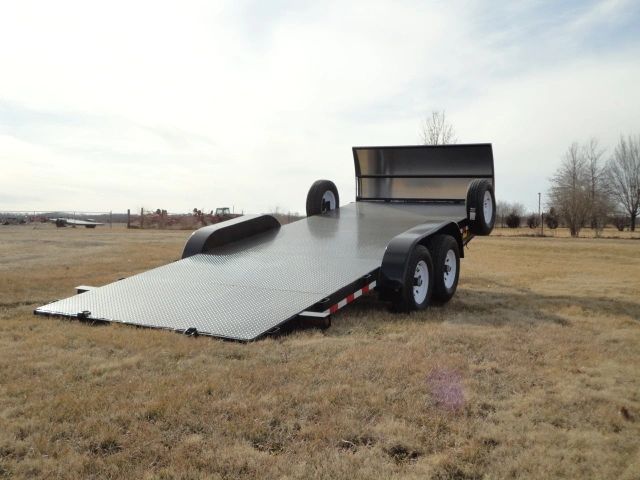 Talk about an easy to hit target! That's got to look better through the window of your priceless 1957 Bel Aire convertible, than a pair of skinny ramps!
Looooow loading angle makes pretty easy to drive anything on, toss it in park and know that it will sit. Once you've used one of these trailers, you can't get a man to go back to a pull out ramp model.
Like one man told us, "I think people will be more jealous of the trailer than my car!"
We hope that bears out to be true!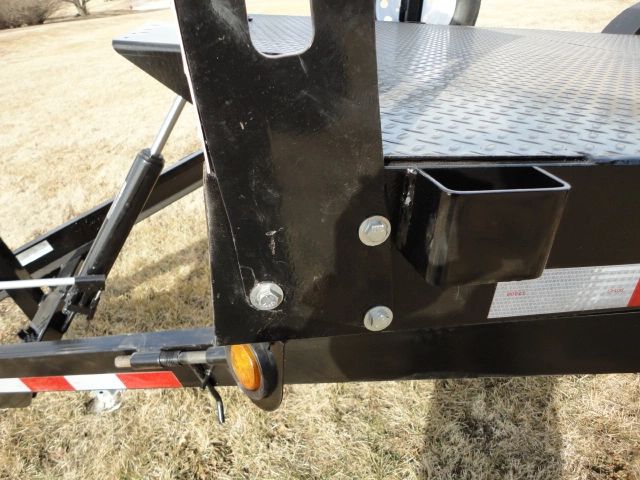 Fairing mounts with just three bolts per side, which means that you could remove it if necessary in the future in a just a few minutes.
Houston wasn't totally sure how he wanted to tie his car down, so $60 extra to add on two of these massive D rings up front and 2 at the rear of the bed, set in from the sides of the trailer about 1.5' each gave him a second option over using the corner stake pockets as tie downs.
This photo shows you two options that we see more and more every day. A mounted spare wheel and tire is a good option and this photo shows you both the front and back side of the mount system in one photo. The other great option is our 1/8" Diamond Plate steel floor option over gridded cross members.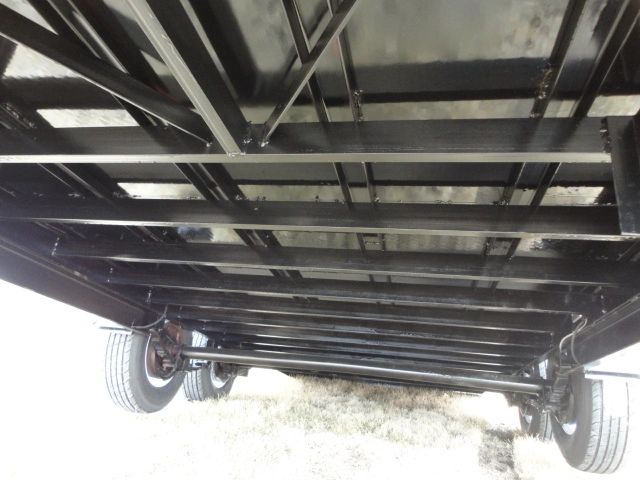 It adds $35 per foot of length in cost, but makes your trailer a 30-40 year unit with no major service. Underneath, you can see how we keep the cross members in like a wood floor was going to be installed, but then add on 4 lengthwise 3" channel steel stringers for even more strength, then lay on the steel top and weld it all from underneath. Very clean, very strong and no wavy floor!
Need something bigger, meaner and longer? Keep reading!
Just completed for a customer... 24' E/T push button tilt trailer, 14,000lb GVWR package, LED lights and red paint color.... It's like having a roll back bed on a dually without having to pay for the dually!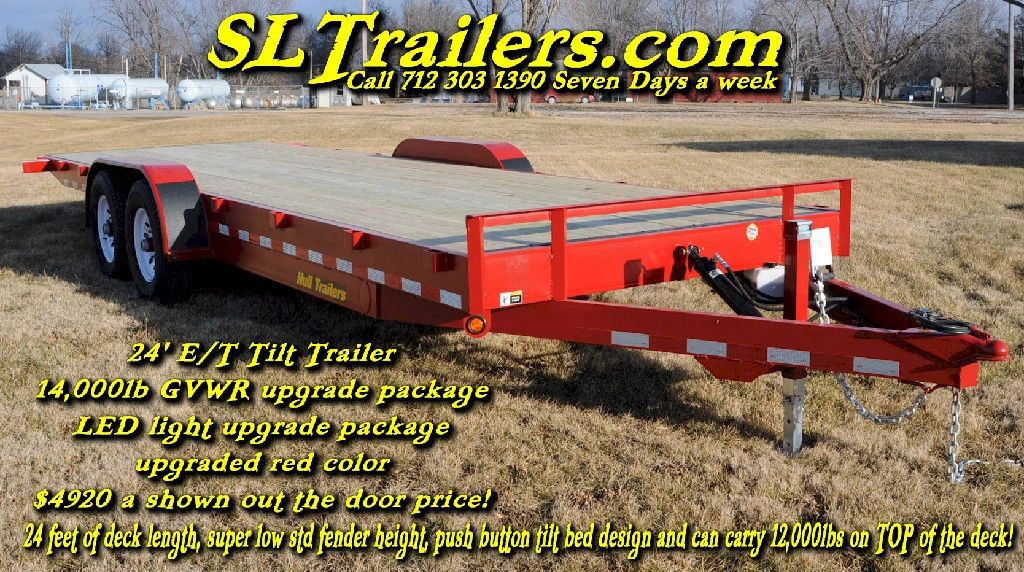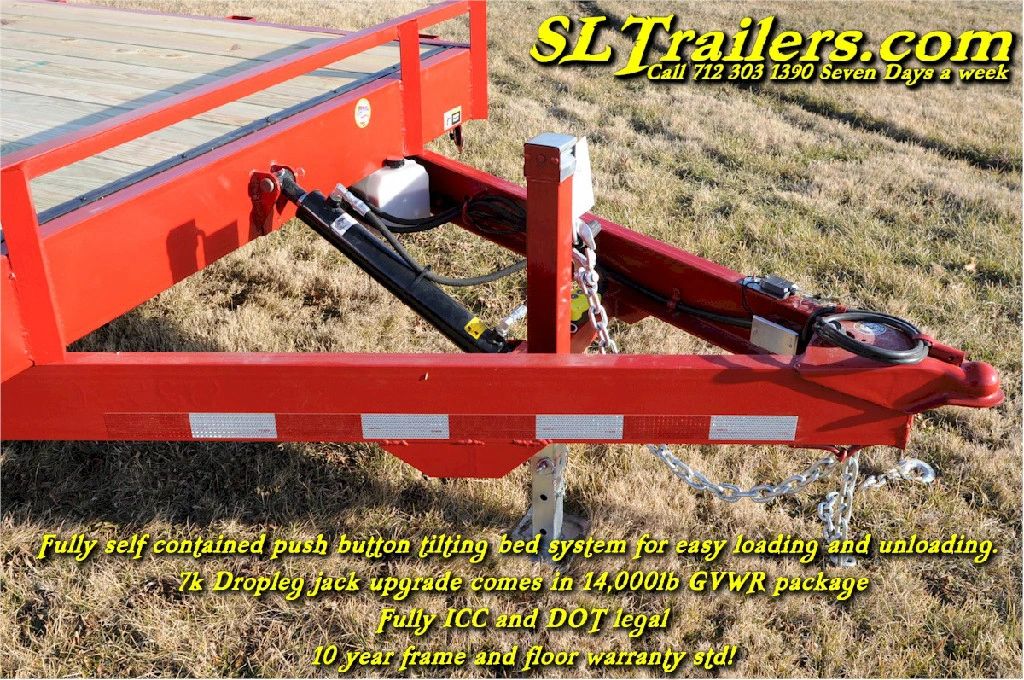 Craig's favorite basic trailer... the 20' M/T Tilt with removable fenders.. only $2,670 as shown.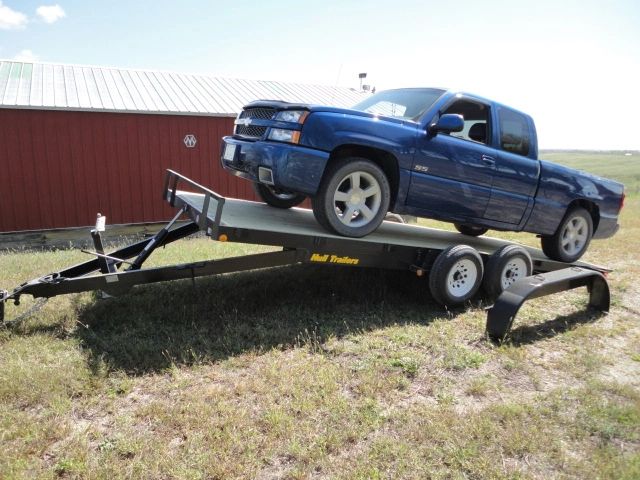 Sure, it's not a 'Holy smokes! Look at all of those cool neato add-ons' trailer, but it does have everything most guys could really use. It's a full 20' long deck, it's the rugged and easy to use M/T tilt design ($3,795 for the base trailer), it has the nicer 8,000lb drop leg jack set back in the tongue standard and ... most of all.. it has those super nice removable fenders! (Only $200 for the pair as an option!)
The reason I love removable fenders is simple... because I inevitably have to load and unload things all by myself. When you don't have someone to 'spot' you while driving a vehicle onto a trailer, it is extremely handy to be able to just take the fenders off. Then you line up, drive the vehicle on and put your fenders back in place. No damage to the trailer, fenders or what you were loading. Compared to touching up the paint on a car bumper, the $200 price for a pair of removable fenders is an absolute bargain, in my opinion.
Once you have your truck loaded up, pop the fenders back on in about 20 seconds, let the bed down, then all you have to do is tie it down and go! Yep... it really is THAT simple!
The 'Scrapper' Trailer....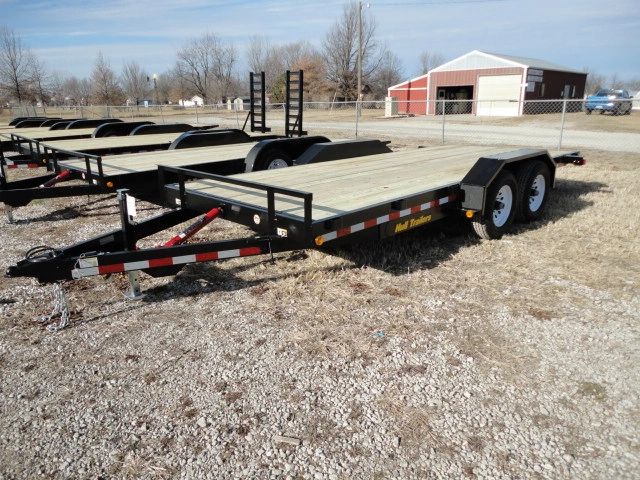 So, you like hauling steel to the scrap yards and you want a trailer that is tough, usable and can get paid for in a minimum of loads? I would probably say that this trailer would fit most people's bills quite nicely. As of 2021 we can supply you this 20' M/T Tilt Speedhauler with 9,990lb GVWR suspension upgrade and (most importantly!) channel steel drive over fenders for
ONLY $4,845!
By building a set of low profile fenders out of actual 10" channel steel, using .100" steel plate as the fender backs and STILL bracing them front and back, as well as inside between the tires, we have built a pair of fenders that you can easily drive up and over it necessary while loading something wide. AND... if you happen to bump into something with them, they usually brush it off, instead of wrinkling up like a regular tin fender would. Cost? We'll put a pair of these on any tandem axle trailer (even SS and RS utility trailers if you want) for only $300 a pair.
Did we mention that multiple trailer orders are no problem? Here go two 14' 14,000lb capacity Gooseneck Dump Box Trailers to a customer in Northern Iowa in December 2011.
Steel floor M/T 20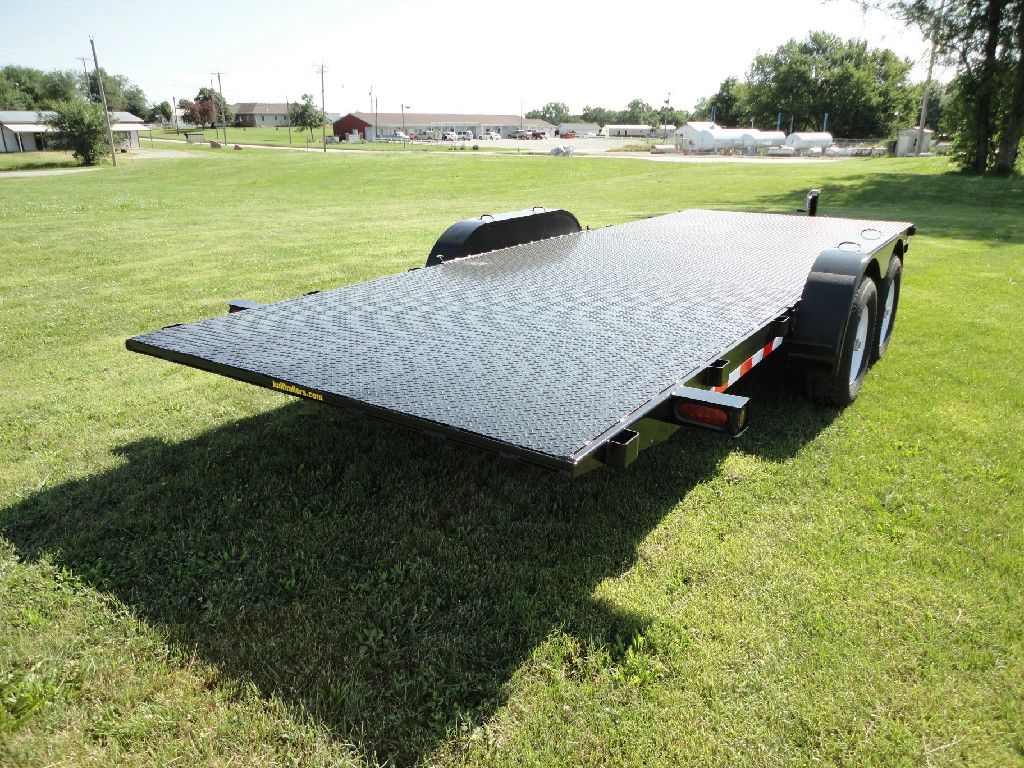 Just imagine how much better it would be if you had THIS to tow your goodies on!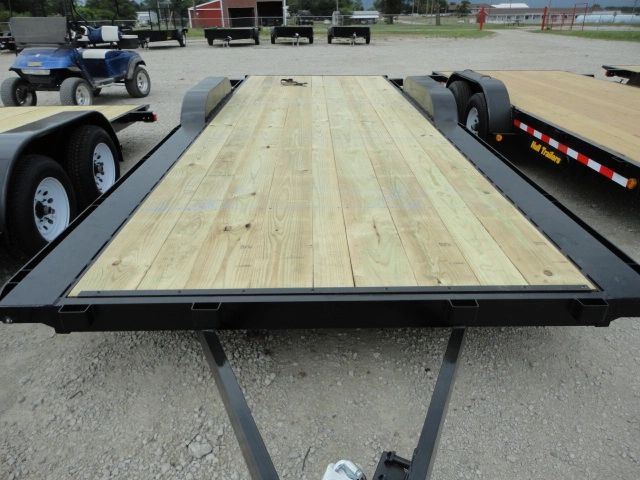 Fender width floor and bed front stake pockets instead of a headache rack? No problem. Call us!
Need to KNOW that you can tie down anywhere along the length of the deck? $10 per foot adds on these thick steel rub rail/tie down bars in front of and behind both fenders!