30' $5,675* - Gooseneck option strongly

34' $6,825* over 30' – add $675 for GN


NOTE! We are always running short on time and there have been MANY updates to this model since the following specification sheet was made... there are many upgrades over the previous models for 2019, including the newest Precision CarboncoatDM system for coatings, full frame coating, including everything under the floor, the addition of the formerly optional 8,000lb dropleg jack set back in the tongue as a standard component now and the inclusion of the newest thinline LED tail and marker lights right on the tail of all units.

Have questions? Call us direct at our new direct line 712 589 3100
Here are some shots of the newest version of this trailer in a 18' length model... enjoy!
This 2019 model HD flatbed in 20' length has everything that the old model did, with a few neat STANDARD additions... yes, it still comes with the full 5" 6.7lb per foot channel steel frame and
fully wrapped tongue. What do we mean by fully wrapped tongue? Click here.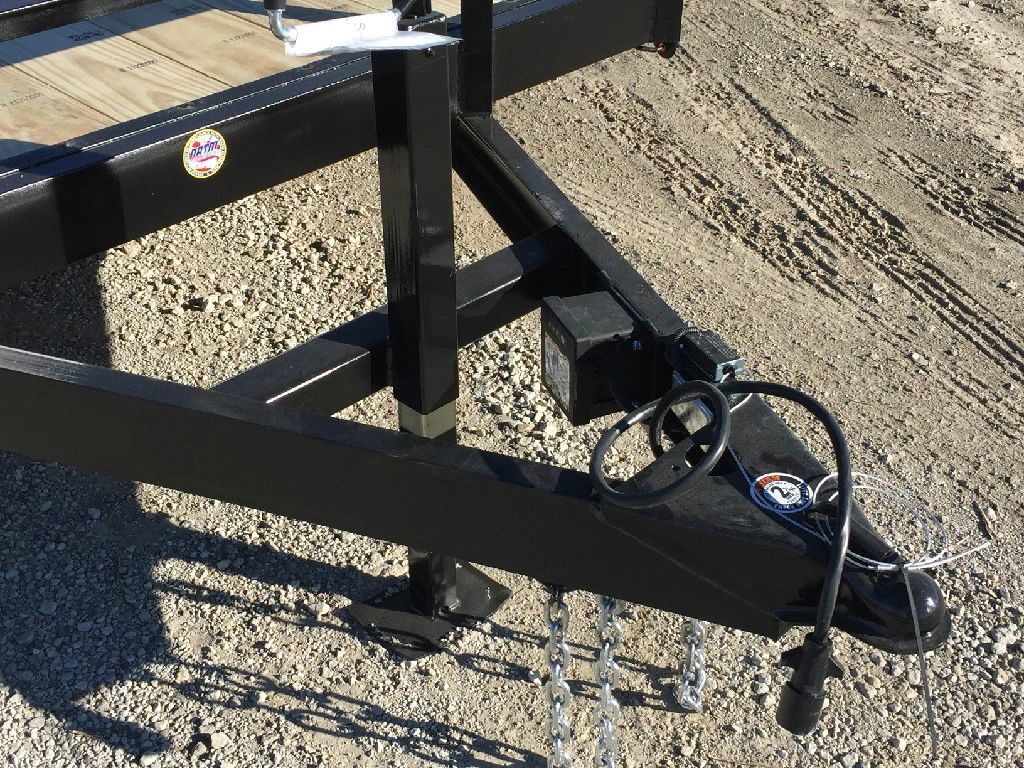 As always, you get the big tongue with our standard, 14,000lb rated 2 5/16" coupler for a measure of real security when towing, extra long PRE MOLDED 7 prong Vangard brand lighting plug, which comes with so many cool little improvements that it is hard to explain... double contactors to assure good connection, cold weather rated cable for no problems in winter towing and fully sealed to assure no corrosion of the long term. Then add on the dual self latching plated safety chains, (extra long as well!), full battery breakaway system with on board built in charger and testing feature and the 2016 addition of our super strong 8,000lb drop leg jack set back in the tongue, so it doesn't come in contact with your trucks tail gate when you drop it.
This is a 100% STANDARD model trailer as shown... 4 wheel brakes, radial tires, nice 8k tongue jack, full LED lights and much more! Call 712 589 3100
All units come with their own set of longer, stronger 2" channel 5 foot long loading ramps in their very own lockable under floor carrier. This is NOT an add on option... this is standard on all models as priced.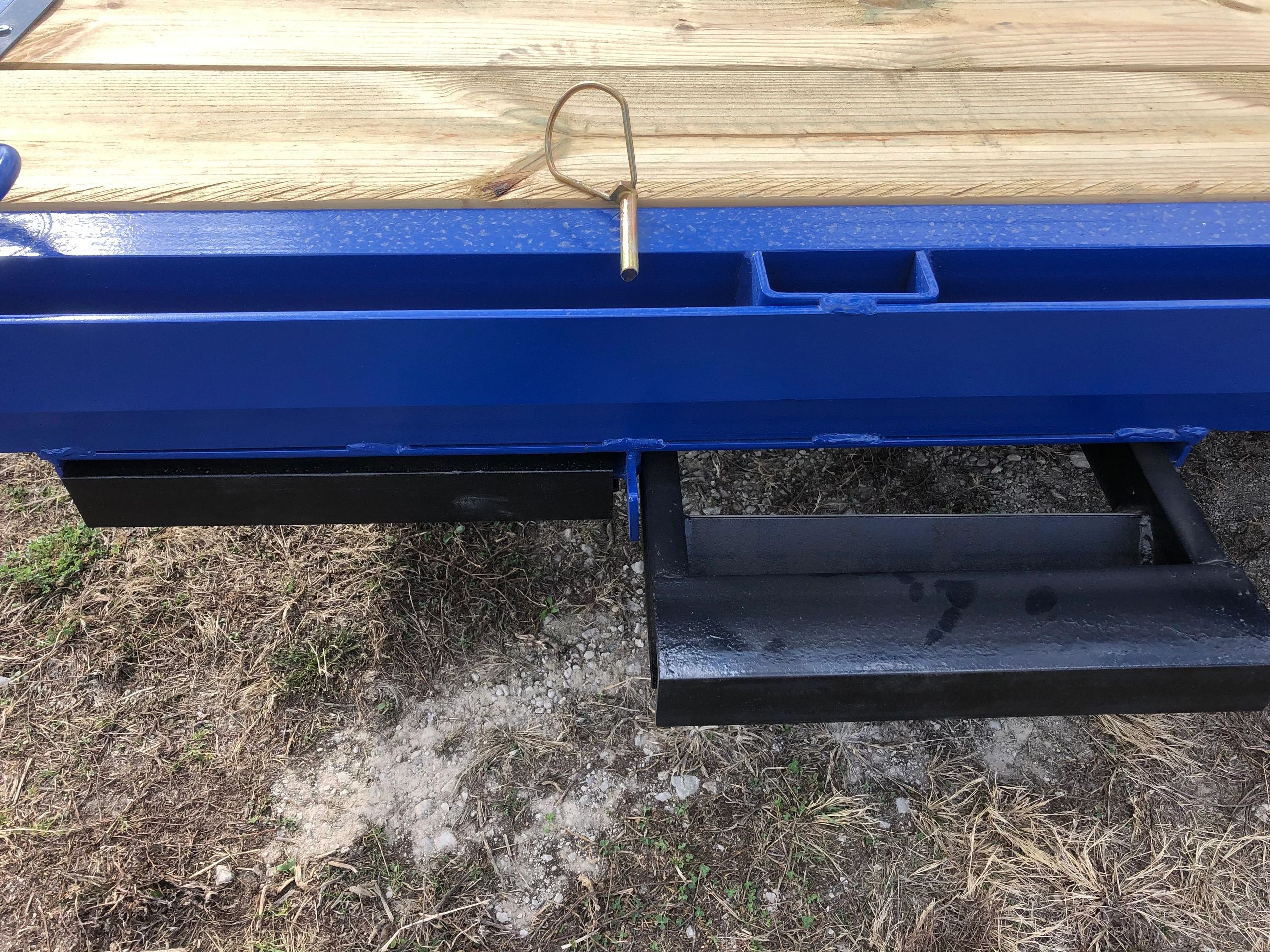 Just undo the clip and pull your ramps out...
... and hang them anywhere you want along the full width ramp hook bar on the tail.
But, the most innovative feature of our newest 2019 model are the tail lights... gone are the side turrets with lights hanging out there on the side for you to catch your knee on. Now, we mount the latest Innovative thinline LED tail lights and center bar marker nice and safe on the tail of the trailer, protected by the ramp hook bar and vertical upright braces... It's standard on all models going forward!
Want to learn even more about this innovative trailer? Scroll down and keep reading!
Want to get one for yourself? Pick up the phone and give us a call at 712 589 3100.
Is it big enough to haul YOUR car? Well, here's a shot of one carrying a jeep for reference.
Here is our current pricing on all versions of this trailer... read up and enjoy!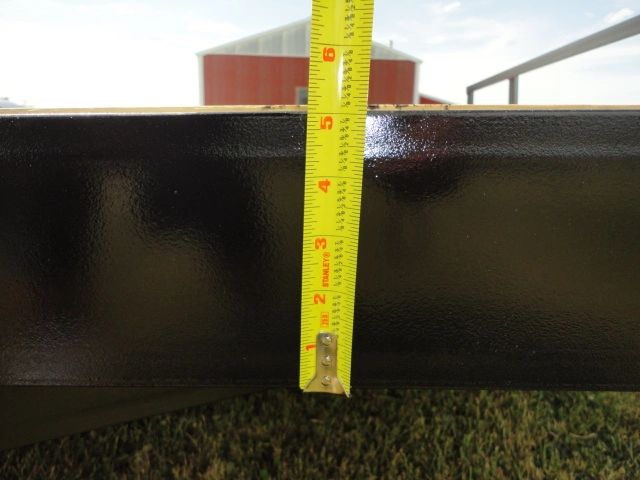 The first thing is... can it take a beating? Yes it can. With a full 6.7lb per foot 5" channel steel frame and fully wrapped channel steel tongue, this is no angle iron price leader... this a full on, commercial grade design trailer. Add to that 3" channel steel cross members under the deck and you have a rigid and ready to work trailer from the word go.
Like we said... this is a commercial grade unit. Even the channel steel tongue extends back along under the frame of the trailer and is fully welded to the very front suspension mount on both sides. This gives the trailer the strength of a 10" channel steel frame from the center of the trailer to the front of the deck, making it strongest right where you will be carrying a large majority of the load. Works perfect, handles the load and will last for decades of hard use.
At the front of this super strong tongue, you'll find a 14,000lb load rated 2 5/16" coupler. The strongest unit for the money we have ever found. Why not run a 2" ball? Because the trailer is rated to carry 7,000lbs and you would be hard pressed to find a 2" ball even rated to carry that. This design assures you that, the proper ball and hitch, this unit will be able to handle 7,000lb gross loads, without a problem for the life of the trailer.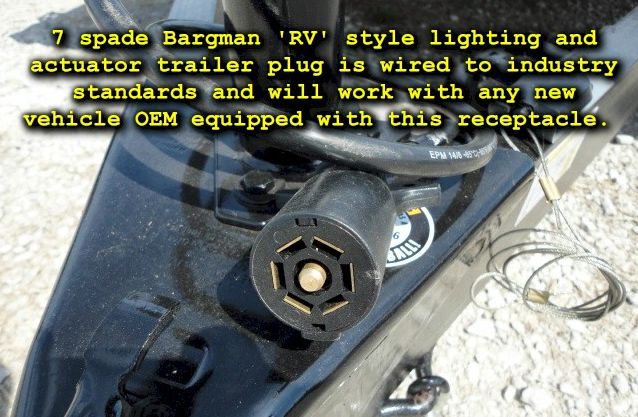 Our standard trailer connection plug is the single most popular design in the world today and will mate up to nearly ANY new truck with a factory towing package automatically.
All units come with the latest NHTSA compliant load rated safety chains. These units are extra long, in case you need to bridge the extended gap of an equalizer hitch, come plated and heated treated for lots of strength and longevity AND have the newest positive latching safety hooks to meet the latest DOT compliance guidelines.
Once you have it loaded, you have to tie it down. That's why we have installed 10 stake pocket tie downs on this model. Not only one at each corner, so you can tie down that car, truck or tractor, but also a row down each side. This allows you to take some 2x8's and 2x4's and create side boards for keeping loose items on the deck, if needed.
All the deck space and tie downs in the world won't do you any good if you can't get loaded. So, we spent a lot of time designing the tail of the trailer. Notice the full width ramp hook along the tail. Plus, we've equipped the trailer with every light needed to be safe AND fully legal in all US States as well as all provinces in Canada with this trailer. When you want to load or unload, you use the ramp hook to attach your ramps and load.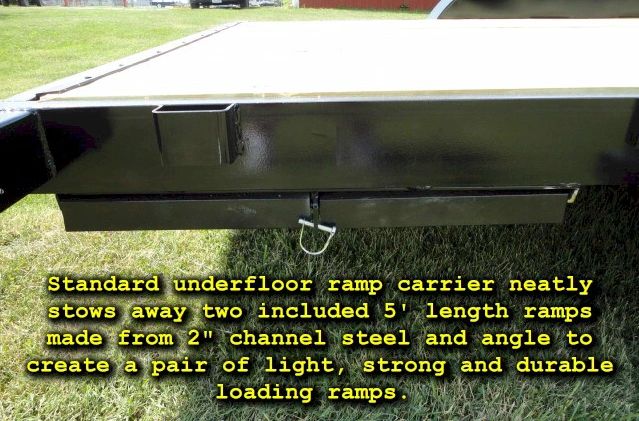 On all models, you can easily find the ramps and carriers under the deck on the passenger side of the trailer. Why not out back? Because that steals precious ground clearance for getting out of driveways.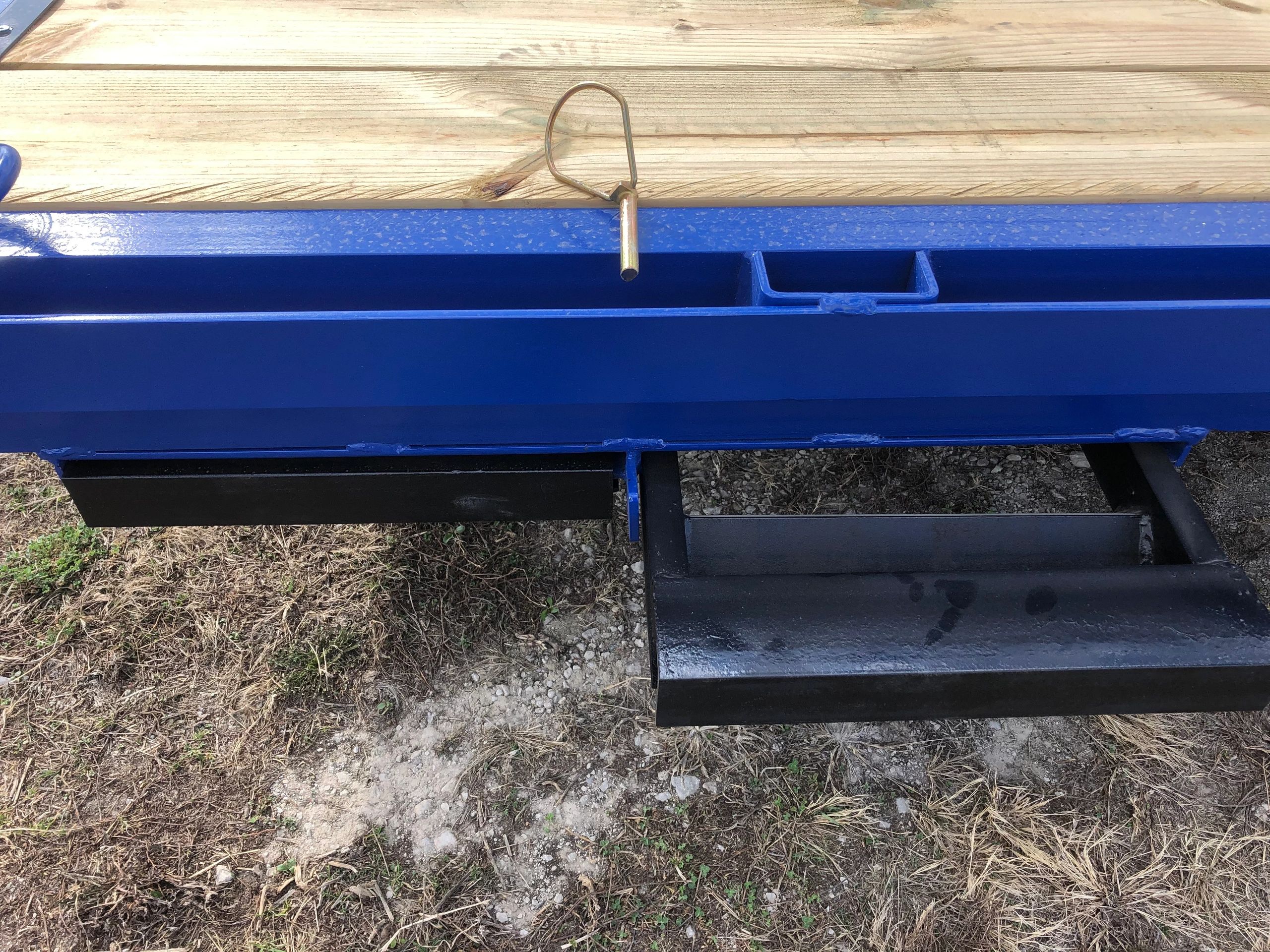 Just pull the pin and slide each ramp out. Simple and easy enough to handle.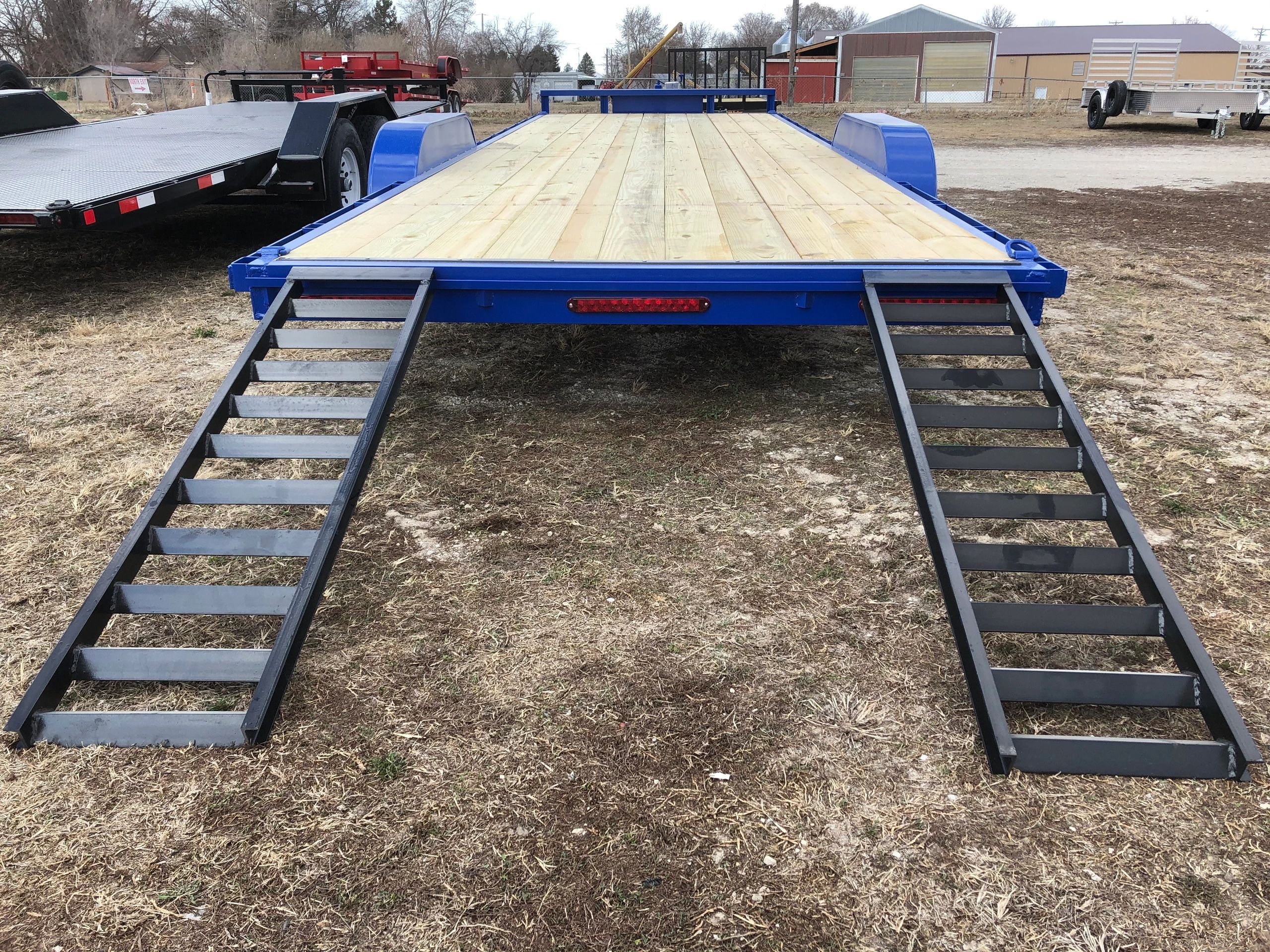 The full width ramp bar is there so you can place the ramps anywhere along the rear of the trailer. You can load narrow items or items as wide as the bed just by locating the ramps where you need them.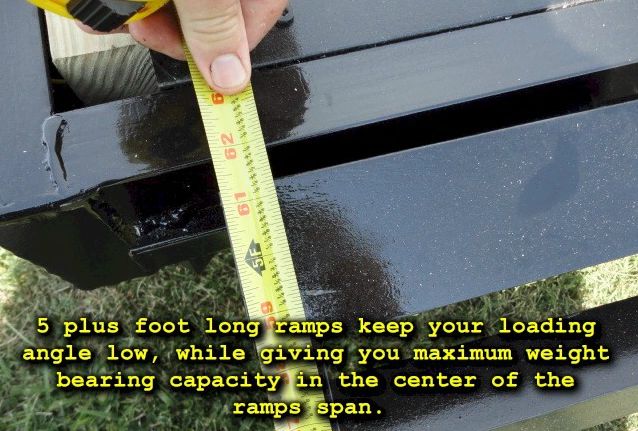 Here's a little tip when comparing trailers. We have seen a lot of trailer manufacturers brag about free ramps with their trailers... but they're only 4 feet long or 4.5 feet long. On our trailers, the ramps are actually a hair LONGER than 5', which gives you a pretty decent 2.77" of rise per foot of ramp while loading. That's about a 10-12 percent slope, which is usually more than enough to load and unload most cars and trucks.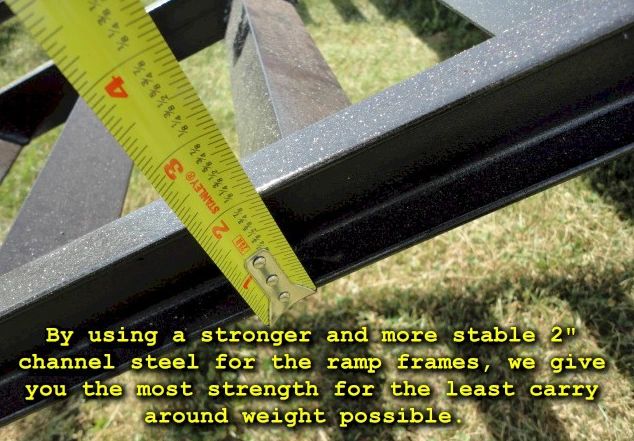 Another trick we've learned over the years is how to make a strong ramp that is also light. By using heavy web thickness 2" channel steel for the ramps main frames, we can give you the best of both worlds. A strong ramp, capable of handling anything the trailer is rated to carry, while remaining light enough that you won't strain yourself while actually moving the ramps around.
In loading position, you can see that this is a pretty slight slope! Imagine loading whatever you are thinking about when you see this photo. If looks easy in your head, it's because we have done all of the homework to make it work right in advance.
PR4B leaf springs are the industry standard for trailer suspensions and work perfect in conjunction with the forged steel suspension equalizer to keep the load balanced from axle to axle, cancel out any tire bounce and allow you to run smooth on road while also allowing you to run around off road when needed and still get full load carrying capacity. (Wow... that was a looooong sentence.)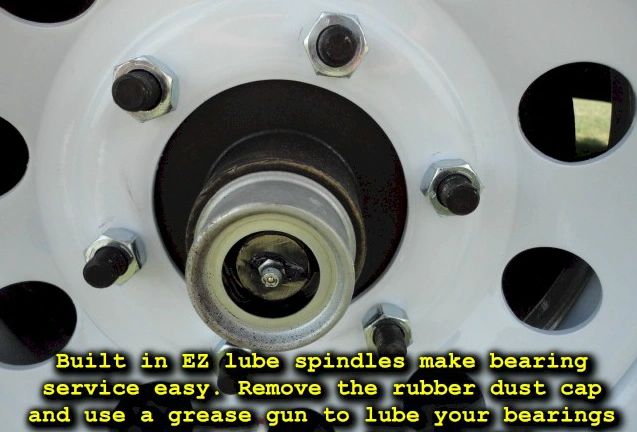 EZ Lube Hubs! (See how they work here!)
Probably one of the best inventions ever for trailers. This idea took some engineering and increases in technology to perfect. Now, it's as strong as any spindle design in the industry and allows you to PROPERLY grease both your inside and outside wheel bearings with a simple grease gun and some good Lithium Complex wheel bearing grease. Every 12,000 miles we still recommend that you pull your hubs and manually inspect your bearings and seals, but this makes the interim maintenance a breeze.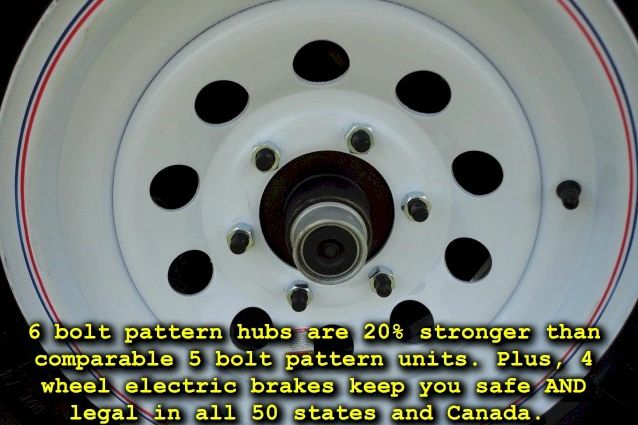 It's just simple math and physics. 6 total 1/2" wheel studs will easily hold 20% more load than 5. This 'more is better' theorem works even better when it doesn't cost you one penny more to get 6 bolt hubs and wheels than other brands 5 bolt hubs and wheels.
Yes, even at this price, your trailer comes with the proper and fully US and Canadian legal 4 wheel brake system. Not only does it make the trailer legal, it makes it safer, since it can actually pull 7,000lbs to a stop when you need it to. By Immersion rated, we mean that these axles would be perfectly at home on a boat trailer, rolling into the water, day in and day out. This grade of axle just resists moisture much better and makes your towing life a little easier. Ad to that the 7,000lb GVWR rating and you can easily calculate that, minus the approximate 1,700lb weight of the empty trailer, plus addition of 10% of your load going onto the tongue, this trailer is easily capable of carrying 5,500lbs of load, day in and day out for years to come.
All of the things we kept in mind when originally designing this trailer are sometimes afterthoughts for other manufacturers. By design, we have kept the fender height on this trailer at a hair UNDER 9", which means you can easily swing open nearly any door on any car made without hitting the fender. Nice for you, great for your cars paint.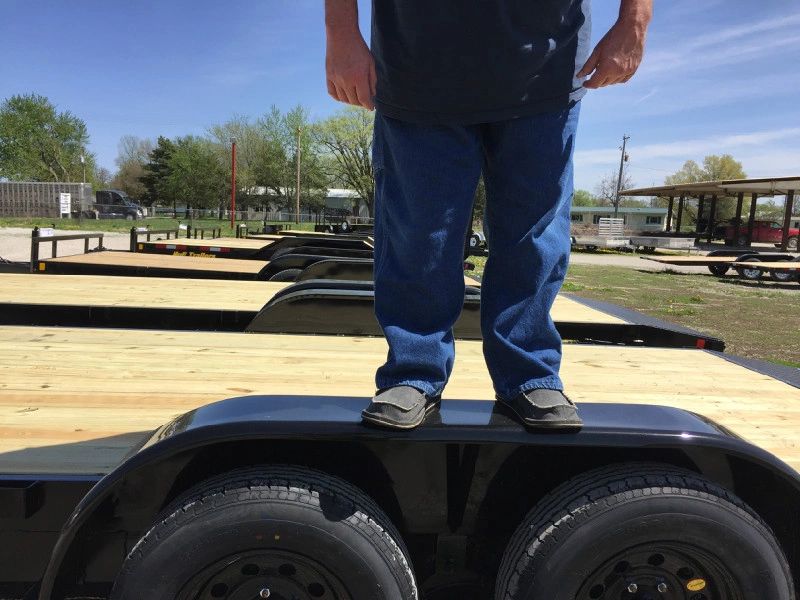 Not only will these fenders hold a full grown man, they'll handle the weight of nearly TWO! That's about 330lbs on top of those two size 13 shoes. Sexy ankles too! Anyway, if you want durability in a trailer, you have to think about how it will actually be used. Shiny aluminum fenders look cool but they just can't handle an accidental 'step over' without bending and cracking. Keep this in mind and remember, this comes standard on this trailer.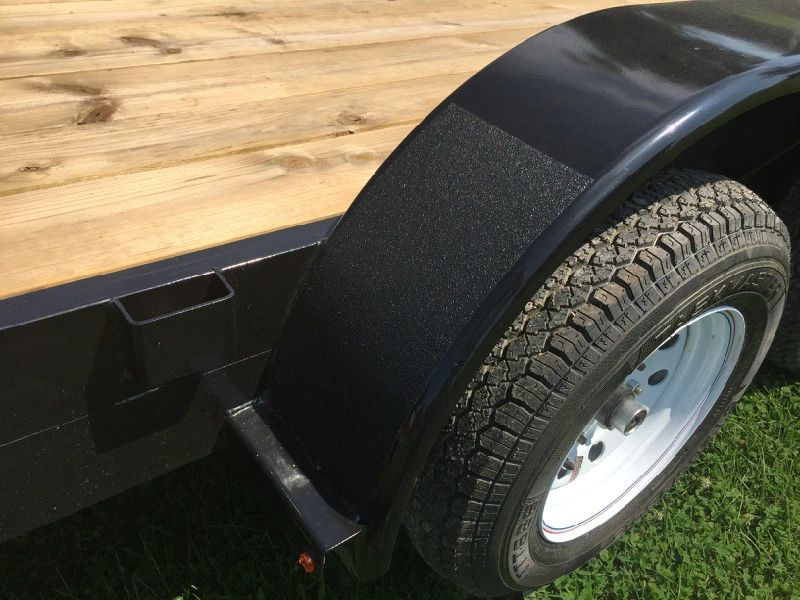 And since we all know that trailers take the worst beating in the world, we include this nifty fender front rock guard on both fenders to help keep the inevitable damage of towing down to a minimum.
We are very proud of the floor we install in every unit AND we give it a 10 year no rot warranty at no cost! Complete #1 grade ACQ treated wood flooring is strong and designed to last far beyond the 10 year warranty we offer.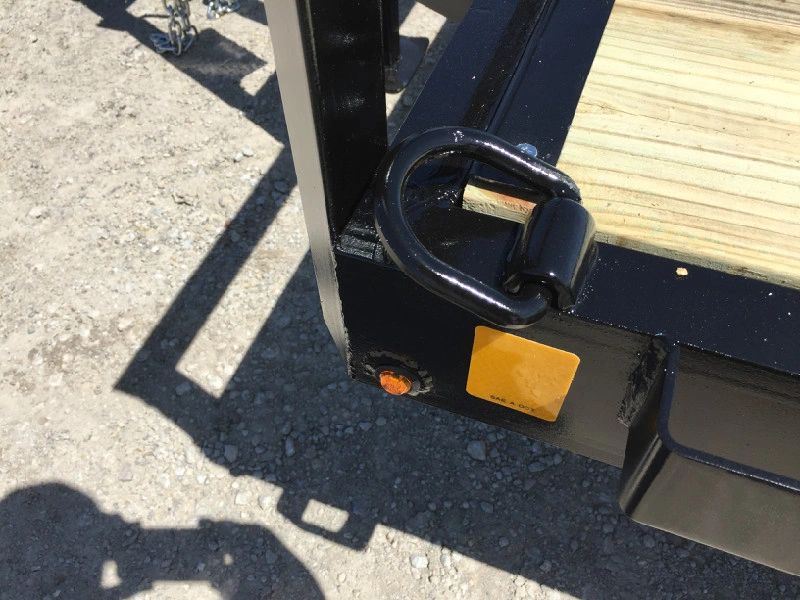 All through this feature, you've been seeing marker lights and reflectors. We have gone the distance on this unit and have installed EVERY light required to be safe and legal, no matter you may tow in North America. No edge skirting here... it is 100% DOT, NHTSA, Canadian Transport and ICC legal as built, which means that you can tow safely and legally... anywhere.
If you need the additional slope of a dovetail, we can add this complete all steel dovetail unit, which adds an additional 2 feet of overall length to the trailer for another $250. just let us know what YOU want on your trailer and we can get it done.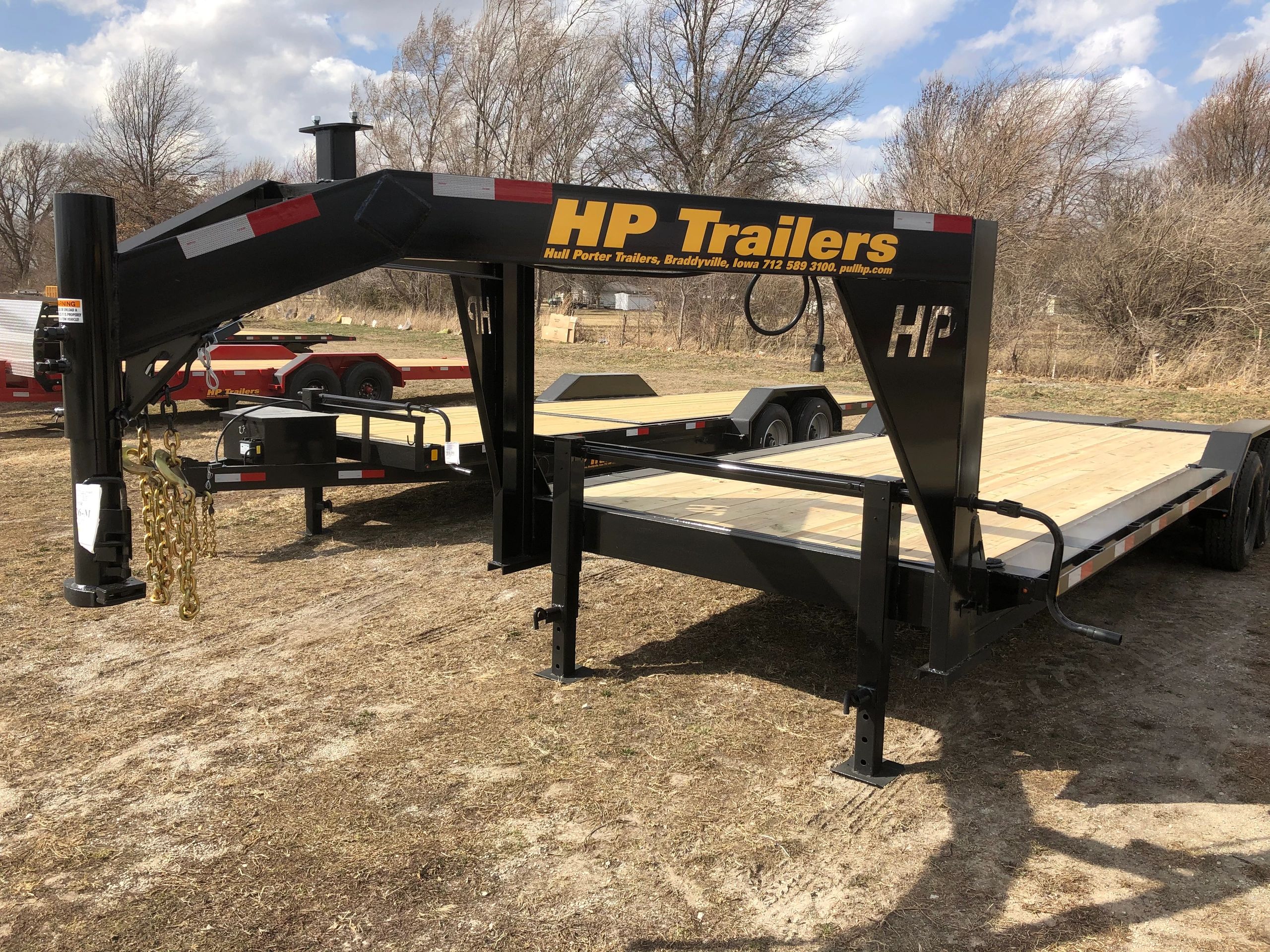 Need your HD Flatbed in a gooseneck chassis? No problem... you'll get it upgraded just like you see in this photo, with adjustable height gooseneck coupler on a drop down channel steel gooseneck tongue, 12k dropleg spring loaded jack with side crank, big gussets on the frame and neck and a few other neat little features for $675 more.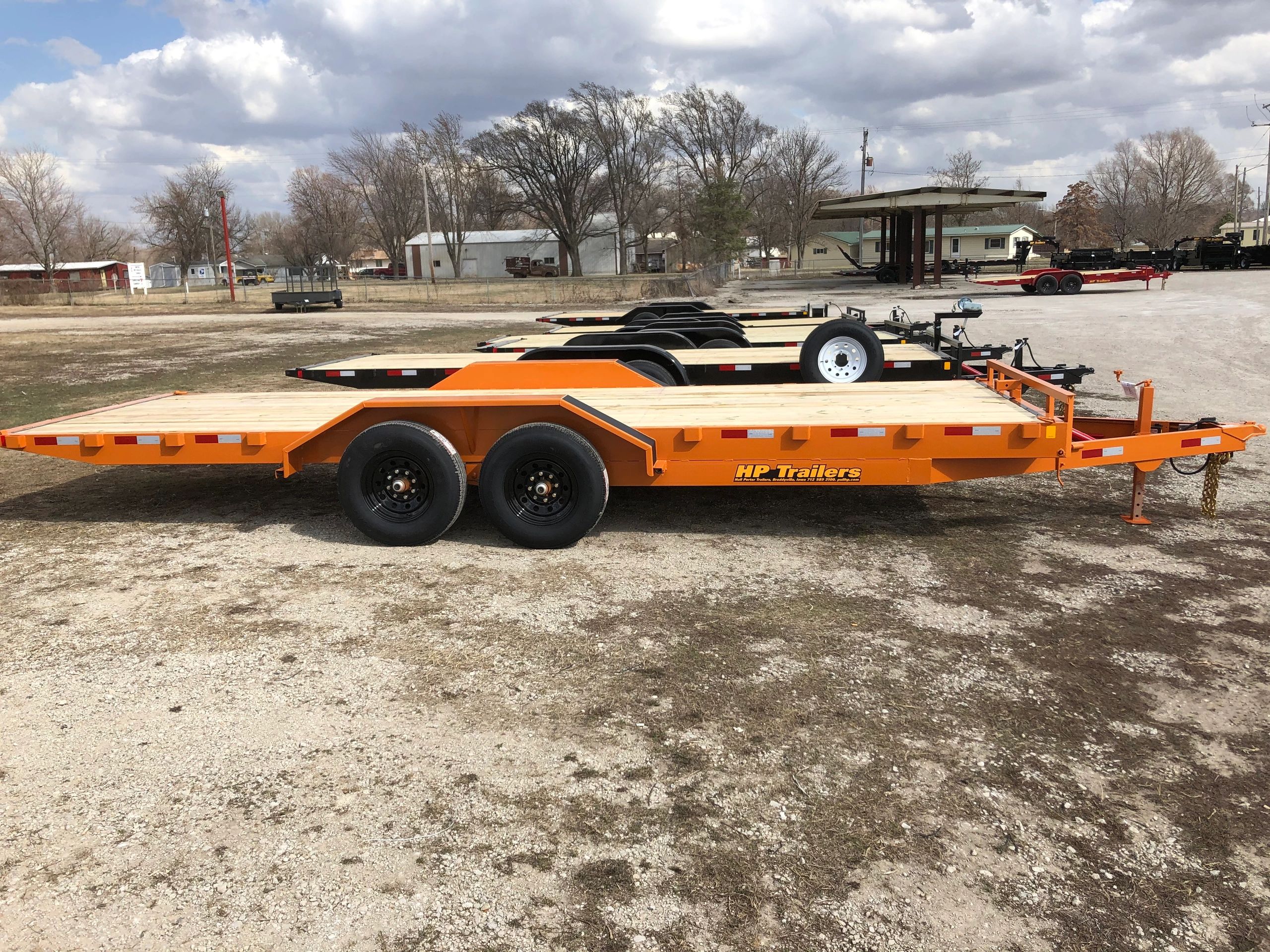 Need more capacity? You can upgrade this unit to a 9,990lb trailer or a full on 14,000lb GVWR unit (shown above) for anywhere from $750 to $995. Call Craig at 712 589 3100 to get the full details on how this actually creates an entirely new trailer within a trailer and gives you all you need for an excellent price.
So, there you have it. A complete, fully legal, safely engineering, equipped and designed trailer out the door for under $3,500. We're already shipping out thousands, so call and get your name in asap! We'll keep building them.
Here is the entire price page out of our current catalog for your reference, or you can download the catalog in PDF format by
clicking HERE
For more info, EMAIL Us
or phone direct at
712 589 3100
Back to top of this page.
Back to Main Page.