New Models and Pricing!
Bed front winch mount plate installed on your trailer (You mount your own winch) $175
10,000lb electric winch mounted and wired $795
12,000lb electric winch mounted and wired $895
NEW!!!! .............. 17,000lb electric winch mounted and wired $995
20,000lb Pierce Brand Commercial Recovery Winch model... mounted and wired $2,395
So, you REALLY need a usable trailer that can do anything and you have always wanted a nice one with an electric winch... but the price!! (OY!)
Well, fear no more. I have been testing this exact winch on my trailer for two years and it has yet to fail me, no matter what I asked of it... a full 9,000lb capacity (
Now 10,000lb at the SAME Price!
) unit installed and ready to go for $795... Read on.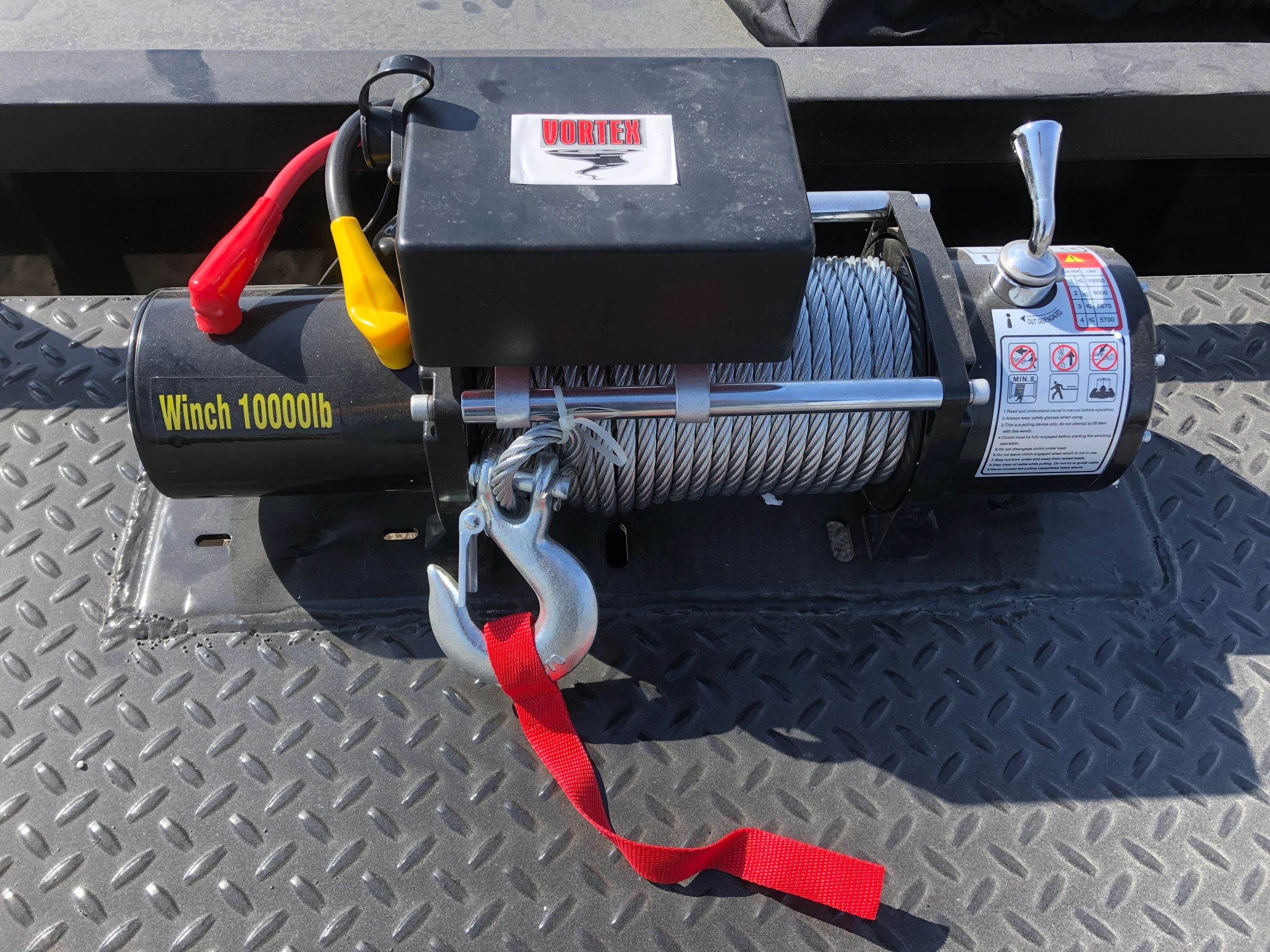 We've done some much volume that they dropped our prices!!!
10,000lb winch installed is only $795 now!
Yep... It's the best package we've been able to assemble. A complete unit, mounted on its own custom plate system, long cable with hook and corded remote, all for $795.
If you order it on one of our self powered E/T or G/T tilt models, we'll even wire it into the battery pack so it is powered up and ready to use from day one. But, we have a lot of people putting this on M/T tilts and HD flatbeds and running their own power cables to their tow vehicle or using a mobile battery to power it when they need it.
Either way, this is about $800 LESS than a system like this would have cost a few years ago!
Just like the photo above says! I bought one of these units to test a few years ago and have pulled some monster loads up on my 14k E/T tilt trailer with it. I have no complaints about how it works and i don't think you will either!
Every winch will also come with this stylish winch cover to help protect your new investment from all of the changing weather that it will encounter!
Have your own winch and just want a good place to mount it? We'll have your new trailer built with this neat winch prep kit, including the heavy service mount plate for $175
Got questions about this or any other option? Need to talk about your particular towing or hauling problem? Give Craig a call now at 712 589 3100.