Optional colors- $200
Email us to finalize the details now,
Or phone us at 712 589 3100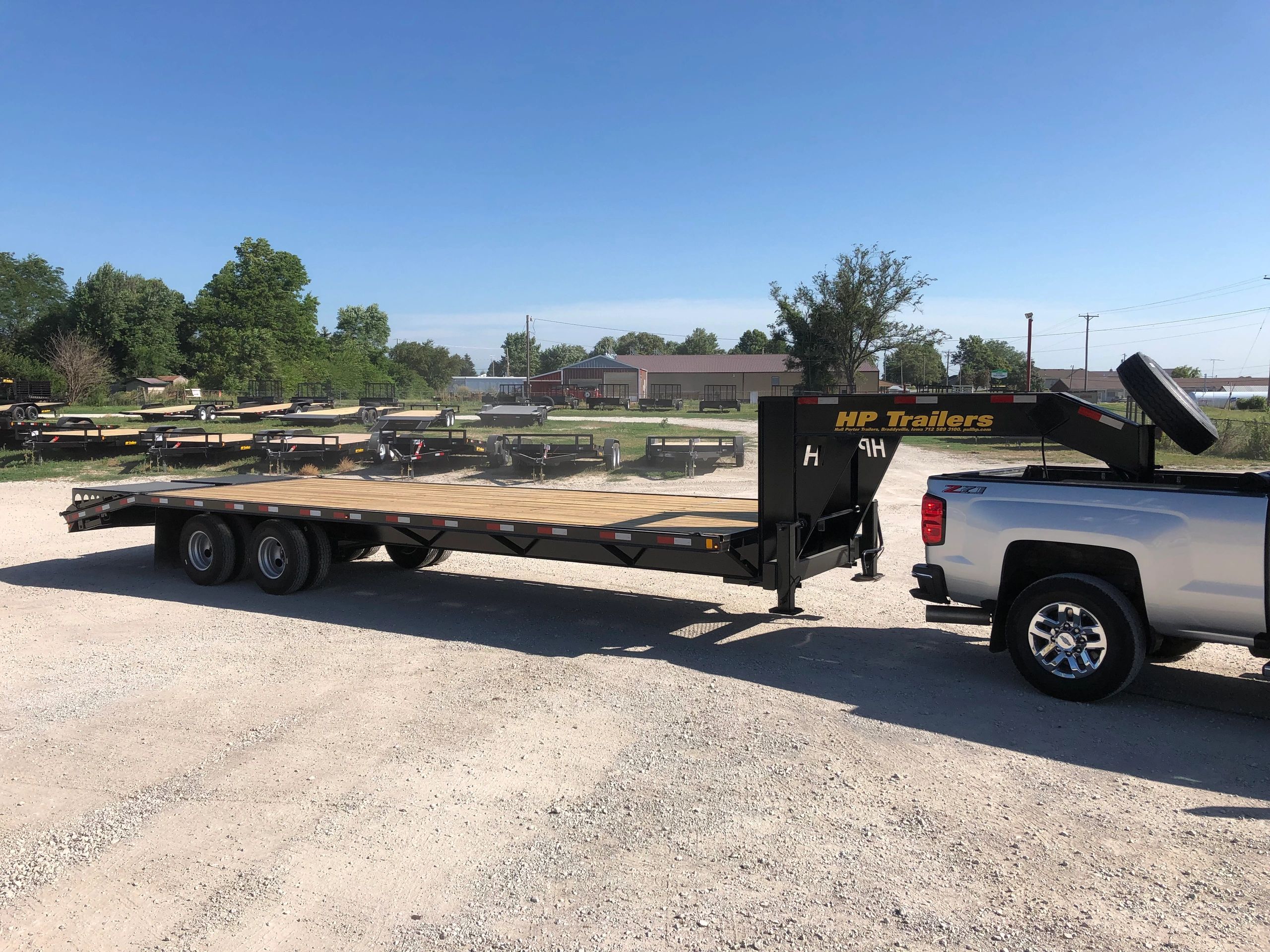 When you want to pin it down the the absolutely most popular Hi Deck design we sell, this is the one... the venerable 25+5 model with our popular 20,000lb Tandem Dual Suspension.
It just works out this way for some reason... if left to their own devices, most folks who want the standard 14,000lb rated Hi Deck will order it in the 20 foot flat floor plus 5 foot dovetail design. But when they are hunting for a 20,000lb tandem dual model, the floor gets 5 feet longer without any input from us. And honestly, I have pulled every length of trailer built, at one time or another and believe that the 25+5 tandem dually may be one of the smoothest pulling lengths and suspension combinations out there. Just my opinion, but there you have it.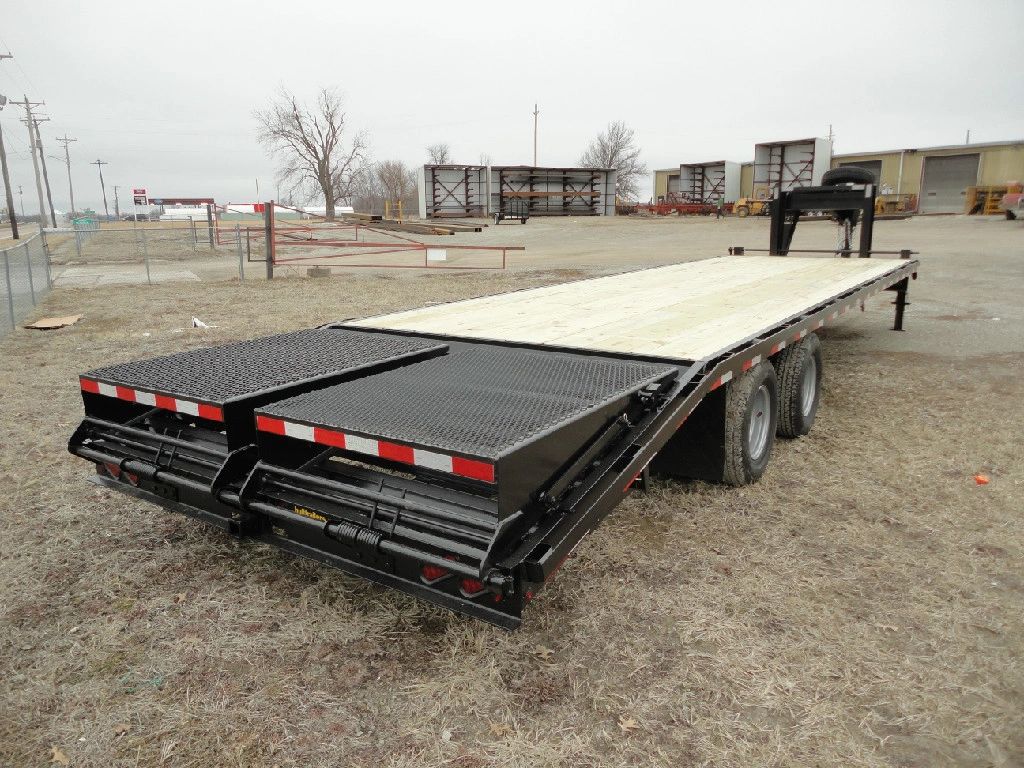 Here's where this trailer really shines, in my opinion. His super wide flip over ramp system does so many things so well that it's shocking. It is a stable and solid flat floor, for hauling anything you should ever need to haul on the tail of this unit AND it is the most useful and easy to operate ramp system for a trailer of this capacity I have ever played with. Scroll down to take a tour of how they work.
Want to watch a quick, windy, wet video of Craig running these ramps? Click below.
I know... fat guy, bad weather... yada yada... but notice how there isn't ANYTHING to unpin or reattach during the whole process. The self locking latch system is very unique and designed in house by our guys! It WORKS like a charm too.
When Curtis first came out with these 'gravity' latches, I was certain that there would be a flaw. "What about when you're bouncing down the road? Won't the latches jump up and let the ramp loose?"
Curtis explained and then demonstrated their effectiveness by having me drive behind him while he towed a trailer with these ramps down the roughest road he could find. Every time the trailer would hop over a bump, I would see an almost imperceptible movement of the ramp rising and falling and that was it! Why? Because the latch engages at a very precise angle to the trailers frame and when any upward motion happens, the ramp itself, being spring assisted, actually acts like it weighs half as much as this little latch. Therefore the ramp moves a little and actually MAKES the latch grab the trailer even harder than when it is at rest. The entire movement is maybe 1/8th of an inch and that is all it takes to make this ramp stay right where you put it, until you want to unlatch it. Don't you love smart people?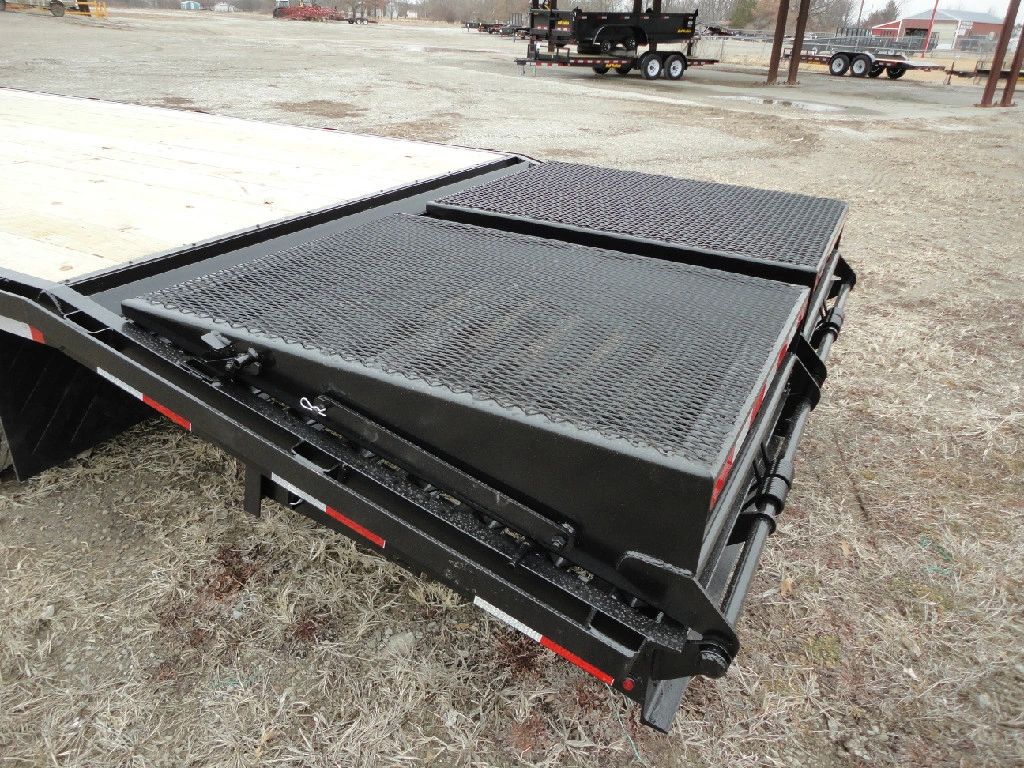 Why is this important? Because, any time we can eliminate the need for you to physically remove something from the trailer, we eliminate one more worry that you, or someone who is using your trailer will LOSE something that belongs on the trailer. Kind of a great concept.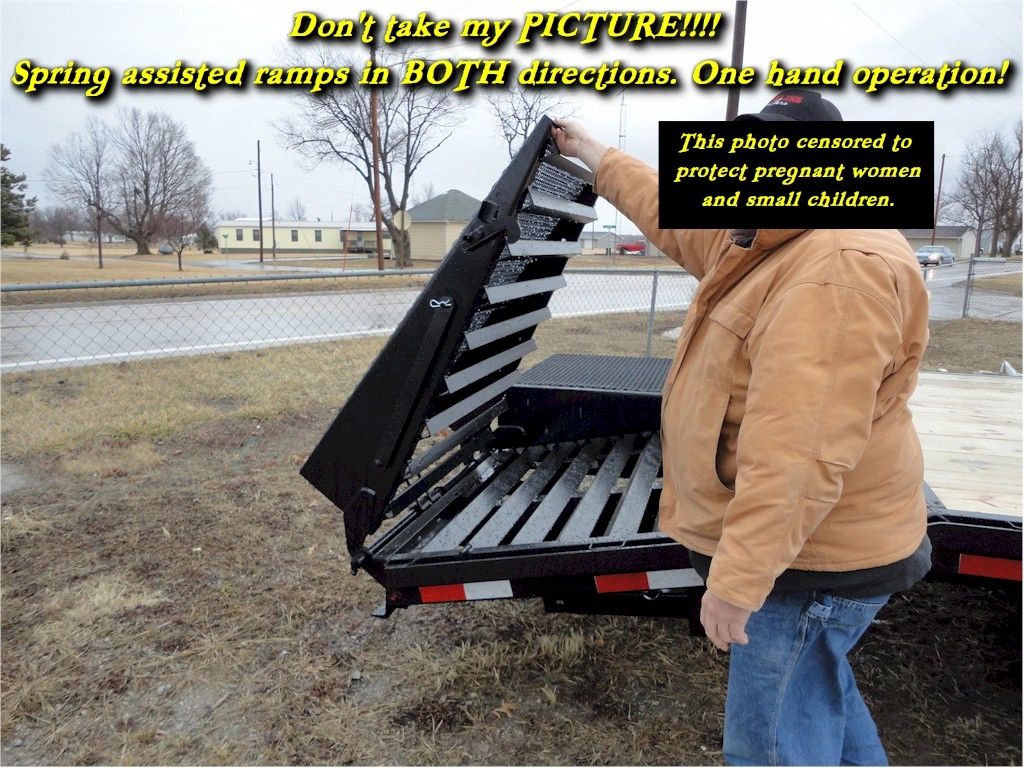 I look pretty darn ugly... trust me. Anyway, the ramps on these units have not one but TWO assist springs in EACH direction (Yes, four total assist springs per ramp, 8 total on the tail of the trailer) that keep the strain of operation to a bare minimum. I really did lift up this 42" wide, 5' long, 1' tall wedge ramp with one hand. (That's about a 150lb ramp if it were laying on the ground for reference.) Yes, it's big and beefy, but it needs to be in order to handle loading anything you need for the next 20 years. The spring assist in both directions assures you that you won't be needing a back brace to operate it.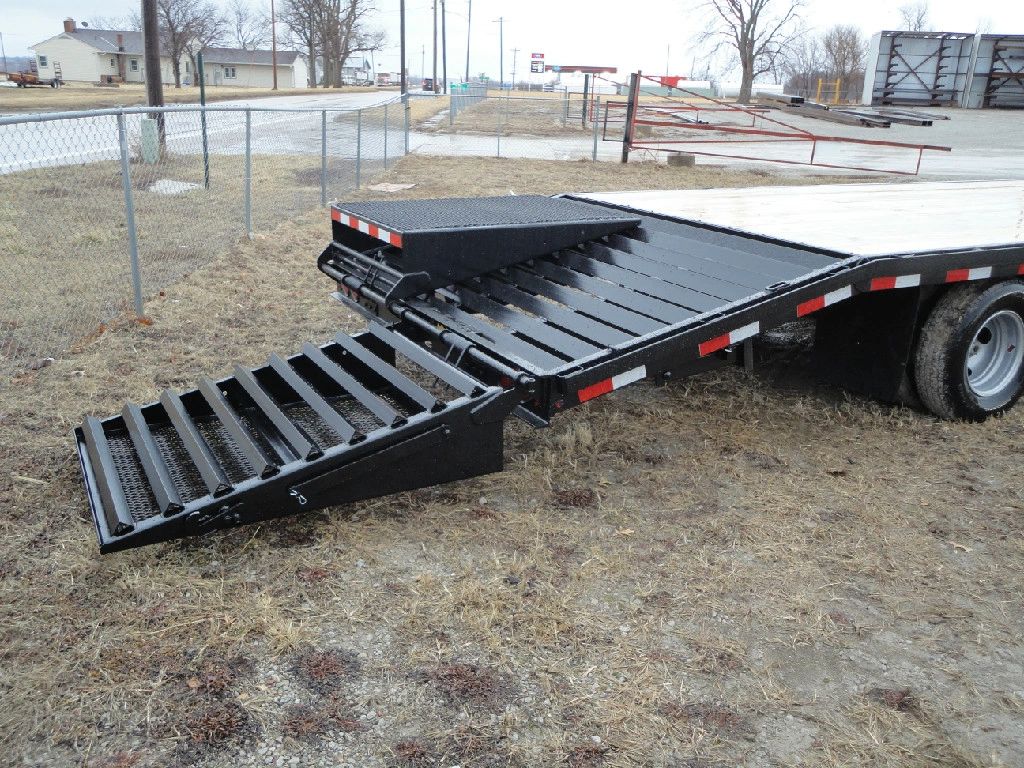 On this new unit, the spring assist is so strong that it actually holds the foot of the ramp a few inches off of the ground. Rest assured, you could walk up to it here, grab it with one hand and flip it back up and over without any strain. Very solid, very nice and included on every dovetail on all Hi Deck Models we build. (NOTE: Check out the nice gradual rise from the ground to the trailers deck! This trailer has the same loading angle as our little car trailers and even the 18 M/T tilt!)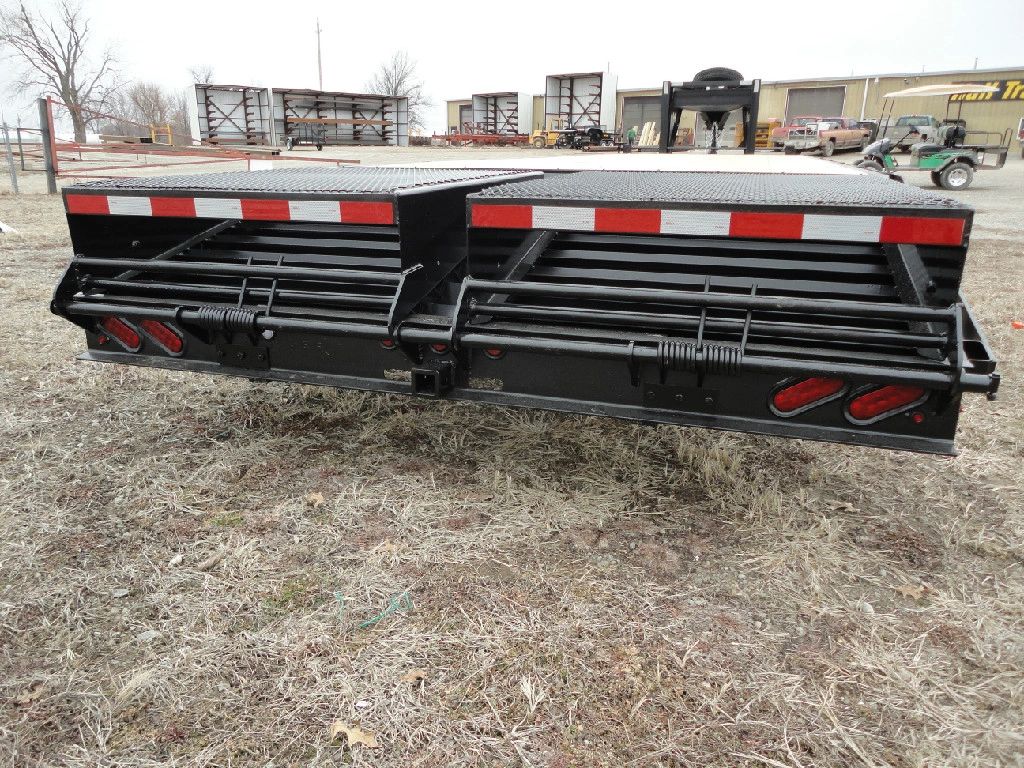 Out back, you can see the redundant LED tail lights, LED clearance and LED 3 light center markers that come std on all Hi Deck models. All of the wiring runs through PVC conduit into steel junction boxes as well, to insure that the lights stay on too. (Notice how the ramps lay over to form a truly smooth flat floor extension off of the deck as well.)
Included on all dovetail Hi Decks! Just in case you just have to move something else, we install this neat receiver hitch tube in the tail with safety chain provisions. You'll still have to wire up lights, but the hard part is already done. Many people have used this to mount electric winches for pulling items near the tail of the trailer, too.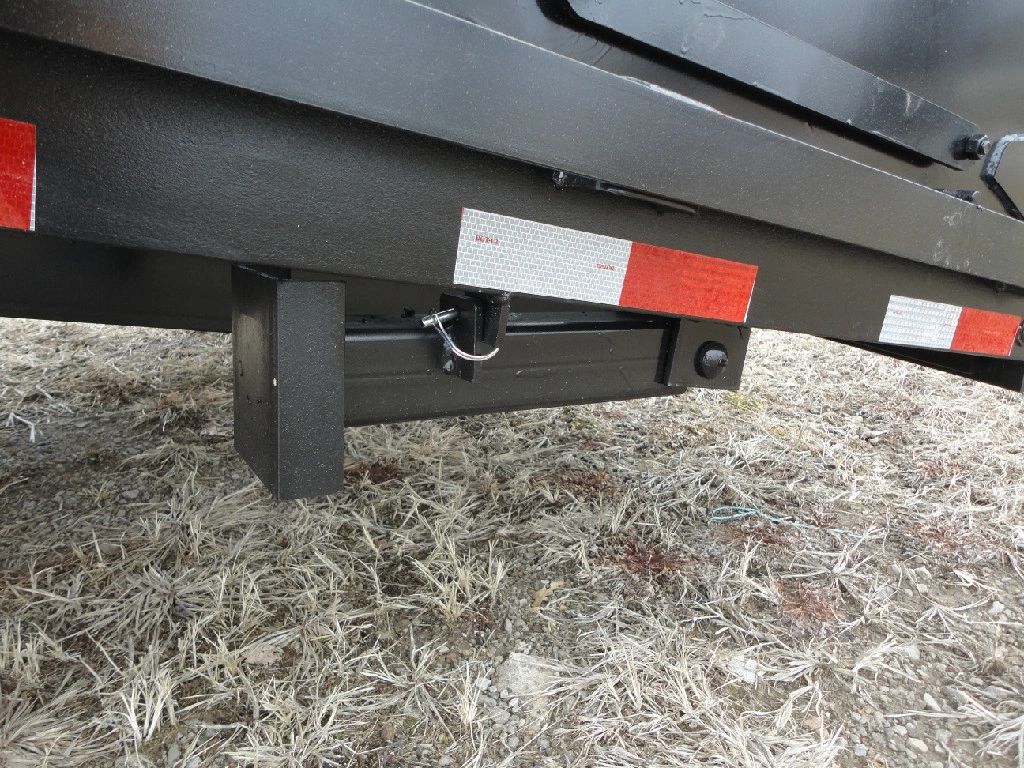 When you get around to loading the REALLY heavy stuff, we even include a pair of drop down, swiveling dock legs! Yep, not an option... they are included as well.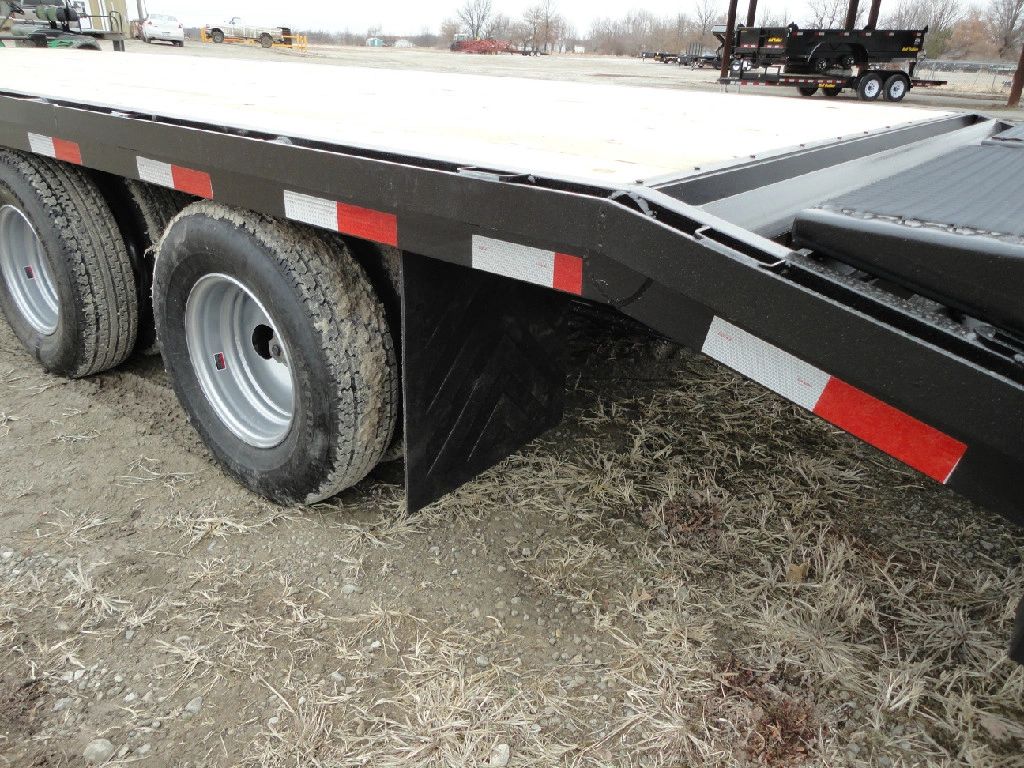 Rubber mud flaps are properly configured and mounted as well, std. (NOTE: DOT law requires these now... so if you DON'T end up buying one of these from us.. make sure that whoever you DO get one from puts these on for you, or you'll be doing it yourself.)
(NOTE: Notice the massive 'fish plate' (who thought that name up for this, i will never know ~ Craig) welded on to the frame where the dovetail meets the main frame of the trailer. It's just one more piece of insurance that this trailer will forgive you, even if you happen to load something a hair bigger than you should at times.It's also cut in a continuous curve pattern and welded that way to augment the overall weld. No sharp corners on the actual stress plane means less chance for a stress crack.)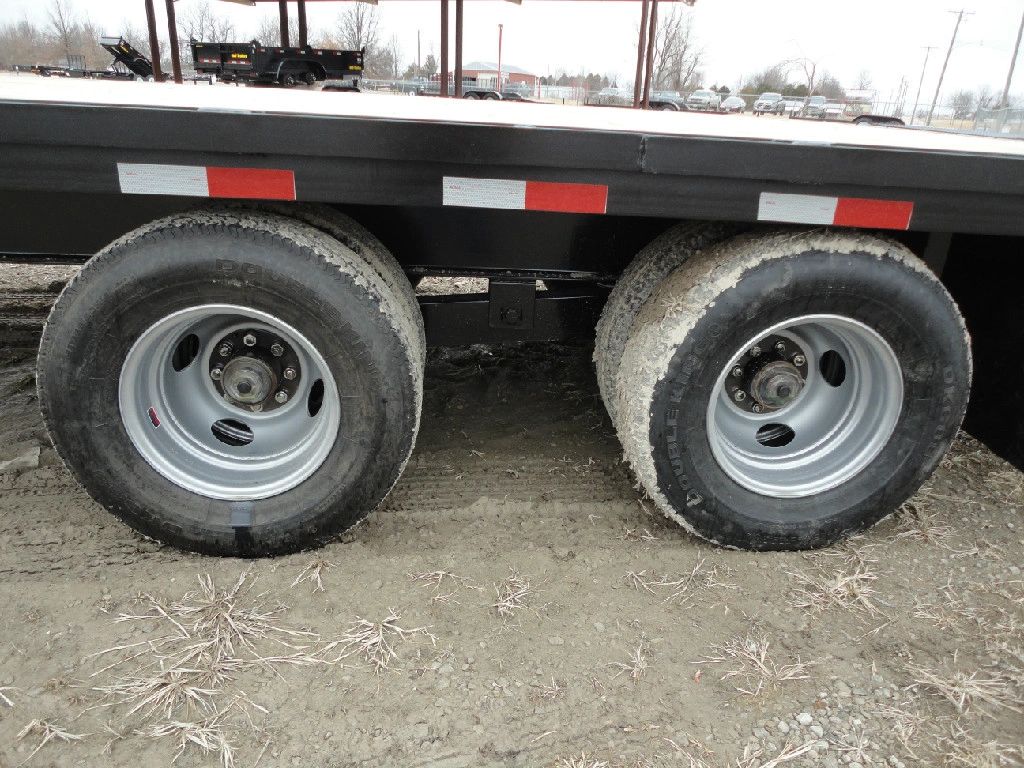 This unit was ordered in the optional 20,000lb tandem dual greasable and serviceable suspension, which includes the wide 48" spread suspension system (It REALLY cancels out expansion joint bumps on the highways while towing!), tandem oil bath Dexter 10,000lb axles, 4 wheel brake system, 8 dual bud wheels and 8 ST235/80R-16 10 ply rated steel belted radial tires. Strong is a definite understatement here.
Check out that cool looking
10 year warranted
floor! All #1 Grade
ACQ treated
smooth finish wood, fastened down to the trailers chassis in multiple locations. Then check out the rub rail system. Heavy steel rub rails cap off a big rig style alternating spindle and pocket system to give you tons of choice about where and how you tie things down. Nothing here is an option... everything in the photo is standard on all Hi Deck Models we offer.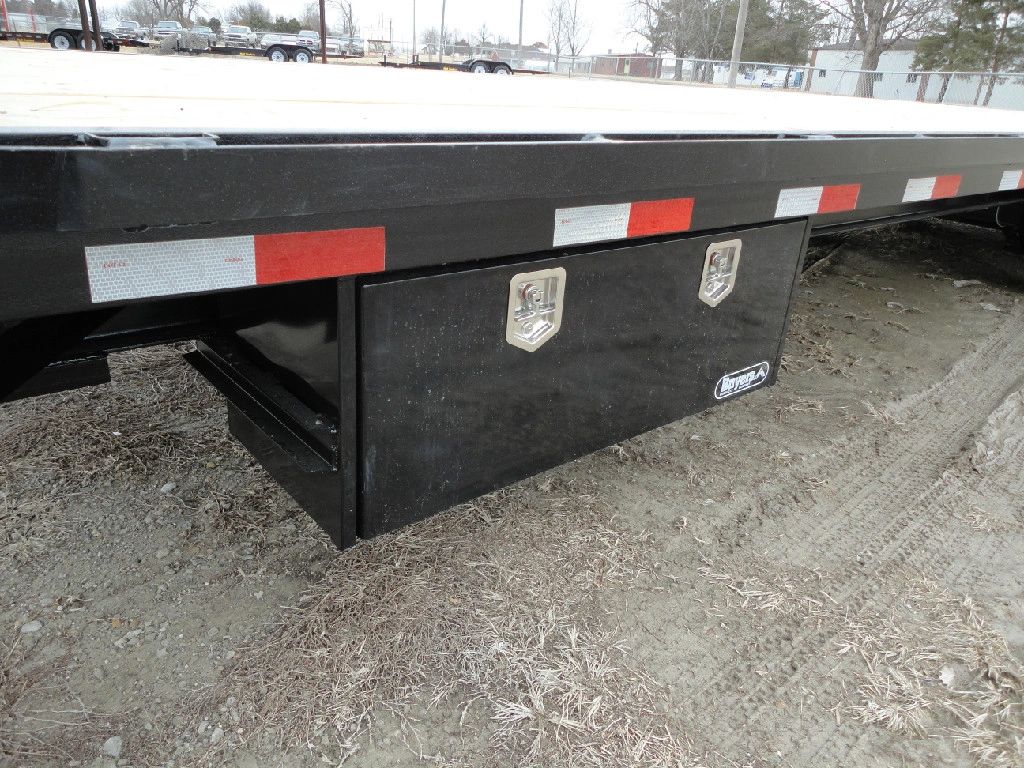 Need a secure place to store goodies? We can't imagine a nicer, easier to use option than this 18" tall, 18" deep, double locking
48" long Buyers underbed storage box
. Want one added onto your trailer? $400 is all it takes.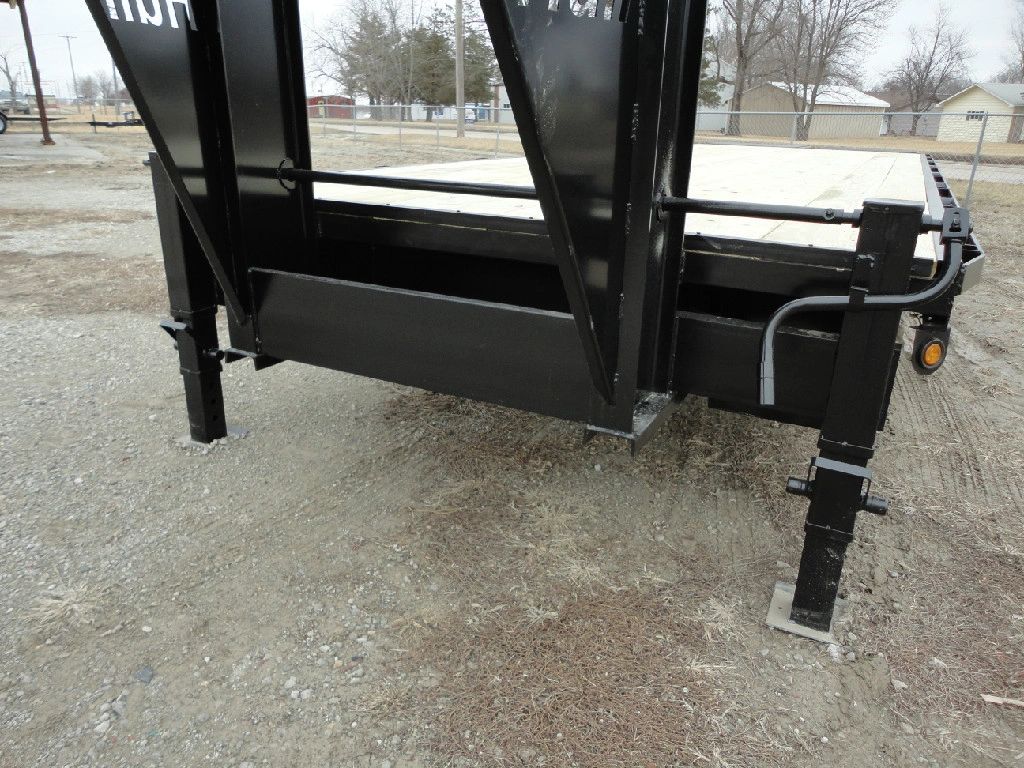 Standard on all tandem dual optioned units ($175 option on our std 14,000lb capacity units) are these dual 12,000lb rated drop leg jacks with spring assisted retracting drop legs. If you dolly down loaded a lot and can't always do it on level ground, they are the best friend you will ever have.
Want even more storage? Need a place to hang chains and let them drop? We add on a nifty chain hanging rack up in the neck for dropping chains into this now standard equipment expanded steel catch tray down below, in between the frame rails. FREE on all models as of February 2016! (NOTE: See the black tube snaking it's way under the bed to the right side of this photo? That's where we run the wiring to the truck. By keeping it shielded inside of this heavy wall PVC tube and running it up high, it helps eliminate the worry of snagging your wiring while running through high weeds or cornstalks!)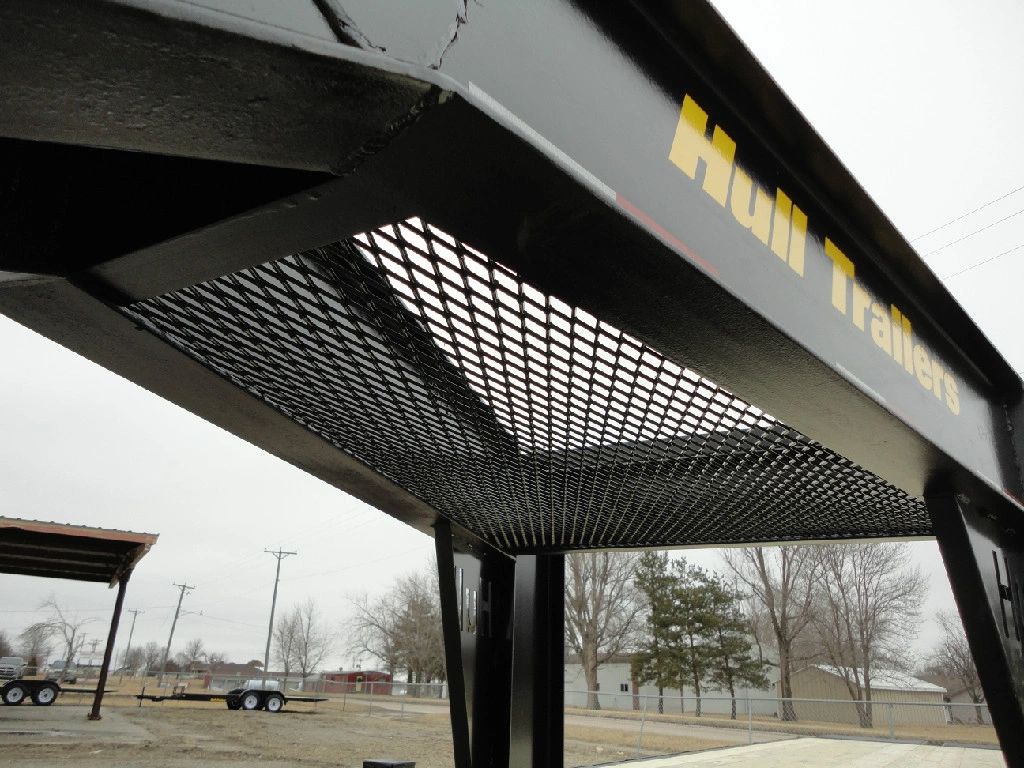 Do you still need MORE storage? (Are you like me and take your entire garage along with you, just in case?~ Craig) We'll have the boys hand fab and install this nifty in tongue chain tray in the bottom of the trailers gooseneck for another $500. (Sound pricey? I timed a welder one time and he spent over an hour putting down 130 different welds to fasten this in place!)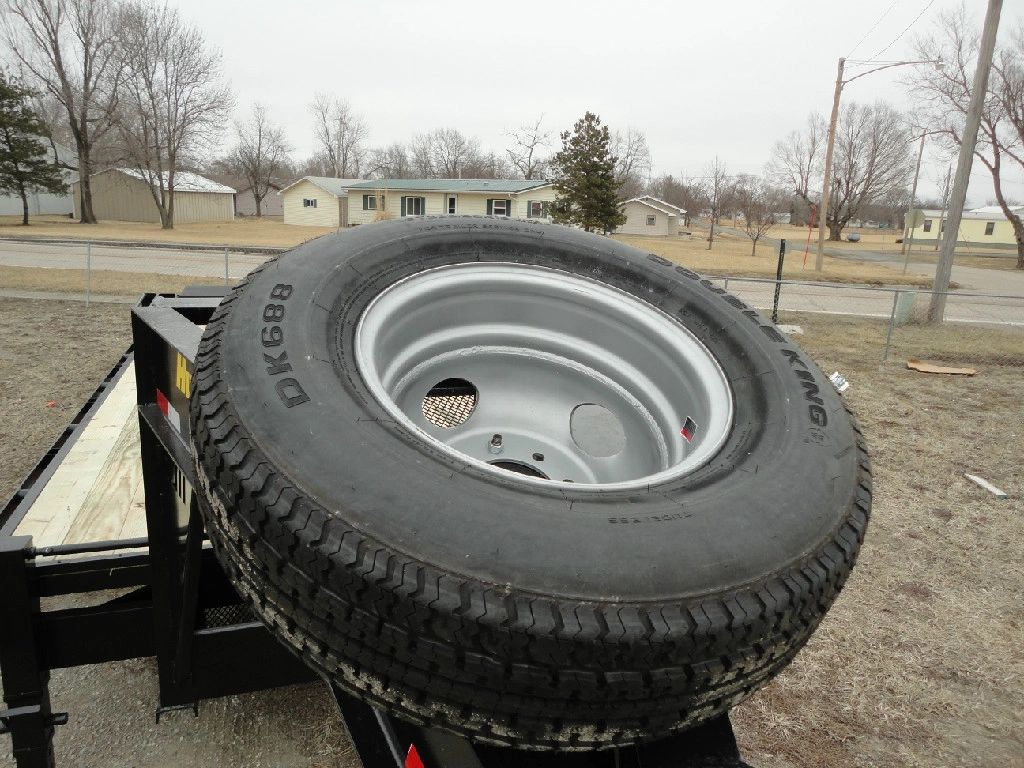 Though a mount is standard on all models, this matching spare dually wheel and ST235/80R-16 10 ply rated steel belted radial ($200) can be added on.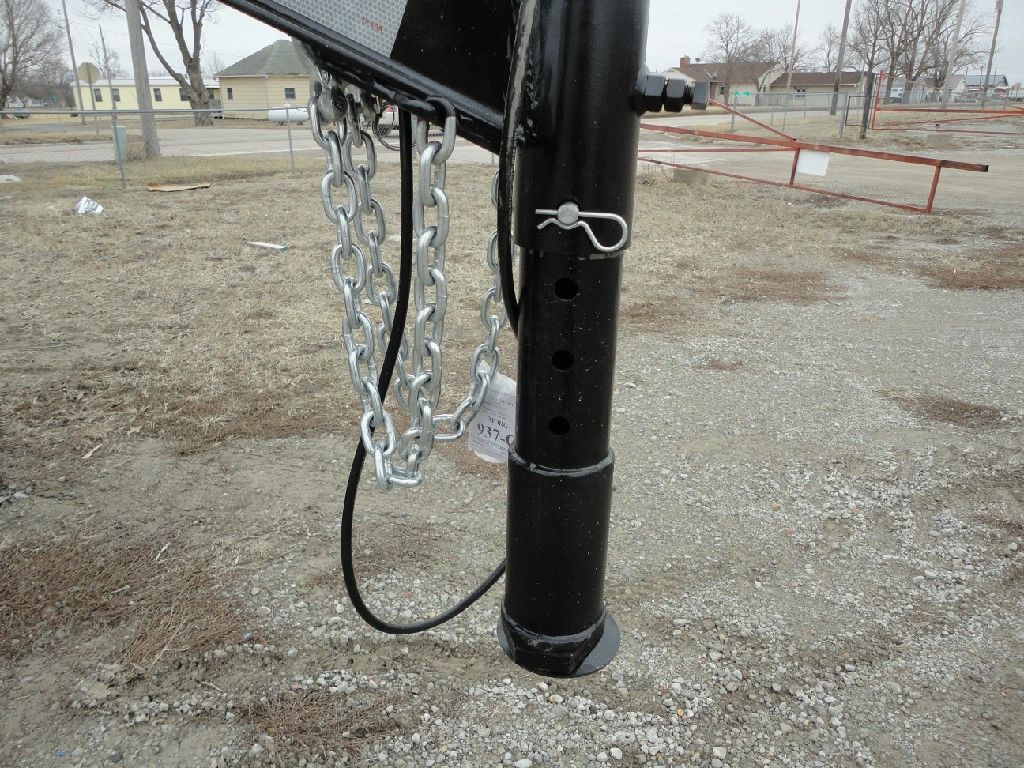 Standard on all Hi Deck models (actually, we put this on all Gooseneck optioned trailers!) a full on 25,000lb rated, adjustable height gooseneck coupler with both the locking tube set screw system, like every gooseneck coupler you've seen, plus the massive 3/4" height lock pin to keep things in order, even when you've got this baby loaded tongue heavy! It can take an easy 4,500lbs of tongue weight too!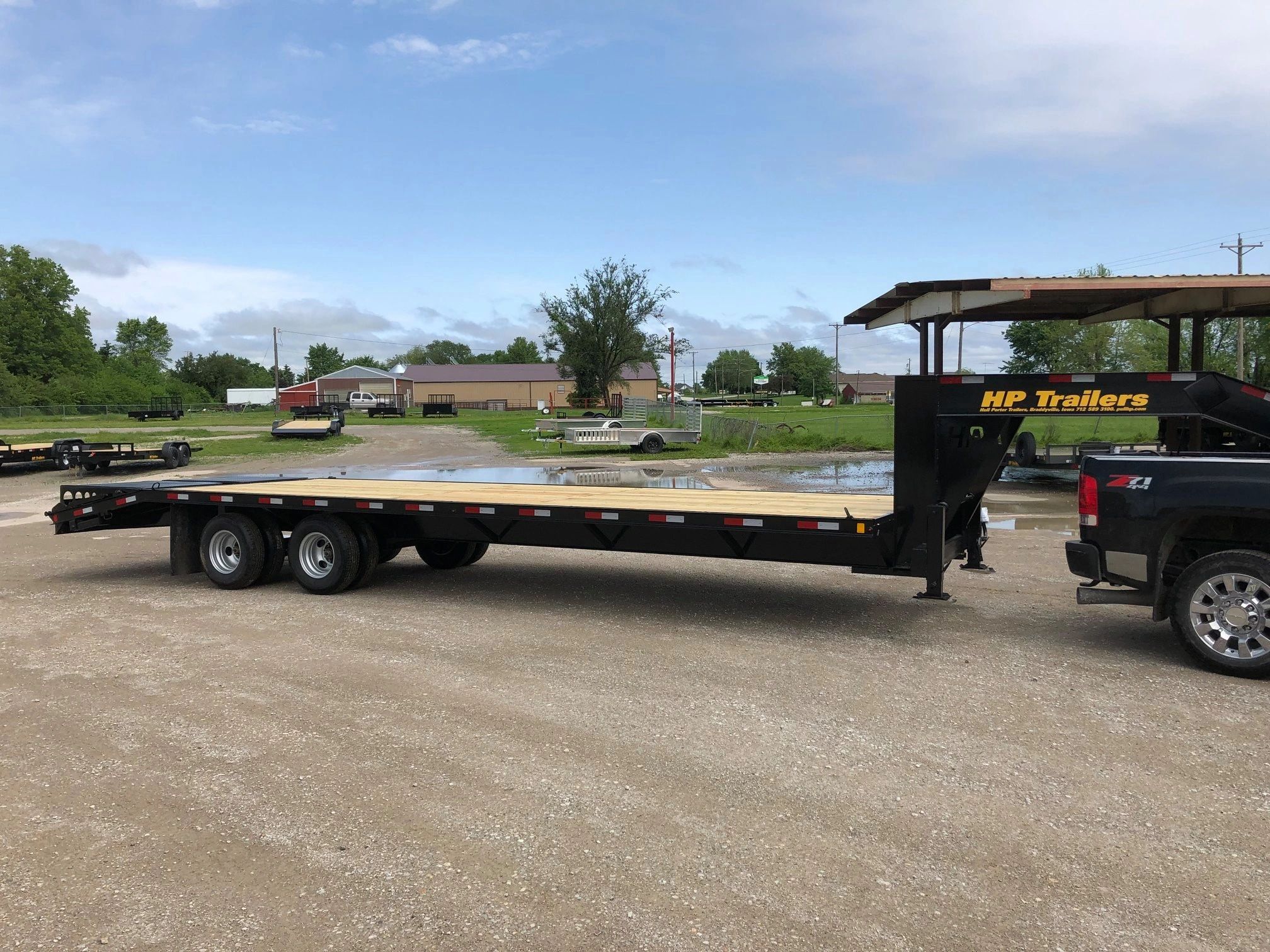 So.. what do you think? As I look back on this page and read it all, I want one!
Here's our most current pricing on the models we offer.